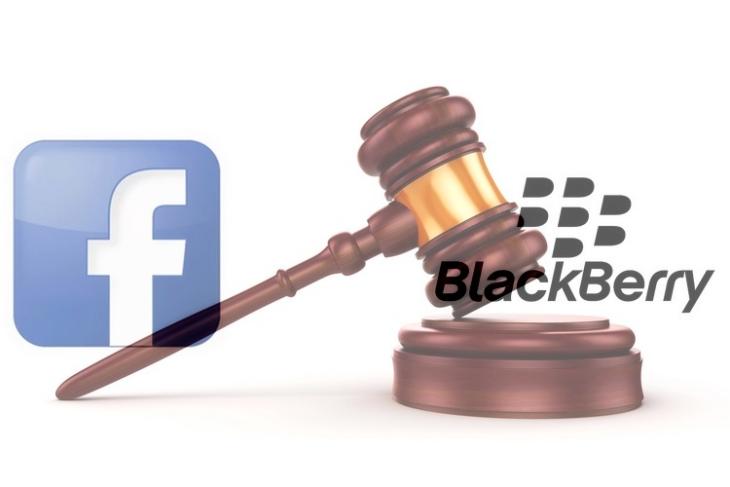 BlackBerry's bitter patent feud with Facebook has now taken a new turn. Back in March, BlackBerry sued Facebook alleging that the instant messaging functionalities offered by Facebook, Instagram and WhatsApp infringe on BlackBerry Messenger (BBM) features patented years ago. Facebook has now retaliated by filing a patent infringement lawsuit of its own against BlackBerry, accusing the company of stealing Facebook's voice messaging technology, alongside a host of other patented communication features.
According to a report from Bloomberg, Facebook has filed a 118-page complaint against BlackBerry before a federal court in San Francisco, in which the social media giant has accused BlackBerry of infringing on Facebook's patented voice messaging technology and a few other intellectual properties.
Facebook seeks unspecified damages from BlackBerry for infringing on a total of six patents owned by the company. Facebook seeks to hold BlackBerry accountable for stealing a patented technology which improves the graphics, video and audio delivery process on a mobile device, alongside a couple of other innovations which centralize the tracking and analysis of GPS data.
Facebook's lawsuit comes a few of weeks after a federal judge overruled Facebook's request to dismiss the patent claims made by BlackBerry in their ongoing court battle, which also involves Snapchat. Blackberry had originally accused Facebook, Instagram, WhatsApp and Snapchat of infringing on the message timestamp feature which was pioneered by the Canadian company.
While the federal judge granted a motion by Snap to dismiss some of the independent claims made by BlackBerry in the lawsuit, Facebook's request was not accepted. Facebook argued that BlackBerry's complaint only covers a vague concept or ideas that can't be protected under patent laws, however, the court ruled that Facebook's arguments are not solid enough to warrant dismissing the bulk of BlackBerry's patent claims.