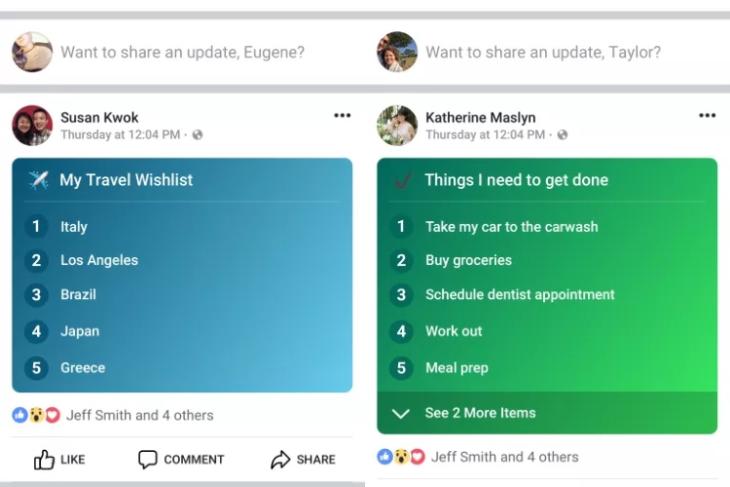 Facebook is the world's biggest social media network. But despite this status, it's fast losing appeal with younger audiences. And content is also a problem, thanks to fake news and recycled memes, as opposed to meaningful updates. These are somethings the company is trying hard to overcome.
The company recently rolled out a new "Today In" feature for localized news and is reportedly in the works to add a new Snap-Map type feature as well as a Dislike button. Now, as reported by TechCrunch, Facebook's vaunted status update box is getting a new feature called Lists. The feature lets users make lists of anything they choose – New Year's Resolutions, To-Dos, Restaurants, Travel Ideas, and more.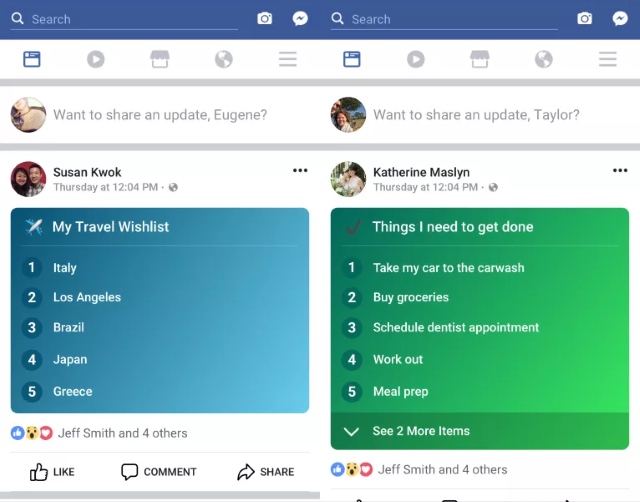 Thanks to the new feature, users can use the previously introduced color background feature along with Lists to create their own personalized lists with your goals and emoji. The basic idea is that friends could copy each other's lists to share their opinions, or get more items on the lists.
Available in the same "What's on your mind?" status update box, users can now create lists as an additional method alongside adding things like Polls, Feeling/Activity, Photo/Video, Check In, GIF, and other items.
Facebook has previously stated that it wants to push users to add more personal content to their feeds rather than the current content that can be seen on the feeds. While Lists isn't really a major addition, it certainly is a step in the right direction for that vision. The company is also said to be working towards changing the News Feed's algorithm which would now show more posts from the user' friends and family first, and fewer from brands and publishers.
While the Lists feature does sound good, I personally haven't been able to get a taste of it as this is a slow-rollout and Facebook has not yet given any proper ETA about its arrival for all users. In the meantime, do check your Facebook page and let us know if you are able to make lists, and tells us about your experience below.