Facebook's "Trending" feature, which was inspired by Twitter trends and gave users insights into what's popular in a specific region, is going to be shut down by the company. Facebook says that the feature was used by a very small number of users and has been seen as "less and less useful" by them over time.
In a blog post, Alex Hardiman who heads Facebook's news-related endeavors wrote that the feature will be removed next week along with other third-party products that rely on it. The executive noted that a higher number of people now consume news through videos than ever before which is why the social media platform will now explore new ways to bring timely information to people.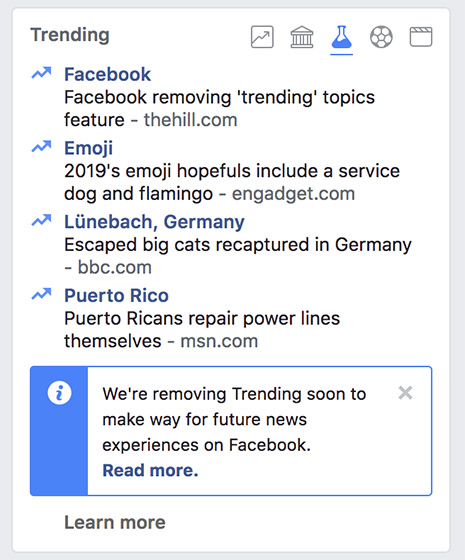 Three new features will replace the Trending section – namely "Breaking News", "Today In", and a dedicated videos section in Facebook's Watch. These features are already under test and Facebook has been partnering with as many as 80 publishers across North and South Americas, India, Europe, and Australia.
Users will also receive notifications related to Breaking News and Today In – so, the step to delete Trending coincides with Facebook's mission to make users spend more time on the network. With this, the company might also try to cure the rampant problem of fake news by giving a push to renowned and reliable news sources. But, it also means that smaller publications and whistleblowers might have a hard time making their voice reach more users.
Naturally, with the vast majority of users reading news on Facebook, the company is not only responsible for maintaining integrity, but also burdened with the obligation of keeping the platform free from hoaxes and controversies. The company has not shared much information about the working of the features replacing the pointless Trending section but we expect it to push forward with a combination of human moderators and AI to keep the news relevant and fresh.
---