Facebook is in the reeds in terms of privacy and data sharing, but the world's largest social network has seen a significant uptick in its Q1 earnings report. The company exceeded Wall Street expectations and added 48 million new DAUs in the quarter, which ended March 2018.
In the last three months, Facebook states that its daily active user base grew by 3.42% to 1.449 billion as compared to last year's final quarter. It also added a whopping 70 million MAUs to reach close to the 2.2 billion total user mark, which shows that the #DeleteFacebook campaign did not have much effect.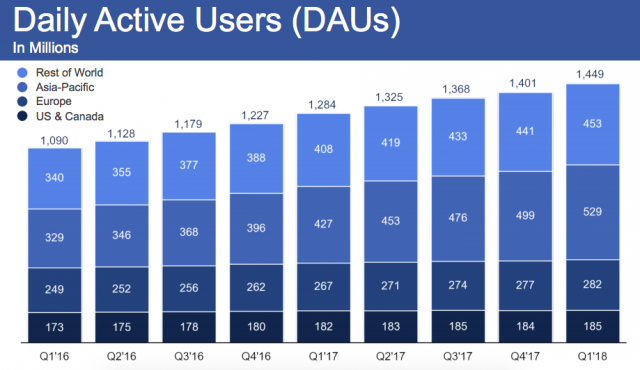 The earnings report further confirms that Facebook's ad business is doing brilliantly, which helped the company bring in a humongous $11.97 billion in revenue as compared to analysts estimates of $11.41 billion.
Here are the key figures for Q1'18:
Revenue: $11.97 billion, compared to $11.41 estimate but it's considerably low than previous quarter's almost $13 billion figure
Earnings/share: $1.69 per share, compared to $1.35 per share estimate
Profit: $4.98 billion, compared to a lower $4.26 billion in the previous quarter
Average ad Revenue/user: $5.33, an uptick of 30% year-over-year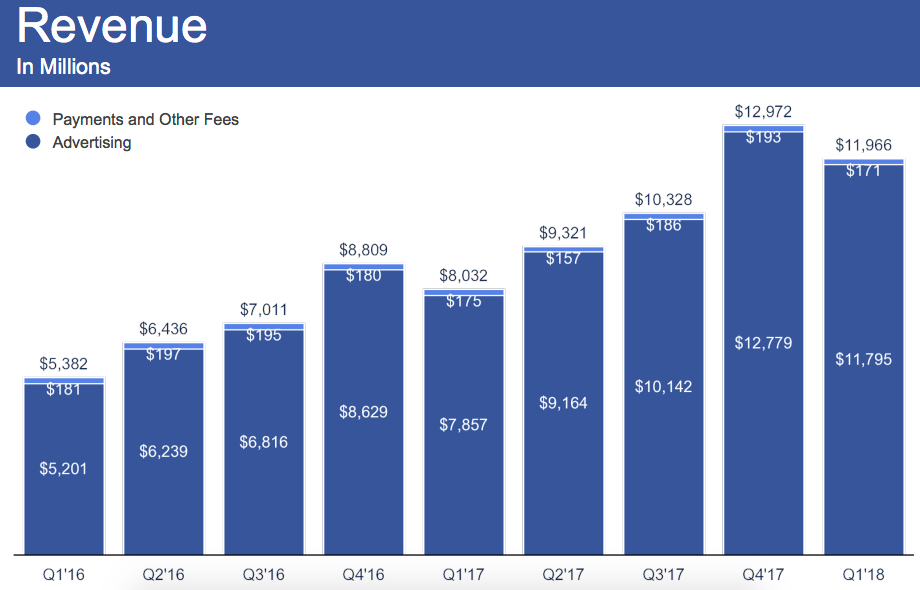 Even though the Cambridge Analytica scandal erupted in a big way towards the end of the quarter, there has been a lot of criticism towards Facebook even in the months preceding this high-profile controversy.
And now, Facebook still appears to be going forward with the same tenacity, with the aim to right its wrongs and make its platform a place for meaningful interactions. Talking about Q1 earnings, CEO Mark Zuckerberg in an official statement said,
Despite facing important challenges, our community and business are off to a strong start in 2018. We are taking a broader view of our responsibility and investing to make sure our services are used for good. But we also need to keep building new tools to help people connect, strengthen our communities, and bring the world closer together.
The continued growth and improvement in revenue prompted Facebook share prices to jump over 7 percent in after-hours trading. This will bring the price closer to what the company's shares were trading at prior to the privacy issues.
The quarterly results also emphasized Facebook's investments in bulking up its workforce for further expansion into the mobile ecosystem. Zuckerberg pointed out that Internet.org has now helped 200 million access basic services and connect with one another. WhatsApp Status, he lauded, is right there at the top with Instagram Stories in popularity with close to 300 million daily active users.