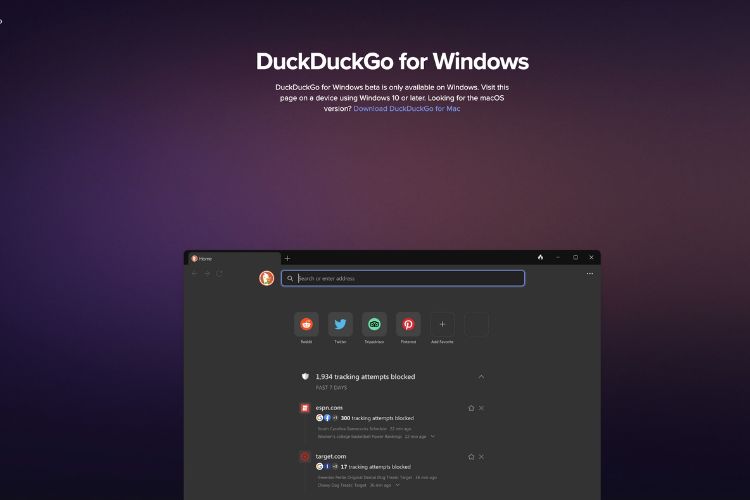 Launched in 2008 as a 'privacy and security-focused browser,' DuckDuckGo decided to take on Google Search. It amassed global popularity over the years due to its plethora of user-centric features and robust tracking system for Android and iOS. It was only last year that the browser decided to foray into the desktop space, with the DuckDuckGo browser for Mac. Now, it's time for Windows to experience DuckDuckGo. Continue reading below to know more.
DuckDuckGo for Windows Goes Live!
Starting today, the DuckDuckGo browser goes live for Windows in the form of a Public Beta. It is available for everyone to download. You do not need any special invitation, referral link, or any sort of waitlist to access the privacy-focused browser. Just visit the DuckDuckGo for Windows page, download the software, and install it to experience all the reasons we love DuckDuckGo for. The core foundation of "user data security and privacy" seeps into the Windows version as well.
Amidst the sea of privacy and security features, the two most significant are Smart Encryption and Tracker Blocking. Smart Encryption essentially means that whenever you visit a website, DuckDuckGo will continuously crawl it to see if it matches the "HTTPS" parameters with its own set of resource lists. This effectively reduces data leakage, backdoor entry, and Wi-Fi snooping. With Tracker Blocking, DuckDuckGo offers its Third-Party Tracker Loading Protection that enables the barring of first-party and third-party trackers while you are on any website.
Apart from these two key features, the browser also offers a built-in Password Manager, a Cookie Pop-Up Manager to automatically hide the "I Accept" prompt every time you visit a website, a Fire burn button to erase existing data and tabs with a single click, and much more.
Additionally, there are two unique features of the browser that might interest you. The first is an Email Protection feature that can hide your email address by letting you create a Unique ID with the @duck.com extension. The other one is a built-in video player dubbed the Duck Player, that will allow you to play YouTube videos without annoying ads and trackers.‌‌
DuckDuckGo for Windows is expected to get more features soon, including, extension support, the ability to pin tabs, link tracking protection, faster startup process, and much more. If this interests you, try out the DuckDuckGo browser for Windows today! Don't forget to share your experience in the comments below.
---