Along with the versatile Dock and the iOS-style control center, "Share Menu" is one of my favorite macOS features. Thanks to the integration with a ton of sharing extensions, it provides a pretty straightforward way to share a variety of items such as photos, emails, documents, news articles, and whatnot from almost anywhere on Mac. That said, with the presence of so many extensions, the Share Menu tends to look cluttered if you don't manage it in line with your needs. And this is where the following guide about how to customize Share Menu extensions on Mac comes into the reckoning.
How to Customize macOS Sharing Extensions
macOS lets you add and remove specific sharing extensions in the Share Menu with ease. Thus, you can keep only the preferred extensions and hide the ones that you don't use anymore. This way, you will be able to quickly access the extensions that you frequently use. Let me guide you through the quick steps!
To get started, click the Share button in Safari, Finder, or any other app on your Mac. As most apps support the sharing feature, chances are that you won't have to spend much time to spot it.
2. Now, select More in the Share Menu to access extensions preferences.
3. On the left sidebar, choose Share Menu.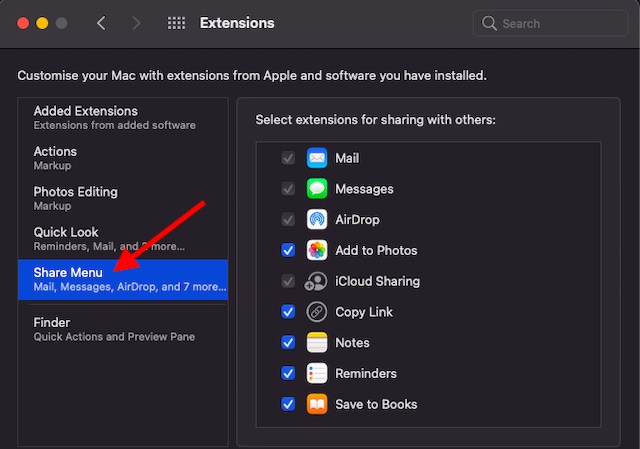 4. Next, you should see the list of all the sharing extensions that you can use on your Mac.
Add Sharing Extensions to the Share Menu: 
Now, if you want to add a sharing extension to the Share Menu on your Mac, simply check the box to the left of it.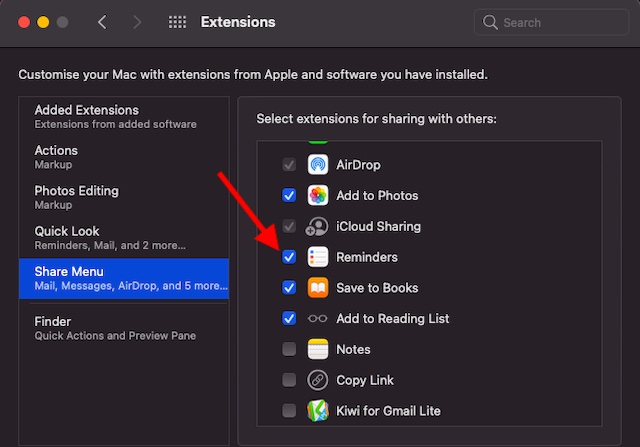 Remove Sharing Extensions from the Share Menu: 
If you no longer want to use any sharing extension, simply uncheck the box to the left of it.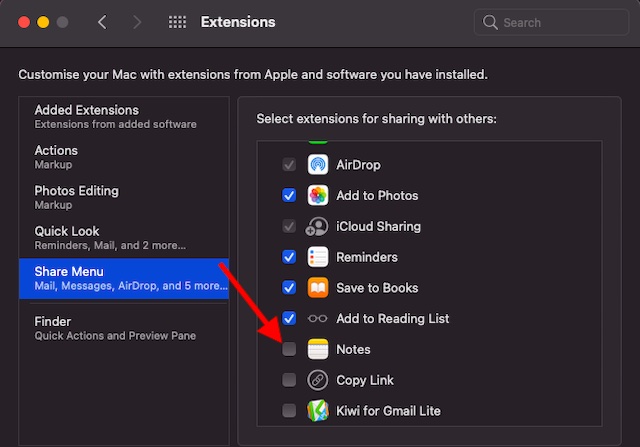 Note: It's worth pointing out that you can use the same preferences to fully customize your Mac with extensions not only from Apple but also third-party apps you have installed. 
Fine-Tune Sharing Extensions As Per Your Needs on Mac
So, that's how you can customize the sharing extensions on your Mac. Use this simple yet pretty effective tip to keep the Share Menu uncluttered. I mean show only the ones that you use and put all the unnecessary ones out of sight.
Recently, we have covered several helpful macOS guides including customizing the menu bar, using the new battery settings, and making the most of iMessage effects as well as the fun-loving Memoji stickers. Try them out if you are willing to unlock the full potential of macOS Big Sur.
---
Load More