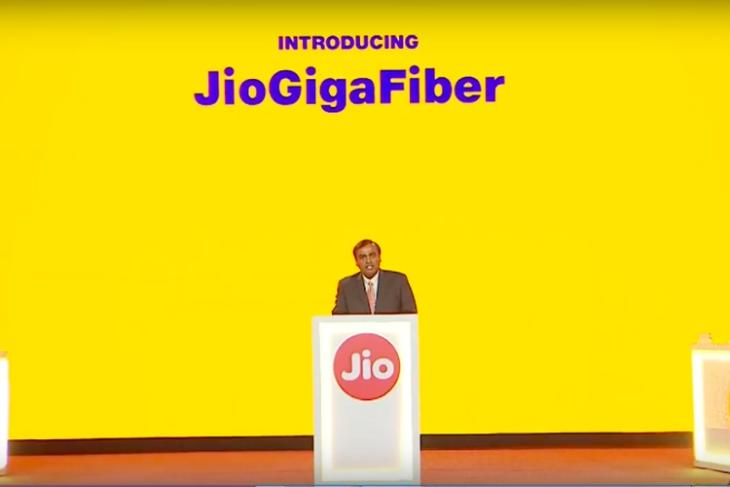 Reliance Jio unveiled its much-awaited fiber-based broadband service known as Jio GigaFiber yesterday. It is expected to be rolled out across 1,100 cities simultaneously and registrations will begin on August 15 this year. While Jio GigaFiber is not yet operational, the Cellular Operators Association of India (COAI) already sees it as a 'game changer' for the country.
This comes as a sweet surprise as industry body COAI and telecom giant Jio have had a slew of problems in the past. They have even gone to lengths to threaten legal action against each other for the TRAI's recent predatory pricing regulation.
However, the COAI has now commended Reliance Jio for having over 215 million mobile users  and the imminent launch of Jio GigaFiber in India along with Jio GigaTV.
Rajan S Mathews, Director General of COAI in an official statement said that Jio's GigaFiber and its smart home services will revolutionize the IT sector of India. He further added,
The announcements made by Mukesh Ambani today have positioned Reliance Jio as an extensive technology company rather than just a telecom service provider. This is an interesting development and once the plans laid out today start taking shape, we can expect new streams of revenue to be initiated that will benefit the industry.
Reliance Jio has already disrupted the telecom market and forced other players to revamp their offers, blowing their financials out of the water. It has recently trumped Vodafone in revenue to secure the second spot, just behind Airtel and is now looking to take on the ISPs (Internet Service Providers) in the broadband category.
Mathews further asserts that Jio's fixed-line broadband and connected digital offerings are expected to cause some disruption and drive down prices, but don't expect to see pricing as aggressive as the mobile market. The company had resorted to all sorts of offers and subscriptions to pressure the competition into lowering data pack charges.