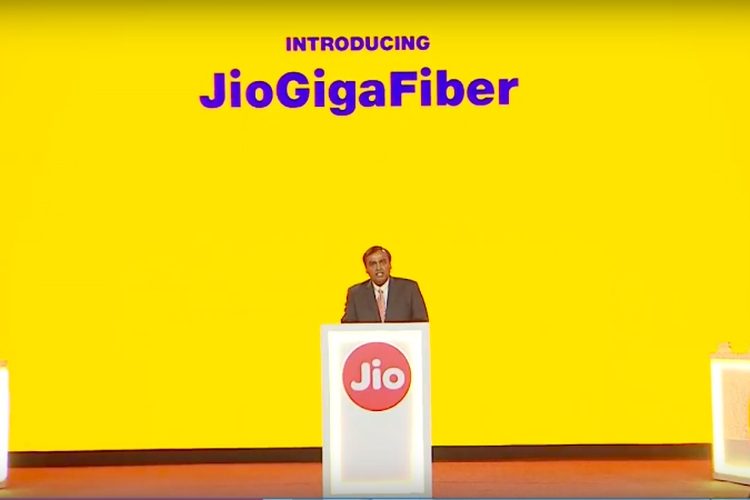 At Reliance Industries' 41st Annual General Meeting (AGM) today, company chairman Mukesh Ambani launched the highly anticipated FTTH (fiber-to-the-home) broadband service, alongside the JioPhone 2. Reliance's fixed-line fiber broadband service is called JioGigaFiber, and it will be rolled out simultaneously across 1,100 cities in India, which is claimed to be the largest scale rollout of a broadband service in the world.
Registration for the JioGigaFiber broadband service will begin on August 15, and the process will go live on the MyJio app and the official Jio website. The rollout of Reliance's ambitious fiber broadband service will be done on a priority basis, with locations clocking the maximum number of registrations getting it first.
"At Jio, we are determined to take India to be among the top-5 in broadband connectivity, both for mobility as well as fiber-based wireline connectivity", Mukesh Ambani was quoted as saying by the Economic Times.
"The company has already invested more than 250 million dollars in the industry. We will now extend the service to 1100 cities to offer the most advanced fibre-based broadband services. This will mean a faster internet experience. A virtual reality experience for all citizens where you can control switches in your house from outside as well. This will redefine 24*7 emergency help for all homes across India. We are calling this the Jio GigaFiber," Ambani added at the conference
The service will be enabled through a Jio GigaRouter that Reliance claims will offer 'wall-to-wall high-speed WiFi coverage' that will also connect smart home appliances, which include smart webcams and smart locks and other devices which the company will be selling like Google's Nest line of products. However, the company has not announced any details about the pricing of the broadband plan or about the smart home devices, which include a set-top box.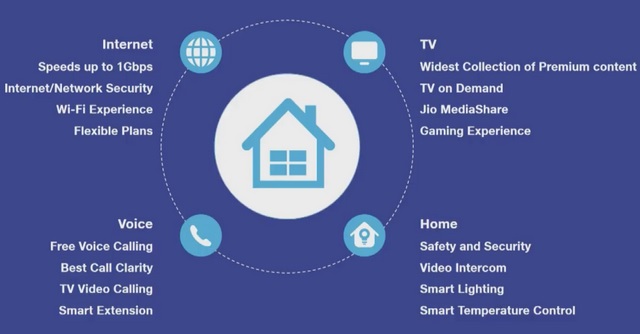 With the Jio GigaTV set-top box you could turn your smart TV into a communication and entertainment hub. Jio promises calls and features such as multi-party video conferencing, virtual reality gaming, digital shopping and a lot more through the set-top box. Moreover, the box will also have support for voice commands through a Jio smart remote and a digital assistant. The Jio GigaTV set-top box will provide access to over 600 TV channels, millions of song and movies with even 4K video content thrown into the mix, Reliance announced.
The company has set an initial target of reaching over 50 million JioGigaFiber home customers and approximately 30 million business customers which also includes small merchants and shop-keepers.
The company claims that the installation process of the JioGigaFiber set-up will be accomplished in under 60 minutes. And unlike conventional fiber broadband connections which only connects to the main building, Reliance's offering will connect each home and office directly to the main Jio servers, thus ensuring zero speed variation and consistent high-speed connectivity.
It remains to be seen whether the promised features will arrive with launch or whether Jio will roll them out in phases. However, it sure looks like Reliance Jio aims to disrupt more than just the telecom sector.
---