More often than not, there are times when you have to open web links from third party Android apps (For example, consider accessing a URL that your friend has sent you via email, or WhatsApp). In such cases, the link generally opens up in the default browser (mostly Google Chrome). While that's not an issue, doing this immediately takes you to Chrome. And once you're done viewing the link in Chrome, you have to manually switch back to the app you were using. Quite annoying, don't you think?
Not anymore, thanks to Chromer for Android. It's a brilliant Android app that lets you open links in Chrome without leaving apps. With Chromer, you can quickly access links as you would in Chrome, and instantly get back to whatever you were doing. Sounds interesting? Read on about Chromer a bit more, and then find out how you can use it to view links better.
What exactly is Chromer? And why you should use it?
Essentially, Chromer simplifies a developer oriented feature of Chrome, called Chrome Custom Tabs. In the simplest of words, Chrome Custom Tabs allow any app to launch a simplified version of Chrome for viewing any URL/link, without requiring the full Chrome browser app to be launched. So, Chromer gives apps their own mini-version of Chrome for accessing links.
Using Chromer definitely makes sense, as it makes viewing links and URLs highly convenient. You don't have to manually switch back to the original app you were using, and your Android phone doesn't have to bear with the overhead of launching another app. What's more, Chromer uses Chrome's rendering engine, and also gives you access to standard Chrome features like saved passwords, auto-fill information, and security updates.
How to use Chromer to view links in Chrome without leaving apps?
Step 1: When you run Chromer for the first time post installation, the first thing is to set it as the default browser. For this, tap the Set Default Browser button, and select Chromer from the list.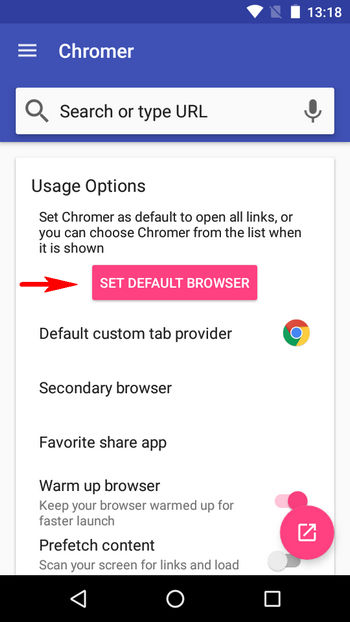 Note: If the above method doesn't work, you can alternatively set Chromer as the default browser via Android settings. Go to Settings > Apps, and tap on the "Gear" icon on the top right corner. Now, go to Default Apps > Browser app, and select Chromer.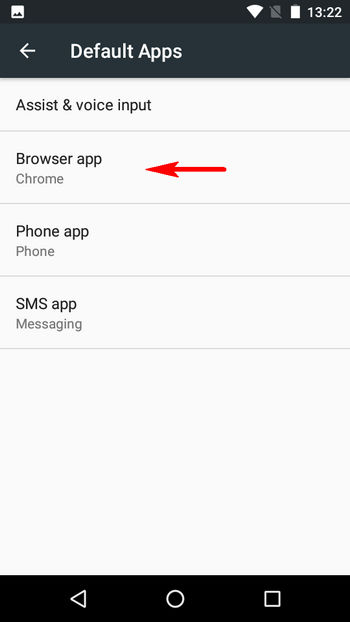 Step 2: That's pretty much all that's required for Chromer to work. Going forward, links in apps will be opened in a Chrome custom tab via Chromer, acting as a mini version of Chrome. When you're done, simply tap the "X" button on the URL bar to return the app you were using. Take a look at the following video, illustrating the action:
In addition to the above, Chromer also has a couple of handy options that can be easily configured within the app itself. These are mentioned below:
> Chromer can scan your Android device's screen for links/URLs, and load them in the background for faster access. Moreover, the app can be configured to load links in the background, only over Wi-Fi, in order to conserve mobile data.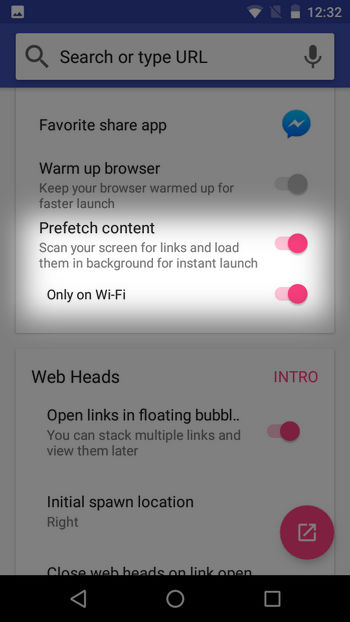 > You can directly do a text or voice search (via Google) from within Chromer.
> As a secondary action, you can choose to open accessed links in another browser, or share them via other (configurable within Chromer) apps.
> Per the latest tested version (1.5), Chromer can give Chrome custom tab toolbar, a color based on the app from which the link is accessed.
> There is even a web heads feature (like Facebook Messenger's chat heads), that lets you stack multiple links as floating bubbles, for accessing them later (see screenshot below). However, these bubbles only show the first letter of the link (e.g. G for www.google.com), instead of something more recognizable, such as a website favicon, which does get a little confusing.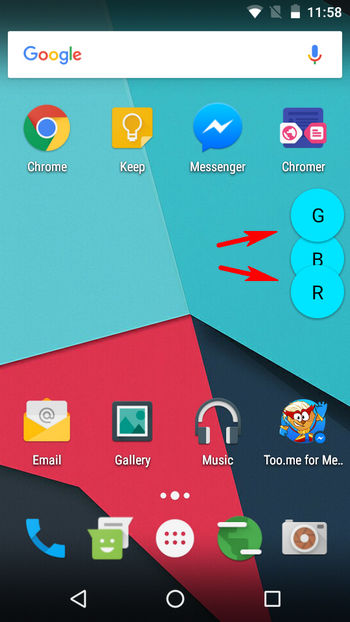 SEE ALSO: 15 Google Chrome tricks to boost your productivity
Access links in apps without leaving them
Given how often we have to access links/URLs from within other Android apps, constantly jumping to Chrome and then switching back gets annoying real fast. Thankfully, Chromer for Android saves you all that trouble, making viewing links not only easier and faster, but with all the security features of Chrome as well. Give it a shot, and let us know your thoughts in the comments below.
---
Load More