While China is fighting blockchain's most famous application i.e. cryptocurrency, the technology is being used heavily in other applications and services. The country leads in terms of blockchain patent applications according to a report last month. And now Chinese tech behemoths are bringing to market many of these services.
Baidu has launched a blockchain-based stock photo service Totem that the company says will upend the royalty and IP rights business around images and media. Totem went live earlier this week, and according to CoinDesk, uses blockchain that's been named PicChain to timestamp and verify submissions for photographs in real time to make sure that they are original submissions.
As part of the process, the name and ID of the photographers are added onto a public blockchain, and linked with each image using distributed ledger technology. The company says it would use Totem to track, validate and resolve all infringement claims for the images on the ledger. The public nature of the blockchain will also allow individuals to view the data and verify the ownership of the photographs, before downloading them.
The Totem website says the system hinges on three pillars: the blockchain itself, an image retrieval AI and another AI system to retrieve the copyright images that are possible matches to alleged infringing images.
"Establish a copyright registration system based on blockchain technology, an artificial intelligence visual retrieval system, and a copyright picture retrieval system to leverage Baidu's technological productivity and enable copyright registration, monitoring and rights protection of original works."
Baidu says its AI can scrape the internet for images that have been used illegally and the blockchain can verify the ownership faster than existing systems. This would help its stock image partners who can use Totem to swiftly resolve settlement and legal proceedings around IP rights cases.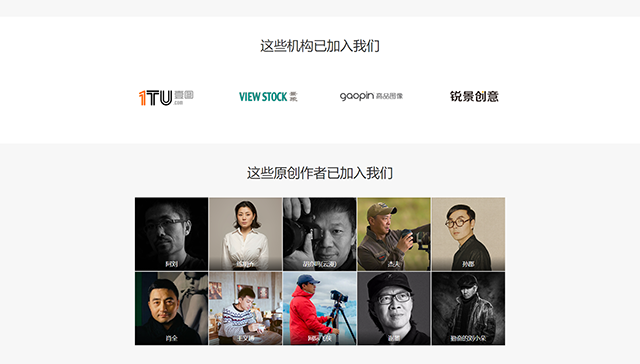 "Copyright information is permanently written into the blockchain. Based on the credibility of the blockchain and irreconcilable modification, Baidu's leading artificial intelligence mapping technology is combined to ensure that the dissemination of the work is traceable, reproducible, monitorable and change the copyright of traditional pictures"
It's already bagged a major player to start with. Visual China Group, the Chinese partner of Getty Images, is already on board. Totem has also tied up with 1TU.com, View Stock, and Gaopin among others, as per its website and with a slew of photographers (pictured above).
Quotes translated from Chinese