As a professional photographer, carrying a single camera and standard lens with you will not be enough! It would be a bit more evident when you have undertaken a project that requires you to capture different kinds of shots, — such as when you are there to cover an event with large gatherings. In such cases, you would need a variety of lenses, tripods, different kinds of flashlights, etc. And, if you are planning to use a GoPro for full HD photography and videography, you would need some more stuff as well. Of course, you can't hold all these in your hand, not safe either. So, obviously you would like to have one of the top camera bags at your disposal to keep all of your gears perfectly organized for outdoor photography.
Best Camera Bag You Can Buy in 2020
Things to Consider Before Buying a Camera Bag
There are a few things worth keeping in mind before buying a camera bag (also known as camera cases). First and foremost, don't fail to check out the material quality and durability as they play a key role in keeping your camera gears secure. The inclusion of padded straps and chest straps come in handy when you want to carry your gears comfortably.
Make sure a camera case has extra space for carrying a laptop and additional pockets for storing accessories, especially when you want to be fully prepared for long outdoor shooting. Also, ensure that the camera bag has a holder for keeping a tripod secure if it's your must-have asset.
In this post, we have lined up 17 best camera bags that you can buy keeping in mind your different needs. From premium camera backpacks, affordable camera bags to pretty lightweight camera cases, we have got you covered both in terms of variety and budget. So, let's move on to the roundup, shall we?
1. AmazonBasics Backpack for SLR/DSLR Cameras & Accessories
A brilliant product from AmazonBasics — Amazon's own sub-brand for quality-rich accessories —, this camera bag is a great choice for professional photographers out there. This can conveniently be carried to almost everywhere and its size lets you store up to 2 smaller SLR/DSLR camera bodies.
In the smaller racks, you will be able to store a handful of various camera lenses, and they're arranged in an easily accessible manner. There are some pretty small compartments that can be used to store further accessories such as chargers, USBs, or SD Cards.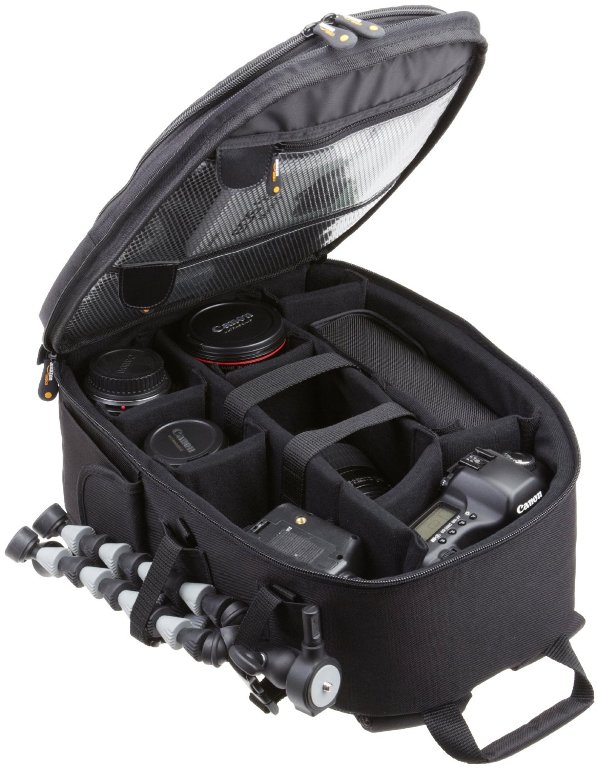 Apart from all the camera accessories, you can also fit a laptop of the size of 13.3 inch MacBook Pro in the first larger zipper compartment. However, do note that it's not completely waterproof (could be termed as water-resistant at best).
Talking about manufacturing material, AmazonBasics Backpack for SLR/DSLR Cameras & Accessories is made of polyester and nylon, making it a bit more effective in terms of protection. In the side part of the bag, you can store your tripod as well. It has to be noted that the shoulder straps and chest of the backpack have been optimized for better comfort. After all, it is a product from Amazon, with a one-year warranty.
Pros: 
Made of polyester and nylon
Multiple compartments to store accessories
Protective design
Durable shoulder straps
Cons: 
The shoulder strap is a bit short
The tripod strap is a little weak
Price: $24.90
Where to Buy: Amazon
2. Case Logic DCB-304 Hybrid Camera Case
This product from Case Logic isn't a backpack but a camera bag that you can carry around very easily, without feeling the weight on the back. Of course, the number of devices that can be stored is limited to one. Yet, if you are sure that you would have to carry a point-and-shoot camera or a high-zoom camera, you can go with Case Logic DCB-304 Hybrid Camera Case, which is available at an incredibly affordable price.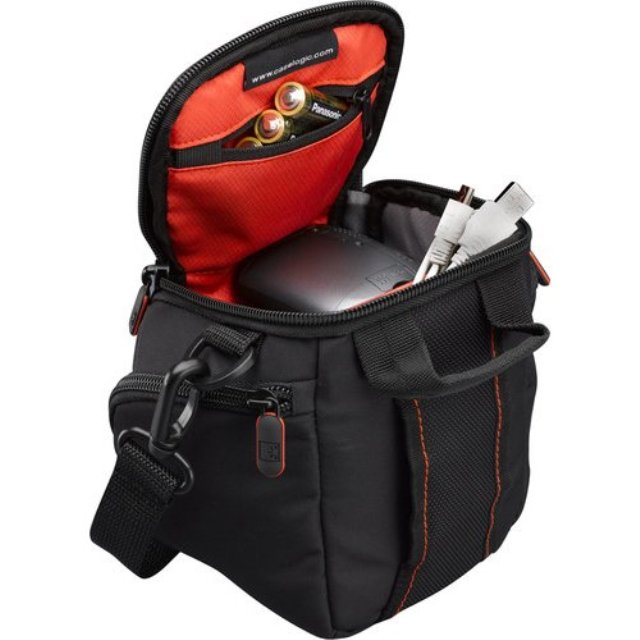 The size of the bag is 7″x 4″x 6″ so it will not fit cameras such as Canon EOS Rebel T3 EF-S 18-55 II so do keep that in mind. Talking of additional features, you'd love to have the wall that splits the bag into two: in the first, you can store the camera body whereas dedicating the second one for a common set of accessories such as lenses, spare batteries, etc.
In addition, on the top layer, it has zippered pockets for storing memory cards, USBs, and other smaller accessories you need. As we come to the convenience of use, we should mention the Integrated Belt Loop and Removable shoulder strap. You can carry it around, as per your comfort.
Pros: 
Durable polyester material
zippered pockets for storing tiny items
Padded handle
Integrated belt loop and removable shoulder strap
Cons:
Less spacious interior
Cushing is a little thin
Price: $11.69
Where to Buy: Amazon
3. AmazonBasics Carrying Case for GoPro
In the intro, we talked about those who use GoPro for serious photography, mainly adventure photography enthusiasts! If you're one of those, chances are high that you would love to have this AmazonBasics Carrying Case for GoPro. It's a compact case that is spacious enough to store your GoPro camera and other accessories you would need.
The list of stuff you can include in the case is: two GoPro cameras with their housing, extra batteries, SD cards, remote control, a P.O.V. pole or buoy, wall charger, etc. All these accessories have their unique place, making the case look quite neat as well as accessible when you open the lid.
Also, there's a zippered layer attached to the lid, where it's quite comfortable to store accessory cables, USBs, hard drives, etc. It needs to be noted that AmazonBasics Carrying Case for GoPro works fine with every GoPro camera out there, including GoPro Hero 7, 6, 5, 4, 3+, 3, 2, and 1; GoPro Session, etc. Despite all these, you can carry the bag just as you're holding a document file.
Pros:
Lightweight and compact design
Compatible with all GoPro camera
Foam padding
Handy zippered layer
Cons:
Less impact-resistant design
Price: $19.36
Where to Buy: Amazon
4. Sony LCSCSJ Soft Carrying Case
Sony LCSCSJ Soft Carrying case has been made specifically for digital cameras from Sony, such as S, W, T, and N series. According to customer reviews and Question-Answer section on Amazon, the case will be compatible with some other point-and-shoot cameras as well, giving you the freedom to choose without the failing-to-fit tension.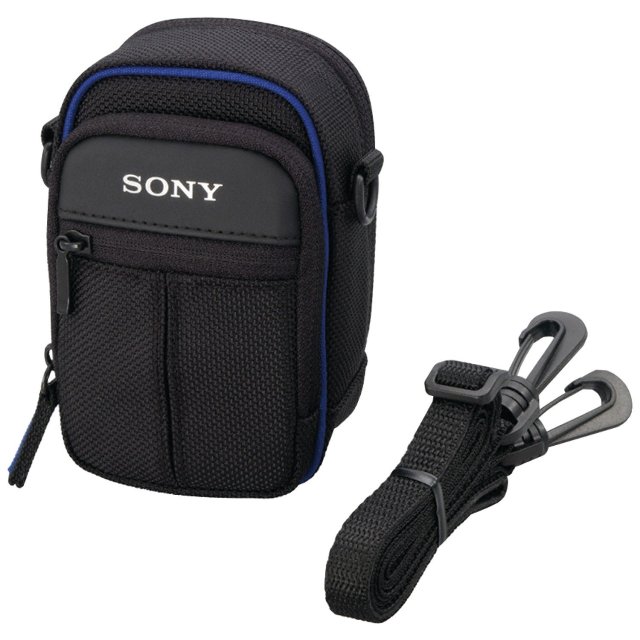 Though it won't fit Mirrorless cameras or DSLRs. It comes with a shoulder strap that can be very useful when you want the carry the bag around. And, talking about the build, we'd love to mention the belt-loop design that's pretty much convenient from the common user's perspective.
The case is made using Nylon and the layer would be protective enough to resist common issues such as dust, water spill, dirt, etc. Altogether, Sony LCSCSJ Soft Carrying Case would be a great companion for your Sony point and shoot. And, you can keep this camera bag in your pocket if you don't mind the protruding nature of it.
Pros:
Durable construction
Strong shoulder strap
Useful belt loop design
Can resist water spill and dust
Cons:
Doesn't fit Mirrorless cameras or DSLRs
Old-fashioned design
Price: $15.99
Where to Buy: Amazon
5. AmazonBasics Large DLSR Gadget Bag
This camera bag from AmazonBasics is meant to be so spacious that you will be able to carry a camera & accessories in a convenient manner. As you can see in the image, there's a dedicated slot for storing your flashlight (along with adapter), lens, and the camera body; you can also add an external lens if you needed a different kind of shot from a different angle.
The remaining rack can be used for some other accessories or devices, such as a USB drive or battery charger or memory cards. Well, the number of DSLR camera bodies that can be included is limited to one, in any case but you can add up to three lenses or flashes.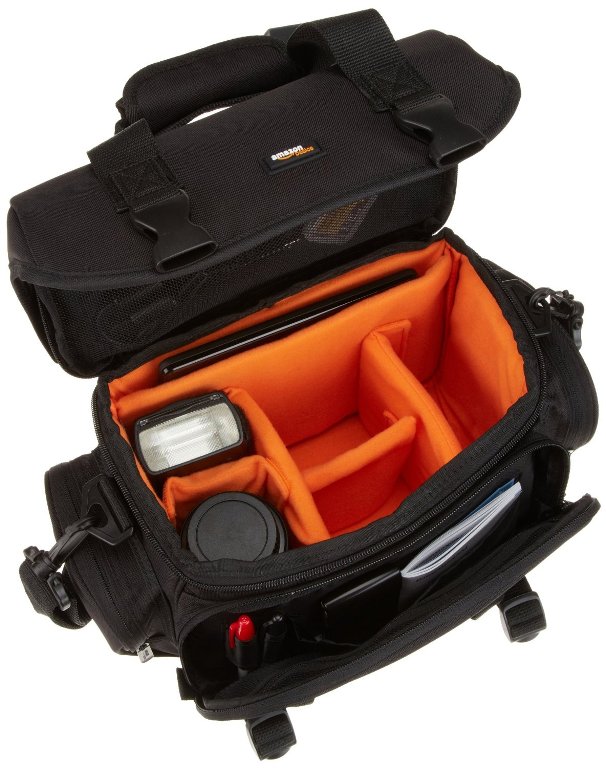 Along with these camera-based accessories, you have enough space to store other stuff such as your tablet or the HDD you're always carrying. The dimensions of the bag is 10″x 5″x 6″, in case you're curious about the same. Talking of material, AmazonBasics Large DLSR Gadget Bag is made using nylon and plastic, and the design is not that strict.
The camera can be flexible when needed. Though, the manufacturer doesn't claim or state that the bag is weatherproof but from what we've read in Amazon customer reviews, you can easily take this bag outside in light rains.
Pros:
made using nylon and plastic
Weatherproof
Multiple pockets for storing accessories
Offers enough space to store a laptop
Cons:
Comparatively heavy build
The design isn't attractive
Price: $25.95
Where to Buy: Amazon
6. Accessory Genie Professional Gear Backpack for DSLR by USA Gear
This quite-spacious camera bag can be the optimal companion for the professional photographer and cinematographers, who wants to grab not only the camera and accessories but also a laptop and related stuff. While the lower portion can house a camera body, a few lenses, and flashlight, there's a dedicated space for media storage on top of that area.
As we take a look at the topmost area of USA Gear Accessory Genie Professional Gear Backpack for DSLR, we can find the space to store larger kinds of accessories such as your HDDs or spare batteries. And, there's a specifically-divided area for placing your laptop in a convenient manner and taking it off, right away.
However, do note that the maximum size of the laptop that you can fit in this camera bag is 15.6 inches which should be good enough for most people. By the way, you can attach a tripod or gimbal on one side of this backpack. It's to be noted that the bottom space of Accessory Genie Professional Gear Backpack for DSLR can be customized as per your convenience and requirements.
Lastly, the dimensions of this bag are 18″x 12″x 8″, and it's not weather-proof. Despite all these, it's a matter of amusement that the backpack has a truly sleek design. Considering this feature-richness and affordable price, it's good to go for.
Pros:
Spacious compartments
Plenty of space to store accessories
Strong cushion
Bottom space is customizable
Cons:
Not weatherproof
Relatively expensive
Price: $59.99
Where to Buy: Amazon
7. AmazonBasics Medium DSLR Gadget Bag
Another noteworthy product from AmazonBasics, AmazonBasics Medium DSLR Gadget Bag is apparently a necessary companion for almost every DSLR owner out there, especially when he or she needs optimal quality and protection. In the camera bag, you can conveniently store one DSLR body and two lenses; lenses can be replaced by flashlights, by the way.
The interior is so flexible that you can adjust it according to the size of the camera and lens. In addition to the dedicated space for camera storage, AmazonBasics Medium DSLR Gadget Bag lets you store a tablet PC of yours, such as an iPad or Galaxy Tab S4 or Surface Go.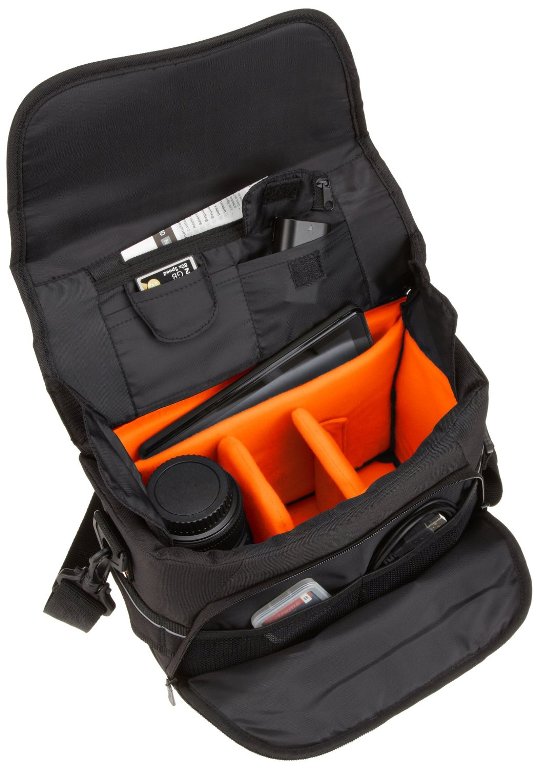 When you open the lid of the bag, you can find a zippered rack there, which you'll find useful for storing smaller accessories such as memory cards, extra batteries, etc — you can even store your smartphone with good cameras such as iPhone XS, Mate 20 Pro, or Pixel 3 XL if you like.
Talking about the functionality, AmazonBasics Medium DSLR Gadget Bag comes with a shoulder strap so that it would be possible for you to keep it safe, without putting much effort into it. Altogether, we are impressed by the power of simplicity and customizability Amazon has included in this compact camera bag.
Pros:
Highly protective design
A lot of space for carrying multiple accessories
Zippered rack
Useful shoulder strap
Cons:
Cushioning could be better
Lacks a shoulder pad
Price: $17.99
Where to Buy: Amazon
8. Kattee Leather Canvas Camera Bag
If you are looking for a small and premium looking messenger camera bag that doesn't break the bank, then check out the Kattee Leather Canvas Camera Bag. Costing just north of $40, the Kattee Leather Canvas Camera Bag has a lot to offer that we like. First of all, I love its durable retro design which looks really cool.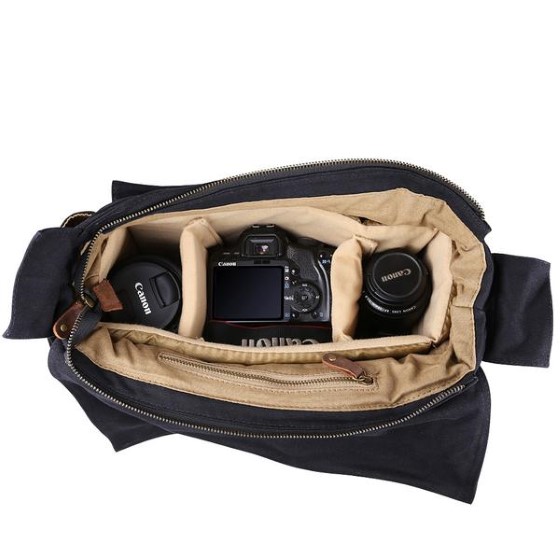 When it comes to features, the bag offers adjustable padded dividers, built-in microfiber lining, a myriad of pockets for carrying accessories, brass buckle with the quick-lock mechanism, and padded and comfortable shoulder straps. The bag can easily carry a pro DSLR camera from all the major companies such as Sony, Nikon, Canon, and more, along with two separate lenses and accessories.
The bag also offers additional pockets designed for memory cards, and business cards. Plus, you can also fit in a tablet and a small laptop of the screen-size 13.3 inches in the bag.
Pros:
Premium look and feel
Offers adjustable padded dividers
Built-in microfiber lining
Pockets for carrying accessories
Cons:
Lacks a tripod holder
The bottom is not padded
Price: $40.99
Where to Buy: Amazon
9. Pelican 1560 Carry On Watertight Case
Pelican 1560 Carry On Watertight Case is one of the most expensive protective bags in this list, but it's not actually a camera bag; rather, it's a watertight bag that can be used to store your DSLR cameras and necessary accessories, as it comes with padded dividers.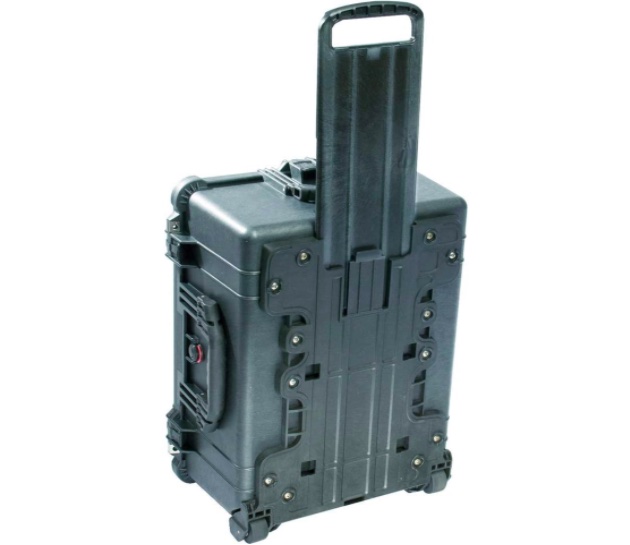 Although it will be bulkier in the long run, you can multiple SLR camera bodies, a lot more lenses of different kinds, and some other accessories such as HDD/SSD in the padded dividers. And, on the lid of the case, there are zippered sections where you can store a variety of stuff, such as spare batteries, drones, flashlights, etc.
It's watertight with pressure equalization valve whereas the sturdy build ensures support from water, crush, and dust, right away. Keeping the notion of accessibility in mind, Pelican has added wheels that are made using polyurethane and the wheels have stainless steel bearings as well. Altogether, despite the cost, the camera bag does make enough sense.
Pros:
Impressive watertight design
pressure equalization valve
Useful wheels
Shock-absorbing interior
Cons:
Lacks compact form-factor
Top-tier pricing
Price: $213.95
Where to Buy: Amazon
10. Lowepro LP36955-PWW Photo Hatchback
Lowepro LP36955 Camera Bag is yet another full-fledged camera bag you can use when you need both comfort and spaciousness. This camera bag can be divided into different sections and each of these sections lets you store a particular kind of device or accessory. From a flexibility perspective, it's a pretty useful feature.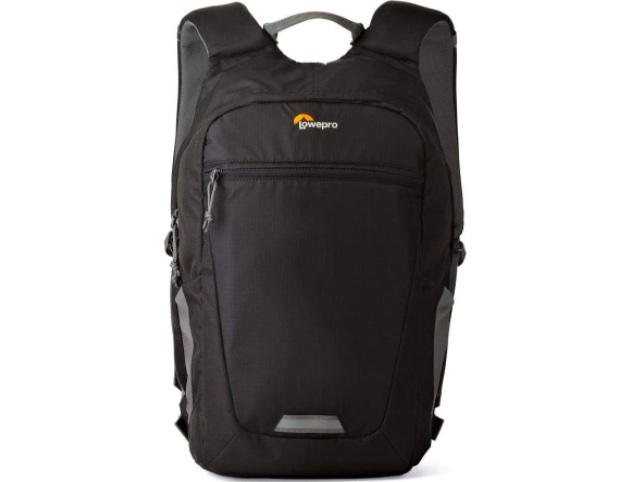 Another feature that makes Lowepro LP36955 a great asset is the removable camera compartment. Times when you don't need to carry camera, you can use it as a normal daypack. Plus, it comes with a hatchback stand that provides body-side access.
Talking about protection, you can count on Lowepro LP36955 to keep your gears secure. The water-repellent material coupled with the impact-absorbing interior makes it a reliable companion for your pricey camera gears. Priced at $64.74, Lowepro LP36955 seems a safe bet considering the appreciable features.
Pros:
Impressive hack-back style opening
Hatchback stand
Removable camera compartment
Water-repellent material
Cons:
A bit small camera compartment
The strap is not much durable
Price: $67.72
Where to Buy: Amazon
11. Peak Design Everyday Messenger Bag
If you are looking for a premium camera bag, check out the Peak Design Everyday Messenger Bag which is one of the best messenger bags for housing and carrying cameras. Despite the fact that the bag looks so small from the outside, it can easily hold your cameras, lenses, and laptop, making this a great traveling accessory for photographers on the go.
The bag is perfect for carrying smaller body types and mirrorless cameras. This one bag can house all the gadgets that you need to not only capture but also edit your perfect shots.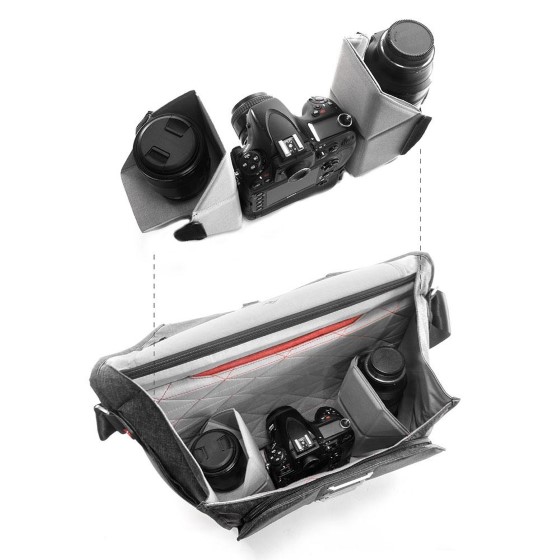 My favorite feature of the bag is what the company calls FlexFold dividers which can snap around and over individual items including cameras and lenses. Thus your gear is fit snugly inside the bag. The dividers protect your gear from moving around and getting scratches and dents even if you drop the bag by mistake.
Moreover, the bag also features a weatherproof exterior shell along with magnetic latches and adjustable shoulder straps which are really comfortable. It comes in both 13 and 15-inch sizes allowing you to carry everything that you need.
Pros:
Top-notch material
Modern-looking design
Weatherproof exterior shell
Adjustable shoulder strap
Cons:
Seems a touch overpriced
Interior doesn't have a durable cushion
Price: $153.97
Where to Buy: Amazon
12. Gitzo Adventury 30L DSLR Camera Backpack
If you are someone who travels a lot to remote places seeking adventure then this bag is just for you. The Gitzo Adventury 30L DSLR Camera Backpack is created for people who seek the thrill of adventure and capture that thrill using their camera. The bag is perfect for landscape and adventure photographers who need to carry a full camera equipment kit in a safe, roomy, feature-rich, and outdoor-ready bag.
Thanks to its roomy construction and the new GITZO G-Cushion, the backpack can safely protect a pro DSLR camera, a second camera body, and up to 4 lenses along with some small accessories.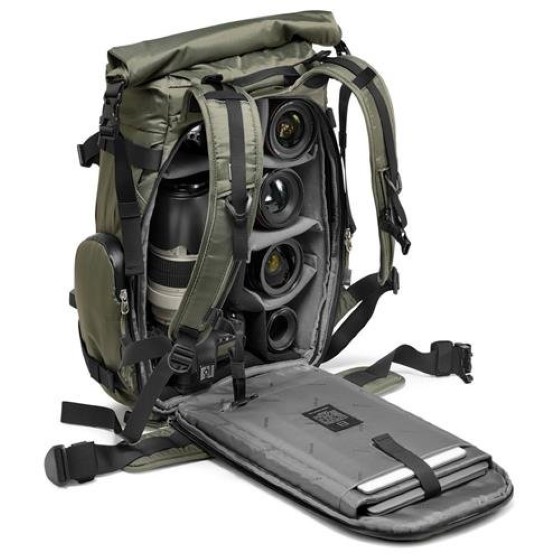 For example, you can easily carry cameras such as Canon EOS M5, Fujifilm X-Pro2, Fujifilm X-T1, Olympus OM-D E-M5 II, Panasonic Lumix DMC-G7, Sony Alpha 7 II, and more.
The bag can also easily carry a small drone such as a DJI Mavic Pro, along with its remote control and other accessories. Finally, there's also space for a full 15-inch laptop along with separate compartments for tablets and small tripods. Basically, with this, you can carry your entire photo/video capturing and editing rig with you.
Pros: 
High-quality material
Premium looking design
Option to carry a small drone
Space to store a 15″ laptop
Cons: 
Tripod mounting needs improvement
Expensive price point
Price: $249.88
Where to Buy: Amazon
13. Think Tank TurnStyle 20 V2.0
Think Tank TurnStyle 20 V2.0 camera bag since looks starkly different from all the camera bags on this list and I love it just for that. Apart from its looks, the bag also wins big points for being highly functional. It offers easy rotation for rapid access to gear and accessories so that you don't have to take off the bag from your back to use it.
It also features stabilizer straps that hold the bag steady even when you are running. When it comes to camera gear, the Think Tank TurnStyle can easily hold a standard DSLR such as a Nikon D800 attached to a 70-200 mm lens.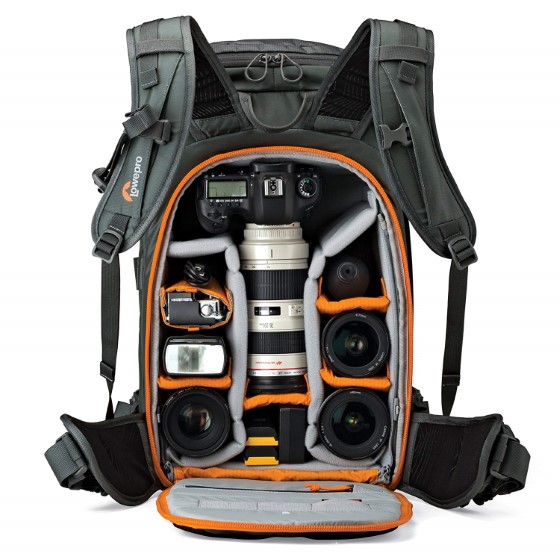 Apart from the main camera gear, it can also hold a DJI Mavic Pro along with its controller and batteries, and a 10-inch tablet.
That said, the bag cannot fit your laptop which might be a deal-breaker for many people. I feel that this bag is great for photographers who go out to take photographs but come back home to edit them. If that's you, definitely check it out.
Pros: 
Impressive build quality
Stabilizer straps
Can withstand shock
Provides rotation for rapid access to gear and accessories
Cons: 
The strap is relatively thin
Lacks a durable casing
Price: $99.75
Where to Buy: Amazon
14. Zecti Waterproof Large Canvas Camera Bag
If you are on the look for a large camera bag, give a close look at Zecti bag. The bag features a rugged design with a cushioned interior to endure shock and keep scratches away from your camera and accessories. With the strong strap, you can comfortably carry your gears.
As for material quality, Zecti is made of high-quality canvas. The material is waterproof and easy to clean. Besides, it also doesn't lose its colors, which is another plus. Featuring large compartments, it can let you store 3 DSLRs, 4 lens, and a 13-inch notebook, which makes it a safe bet for outdoor photography
With the inclusion of multiple tiny pockets, Zecti also ensures your accessories remain perfectly placed. One of my favorite features of this rugged camera bag is the ergonomic air mesh padding for back and shoulder straps which make it quite comfortable to carry. Priced at $77, it's not
Pros:
Waterproof material
Multiple pockets for accessories
A rugged design with a strong cushioned interior
ergonomic air mesh padding
Cons:
Rugged construction makes it comparatively heavy
Doesn't have a separate laptop compartment
Price: $76.99
Where to Buy: Amazon
15. CADEN Rugged Camera Bag
If you have set your sight on buying a reasonably good camera bag under $30, do not miss out on this offering from CADEN. The backpack sports a rugged construction that can withstand shock with ease. And with the cushioned interior, it makes sure your camera and accessories remain protected.
The internal compartment can fit one Canon Nikon Sony DSLR SLR, three lenses, a flashlight, and other essential accessories. Notably, it also features a handy tripod holder, which enhances its reputation as a useful asset for outdoor photography. In terms of material, the camera bag is made of water repellent 900D polyester fabric, which makes it waterproof.
With the side opening design, you can quickly access your camera and all the accessories. Another feature worth mentioning is the chest strap that comes in handy in letting you carry your bag comfortably. Keeping in mind these notable specs, CADEN is one of the best budget-friendly camera bags in the market right.
Pros:
Made of water repellent 900D polyester fabric
A handy tripod holder
Rugged construction
Convenient side opening
Cons:
Chest strap seems weak
Rugged construction may not appeal to everyone
Price: $26.99
Where to Buy: Amazon
16. K&F Concept Camera Backpack
This offering from K&F Concept is a complete camera backpack. Featuring a modern-looking design, it has got all the bases covered to make a fine statement. First things first, it's made of high-grade 840D high-density nylon material which makes it both water-resistant and tear-resistant.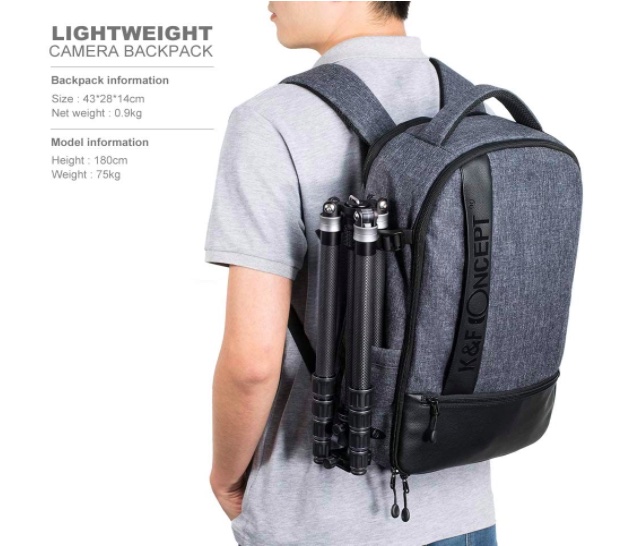 Even in terms of protection from shock, K&F Concept is up to the mark thanks to the impact-resistant interior that offers the needed cushion to the camera and accessories. The spacious compartments can let you comfortably store a DSLR, multiple lenses, and other essential photography accessories. Besides, it has a separate compartment for a laptop.
Plus, it also features a tripod holder to help you perfectly get ready for outdoor photography. With the presence of breathable air mesh straps and padded back enhance comfort factor. Not to mention, the fully adjustable chest belt that plays a key role in keeping the strap tight.
Pros: 
High-grade 840D high-density nylon material
A tripod holder
Breathable air mesh straps
Impact-resistant interior
Cons: 
The velcro holders are weak
The straps often come out of the fasteners
Price: $59.99
Where to Buy: Amazon  
17.
Endurax Waterproof Camera Bag 
Last but not least, Endurax is a pragmatically designed camera bag. Featuring a spacious interior, padded dividers, and multiple pockets for accessories, it helps you keep all of your gears perfectly organized. The main compartment is good enough to let you store a DSLR, 4 camera lenses, and a flash. Additionally, it also provides a secure holder where your tripod can stay intact.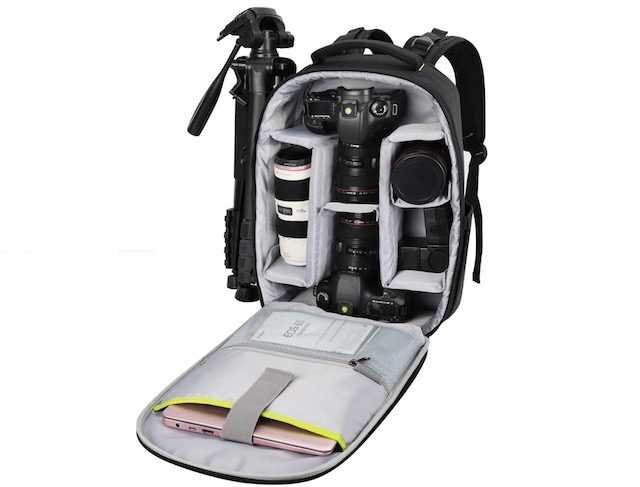 Endurax has a separate compartment where you can store a 14″ laptop and there is an additional space that can let you keep a 10″ tablet. And with a side pocket for a water bottle, it looks fully equipped to help you get ready for long outdoor photography. 
The inclusion of padded shoulder straps, chest strap, and the useful torso-length adjustment makes carrying the bag a convenient experience. Made of polyester material, it's water-resistant and can withstand impact as well.
Pros: 
Spacious compartments and pockets
Made of polyester material
Waterproof design
Separate compartments for laptop and tablet
Cons: 
Doesn't have strong padding inside
The zipper is not strong
Price: $49.99
Where to Buy: Amazon 
Frequently Asked Questions
Why are camera bags so expensive?
Not all camera bags are expensive. Some are expensive due to high-quality water-resistant material and premium build quality.
What is the best camera bag to buy?
There are several camera bags that can stake the claim of being the best in the business including K&F Concept, Peak Design, and USA Gear.
What should I keep in my camera bag?
Aside from your camera, you can keep lenses, camera accessories, and even laptop/tablet in your camera bag.
What are camera bags made of?
Camera bags are made of many different materials including polyester, canvas, and water-resistant nylon material.
Can a camera bag be a carry-on?
Yes. Most camera bags are carry-on bags so you can take the inside a flight with you.
Best Camera Bas You can Buy in 2020
So, that concludes our list of 17 best camera bags that you should consider buying if you carry multiple cameras, lenses, drones, laptop, and more. We have tried to include a variety of options for beginners as well as professionals so the list should offer something to everyone. If you think that we have missed on a great camera bag that deserves to be on our list, do let us know in comments down below, and we'll definitely check it out.