Although some great flagship smartphones have already been launched this year, the Google Pixel 3 lineup is the one most Android fans want to see. We're still many months away from the unveiling of the Pixel 3 and Pixel 3 XL but more and more details are trickling in by the day.
Pixel 3, Built by Foxconn
The latest report comes from Bloomberg and it not only corroborates some of the design and specs leaks but also states that Google has tied-up with Foxconn for manufacturing the upcoming flagships.
Since Google doesn't have a production line, it had relied on existing Android OEMs to build its phones. The original Pixel phones were built by HTC, whereas the Pixel 2 lineup saw HTC, and LG for the 2 XL. But, this time Google wants closer control over quality and is serious about hardware. Getting Foxconn to manufacture phones could mean better build quality, since the company already adheres to the high Apple standards. To recall, the Pixel 2 lineup was riddled with display quality and other hardware niggles, so Google is going straight to the world's largest phone manufacturer, instead of using a proxy.
Notch is Here
Bloomberg also shed light on the design. It said the Pixel 3 XL will have a 'nearly edge-to-edge screen' with a 'notch' up-top. Bloomberg asserts that the notch will sport the earpiece and dual selfie camera, which sure may come as a surprise to many. The chin at the bottom will house one of the front-facing speakers.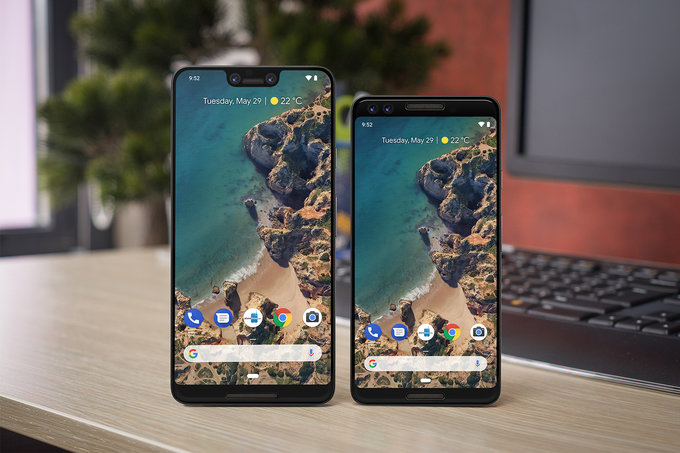 Single Main Camera
But, what's even surprising is that Google is planning to stick with its single camera on the back and still use software to achieve the portrait mode effect in photos. However, Google might go with a beefier sensor this time around or with variable aperture. More details about the camera will surely be revealed in the days to come. We are sure there will be a lot of criticism from fans about this if the cameras don't live up to the 2018 flagship standard
Besides the Google Pixel 3 lineup will feature faster and more efficient dual-band simultaneous Wi-Fi, which is another plus.
As for the smaller Pixel 3, the report says that "it will look similar to the Pixel 2 and won't include the notch or edge-to-edge look." The device is likely to resemble the current Pixel 2 XL and with an 18:9 display as opposed to the older 16:9 aspect ratio.
Just before the Bloomberg report, Roland Quandt also tweeted about Google's work with Foxconn. Quandt also provided a possible launch period.
Google really is going it alone: there are two Google Pixel 3 devices in the works, both based on SDM845. One has "new display hardware", both are built by Foxconn – not HTC, LG or whomever. Launch timeframe is Aug/Sep 2018. https://t.co/CelnTfO5IB

— Roland Quandt (@rquandt) May 30, 2018
So what do you think? Would you buy a Pixel 3 XL with the notch, or stick to the Pixel 3 with a more traditional design? Let us know which Pixel 3 rocks your boat!
---