The much-awaited Black Shark 2 arrived in India last week, adding to the niche but quite fledgling mobile gaming market in the country. It's a specced-out smartphone, which not only looks like a beastly RGB-lit gaming device but also specs to match. However, one of the more standout features of the Black Shark 2 will have to be all the awesome display technology that it packs inside.
We have already talked about these display features, which are pretty cool, but we finally got our hands on the Black Shark 2 earlier this week and it's the Master Touch feature that has me pretty impressed. It's a great addition for mobile gamers, let me tell you why.
Master Touch, for those unaware, is pressure-sensitive display technology that's added to the Black Shark 2 and it's pretty similar to 3D Touch we've previously seen on Apple's iPhones. It means you can hard-press on the screen to trigger custom on-screen actions, such as firing or jumping while you're in a game.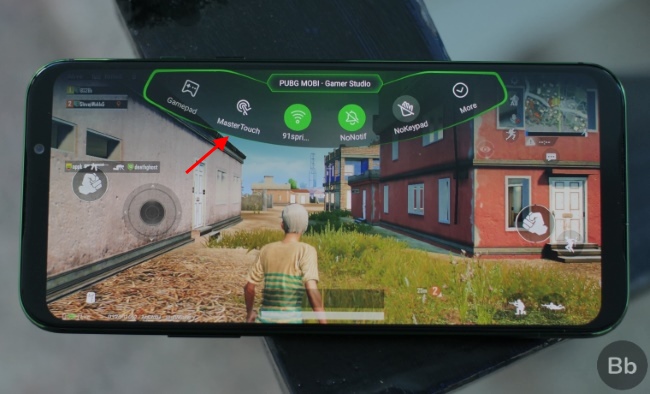 Yeah, that's the catch. Master Touch activates only when you're playing a game and isn't available for use across the Black Shark 2 otherwise, which is something that I would've loved to see. I hope Xiaomi makes it available across the device via an update, giving an iPhone-like feature set to users.
Putting that aside, you can activate Master Touch from the Gamer Studio overlay, which you open by swiping from the top right edge of the screen. Black Shark 2 will then show you blue (L) and orange (R) colored zones, offering you the ability to fully customize the display real-estate based on your gameplay style.
Apart from the massive left and right zone squares, you also have small circular icons to place over on-screen functions that you want to assign to Master Touch. In the picture I have attached above, you can see that I've assigned both the left and right Master Touch controls to firing. This means I can hard-press upon either of the two zones to shoot at the enemy, but I changed it to scoping (L) and shooting (R) in the video demo attached below.
The Magic Touch feature is pretty responsive and you will feel the Black Shark 2's sharp haptic feedback the instant you hard-press on the screen. It's a more intuitive system for rushing enemies the moment you spot them, but don't forget to set firing mode to burst else Magic Touch will see you firing a single shot and you will die a hilarious death. It's certainly better than on-screen buttons, which take up a lot of space on your screen too. Here's the Master Touch on Black Shark 2 in action, check it out:
Black Shark, which at this point I would like to point out is an individual entity and not a Xiaomi sub-brand, claims that Master Touch will help save you 'at least 80ms' in a gunfight and that can be true because you won't be lifting your fingers off the screen to fire or scope onto an enemy. However, I believe you will need to spend a lot of time with Master Touch, playing a lot of games, before you get well-acquainted with the controls.
I have been using Master Touch for a couple days now, playing PUBG Mobile and Call of Duty Mobile, with it and I still fumble and panic in intense moments – turning to the on-screen buttons. However, I feel like Black Shark 2's Master Touch is an exciting addition that will come in handy for Pro mobile gamers, fans of mobile FPS/battle royale games.
So, if you've been looking to buy the Black Shark 2 for your PUBG Mobile needs, Magic Touch is one of the many features that should make you gravitate towards pulling your credit card out right away. What are your opinions on the same? Tell us in the comment section down below.