Windows 10 is the most popular desktop operating system in the world. It's easy to use, brings exceptional features and customizability, and is available at every price point. Most of us grew up using a Windows computer and Windows 10 is probably the best execution of the decades old operating system. One of my favorite things about Windows 10 is that it allows me to customize the entire UI using themes which keeps it looking fresh. That's why it still surprises me to know that most Windows 10 users don't even use these excellent themes. Well, I want to change that with this article. If you are bored of the same Windows 10 look, here are the 15 best Windows 10 themes that you should use in 2020 to give it a new look.
Best Themes for Windows 10 in 2020
To ensure that you get enough variety to keep the impressive look of your desktop intact for long, I've picked out the themes both from the massive library of Microsoft and well-known third-party creators. Agreed, choosing merely 15 out of tons of amazing contenders is never an easy task. That said, these 15 Windows 10 themes are the best of the bunch and I am sure that you are going to love them as much as I do.
Best Windows 10 Themes on Microsoft Store
1. World National Parks
Ever wished to take a trip to the national parks of many countries like New Zealand, Canada, Chile, India and more? If the upfront answer is yes, set up the "World National Parks" Windows 10 theme on your PC straight away. It features 18 fascinating images and endows blue accent to the open windows. The moment I tried it out on my computer, I got smitten by its ever-green appearance. I guess you'd also be in a similar situation.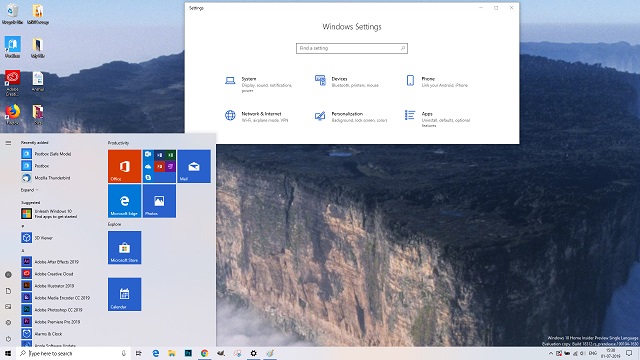 Install: (Free)
2. Forest for the Trees
If you have a liking for the green color, you should keep "Forest for the Trees" in your mind. With this 20-set Windows 10 theme, your eyes will travel through the great emeralds of tropical forests and appreciate the green accent everywhere. It would never get tired of offering you much-needed peace of mind.
Install: (Free)
3. McLaren Sena Track Day
If wicked fast speed and long racing are something that you admire, McLaren Sena Track Day has to be your top pick. Set up this 10-image theme to pay your ultimate tribute to "Ayrton Senna"–the legend who is regarded as one of the best racing drivers of Formula 1. Whenever your eyes would come across McLaren Sena, you'd feel like going for an endless drive around the racetrack thanks to the matching accent.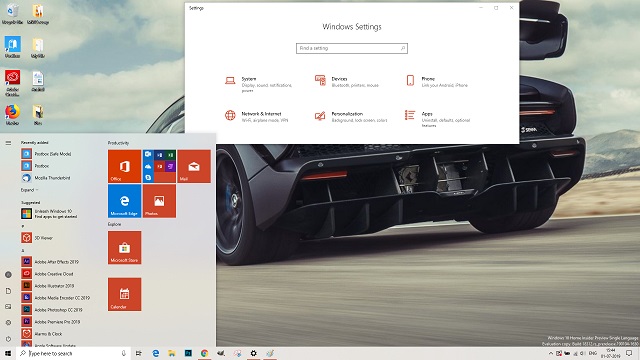 Install: (Free)
4. Ford F-150 Raptor Xbox One X Edition
The one word that truly describes "Ford F-150 Raptor Xbox One X Edition" is robust. This Windows 10 theme is the modified Xbox One X version of the F-150 Raptor and features 10 images. Whether you are a fan of Xbox One X or just want to take F-150 Raptor for a long driving spree, it would fit into your taste adorably with the solid look topped by the orange accent.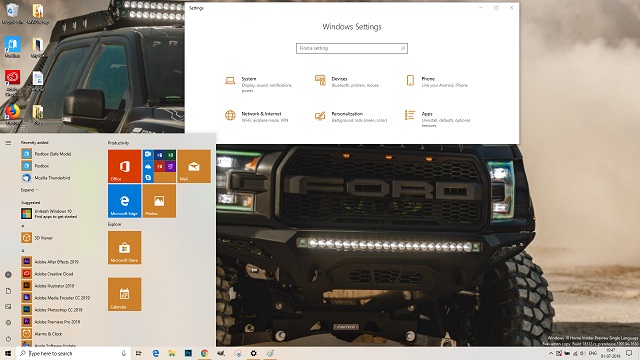 Install: (Free)
5. Panoramic Landscapes
When your desktop has the luxury to show off beaches, mountains, and forests, everything else will appear pale in comparison. Panoramic Landscapes Windows theme has 10 images which would let you design your PC screen with the panoramas of Mt. Everest, Thailand, Alaska, and more. Keep in mind, it will set you back by $0.99.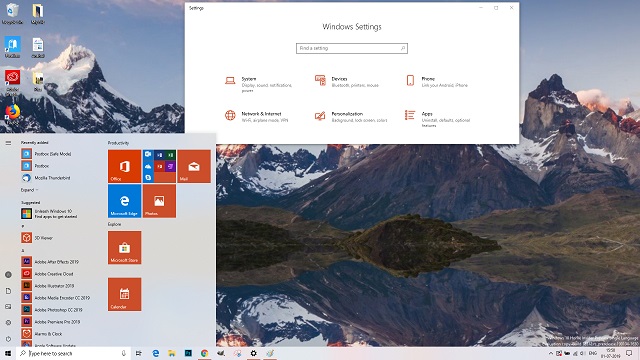 Install: ($0.99)
6. Meteor Showers
Meteor Showers theme comes with a set of 18 images. In this Windows 10 theme, meteoric celestial events light up the entire sky, adding a touch of celebration to your desktop. With the blue accent, the open windows also seem to be perfectly gelling along with the whole appearance. Choose it to give a dynamic look and feel to your desktop.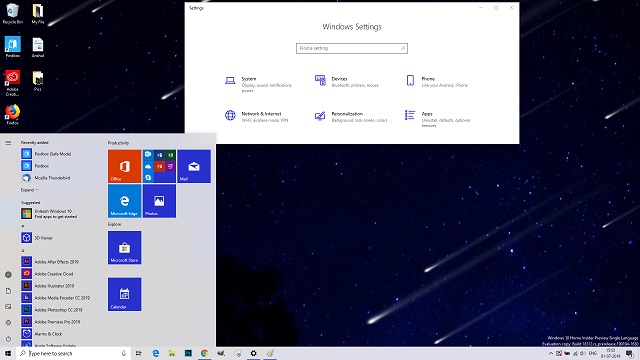 Install: (Free)
7. Loveable Pugs
This one is primed for all pug fans! This theme boasts 15 images of the sporty pugs. With the wrinkly faces and curly tails, the pugs always seems to attract eyeballs and bring plenty of smile to the face. So, if you are willing to give a bit playful look to your desktop, "Loveable Pugs" is what you need to try out.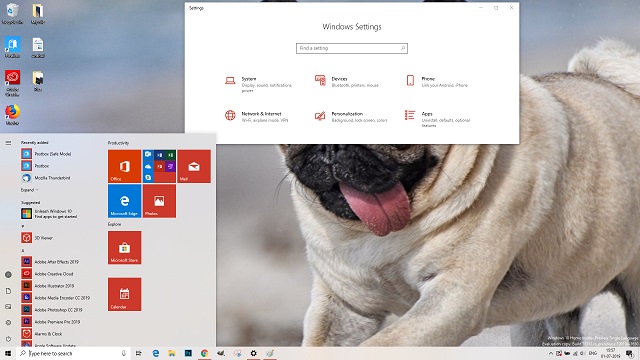 Install: (Free)
8. Bountiful Cottage Gardens
What about decorating your desktop with cottage gardens? Well, if you are ready to adorn the screen with some vintage scenery, "Bountiful Cottage Gardens" would be a great pick. This Windows theme contains 12 nice-looking images of country cottages. From the ever-attractive roses, elegant lavender to enchanting posies, it's got a lot more than what meets the eyes.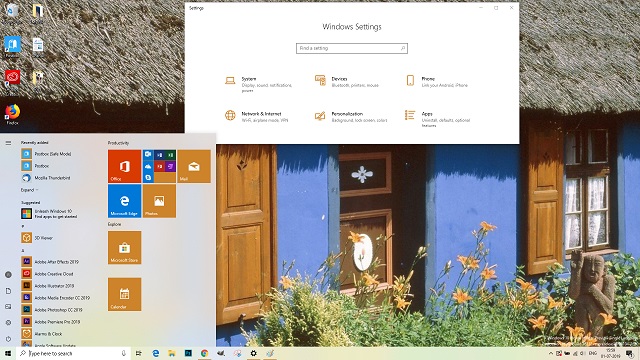 Install: (Free)
9. Chicks and Bunnies
If you want your desktop to appear playful, "Chicks and Bunnies" would be the need of the hour. It's the evergreen spring and baby animals are out there on the grass to have a long ball during the play dates. Whenever your eyes would fall onto these 14 images of sweet bunnies and sprightful chicks, they would want to get into the action as well.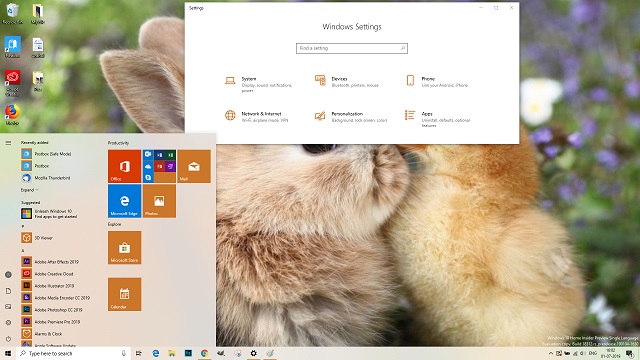 Install: (Free)
10. Paint 3D Creatures
No matter how many times you've looked at these 3D creatures, they always seem to be new and straight out of fun-loving animated movies. And this is what makes them so adorable. This 11-image theme would be a cool pick if you never want your desktop to miss eyeballs. Granted, the colorful creatures won't allow the passerby to go away without arresting attention!
Install: (Free)
Best Windows 10 Themes From Third-Party Developers
Now that we've explored plenty of cool themes from Microsoft, let's set our sight on the best Windows 10 themes created by third-parties.
11. macOS Theme
Though macOS has got a lot of impressive features, Dock is the one that's talked about very highly. Well, if you are craving to have this pie out of macOS and give your desktop a Mac feel, macOS Mojave Theme is designed for you. Sporting the look of Mojave with the elegant Dock, your desktop might make many feel that perhaps you are running macOS. Also, if you love other macOS features read our article to find out how you can get macOS Mojvae features on your Windows 10 machine.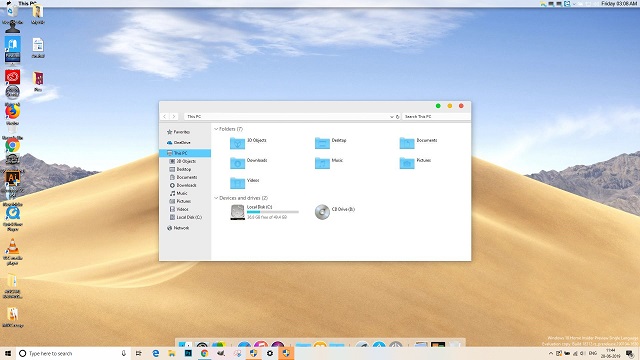 Install: (Free)
12. Dark Theme from Deviant Art
Should you consider a dark theme must-have in your roster, this Dark Theme from Deviant Art is the one you must try. Apart from giving the desktop a pleasing look, it would also soothe your eyes. Knowing that dark themes are so trendy these days due mainly to their ever-lasting appear, put it in your armory straightaway. Just in case, you wish to appreciate the creativity, you can donate small amounts to motivate the creators. Also, if you love the dark mode as much as I do, click on the link to learn how you can enable dark theme everywhere on all your devices.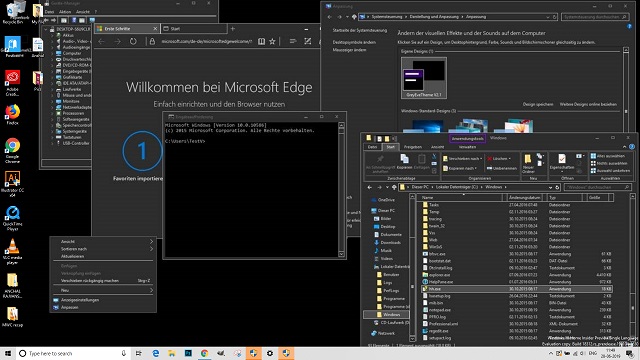 Install: (Free)
13. Hover Dark Aero Theme
Another great Windows 10 theme is the "Hover Dark Aero Theme" from DevianArt. There are multiple theme accents available so you can customize it to look the way you want it. The best part is that the theme is free and there are no ads or popup notifications. I also love the fact that the theme is minimalist and doesn't add too much bling to the operating system. The theme is regularly updated with new bug fixes as soon as new Windows 10 updates are released which makes it a great choice for users who don't want a theme that will be deprecated in the coming future.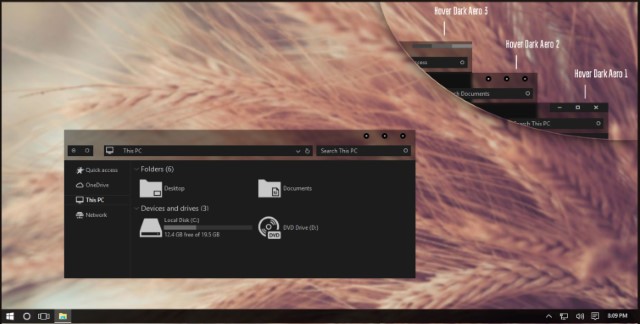 Install: (Free)
14. Avengers: Endgame Theme
"Avengers: Endgame" had a wonderful run at the box office globally as the movie has shattered all the previous records and even almost matched the lifetime collection of Avatar. Well, if you wish to celebrate the massive success of this movie or have perennially been the fan of Avengers, you've got to have Avengers: Endgame Theme, which contains 16 HD images, right on your desktop.
Install: (Free)
15. Star Wars Theme
One more theme for the movie buffs! Star Wars Theme would be a fantastic addition to your roster as it can give a stylish look to your desktop. As the battle between good and bad has intensified, get on the side of truth by pledging your unflinching support. In this Windows 10 theme (contains 33 HD wallpapers), two iconic characters are holding the lightsabers as against grey and black gradient background, making it crystal clear that the good will never give up against evil.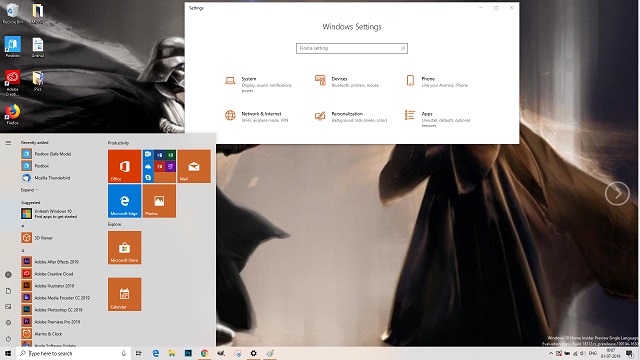 Install: (Free)
Bonus: Nvidia Control Panel
It's no secret that gaming aficionados like to give the gaming look and feel to almost everything they own. If you are one of them, then "Nvidia control panel" would win you over right away. What makes it so appreciable is the ability to instantly turn your computer into a power-packed Nvidia control panel. Whether it's the wallpaper or the default Windows 10 programs, everything has the stylish black and green Nvidia accent.
Install: (Free)
SEE ALSO: How to Legally Get Windows 10 Key for Free or Cheap in 2019
Never Let Your Desktop Look Dull with These Awesome Windows 10 Themes
Now that you've got enough good-looking themes at the disposal, get the most out of them to make your Windows 10 look always attractive. Choose each theme as per your mood so that the entire look appears to be in line with your taste all the time. Have I missed out on some cool Windows 10 themes? If yes, do not forget to tell me about them as I may consider giving them a chance in the above lineup.