iPhone 11 is here and I love the new phone. The phone features the glass on glass design language which Apple introduced with iPhone X and continued with last year's iPhone XS. It is kind of a problem as I am one of those users who like to carry their iPhone without any case. Also, I hate the added bulk which comes with using a case. That being said, I don't carry my iPhone naked as the glass back is slippery and a fingerprint magnet. I prefer to install a skin on it. A skin not only let me flaunt the design of my latest iPhone but also provide that extra grip that keeps it secure in my hand. So, if you are also in the market for some skins, here are the 10 best iPhone 11 skins and wraps that you can buy.
Note: Right now, only Dbrand and Slickwraps are offering skins for the latest iPhone 11. We will update the list with even more iPhone 11 skins as soon as they are released.
Best iPhone 11 Skins and Wraps to Buy
Both Dbrand and Slickwraps are titans in the smartphone skins and wraps industry. They make the best-designed skins with premium 3M material. I have used their skins in the past (my personal iPhone X is wrapped in Dbrand's skin right now) and can vouch for their quality. The skins mentioned below are my personal favorites but both the companies offer way more options for you to choose. With that said, let's check out the best iPhone 11 Skins that you can buy.
Note: Upgraded your iPhone and looking for the skins for the iPhone 12 Pro Max? Click on the link to check them out.
Best iPhone 11 Skins by Dbrand
Dbrand is my favorite iPhone Skins company. I prefer its products because they are precisely cut and are made with high-quality materials. One of the best things about Dbrand is that it allows you to customize the skins by choosing different skin options for camera, back, and more. However, to keep this article simple, I am only going to talk about single material skins. You can, of course, customize yours as per your liking.
1. Signature Mahogany Wood Skin
Dbrand offers three different skin types in its wood series; Mahogany, Bamboo, and Zebra Wood. My favorite is the Mahogany Wood Skin just for the fact that it looks awesome. I purchased this skin for my iPhone X when I first purchased the device and for the first six months, it protected my iPhone X against scratches and scuffs. Note that the skin's texture is a bit on the smoother side so it's not the best skin for users who are looking for extreme grip.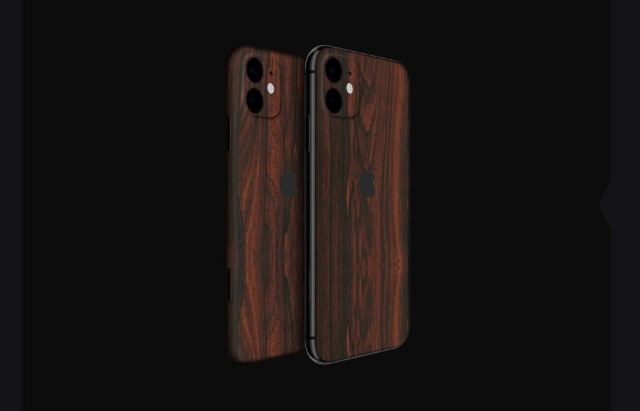 2. Black Swarm Skin
If you love a textured finish in your hand then this black swarm skin from Dbrand is just for you. This skin is great for providing extra grip thanks to the finish. We have this skin installed on the iPhone XS Max, and the skin improved the device's usability, especially when using the smartphone with one hand. I also love the unique design of swarm skin as it makes it stand out from the others.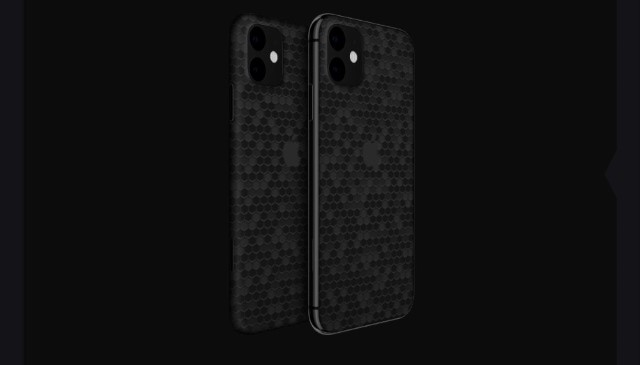 3. Concrete Skin
Dbrand offers three kinds of stone skins which include Concrete, White Marble, and the Black Marble. Of the three stone skins, the concrete skin is my favorite, both because of its looks and in hand feel. While the white and black marble skins bring a polished feel, the concrete skin feels rough in hand and improves the grip of the phone. I also like the rugged look of the skin which gives the phone a kind of vintage look. If you like the same things, you should check it out.
4. Red Dragon
Next in line is the "Red Dragon" skin which features a skin with dragon-like scaling effect. I love the in-hand feel of the skin but I understand that this might not be for everyone. If you enjoy the smooth and shiny surface of your iPhone 11's glass body then this skin is not for you. This skin is for users who want to add grip and more importantly give a badass look to their phone. The skin is also available in black.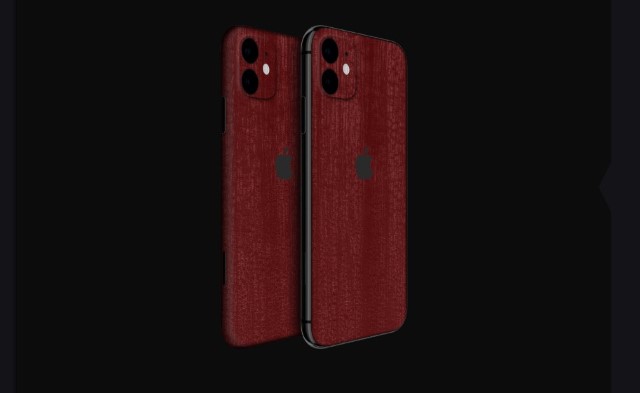 5. Titanium Skin
If for some reason you don't like the new glass finish of your phone and miss the metal back of previous iPhones, then you should consider the metal skin range from Dbrand. Available in different color options, the metal skins provide a smooth metallic finish to your phone. You can choose from Titanium, Hyperblack Titanium, Gold, and Copper. I prefer the OG titanium skin as it brings a unique look but you can choose the one you want. And you can always mix and match your skins.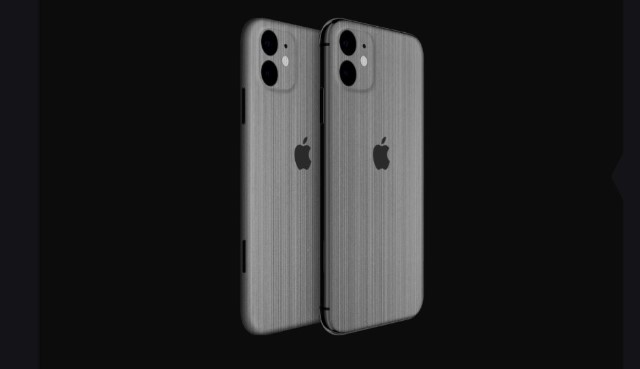 More Dbrand Skins for iPhone 11 and Pricing
As I mentioned above, these are just my favorite Dbrand skins for iPhone 11. You have other options to choose from include leather skins, matte skins, simple color skins, carbon fiber skins, and more. All the skins cost the same and you don't have to pay extra for choosing a different skin. You can find the pricing and a link to the skins below.
Buy iPhone 11 Skins from Dbrand: $13.90 ($12.95 for back + $0.95 for camera)
Best iPhone 11 Skins and Wraps by Slickwraps
If you want to take your skins game to the next level, Slickwraps can help you. The company makes some of the most unique and coolest iPhone 11 skins that you can find anywhere. If you count all the different design and color options, you will have a hard time deciding which iPhone 11 skins you want. To make things easier, since I have already featured metal and wood skins above, I am going to skip those. With that said, let us check out 5 of my most favorite iPhone 11 skins by Slickwraps to help you get started.
1. Apple Retro
I am one of those fools who adores retro looks and Slickwraps has always been my go-to skin company for bringing retro looks to my iPhone and MacBook Pro. The retro iPhone 11 skin by Slickwraps is beautiful. With its retro color choice and rainbow-colored Apple Logo, this skin is certainly going to win your heart. While the skin is also available in a Retro Black option, the original retro is the look that you should go for.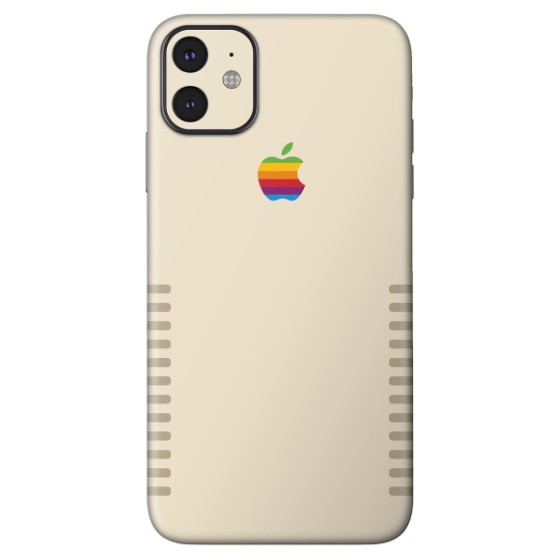 Price: $19.84
2. Oil Pain Skin Series
If you love art and want to give your brand new iPhone 11 a unique look then you should check out the oil paint skin series for iPhone 11. The series features 11 different designs for iPhone 11 skins all of which emulate an oil painting. All the skins in this series are beautiful. My favorite and the one featured below is called "Pink Brushed". But if you don't like this one, there are ten other options to choose from.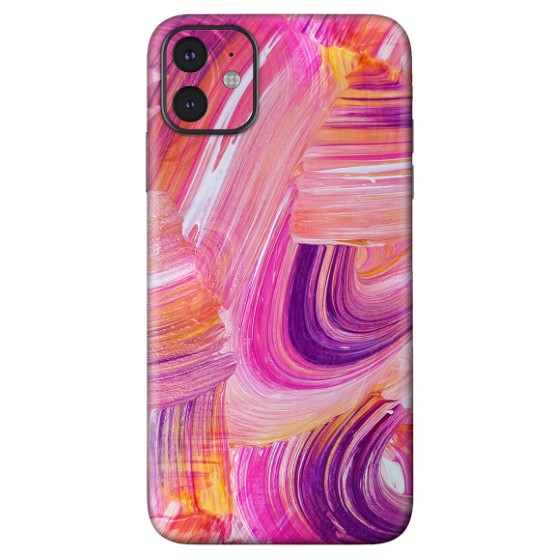 Price: $22.95
3. Sticker Bomb Skin
If you are someone who loves placing stickers on their MacBooks and iPhones, then you are going to love this skin. The sticker bomb skin remains true to its name. The skin features dozens of stickers superimposed over each other. The stickers used are from different fields including games like Grand Theft Auto, cartoons like SpongeBob, animated series like South Park, and more. For some users, this might be a little too much. But if it speaks to you, definitely check it out.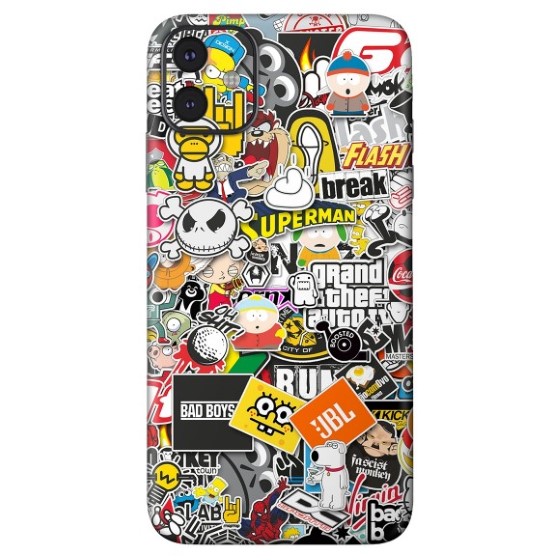 Price: $22.95
4. Mosaic Wraps/Skins
Mosaic is a new skin from Slickwraps and I adore it. Not only it looks premium but its in-hand feel is beyond description. It feels both smooth to touch and yet adds grip to the phone. The mosaic skin is available in black and white color and I prefer the latter. The black skin is good and all but the white one just adds an extra oomph in my opinion. If you like the subtle and premium design then you are going to enjoy this skin from Slickwraps.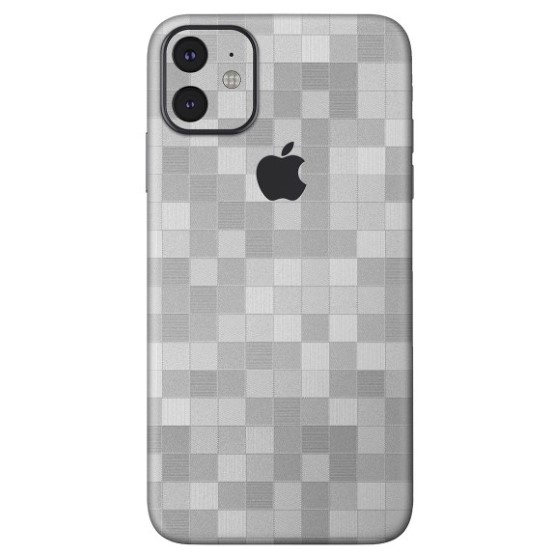 Price: $24.95
5. Design Your Own iPhone 11 Skin
Slickwraps also lets you go wild by giving you an option to design your skin from scrap. When designing a skin, you can add a custom paint job, add stickers or other design elements and even add custom text. If you want you can upload a design and get it converted to skins. There is so much you can do here. Of course, the price of the skin will depend on your customization and material used, but in my experience, it doesn't cost much more than normal skin.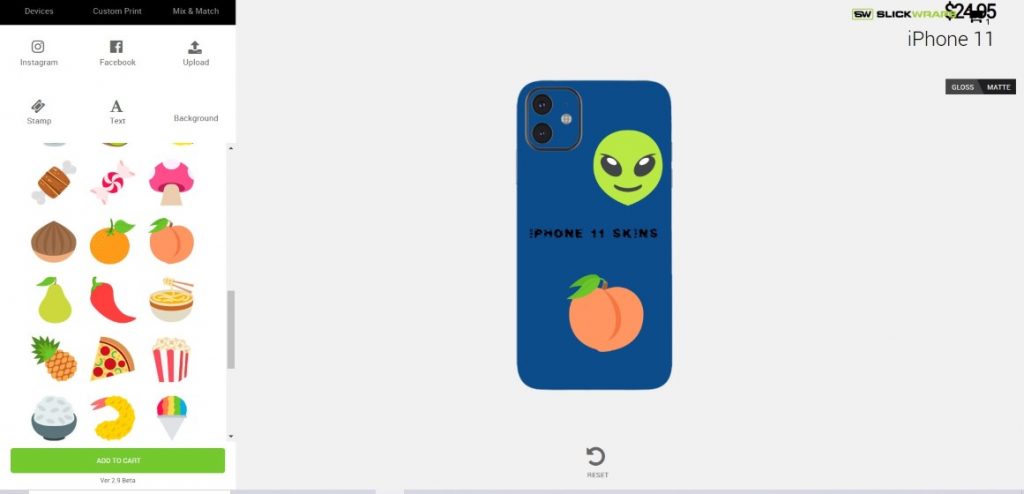 More Slickwraps Skins for iPhone 11 and Pricing
As I mentioned before, Slickwraps offer a plethora of skin categories with each category featuring multiple color and design options. Some of the other popular iPhone 11 skin series include the Camo Series, Marble Series, Carbon Series, Deep Space, and more. The pricing of the skins vary depending on the series but they mostly cost between $19 and $25. Also, the website normally offers some kind of discount so you can always get these skins for cheaper prices.
Buy iPhone 11 Slickwraps skins
SEE ALSO: 10 Best iPhone 11 Cases and Covers You Can Buy
Get the Best iPhone 11 Skins
That ends our article on the best iPhone 11 skins you can buy right now. Remember it's still early days so apart from Dbrand and Slickwraps, nobody else is providing iPhone 11 skins. But don't worry, cheaper skins will come out on Amazon before the week is over and we will surely update this article to reflect them. So, do remember to check back if you are looking for even cheaper skin options.
---
Load More