While wooden cases may not be at the top of my collection like premium leather, crystal clear suits, and cute cases, they never seem to go out of my sight. It's the irresistible vintage profile with the natural wooden texture that appeals to my taste the most. Vintage look and feel aside, wooden cases are second to none when it comes to enduring impact even from a nasty shock. Moreover, you can also count on them to be a decent hand warmer and play nice with wireless chargers as well. If you find these features worth having a go, these are the 8 best wooden cases for iPhone 12 Pro Max lined up just for you.
Best iPhone 12 Pro Max Wooden Cases You Can Buy
So, what kind of wooden cases are you hunting for? Are you on the lookout for a protective wooden case with a vintage design or a slim wooden cover with a rubberized interior or a wooden case with an engraved pattern for an artistic appearance? Well, this lineup has got you covered with a variety of cases that make a befitting pair with the iPhone 12 Pro Max. That said, let's get down to the list of the top wooden cases designed for iPhone 12 Pro Max!
1. Native Union Click
Should you wish to go for a premium iPhone 12 Pro Max wooden case, Native Union Clic is the one I would recommend you to take a close look at. The case is carved out of American walnut wood and oak wood. The metal inlet logo coupled with the sleek finish further enhances its profile.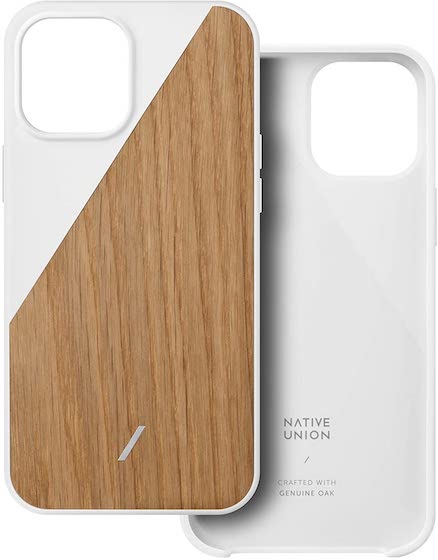 For additional protection from accidental drops, the wooden case features a shock-absorbing TPU frame and the raised lips that keep the ultra-large 6.7″ OLED display and the pro-grade cameras lifted off a flat surface.
Apart from boosting protection from unwanted damage, the soft frame also provides the needed grip so that the phablet doesn't slip out of your hands. That's not all, Native Union Clic also plays nice with wireless chargers which makes it a complete wooden case for your iPhone 12 Pro Max.
Buy from Amazon: $39.99
2. iATO Folio Wooden Case
For those looking for a fully protective wooden case in a folio form-factor, iATO folio wooden cover appears to be the way to go. The real walnut exterior gives it a classy look while also providing a secure hold. To further amp up the protection from drops and scratches, the case features a rugged PC bumper.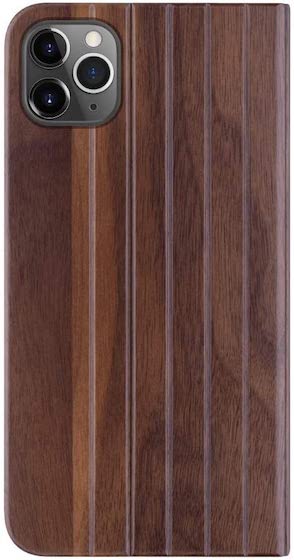 The beveled edges around the camera bump and the 6.7″ display offer extra protection from scratches. For all being a folio case, it doesn't look bulky or adds unnecessary bulk. All the cutouts are in place, which allows convenient access to ports. Notably, the low-profile folio case is also compatible with wireless charging, which is yet another plus.
Buy from Amazon: $31.95
3. JUBECO
Featuring an impressive slim form-factor, JUBECO is one of the very few wooden cases that tend to appeal to you right from the outset. While the real wood exterior adds natural flair, the rubberized bumper enhances durability. Despite having a slim design, the case can offer protection from both drops and scratches, thanks to the shock-absorbing interior and raised bezels.
The rubber bumper also offers a secure hold, preventing slip-offs. Due to soft rubber, the pronounced buttons feel responsive and provide a better click. Not just that, JUBECO wooden case is also designed to support wireless charging, so that you won't require to remove the case before charging the iPhone 12 Pro Max.
Buy from Amazon: $19.80
4. kwmobile
For the folks who are fond of an engraved pattern, kwmobile wooden case could be a nice pick. Courtesy of the walnut wood, the case sports a vintage design. And with the artistic engraved pattern, it looks primed for a classy look and feel.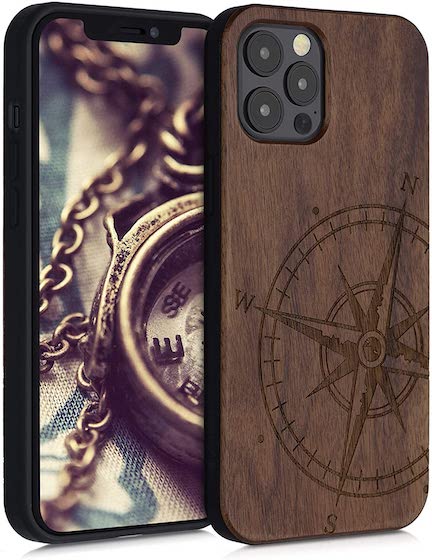 Beyond vintage design, kwmobile wooden case is equally good when it comes to withstanding impact. Due largely to the TPU bumper, the case can absorb shock with ease and also keep scuffs away.
Notably, the rubberized material also plays a vital role in making the pronounced buttons feel responsive. At $10, kwmobile is also among the cheapest wooden cases for iPhone 12 Pro Max in the market right now.
Buy from Amazon: $9.99
5. Lontect
If a simple wooden case with a compact form-factor is what you are looking for, this offering from Lontect could be worth checking out. Carved out of real wood, the case sports a smooth finish that plays a vital role in keeping the iPhone 12 Pro Max steady in your hands.
As for durability, I have found Lontect more than good enough to offer the trusted shield to the iPhone. The presence of impact-absorbing TPU interior has strengthened the cushion to fight out drops.
And with the elevated edges guarding the 6.7″ OLED display and the huge camera module on the back, you have a case that can live up to the task when it comes to safeguarding the expensive iPhone. Overall, Lontect is a worthy accessory for your iPhone 12 Pro Max.
Buy from Amazon: $10.99
6. iATO Slim Wooden Case
It's the slim bamboo wood profile that has caught my eyes in this offering from iATO. And if you are fond of the look and feel of genuine bamboo wood, chances are high that it may also win you over. The wooden construction is ably complemented by the hard PC bumper that strengthens the durability, while also enhancing grip.
The precise cutouts further improve the form-fitting design of the bamboo wooden case. For all having a relatively slim construction, it can safeguard your all-new phablet from drops. Plus, the wireless charging support puts it in line with the best wooden covers for iPhone 12 Pro Max.
Buy from Amazon: $19.95
7. Okaywood
Sporting a rugged construction, Okaywood promises to offer a 360° shield to your iPhone 12 Pro Max. Looking at the shock-absorbing casing bolstered by the use of hard PC and soft TPU, the wooden bumper case can comfortably take on accidental drops. The solid frame also provides a comfortable hold to ward off slip-offs.
Beyond protection, Okaywood features a top-notch hand-crafted design that gives it a vintage look and feel. The TPU sides make sure the buttons feel tactile and easy to press. Besides, the rubberized interior also allows hassle-free installation/removal. Keeping in mind the protective shield, Okaywood seems to be a safe bet at $30.
Buy from Amazon: $29.99
8. Mr.Artisan
When it comes to making a good-looking pair with the iPhone 12 Pro Max, Mr.Artisan is on par with the best in the business. Boasting the construction of real wood coupled with a precision finish, the case wraps around the edges of your ultra-large iPhone.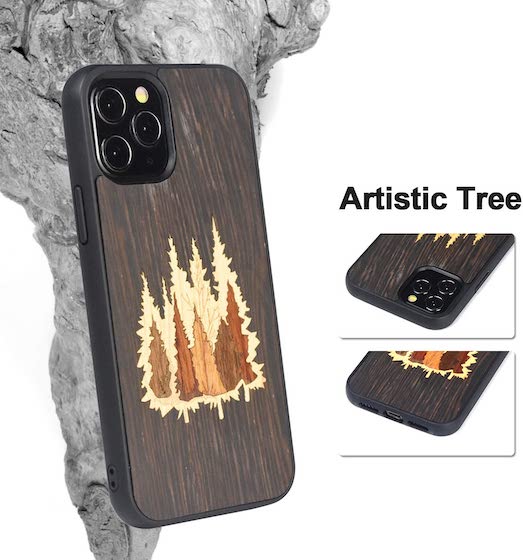 The neat cutouts for the triple camera setup and ports also play a key role in giving the case a form-fitting look. Design aside, Mr.Artisan is also quite good in terms of offering the necessary shield to the iPhone thanks largely to the rubberized body. What's more, the wooden case also comes with a scratch-resistant screen guard to provide a reliable safeguard to the 6.7″ OLED display.
Buy from Amazon: $19.99
Top iPhone 12 Pro Max Wooden Cases Lined Up for You
So, that ends our article on the best wooden cases designed for iPhone 12 Pro Max. As mentioned above, they are good enough to not only make a suitable match with the phablet but also provide it the trusted safeguard against impact. What's more, they can also be counted to offer better grip and work with wireless chargers without any pain.
By the way, which one of these wooden cases is all set to get installed on your iPhone 12 Pro Max? Is it the one that has a premium wooden design?