Despite being online for over a decade, Roblox remains a hugely popular sandbox games platform. It caters to both individual players and teams, having something in store for everyone. Recently, Roblox has started rolling out VR support for gamers around the world. While we have previously discussed how to play VR games on Roblox, today, we focus on getting you up to speed with some of the best virtual reality games. Roblox has its fair share of VR games that dabble into various genres. For those with VR headsets, I have compiled a list of the best Roblox VR games you can play in 2023. So charge up your Meta Quest headsets and dive in.
Best Roblox VR Games (2023)
What Do You Need to Play Roblox VR Games
Before we get started, let's quickly discuss what you need to experience Roblox VR games. While Roblox is a lightweight platform, there are a few things you need to experience virtual reality. This includes at least an entry-level VR headset and a powerful PC. For the complete list of requirements and the process, check out our guide on how to play Roblox on the Oculus Quest 2. With that out of the way, let's take a look at the best Roblox VR games.
1. Project: SCP [VR SUPPORT]
Let's start with Project: SCP, a Roblox VR game inspired by the cult classic fictional foundation Secure Contain Protect. For those unaware, the world of SCP revolves around different objects that are considered anomalies. All these objects are fatal and divided into classes. SCP is the organization that secures, contains, and protects these objects from getting out there.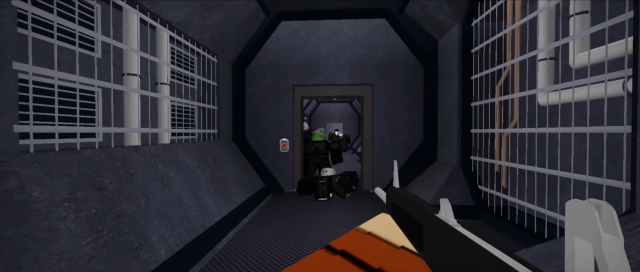 Project: SCP is a round-based game that focuses on this world. As a player, your aim is to escape the SCP facility as either a D-Class object or a researcher and survive. Along the way, you get access to different weapons that you can use against enemies. Do remember that your VR experience might get scary at times. So if you want to start your VR journey with this Roblox game, tread with caution.
Play Project SCP VR
2. Sound Space Music + Rhythm
If you have grown tired of Beat Saber and want to experience something new, this is the Roblox VR game you should get. Sound Space is a rhythm-based game set in a cyberpunkish retro world. For starters, the game puts you in a video game arcade that you must enter to play the game. Once in, your job is to move your controller cursor through the incoming hollow blocks. To be honest, though, it is like a mini workout.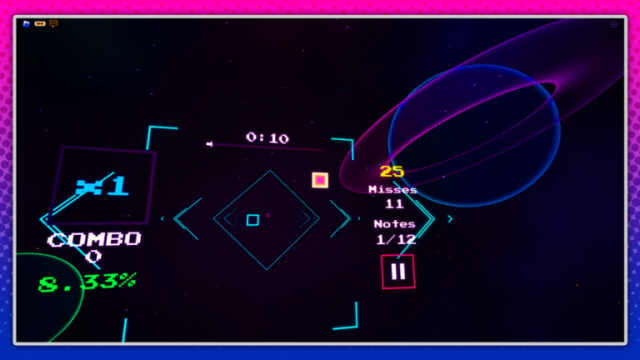 Sound Space Music is a Roblox VR game that includes some underrated music artists in their collection. The latest update has added 29 new charts to perfect your skills. Besides the music, you can walk around the virtual cafeteria, interact with other players or make them your rivals in the leaderboard.
Play Sound Space Music + Rhythm
3. Cook Burgers
Cook Burgers is a classic restaurant management game. This Roblox VR game is like the Overcooked series, except you get to pair up with strangers. Players start in the kitchen and are responsible for assembling burgers for waiting customers. Don't worry, as you just have to place the ingredients on top of each other — that's all. You can also choose to manage the till instead and collect the bill.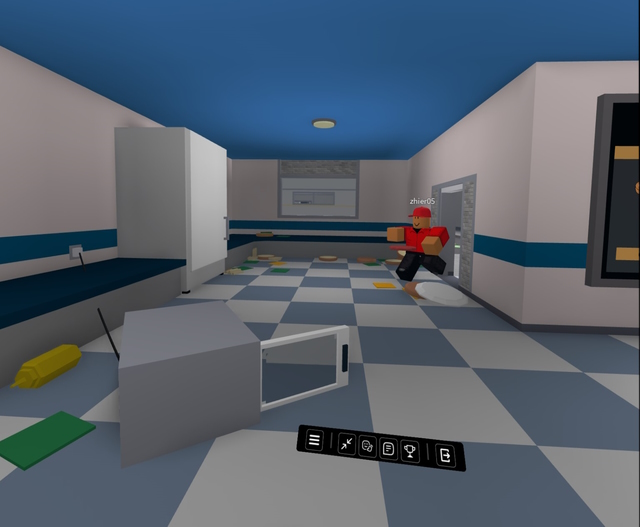 Employees who serve the best work get their collection amount noted on the board. However, if you don't feel like being an employee, you can venture out and find the strange potion that lets you become a rat. However, I was okay with throwing burgers at people in the messy kitchen.
Play Cook Burgers
4. VR Hands
VR Hands is a Roblox game you can easily play with your non-VR friends. As you would have guessed, this title makes you a massive pair of hands hovering over the map. Down below are the non-VR players whose main job is to pass the obstacle course. But they can't do it without your help.
As the wielder of the giant body, it's your role to use your big hands to cover the places where the tiny people can't go. Simply hover over the gaps and players can use these hands to walk through. Or if you want, you can be a little evil and take your hand off as they pass and watch them drop down. Try playing VR Hands in both modes to maximize your fun.
Play VR Hands
5. Clashers VR
I first played this Roblox VR game while setting up my Oculus headset last year. After all this time, Clashers VR continues to be one of my favorite picks. For those who have played it, this battle-focused VR game will take you back to Blade and Sorcery VR. Clashers VR offers a few modes, including Castle Defence, Wave Survival, and more.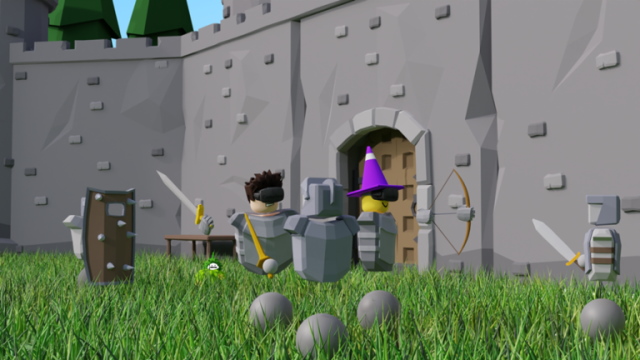 No matter what mode you pick, Clashers VR has players picking up various weapons and striking their enemies. The AI enemies too have armaments of their own and they hurt, so be sure to move out of the way when shot at. The game even includes flying projectile-throwing enemies. If you want an action-focused game, try out Clashers VR on Roblox.
Play Clashers VR
6. VR ESCAPE ROOM [BETA]
I'm a big fan of escape room titles. And as you might have guessed by the name, VR Escape Room brings that to Roblox and your headset. Having been released a few years ago, the game claims it's the first-ever VR escape room-style experience. The purpose of this game is to, well, escape the room. However, because not everyone might be familiar with the concept, you start in a tutorial session.
Once done, players currently have two different scenarios to choose from. You can either enter the Desert Temple and find a way out, or you can return the sword to the knight in Medieval Mission. More missions are due to be added soon. The game added compatibility for HTC Vive, so you are free to try this Roblox VR game out with most popular headsets.
Play VR Escape Room
7. Vibe VR Remastered
True to its name, Vibe VR Remastered is a Roblox game based on having a fun time and keeping a nice vibe. There is no true objective you have to follow to win. Instead, consider this game like a virtual hangout room where you and your friends can vibe together. The game has been remastered from its original form and now features better graphics and more things to do.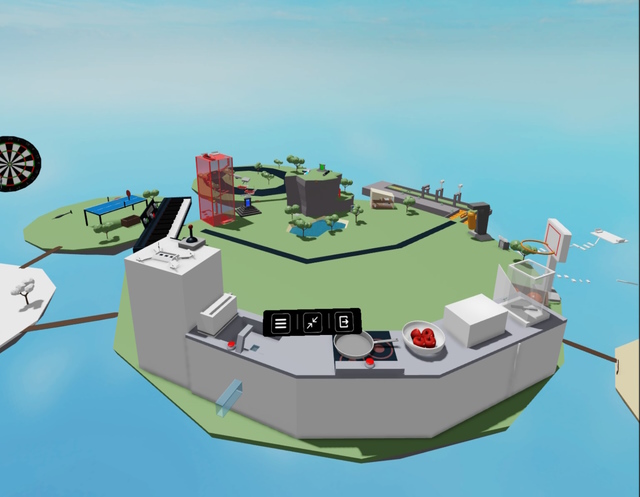 There is a singular map, but you get to do a lot of activities. The game boasts dart shooting, a playable piano, bowling, cooking, basketball, and much more. Players get around by hovering over the map using their hands. For those who want even more fun, the creators have also released a new game called VR Hangout (Play). Check it out as well.
Play Vibe VR Remastered
8. Self-Driving Simulator [VR, Non-VR]
Another relaxing Roblox VR game to try out is the self-driving simulator. However, you don't actually have to do the driving in this game, as the car is autonomous. You only need to decide where you are going and enjoy the ride. The game itself can be enjoyed solo or with friends.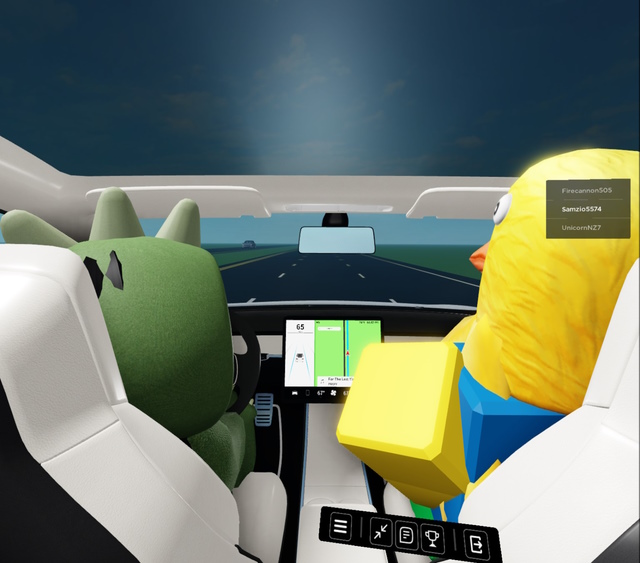 Self-Driving Simulator is a game that is more of an experience rather than anything else. So while there aren't many things for you to do, it is still an excellent Roblox VR game you should try if you want a relaxing drive.
Play Self-Driving Simulator
9. Koala Cafe
Roblox has more than its fair share of roleplaying servers where players can enter different worlds. Koala Cafe is one of those worlds and is a full-fledged cafe dedicated to serving virtual customers. Like the game above, there is no singular objective to win the game. Once you enter Koala Cafe, take the time to walk around and check out the atmosphere.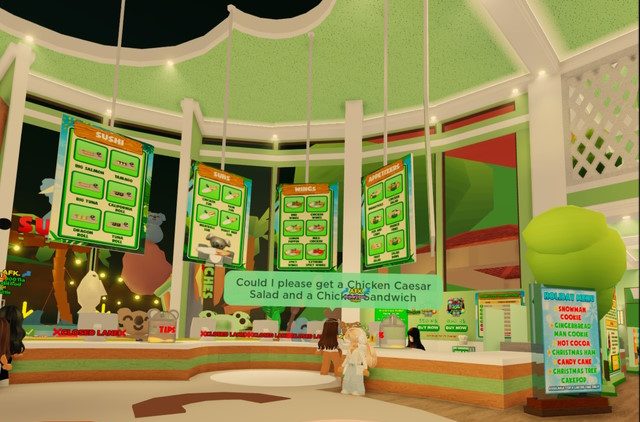 This Roblox simulation VR game has an entire menu you can order off if you feel like your character is hungry. From slushies, burgers, and cotton candy to even plain water, there is a lot on offer. Simply walk up to the cashier and place your order. For players who are looking for action games, skip this one.
Play Koala Cafe
10. Cleaning Simulator
This Roblox VR game reminds me of a much more violent PC game called Viscera Cleanup Detail. However, unlike mopping up dead bodies, the enemies here are messy puddles and stains on walls. As the janitor, it is your job to clean this mess up — quite literally.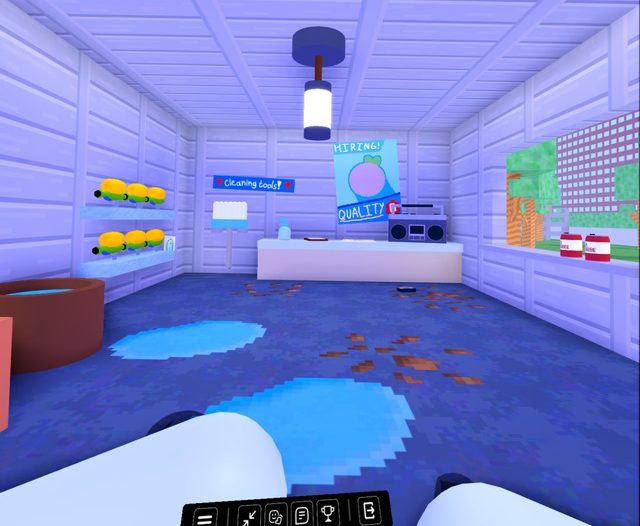 The cleaning simulator lets you buddy up or get into a server. However, if you wish, you can go at it solo while exploring the world around you. The game has a mixed art style of Roblox combined with 2D animations, and I found it fun to play.
Play Cleaning Simulator
11. EdgeWorks [VR Exclusive]
Unlike most of the games on this list, Edgeworks is the only game that has been built from the ground up exclusively for VR. The game is a combination of parkour, physics-based climbing, shooting, and a story to top it off. Since special attention has been paid to physics, moving around the game feels especially realistic. You climb structures and railings with a combination of visual cues and controllers.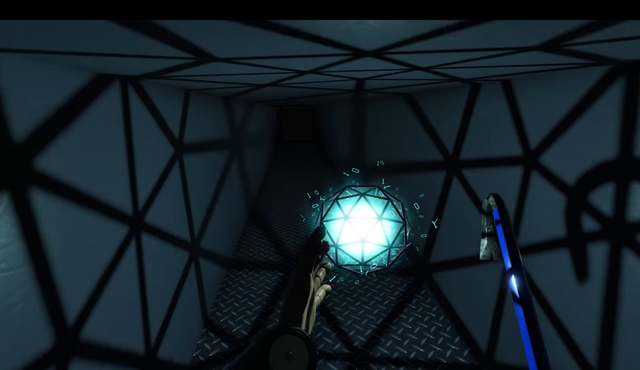 There is also a fair bit of gunplay in the mix and feels close to the real deal. However, do note that Edgeworks is a paid game and costs 400 Robux to play, which comes to $4.99. So be prepared to pony up if you wish to enjoy a realistic experience.
Play Edgeworks ($4.99)
12. OPPOSER VR [Alpha]
Ending the game with a mix of action and physics, OPPOSER is a Roblox VR game full of players into gunplay. While the game is in Alpha right now, it has several elements, including a full arsenal, armor to protect players, and a good-looking map.
Players can engage in team-based combat or go all out and eliminate anyone they see. However, do be aware there is a good amount of violence as well, you shoot everyone. Nonetheless, OPPOSER is an awesome VR game you should try on Roblox.
Play OPPOSER VR
Check Out the Top Roblox VR Games
We hope you will have a blast playing the Roblox VR games mentioned above. If you have an Oculus Quest 2, there's even more fun to be had. First, get started by learning how to play Steam games on the Oculus Quest 2. Then, take a look at the best Oculus Quest 2 games to further expand your collection. So, which of the Roblox VR games is your favorite? Let us know in the comments below! Additionally, feel free to share any other VR games you enjoy playing on your headset. We are always on the lookout for new games to try and would love to hear your recommendations.