It is an exciting time for Android users right now. With Android 12 rolling out to Pixel phones, users are excited about all the new features Android 12 brings to the table. Other popular Android phone makers, however, are not slacking either. Giants like Samsung have already come out with One UI 4.0 beta and OnePlus with OxygenOS 12. OPPO too recently released its new ColorOS 12 skin with several cool new features. Now, it is Realme's turn, as the company has released realme UI 3.0 early access beta to the realme GT Series. We have received this new update and have been playing around with it for the past couple of days. Safe to say, there are several new changes and features onboard here. But what exactly are they? Keep reading as I discuss the best new features of realme UI 3.0 in this article.
Best New Features in realme UI 3.0 (2021)
The list of features and changes in realme UI 3.0, as one would expect, are similar to Oppo's ColorOS 12 skin. Now, before we begin, I have included a list of compatible devices that will get the Realme UI 3.0 update. If you would rather just jump to the features, use the table below to do so.
realme UI 3.0 Compatible Devices
While the realme UI 3.0 early access beta is only available on the realme GT line right now, it will roll out to other devices very soon. As of writing this, the following devices have been confirmed to receive the realme UI 3.0 update, according to the official website. You can read our dedicated realme UI 3.0 compatible devices story for more information.
OCT, 2021
DEC, 2021
realme X7 Max
realme GT Neo2 5G
realme GT Master Edition
realme 8 Pro
Q1, 2022
realme X50 Pro 5G
realme 7 Pro
realme X7 Pro
realme 8 4G
realme Narzo 30
realme C25
realme C25s
realme narzo 50A
realme 8i
Q2, 2022
realme X7
realme X3
realme X3 SuperZoom
realme 8 5G
realme 8s
realme 7 5G
realme Narzo 30 Pro 5G
realme Narzo 30 5G
1. Design and Visual Changes
As is customary at this point, every new Android update comes with a few visual changes. realme UI 3.0 is no different, as this latest update makes things a little neater and more appealing. Following in the footsteps of ColorOS 12, realme UI 3.0 comes with design improvements that focus on stretching out the overall look. While the overall design and aesthetics look almost the same, you can find minor changes in certain elements.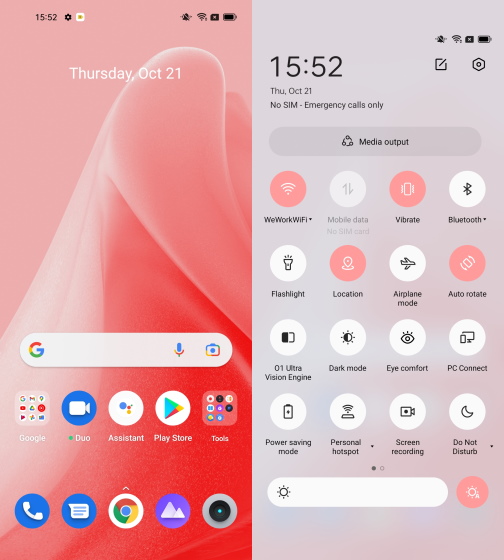 The first of these visual changes that you will notice is the spacing. Realme has also reworked apps like Settings to encompass that Android 12 aesthetic. The Settings icons are now bigger and bolder, with every element more spaced out than ever before. As mentioned before, the amount of negative space has increased, thereby making things feel more spacious. Even the Quick Settings menu spans across the entire screen.
The My Files app now also looks cleaner, with the categories being shifted to the bottom instead of the top compared to realme UI 2.0 for easier one-handed access. You will also find the same UI changes in the Photos app. Like ColorOS 12, you can also remove your private information from media before sending them, so that will be a handy privacy-centric feature for realme UI 3.0 users.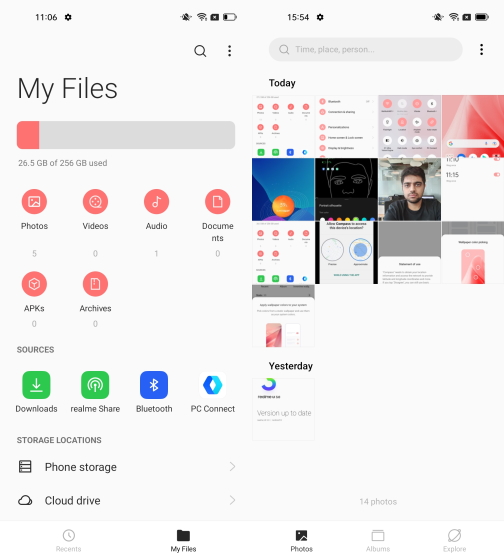 While the home screen looks the same, the widget menu has also got a facelift and is now easier to navigate. Instead of creating a separate bar, the home screen customization options now blend in with the background, hence, making them look like they're floating.
Speaking of icons, something is new here as well. The icons in realme UI 3.0 have been touched up with a better design. They now have a sense of depth, which makes them look a bit more realistic. This change applies system-wide and you can see it in other apps too.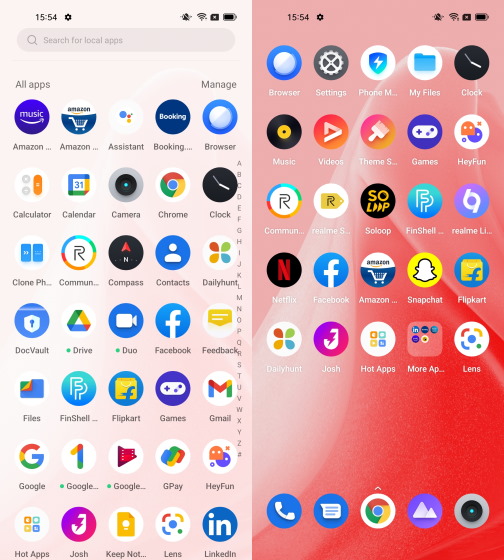 The company aims to make the Realme UI 3 experience even better with what it calls the 'Smooth Animation Engine'. This addition to the software will help make all the animations more fluid and easy to use. While we haven't tested out this new feature at length, animations in realme UI 3.0 feel smooth indeed.
2. Wallpaper Theming
If you have been following developments around Android 12, you are already aware of the new Material You theming system. For those of you who don't know, wallpaper-based theming allows users to set a custom color palette for the system theme, and it is extracted from the wallpaper you set. Wallpaper theming is honestly an interesting feature and one that has nearly all Android 12-based custom skins have adopted.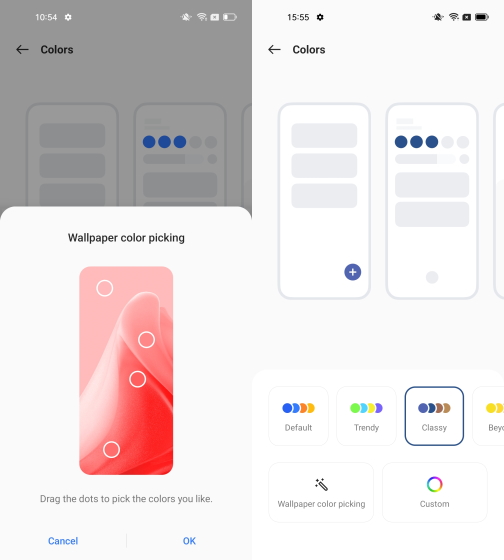 Fortunately, realme UI 3.0 is also one of them. The new update gives users the option to choose a wallpaper and create a custom color palette from its shades. If you are too lazy to do that, you can even select from the pre-set options that the skins present you. It will then apply the chosen color palette system-wide, and you can see it across various apps like Settings, Quick Access menu, other buttons, etc.
3. Camera UI Changes
Among the list of apps redesigned in realme UI 3.0, the Camera app is one of them. There are not many radical changes here, but minor changes that affect the overall user experience. For starters, the zoom icons that used to be in numbers have now been replaced by trees icons.
So instead of 0.6x and 2x zoom levels being depicted by their numbers, you will now see two tree labels to depict the ultra-wide and zoom modes. While some Android users may love this minimal change, I'm not its biggest fan. However, some changes make things simpler like the easy video resolution switch option in the video mode (right screenshot).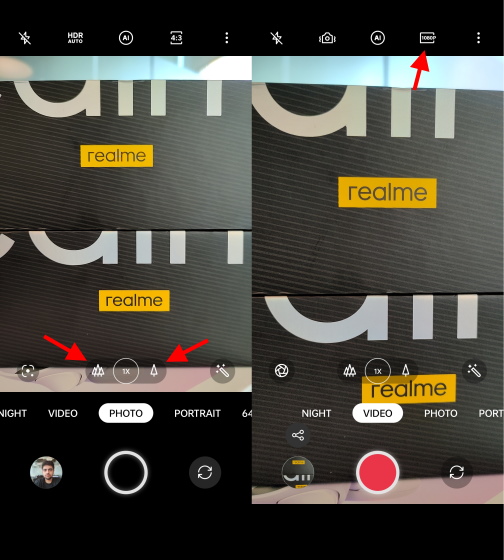 Another UI change that you will notice right off the bat is the rounded corners of the shooting mode options. Users selecting the Photo mode will now see the word enclosed in a rounded rectangle. This little change makes the UI appear more attractive and should appeal to Realme users. Also, filters in realme UI 3.0 now live inside the 'Retouching' menu instead of having a separate option as before. Moreover, the Settings option is now tucked away under an ellipsis icon with options like frame rate and timer.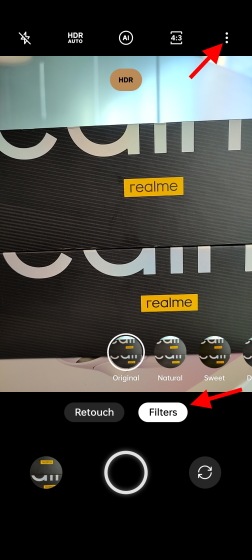 Besides the Camera UI getting a small design change, I'm not a big fan of what realme UI 3.0 has done with the zoom icons. However, there are people who might have been waiting for a more minimal look.
4. Flexible Windows 2.0
While multitasking wasn't exactly bad in realme UI 2.0, the latest iteration of Flexible Windows (or FlexDrop, as it was previously known) has made things even easier. Instead of having to choose various sizes for windows, realme UI 3.0 has brought along Flexible Windows. By selecting the option from the app switcher, you can now convert a compatible app into a floating window immediately.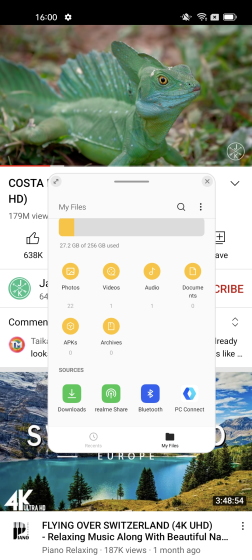 The app starts off as a mini window, and you can now easily convert them into other modes by using easy tap gestures. So instead of having to hold the indicator bar to make an app fullscreen, realme UI 3.0 now allows you to double-tap to expand it. The Flexible Windows revamp comes as a welcome change and makes multitasking faster and more productive.
5. Android 12 Privacy Features
It's good to see that besides all the visual changes, realme UI 3.0 packs most of the best new Android 12 features. One of the most notable in this case will have to be the slew of privacy-centric features in realme UI 3.0. The all-new Privacy Dashboard in Android 12 can be found in realme UI 3.0. The privacy dashboard monitors and records the type of permission each app requests and informs the user accordingly. So if you are someone interested in gaining more control over what app access your camera, microphone, or location, this privacy dashboard is for you.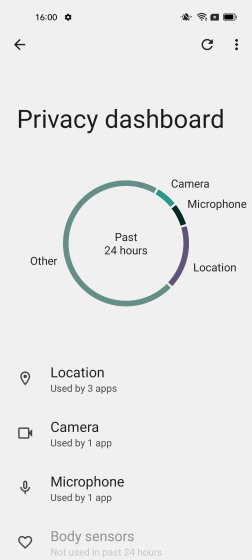 Hammering this point home even further are the privacy indicators that light up every time an app uses your phone's camera, mic, or even location. These indicators work system-wide and will even function if the phone is locked so that you are never spied on.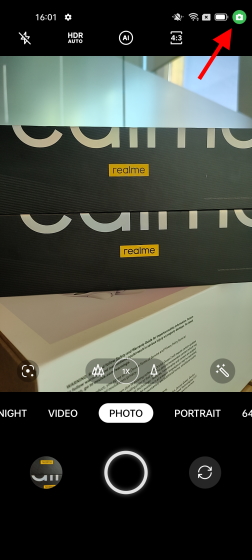 Like ColorOS 12, another handy thing coming in realme UI 3.0 is the approximate location feature. Since most apps these days require GPS to function, this feature will be useful for privacy-concious users. So instead of giving your precise location to every app or service that asks for it, you can choose to share an approximate one while remaining anonymous.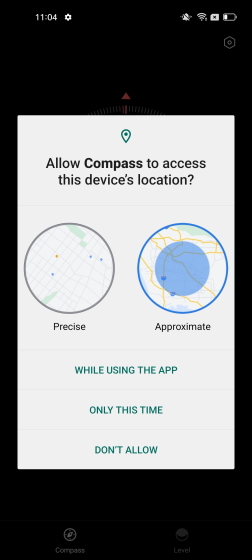 6. Sketchpad AOD/ Portrait Silhouette
It seems to be the year of personalization for Android 12 users as most companies are including features to make your phone experience even more personal. Jumping on that bandwagon after ColorOS 12, realme UI 3.0 is getting a new addition to its Always On Display.
Working similarly to Portrait Silhouette, this feature takes an image and converts it into a wireframe that you can use as the Always-on Display. While this feature works best with human subjects, you can try it with pets and non-animate objects as well. However, yet another addition here is that users can even select the text color for the time and date that appears over the AOD image.
7. AI Smooth Engine
There is no doubt that all of the above features in realme UI 3.0 will take a toll on your device's various resources and battery alike. Realme has, fortunately, included a new AI smooth engine to help with performance optimization. Realme claims that it has now redesigned the AI engine to make better use of the CPU and GPU by managing resources automatically. This should result in better performance and even an improvement in battery life in the long run. Since the long-term battery backup is not something that I can test in a few days, it will be interesting to see how Android 12-based realme UI 3.0 manages it for various types of users.
Which realme UI 3.0 Feature Is Your Favorite?
While naturally being similar to ColorOS 12, realme UI 3.0 does have some interesting features that users just might like. With Pixel 6 not coming to India, Android users in the country will no doubt look towards flagship offerings from Realme, Xiaomi, and others. So all these Android 12-based custom skins need to offer a clean UI and a vast feature set to attract users. Which realme UI 3.0 feature is your favorite one? Let us know in the comments below.