Android 12 was finally released on AOSP last week, with the update rolling out to Pixel phones soon. And is the case with feature-rich firmware, smartphone companies such as OnePlus and Samsung are coming out with their own Android 12 skins. Not too long ago, OnePlus released OxygenOS 12 with a mix of OxygenOS and ColorOS UI elements. However, Oppo is not too far behind as it has announced ColorOS 12 globally merely a month after its China launch. Coming to over 110 devices, this update is super exciting and feature-rich. So if you are someone who owns an Oppo device and is excited about ColorOS 12, let's have a good look at what it has to offer. We have gone hands-on with Oppo's latest Android 12-based ColorOS 12 skin to tell you about the newest features and changes. So without further ado, let's talk about it.
Best New ColorOS 12 Features (2021)
The ColorOS 12 update brings about a host of aesthetic and functional changes that will serve users for a long time. While we will talk about different features in detail, you can use the table below to skip to a particular one if you wish.
ColorOS 12 Compatible Devices
Oppo has promised ColorOS 12 support for over 110 devices. The company's update roadmap promises monthly and quarterly ColorOS 12 beta releases for Reno, A-series, and F-series models. You can check out the complete list of ColorOS 12 compatible devices in India to find out if your phone is on the list or not.
Also, another thing you should be aware of is that the ColorOS 12 build I am testing is an early one. And as it is with betas, more features and changes are expected to arrive soon. So be sure to check back to discover even more features.
8 Best New ColorOS 12 Features
1. Design and Visual Changes
You must have noticed that with Android 12, simplicity and realism are concepts that most phone makers are trying to implement. With the release of ColorOS 12, Oppo has decided not to stray off that path. If you compare the design of ColorOS 12 to its previous iteration, you will see minimal UI changes. Oppo has decided to keep an overall consistent design that's loved by users but has made touch-ups here and there.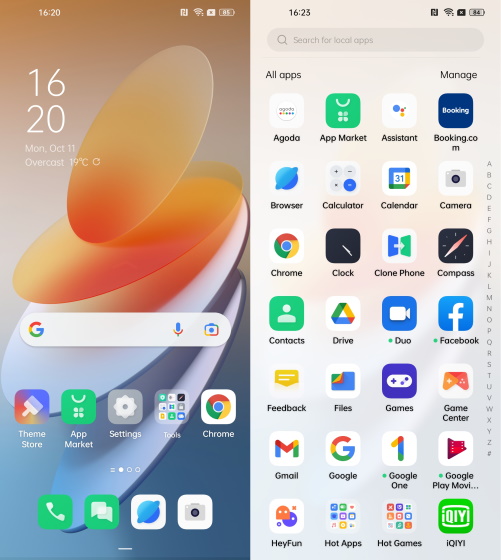 After using ColorOS 12 for a while, the changes we noticed made it clear that spacing is something that has been addressed even further. ColorOS 12 features an interface that makes generous use of white space along with a compactly designed framework. This translates to a design that is bigger and bolder. From the quick access panel that now covers the entire screen to a bolder font with bigger icons to the revamped Settings page, there are visible changes here. Oppo claims that its new OS has been designed to "be authentic" and "reduce noise".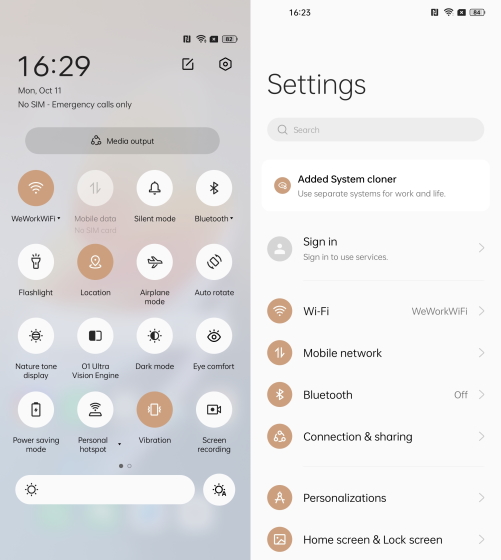 The same thinking has been applied to other aspects too. System icons have also been touched upon. It features acrylic-style icons that employ a mix of square and circle shapes. ColorOS 12 claims to employ light and textures to make the icons more realistic. While in our experience the icons more or less resemble ColorOS 11, there is an added touch of detail around each one that makes it stand out just a bit more.
Apps like Gallery and Contacts have also been touched upon with a similar design aesthetic. The redesigned apps now feature easier-to-use menus coupled with bigger icons and an overall better design. Oppo has also added a touch of security when it comes to media. You can now remove personal information from your photos before sharing them, which is a handy addition.
If you are in love with simplified layouts, you will love the ColorOS 12. However, for some users, this just might be a bit too simple.
Animations remain a big part of using any device, and ColorOS 12 brings with it a new animation engine that Oppo has promised to be something different. The company claims the new engine utilizes the law of inertia, so they don't stop suddenly and feel smoother. While it's difficult for the everyday user to notice this change, the animations in certain areas have improved. They do feel a bit smoother to the eye.
2. Wallpaper Theming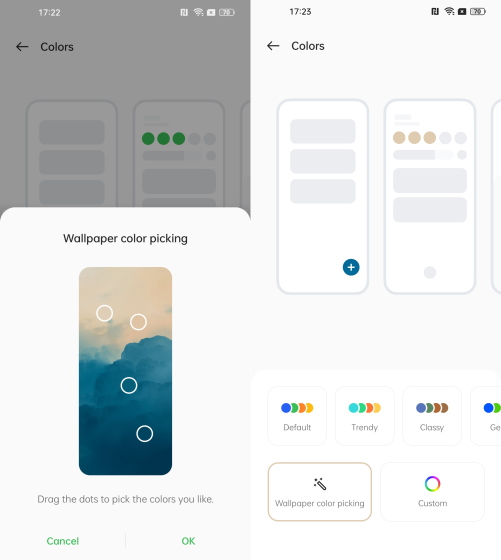 Of course, it wouldn't be an Android 12 update without the newly introduced wallpaper theming engine called Material You. For those unaware, wallpaper theming in Android allows the phone to extract colors from the wallpaper and create a themed palette. Users can then apply this as the phone's theme across the entire design. ColorOS 12 features wallpaper theming and gives users the option to pick colors from the set wallpaper and creates an entire theme around it.
3. Flexdrop is now Flexible Windows
ColorOS 11 users will remember Flexdrop as the handy multitasking solution to turn various apps into floating windows. Well, Flexdrop is now called Flexible Windows, and it is one of the best new features in ColorOS 12. Moreover, it has become even easier to use.
OPPO has tried to make flexible windows even faster to use. Windows are now created in a mini window by default and can be easily resized to bigger versions by tapping. The floating windows in ColorOS 12 can be resized easily by tapping shortcuts that work quickly. So instead of looking for separate options, you can double-tap a window quickly to make it full screen to tap it once to make it floating. The new flexible windows gestures are a welcome addition to ColorOS 12's multitasking capabilities. So the next time you get that Whatsapp message while using another app, you can convert it into a floating window and get back to it easier than ever before.
4. Smart Sidebar 2.0
For the times you need to quickly access tools and apps, Oppo's ColorOS has the smart sidebar up its sleeve. Using this, users can quickly switch between apps and tools on any screen. Well, ColorOS 12 has now made it even smarter with the addition of new tools and intelligent monitoring.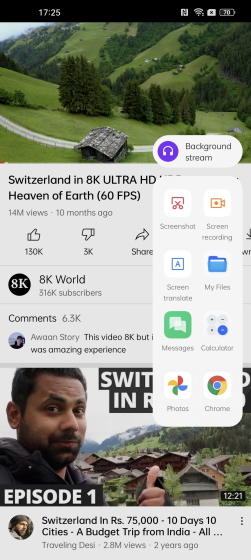 With the ColorOS 12 update, the new Smart Sidebar will be able to provide contextual information based on what you are doing. This recognition capability will work phone-wide and recommend you timely apps and tools. Whether you are in a meeting, watching videos, or shopping, you will have quick access to essential tools and apps. In addition, Smart Sidebar 2.0 has also introduced a few new tools to further bolster its capabilities.
5. New AI System Booster
While having new features is fine, there is a certain toll that new utilities can take on mobile devices. Oppo plans to address that with an AI System Booster. It's a nifty technology that will adapt to a user's usage habits and dynamically allocate resources as required. That, in turn, will ensure that ColorOS 12 phones run smoothly even if loaded with multiple apps. Oppo claims that its new engine will reduce the memory footprint by 30%, tone down the background power consumption by 20%, and increase the battery life by 12%.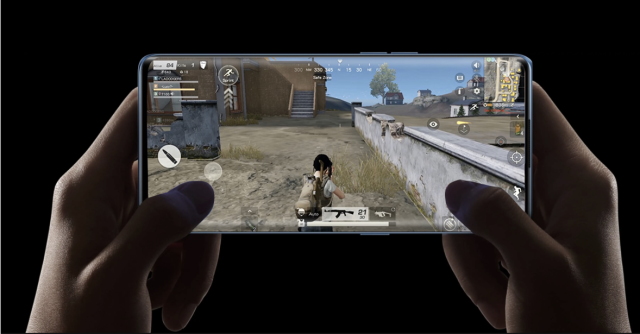 However, long time performance is also important. For that, ColorOS 12 promises an anti-aging feature that optimizes system storage. It will ensure that the phone will operate as new even after 3 years. While long-term performance analysis is not possible just yet, ColorOS 12's performance does remain stable while using it constantly.
6. Privacy Centric Features
One of the best Android 12 features is by far the range of privacy protection mechanisms. ColorOS 12, fortunately, follows the same path to include a similar set of features aimed at protecting a user's privacy. Adding in all the features Google has promised for Android 12, Oppo has them all in its latest software skin.
The Android 12 Privacy Dashboard is present in ColorOS 12 phones to record detailed permission data. Now, users can track and monitor apps that use a host of the phone's permissions, especially without their knowledge. Moreover, ColorOS 12 will erase any shared media's private information by default to preserve sensitive data. So even if your media files are leaked, there will be no details to match them with.
Android 12's privacy indicators make their way to ColorOS 12 as well. Anytime an app uses the camera, microphone, or location permissions, a handy prompt will inform the users of the same. Oppo users currently relying on Access Dots need only wait for the said update. If you feel like that's not enough, you can use the new disable microphone and camera toggles in quick settings to switch them off entirely whenever you wish.
Speaking of permissions, anytime an app requests your precise location, you can now choose to send an 'approximate location' instead of your precise one to protect your anonymity. And even if you somehow lose your phone, you can use ColorOS 12's lost mode feature to lock it and prevent unauthorized access.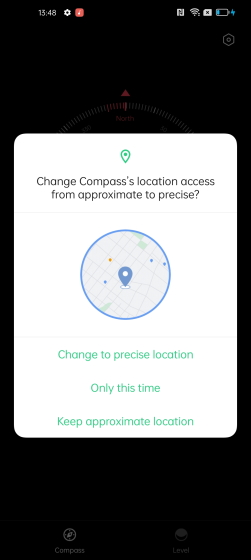 7. Color Vision Enhancement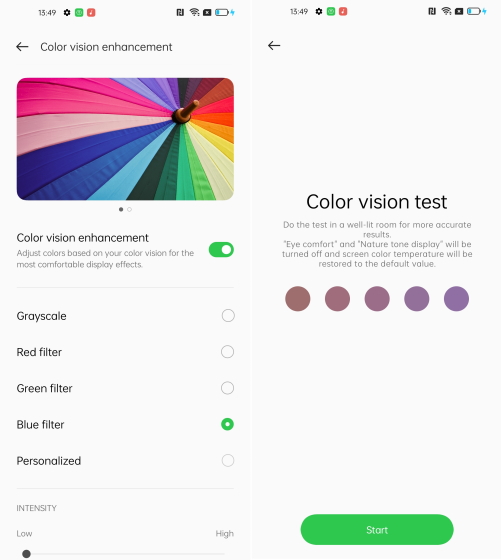 Color accuracy has long remained an issue for color-blind phone users, as per Oppo. To address this issue, ColorOS 12 touts a new color vision enhancement feature. By taking a personalized color accuracy test, users will be able to calibrate their display's colors so that they may create a better fit for their own eyes.
8. Portrait Silhouette AOD
While ColorOS 11 gave good customization options when it came to the Always-on Display, the latest software skin takes it a step further by introducing Portrait Silhouettes. Working like OxygenOS 12's Canvas AOD mode, a portrait silhouette takes an image and creates an artistic outline for you. Designed to provide more personalization, it's a great ColorOS 12 feature. Moreover, you can use Omoji avatars on the always-on display as well.
Upcoming ColorOS 12 Features
Since OPPO's ColorOS 12 is still in its early rollout stages, not all advertised features are out yet. Some of the upcoming ColorOS 12 features are:
1. Cross-Screen Interconnection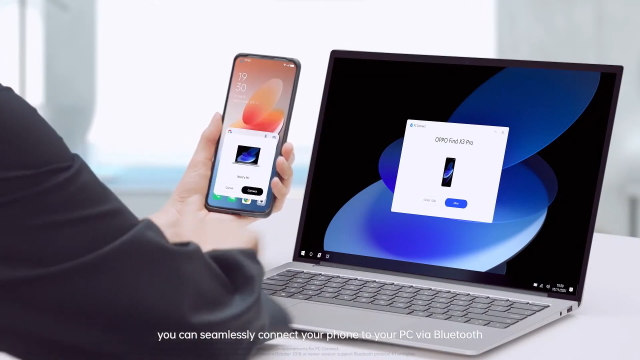 The idea of having your mobile device fully connected to your laptop is pleasing. Apple's seamless cross-device connection between iPhones and Macs has always been great in that regard. However, Oppo now joins its ranks with ColorOS 12's Cross-Screen Interconnection feature. It is a handy new feature that will allow ColorOS 12 devices to seamlessly connect and synchronize with a compatible Windows laptop. This new feature has four advantages:
Easily transfer large files between devices at a fast speed.
Users can transfer and edit files across the connected ColorOS 12 device and laptop.
A shared clipboard will make sure you can seamlessly copy-paste text across devices.
ColorOS 12 users can even use their laptops for chat and checking up on general mobile notifications.
Cross-Screen Interconnection will not be rolling out in the initial version of ColorOS 12 (in India as well as globally) but will arrive in a later update. Oppo has also confirmed that the feature will initially roll out to flagship ColorOS 12 phones with support for more models coming in the future.
2. Car Screen Projection
Speaking of seamless transfer, Android Auto also has a competition with ColorOS 12's new Car Screen Projection feature. ColorOS 12 phones will now be able to connect to compatible cars and extend the functionality of their phones. Besides calling from the car itself, you can utilize audio and video systems, use navigation, and even voice control with greater ease in your car. While car screen projection will initially be exclusive to China, support might arrive for other countries in the future.
3. Quick View Cards
Widgets get a much-needed upgrade in ColorOS 12 with Quick Glance cards. Designed to present the entire day's information in a single glance, these widget-style cards show users all the info they could want across different scenarios. From mails and graphs to your step count and the weather, these Quick View cards are expansive. They even show the status of your connected smart devices and offer quick touch options for convenience. ColorOS 12 also allows users to arrange them easily to give a touch of customization.
4. Omoji
With ColorOS 12, Oppo also brings self-expression to the table this time around. Users can now create realistic 3D avatars dubbed as Omoji to express themselves on Oppo phones. Omojis in ColorOS 12 use over 20,000 thousand of your own facial markers to make them look and act realistic. It supports up to 50 facial expressions and precise muscle movement.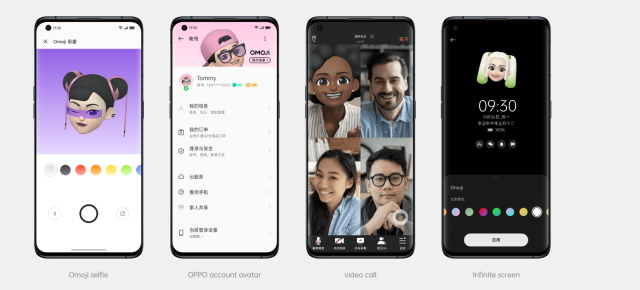 Sporting the same principle as Apple's Memojis, users will be able to use Omojis across various apps and services. That includes some of the most popular video calling apps like Zoom, contact photos, and more. However, worldwide support for Omojis is currently not out with only China getting them in ColorOS 12.
5. Native Live Translation During Video Calls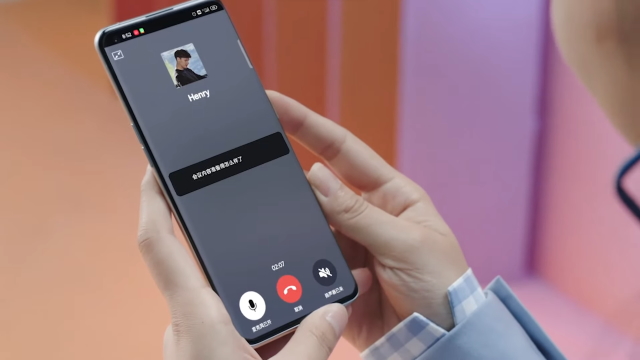 As you may have seen from ColorOS 12's announcement yourself, you will now be able to translate video calls in real-time. All it takes is the touch of a button, and similar to Google's Live Caption feature, a box will show you what the other person is saying in real-time. While we don't know which languages this feature will extend to, it should cover a majority of them given ColorOS 12's global launch.
6. Shared Family Space
Oppo has paid attention to combining privacy and security within your inner circle. ColorOS 12 now features a shared family space that will act as a one-stop platform for members to share and exchange information. A shared media space will now ensure users can share any photos or videos amongst family members without using social media apps like Facebook, WhatsApp, or Instagram.
There is also an interesting screen sharing feature that less tech proficient people can use to seek help from family. Furthermore, ColorOS 12 simplifies things with a 'Simple Mode' that makes the fonts bigger, icons bolder, and simplifies all the settings for ease of use.
7. Shared Family Schedule
Tying into family sharing, ColorOS 12 also has a shared family schedule feature. A shared Calendar can be used for various members to track tasks together. So if you have any important meetups with relatives coming up, the same will be known to everyone in the family. Yet another handy addition to ColorOS 12 is the Family Remote Guard feature. Oppo users concerned about their family's safety can set a distance and time guardian range to make sure their family members remain safe.
Which ColorOS 12 Feature Do You Like?
With Oppo and OnePlus merging their software codebases to create a unified experience, it will be interesting to see how ColorOS 12 fares in the market next year. Registration for ColorOS 12 beta has already begun with Oppo accepting applications from Find X3 Pro owners. So which new ColorOS 12 feature is your favorite? Let us know in the comments section below.
---
Load More