The Raspberry Pi has become almost synonymous with single-board computers today. The $35 computer has amassed enthusiasts around the globe to make some really cool projects. While the Raspberry Pi 3 should be well-suited for the most of us, some of us may want a more powerful Raspberry Pi alternative or want to try something outside of the mainstream community. The ever growing popularity of Raspberry Pi makes sure that it hogs the limelight pretty much all the time, so much so that people aren't even aware that there are some great Raspberry Pi 3 alternatives available in the market today. So, if you are someone who has been looking for an alternative to Raspberry Pi 3, we have you covered.
Before we discuss Raspberry Pi 3 alternatives, let's do a recap of the actual Raspberry Pi 3 model B specifications, so that you can understand the disparities between these products and choose one for you. The Raspberry Pi 3 model B comes with a Broadcom BCM2837 SoC clocked at 1.2 GHz (quad core ARMv8), a VideoCore IV GPU and 1 GB of RAM. It has inbuilt support for WiFI and Bluetooth 4.1, supports microSD storage and has 4 USB ports. Now that you are familiar with the specs of the Raspberry Pi 3, here are the 10 best Raspberry Pi 3 alternatives you can buy:
1. Asus Tinker Board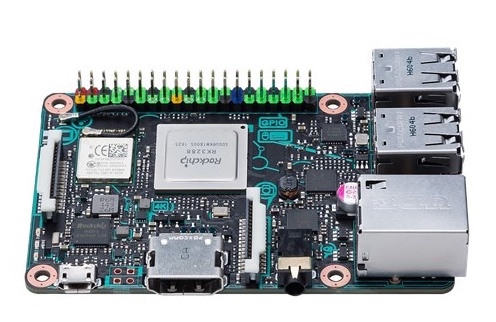 Perhaps the newest entry in this list, Tinker Board is a single-board computer from Asus. Along with a nice name, it also comes with some great specifications. On the hardware side of things, it is equipped with a quad-core CPU (Cortex A17) clocked at 1.8 GHz, Mail-T764 GPU, 2GB of RAM, 4 USB 2.0 ports and an HDMI port. The Tinker Board comes with a custom OS named TinkerOS, which is based on Debian. The headline feature is the support for 4K video playback for videos encoded with H.264 or H.265. It also supports WiFi and Bluetooth 4.
Tinker Board beats Raspberry Pi 3 by miles in benchmarks, thanks to its more powerful processor and an extra gig of RAM. The Tinker Board brings support for 4K videos, whereas Raspberry Pi 3 model B supports (only!) 1080p videos. It also brings support for 192k/24bit audio playback support compared to Pi's 48k/16bit. It consumes a little more power than Pi, but that shouldn't be much of a problem because it's very marginal. The Tinker Board is all good but is available only in the UK, as of now. If you're willing to shell out almost twice what you'd otherwise pay for Raspberry Pi, the Tinker Board can be a great board to tinker around!
Buy ($60 on Amazon)
2. Banana Pi M64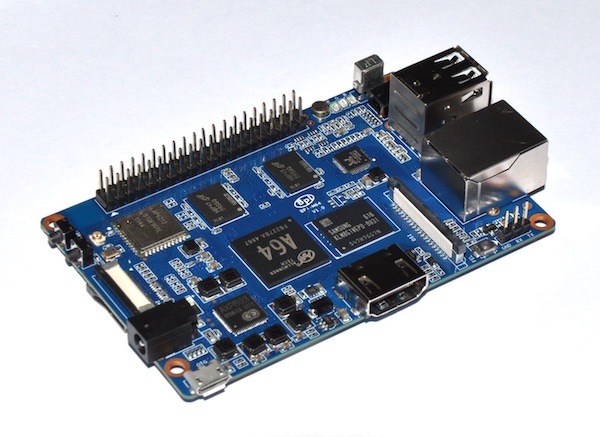 The Banana Pi M64 is a quad-core 64-bit version of Banana Pi and runs Android, Debian, Ubuntu amongst several other operating systems. The specifications include a 1.2GHz octa-core processor (Allwinner 64-bit), a dual-core Mali 400 GPU, and 2 GB of RAM. It has onboard 8 GB of flash memory and also supports expansion via microSD card. It has two USB ports, one USB-OTG port and an IR receiver. It has WiFi and Bluetooth support inbuilt. It also brings support for 1080p videos.
The Banana Pi M64 and Raspberry Pi 3 model B aren't much different when it comes to processing power, but an extra gigabyte of RAM in Banana Pi M64 gives it an edge over Raspberry Pi 3. It also comes with an 8GB of inbuilt storage, whereas Pi doesn't come with any accessible inbuilt storage. If you're looking to connect many peripherals, an important thing to note is that Banana Pi M64 comes with only 2 USB ports as compared to Raspberry Pi 3's 4 USB ports.
Buy ($46)
3. Odroid-C2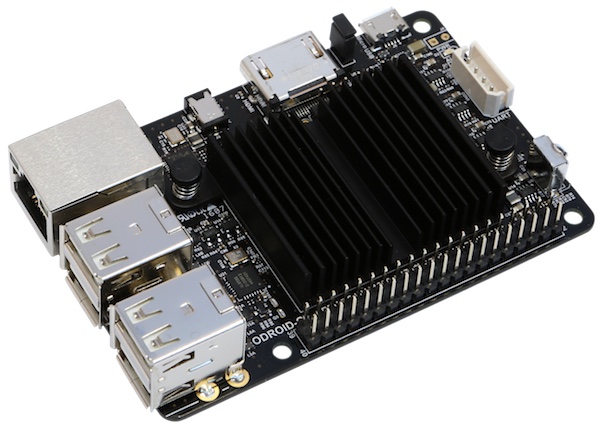 Odroid-C2 is the latest offering from the Korean company, Hardkernel. Launched in 2016, it comes with an Amlogic quad-core CPU clocked @ 1.5 GHz, Mali 450 GPU and 2GB of RAM. It supports microSD card expansion, has 4 USB ports, IR receiver and an HDMI port for audio out. It can run Android and various Linux distros.
Both, the Raspberry Pi 3 and Odroid-C2 come with a quad-core ARM Cortex-A53, but the extra clock speed and RAM in Odroid-C2 mean that it comfortably blows away the Raspberry Pi 3, as far as specifications are concerned. Another advantage of Odroid-C2 is that it supports 4K videos whereas the Pi 3 supports only 1080p videos. However, the Odroid-C2 doesn't come with onboard WiFi, Bluetooth and 3.5mm jack, so the Raspberry Pi 3 gets extra points on the connectivity front.
Buy ($66)
4. BeagleBoard X15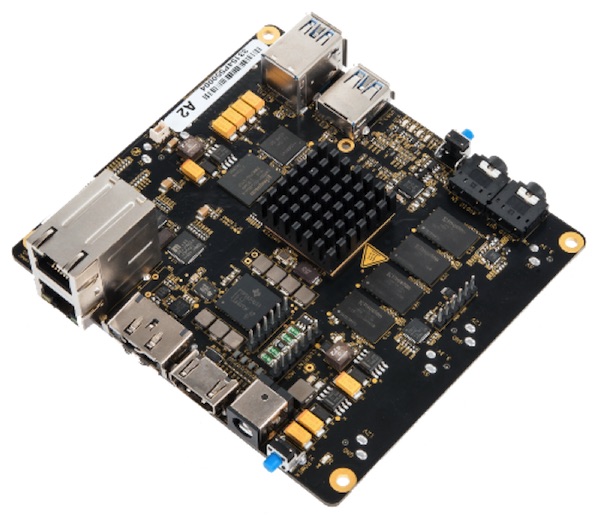 Launched in late 2016, the BeagleBoard X15 is produced by the semiconductor giant Texas Instruments. It is based on Texas Instruments' Sitara processor clocked @ 1.5 GHz (Cortex A-15), a PowerVR GPU and 2GB of RAM. It comes with 4GB of onboard storage and supports expansion by microSD card. The BeagleBoard X15 can run Fedora, Android, Ubuntu and lots of other OSes. It also supports 1080p videos at 60 fps and includes USB 3.0 compatible ports.
The BeagleBoard X15 is an absolute beast that beats Raspberry Pi 3 far and wide in almost every aspect. It comes with a more powerful processor and 1GB of extra RAM compared to Pi 3. It also includes 4GB of onboard memory, whereas the Pi 3 has none. Also, it has not one, but two ethernet ports compared to Pi's one port.
All these powerful specifications mean that this BeagleBoard comes with a hefty price tag of about $239. Of course, the BeagleBoard X15 is not for everyone, but if you're a power user, look no further than here. If you're looking for a cheaper alternative from the same brand, you should check out BeagleBone Black.
Buy ($239)
5. OrangePi Plus 2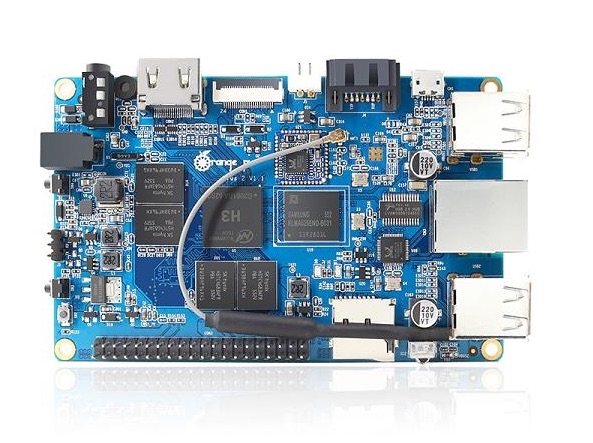 OrangePi Plus 2 is a single board open-source computer which comes with an H3 Quad-core (Cortex-A7) CPU and a Mali 400 GPU. The GPU brings support for OpenGL ES 2.0. On the connectivity side of things, it can connect to the Internet via RJ45 ethernet cable and Wireless LAN. It supports video capture up to 1080 @ 30fps. It has 4 USB 2.0 hosts and 1 USB OTG. Lack of support for USB 3.0 is a bit of a bummer, though. It can run Android, Ubuntu and Debian, etc.
The OrangePi Plus 2 packs an extra 1 GB of RAM than the Pi 3 and has 16 GB of internal storage whereas the Pi 3 has none. Also, it supports 4K videos while the Pi 3 supports only full-HD videos. The Raspberry Pi 3 comes with inbuilt support for Bluetooth while the OrangePi Plus 2 doesn't, though.
Buy ($49)
6. NanoPC-T3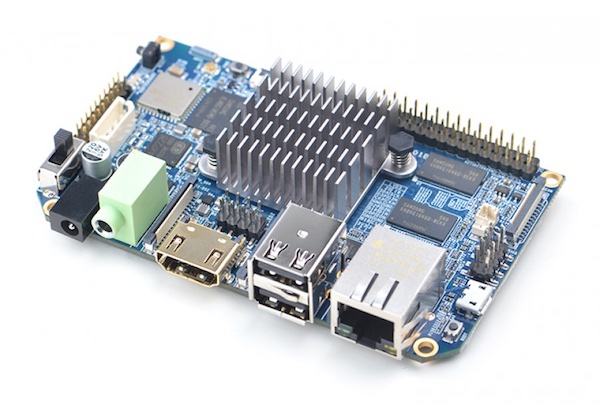 NanoPC-T3 is a single-board computer developed by FriendlyArm. It houses Samsung's octa-core SoC clocked @1.4GHz, Mali 400 GPU and 1GB DDR3 RAM. It supports microSD expansion, WIFi, Bluetooth and an onboard microphone. It can run Android 5.1, Debian, Ubuntu Core operating sytems. It is equipped with 8 GB of storage and is extensible via microSD card. It includes 4 USB 2.0 ports, HDMI (1080p support) and ethernet support. Other multimedia ports include LVDS, LCD, MIPI-DSI and the 3.5mm audio Jack.
NanoPC-T3 CPU is clocked slightly higher than Raspberry Pi 3's CPU but features the same amount of RAM. One advantage it offers over the Pi 3 is that it comes with an inbuilt storage of 8GB. Other than these things, both are pretty neck-to-neck with each other.
Buy ($60)
7. PineA64+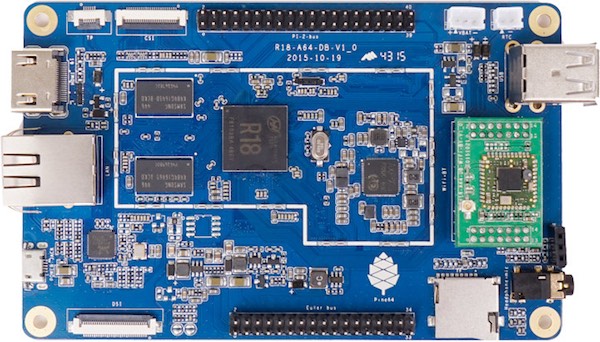 Started from a Kickstarter crowdfunding in 2015, Pine64 has raised over $1.4 million for the first version of their single-board computer. The PineA64+ comes in three different variants depending on the amount of RAM: 512MB, 1GB, 2GB and is priced at $15, $19 and $29 respectively. All the three models come with a 1.2GHz Quad-core 64-bit processor and Mali 400 dual-core GPU. The GPU provides support for OpenGL ES 2.0 for enhanced video acceleration. It has integrated display with support for HDMI and an ethernet port. Currently, you can run Android, Ubuntu and Debian on PineA64+. The company says that they are working on adding Microsoft Windows support.
The 2GB version of PineA64+ packs in one extra GB of RAM than the Raspberry Pi 3 and still manages to be cheaper at $29. It also includes 4K video support while the Pi only does 1080p. The Pi takes over in connectivity front, with onboard support for Bluetooth and Wifi and 2 extra USB ports. Luckily, there are expansion ports for Bluetooth and WiFi which can be purchased separately from the Pine64 store. The PineA64 packs a punch for the price offered and is a viable alternative to the Raspberry Pi 3.
Buy (Starts at $15)
8. NanoPi M3
NanoPi M3 is another 64-bit single-board computer from the good folks over at FriendlyARM. It houses Samsung's Octa-core (Cortex-A53) CPU which is clocked at 1.4GHz and comes with 1GB DDR3 RAM, wireless LAN and Bluetooth 4.0 module. Like the Raspberry Pi 3, there's no onboard storage but it supports microSD cards. Alongside, it offers 4 USB ports. It supports Android, Debian and various other Linux distributions.
The NanoPi M3 was introduced as a low-cost version of NanoPC-T3 and is an equally capable alternative to the Raspberry Pi 3, if not more.
Buy ($35)
9. PixiePro
PixiePro is a single-board computer that utilises NXP i.MX6Q Quad-core CPU clocked at 1 GHz (Cortex-A9) and an embedded 2GB of RAM. It includes support for Bluetooth 4.2, wireless LAN, EDR, NFC and GPS. It includes 2 USB Type-A port, 1 USB-OTG 1, micro-HDMI output and a 3.5mm audio jack. It also brings support for dual microSD cards.
The PixiePro board offers a lot of improvements over the Raspberry Pi 3. It packs one extra GB of RAM and two microSD card slots when compared to the Pi. When it comes to connectivity, it adds a lot of new features like NFC and GPS/GLONASS. Heck, it even includes a UMTS/HSPA+ 3G module with a SIM card slot, which is a distant dream for the Raspberry Pi as of now.
Clearly, as you can see, the PixiePro is aimed at power enthusiasts and will set you back at $129. If you're willing to shell out this premium price, it promises to offer you a bang for your buck.
Buy ($129)
10. Parallela
The Parallela is a credit card sized single-board computer, manufactured by Adapteva. It uses a dual-core ARM A9 CPU and uses Epiphany's 16-core co-processor with 1GB of RAM. It includes support for microSD card expansion, USB 2.0 port, HDMI port and Gigabit Ethernet.
It can run several Linux distributions, including Ubuntu. The company says that it can be used as a standalone computer, an embedded device or as a component in a scaled out parallel server cluster.
Parallela ships with a radically different architecture than most of the single-board computers on this list and hence it wouldn't be fair enough to compare Parallela with the Raspberry Pi 3. The Raspberry Pi 3 is marketed as a low-cost and affordable computer for enthusiasts while the Parallela is aimed more towards more power-users who are interested in parallel computing, thanks to the Epiphany co-processor. If you consider yourself in this league, hit up to the Parallela board's website.
Buy (Starts from $99)
SEE ALSO: Top 5 Raspberry Pi Zero Alternatives You Can Buy
Try One Of These Raspberry Pi 3 Alternatives
Every year a different company releases a potential "Raspberry Pi killer", but the Raspberry Pi still manages to dominate the market because of a single reason — community support. Most of the alternatives offer better hardware specifications for a similar price, but the million-dollar question remains: Is it compelling enough to make you switch?
With so many options to choose from, you are bound to find the one suited to your need: whether it be for building a media center manager or making other cool projects. Which one of the above do you think is the most viable Raspberry Pi 3 alternative? Also, if you think I've missed your favourite single-board computer, sound off in the comments section below.