It's not easy to score a PlayStation 5 anywhere in the world right now, but if you're one of the lucky few with a brand new PS5 in your entertainment center, there are a lot of cool things you can do. Obviously, there are a lot of PS5 games that you should play, but the console is also a great media center where you can watch movies and stream TV shows. Well, here are the 12 best PlayStation 5 apps you should use.
Best PlayStation 5 Apps (March 2021)
Even though the selection of PS5 apps is still in its nascent stages, there's a decent set of apps for PlayStation 5 that you can check out. These include streaming apps for PS5, and in this article, we will list some of the best ones you can find. We will also discuss how you can download these apps on your PlayStation console.
As always, you can use the table of contents below to directly head over to particular apps you want to read about right away.
1. Netflix
Netflix should be one of the first streaming apps to install on your new PS5 console. It's pretty much the quintessential streaming service that everyone uses, and having it on your new PlayStation means you can switch from playing games to watching your favorite shows on your console.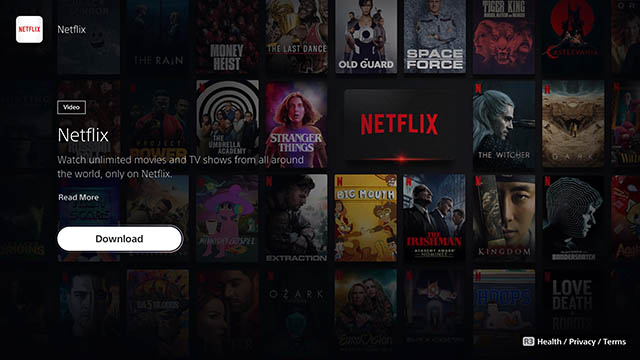 You will need a Netflix subscription to use the app, but it is, for the most part, it is well-priced, and the catalog is ever-growing. Netflix intends to release a new movie every week in 2021.
2. Amazon Prime Video
Another app that most people use for streaming movies and TV shows is Prime Video. After all, it comes bundled with the Prime subscription, and it has a great selection of shows and movies as well. Here in India, it's also the place to binge The Office, which I recommend, and the Harry Potter movies.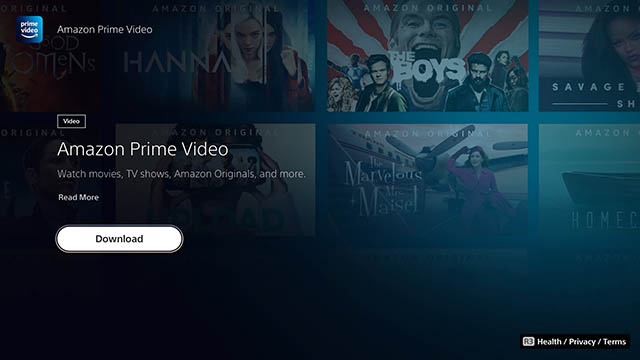 If you have an Amazon Prime subscription, install this streaming app on your PlayStation 5 and make the most out of it.
3. Crunchyroll
Fans of anime, rejoice! If you want to get your fix of anime without leaving your console or switching inputs on your TV, Crunchyroll is now available on PS5 as well. That means you can watch the final season of Attack on Titan, Black Clover, or any other anime you like to watch.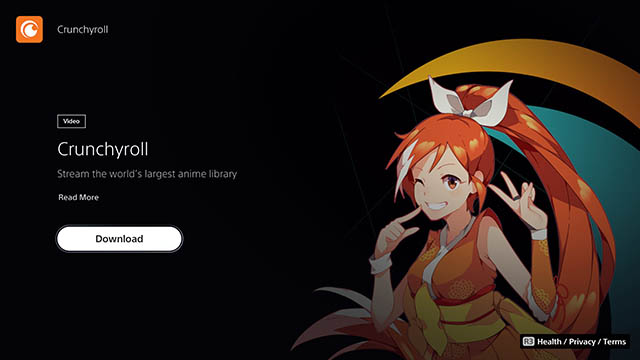 The app also lets you read manga online, so that's another great thing you can do with Crunchyroll. If you want to stream anime on PlayStation 5, you should check out Crunchyroll from the PS Store.
4. Spotify
Who doesn't like listening to music, and if you have a powerful soundbar hooked up to your TV, why not use it to listen to all your playlists as well, right? Well, Spotify is one of the biggest music and podcast apps out there, and it is available on the Playstation 5 as well. You should install it on your console to stream your favorite music or podcasts. I recommend you to check out Conan O'Brien Needs a Friend and The Quibbler: A Harry Potter Book Club.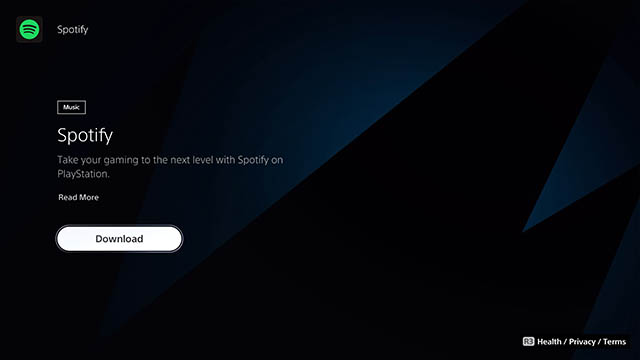 5. Apple TV
Ever since I switched to Windows from my MacBook, watching Apple TV is a chore. I don't want to watch it on my iPhone, and the web-client for Apple TV is outrageously bad. However, you can install Apple TV on your PS5 and stream all your favorite Apple TV shows and movies (Cherry fans, anyone?) on the big screen. Plus, it supports HDR and 4K. So if you have a relatively newer TV, you will get the best picture quality possible.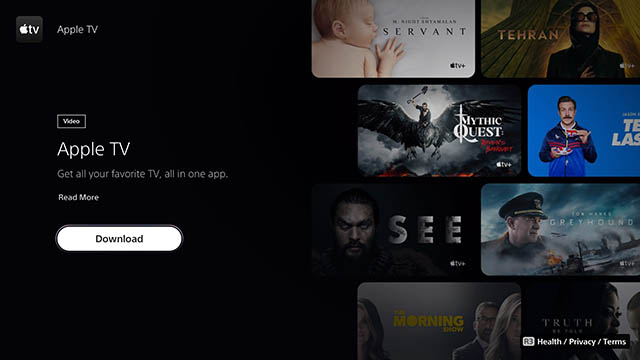 6. Disney+
The Mandalorian may be the king of the Disney+ catalog, but shows like WandaVision and the upcoming "The Falcon and The Winter Soldier" are worth your time. So if you aren't subscribed to Disney+, what are you even doing? You get the entire Disney catalog here, including Marvel and Star Wars movies and shows. Plus, there's a ton of kid-friendly content (It is Disney, after all) that you can comfortably let your kids watch after they play Fortnite with their friends on the PS5.
7. YouTube
YouTube is pretty much the de-facto standard for watching videos online today. The only reason I didn't put it right up top is that I'm sure it's one of the first apps you would look for on the PS5 or any smart device. In case you still haven't installed YouTube on your PS5, it's high time you go and do that. While you're at it, subscribe to Beebom's YouTube channel for awesome tech videos.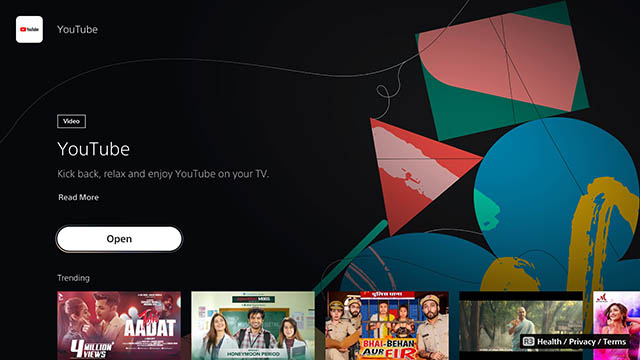 8. Plex
I personally don't use Plex, but there are a lot of people who swear by the service and use it to manage their content library. Plus, Plex makes it all available across devices if you want that, which is amazing. If you're running a Plex server for hosting your content and finding new content to watch, you should get the Plex app on your PS5 and start streaming your content to your TV as well.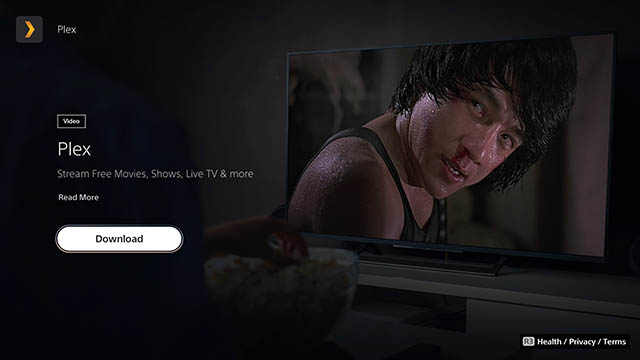 9. Peacock
Peacock, NBC's new streaming service, isn't available in India yet and is only accessible in the US. If that's where you're reading this article from, you might want to give Peacock a whirl on your PS5. It is also home to the popular TV series "The Office" in the US because Netflix no longer holds the license for it. If you're a fan of Michael Scott and his antics, along with Jim's pranks on Dwight, and just the sweet, sweet memories of Dunder Mifflin's Scranton branch, Peacock is where you ought to be.'
10. HBO Max
Fan of Friends or Game of Thrones? HBO Max is your portal to two of the most popular TV shows of all time. Since it is Warner Media's streaming service, you can access a massive catalog of movies and shows, including Harry Potter, Lord of the Rings, DC movies, and more.
As with Peacock, HBO Max isn't available in India right now either. But if it is available in your region, you might want to download this streaming app on your PlayStation 5 and pick up a subscription.
11. Hulu
Rounding off our list of TV show streaming services available on the PS5 is Hulu. If you're in the US, you pretty much need no introduction to this service. It's where you watch shows like Family Guy and The Simpsons, as well as classic movies like Good Will Hunting.
Hulu offers a massive catalog of TV shows and movies, and it will be way more fun to enjoy all of this content on your PlayStation 5.
12. Twitch
Look, the PS5 is first and foremost a gaming console. So it makes sense to have a PS5 app that lets you watch people stream games, right? Twitch is the most obvious choice for anyone looking to follow their favorite streamers. Also, it's where you can go and watch eSports tournaments, including the currently ongoing ESL Pro League CS: GO.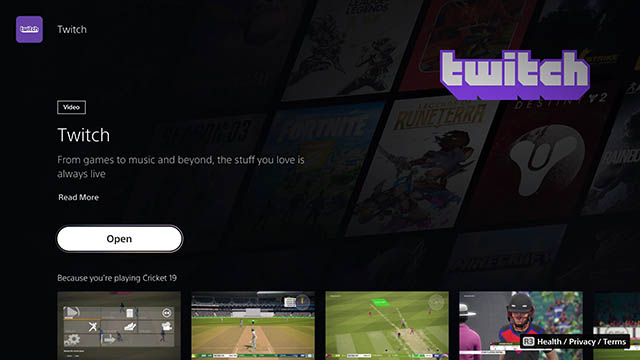 Plus, if you are (or want to be) a streamer yourself, you need the Twitch app to start streaming your PS5 games to the world.
How to Install PS5 Apps
The PlayStation 5 comes with a new UI, and by default, you will not see any apps on your console. That's because Sony has separated the main PS5 UI into two sections. You're in the games section by default, but if you look up top on the home page, you will find a Media section as well.
Click on 'Media' on the Home screen to switch over to the Media section of the PS5.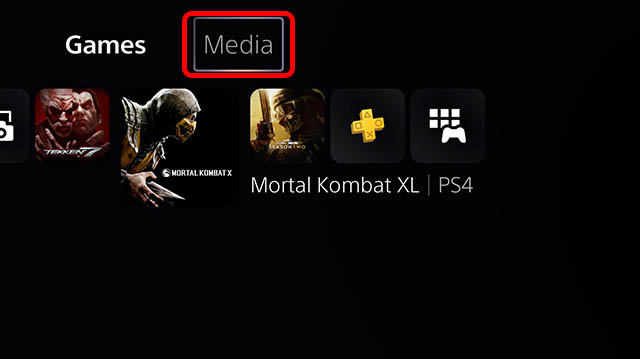 Here, you will see your installed apps under the 'All Apps' section. Plus, this is where you can install new apps on your PlayStation 5.
Choose the app you want to download and click the 'Download' button. That's pretty much it.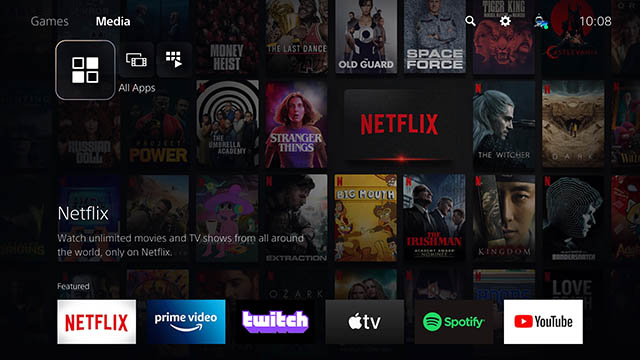 Once you have downloaded apps, they will show up in the Media section, just like how the downloaded games show up in the Games section of the PS5 UI.
Use These PS5 Apps on Your Console
Those were the 12 best PlayStation 5 apps that you should check out on your brand new console. As you can see, we have listed mostly streaming apps because what else would you want to do with a console meant to be an all-in-one media center for your home. Thankfully, the PS5 supports most of the streaming services you probably use, including Netflix, Apple TV, and Crunchyroll.
If there are any other apps that you think we missed out on, let us know in the comments below, and we will check them out.