In more ways than one, the Google Pixel 6 Pro is a flagship smartphone designed to rival the iPhone 13 Pro Max and Galaxy S21 Ultra. Aside from boasting top-of-the-line cameras and its first in-house Google Tensor chip, Pixel 6 Pro has a stunning 6.7-inch 120Hz LTPO OLED display with support for adaptive refresh rate. Protected by the Gorilla Glass Victus, the Pixel 6 Pro's display slightly curves at the edges. While there is no denying that Gorilla Glass Victus is efficient in terms of resisting scratches, you should get an additional layer of safeguard to protect your device against impact and scuffs. And we have you covered in that department. We have compiled a list of the 10 best Pixel 6 Pro screen protectors you can buy right now.
Best Screen Protectors for Pixel 6 Pro (2021)
There are two types of screen protectors available for the Google Pixel 6 Pro. If top-tier protection from impacts and accidental drops is what you are looking for, the tempered glass screen guards should be your preferred choice. However, if you want much improved clarity and original touch responsiveness, TPU screen protectors would be a better option. To help you find the right screen protector, we have included both types of offerings in this roundup.
In case you are looking for a durable screen guard for its smaller sibling, head over to our list of the best Pixel 6 screen protectors. Enough talk, let's find out what's these Pixel 6 Pro screen protectors have to offer!
Spectre Shield Screen Protector [2 Pack]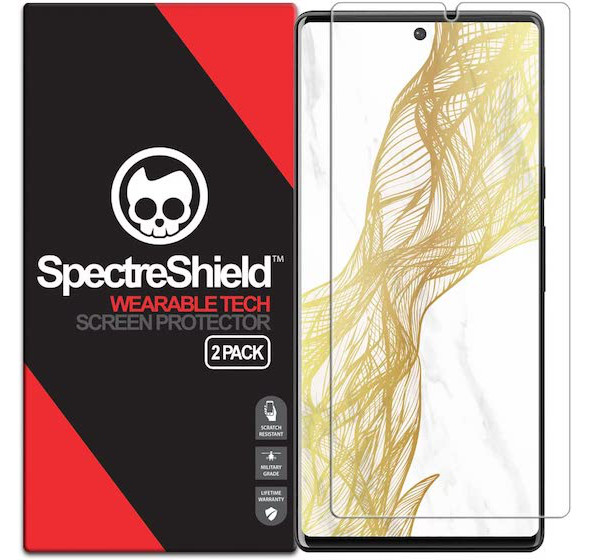 Pros:
Top-notch clarity
True touch sensitivity
Precise cutouts
Cons:
Not much protection from impacts
If maximum clarity and true-touch sensitivity are your top priorities, the Spectre Shield screen protector could be an ideal choice for you. Made of thermoplastic elastomers material, the screen guard offers high-definition clarity. Thanks to the smooth surface, it's responsive to the touch. Therefore, you can use the in-display fingerprint scanner and all the touch gestures with the desired fluidity.
As for protection, the Spectre Shield screen guard can endure minor shock and also prevent scratches. The self-healing ability enables it to recover from minor scuffs. What's more, it's also able to resist glare and offers bubble-free installation.
Magglass Tempered Glass Screen Protector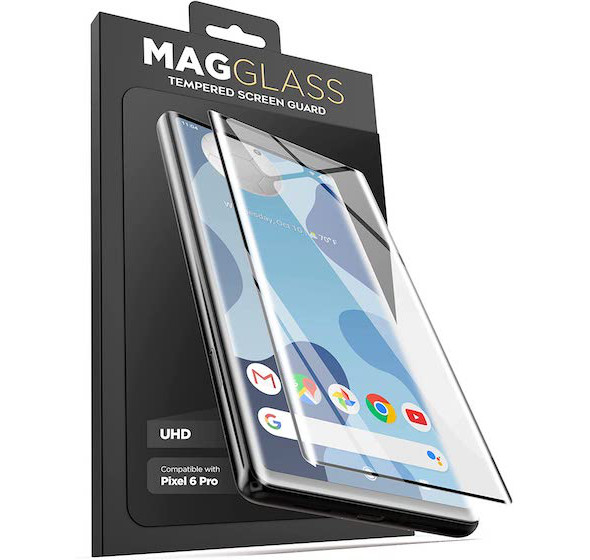 Pros:
Strong tempered glass
Impact protection
Scratch resistance
Putting more emphasis on protection, Magglass has used highly durable tempered glass that boasts 9H hardness. The screen protector sports precise dimensions to offer full coverage to the 120Hz display and works with most cases without any interference. Courtesy of the durable construction, it offers protection from both impact and scratches.
Moreover, the Magglass screen guard can also ward off fingerprints and grime to remain clear and offer good touch sensitivity for a long time. The screen protector supports an easy bubble-free installation. Though it's relatively expensive, you can't go wrong with the impact-resistant glass and improved clarity.
Supershieldz HD Clear Screen Protector [2 Pack]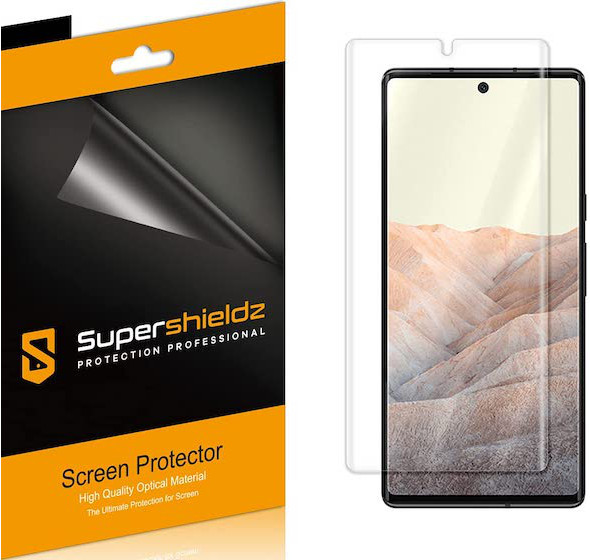 Pros:
Enhanced clarity
High touch responsiveness
Easy installation
Supershieldz screen guards are well-known for their impressive clarity and smoothness. So, I expect Supershieldz's screen guard for Pixel 6 Pro to be one of the best in the market. The TPU film material enables it to offer high clarity, which is a must for getting the most out of the new QuadHD 120Hz display. 
With the enhanced touch responsiveness, this screen guard allows the adaptive 120Hz refresh rate to work smoothly. So, the scrolling and touch gestures will feel ever so fluid on your Pixel 6 Pro. Talking about protection, the Supershieldz screen protector can easily endure low-volume impact and ward off scratches with ease.
IMBZBK TPU Screen Protector [3 Pack]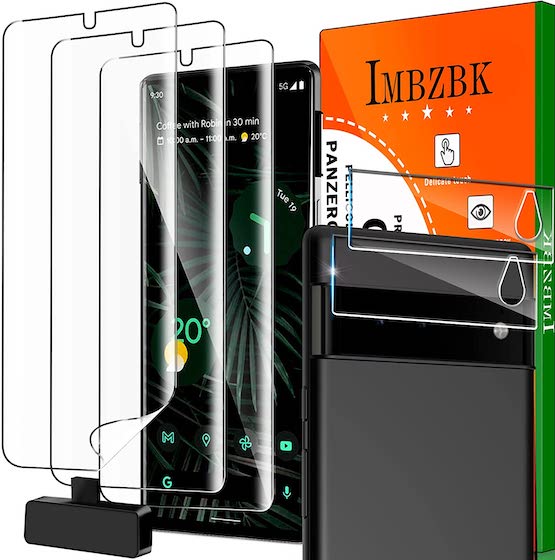 Pros:
High clarity and smoothness
Case-friendly design
Includes camera lens protectors
Thanks largely to the high-quality TPU material, the IMBZBK screen guard provides top-notch clarity. So, you can count on this film screen defender to maintain the original quality of the LTPO OLED panel. Being pretty smooth, the screen guard is also highly sensitive to touch. 
With precise dimensions, the IMBZBK screen protector provides full coverage. The case-friendly design means it can work with most Pixel 6 Pro cases – from rugged heavy-duty cases to sleek covers. Moreover, the TPU screen guard is also equipped to withstand random impact and scuffs. Taking everything into account, this seems to be one of the best TPU screen protectors for Pixel 6 Pro.
ArmorSuit MilitaryShield [2 Pack]
Pros:
High-quality TPU material
Ultra HD clarity
Scratch-resistant
Cons:
Slightly expensive
Doesn't offer good impact protection
What gives ArmorSuit MilitaryShield an edge over many other screen guards is the self-repairing technology. Therefore, even if the screen protector gets minor scuffs, it can easily recover. Another feature worth pointing out is the soft film material that delivers HD clarity to ensure the beautiful OLED display continues to look at its best.
The MilitaryShield screen guard can easily keep fingerprints and smudges at bay. Hence, it's relatively easy for this screen guard to retain the desired smoothness for a long time. As it's also bubble-free, you can install the screen guard with ease. Long story short, MilitaryShield has checked off all the essential boxes to be considered one of the finest TPU screen guards for Pixel 6 Pro.
LMLQSZ Screen Protector [4 Pack]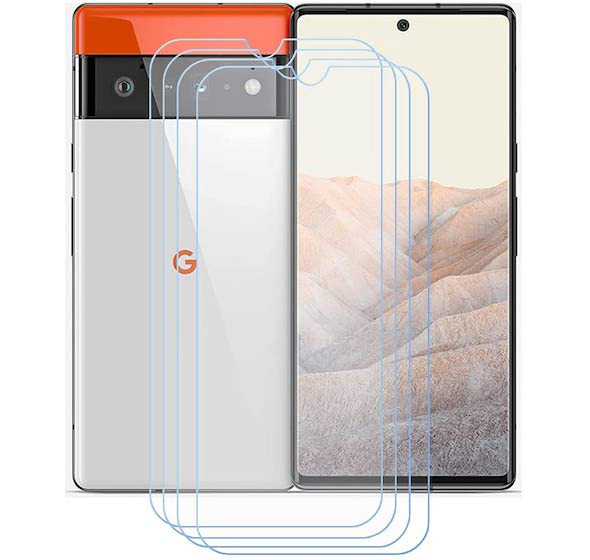 Pros:
Durable tempered glass
high sensitive touch
Fingerprint and scratch resistant
Cons:
Not best for enduring impacts
For the folks who want a reasonably good Pixel 6 Pro screen protector at an affordable price, the LMLQSZ screen protector can be a smart choice. Despite being priced comparatively low, this screen defender has got all the bases covered. While the tempered glass construction with 9H hardness ensures a trusted shield against impact, the HD clarity makes sure the screen looks at its prime. 
Furthermore, the LMLQSZ screen protector is equally good at fighting smudges, oil, and fingerprints. So, you can expect it not to lose touch responsiveness in the long run. With the slightly rounded edges, it fits well around the edges of the Pixel 6 Pro's display for full coverage. It has neat cutouts to play nice with most Pixel 6 Pro cases and covers.
IQ Shield Screen Protector [2 Pack]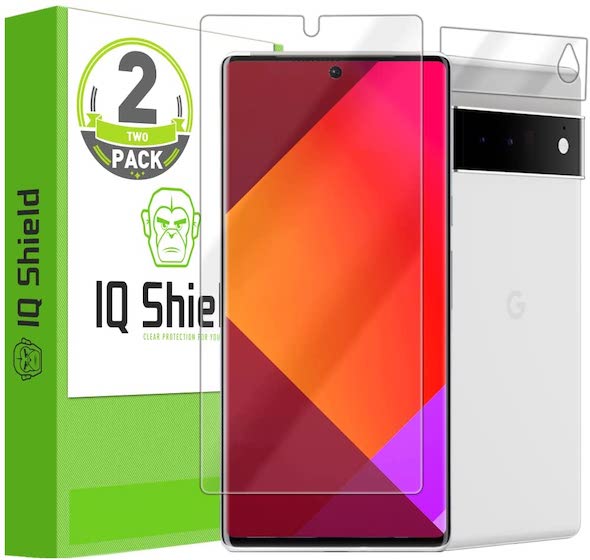 Pros:
Anti-bubble installation
HD clarity, non-yellowing
Oil and fingerprint resistant
Cons:
Not much impact resistance
This Pixel 6 Pro screen protector from IQ is up to the mark both in terms of fighting out scratches and delivering high clarity. Due largely to the soft film material, the IQ Shield screen protector is also quite sensitive to the touch. So, unlocking the device using the under-screen fingerprint scanner and using the touch gestures would feel ever so smooth.
Moreover, the screen guard has laser-cut dimensions and offers edge-to-edge coverage. Though it can't fight out nasty impact, you can trust it to keep even sharp scratches at bay. Besides, the non-yellowing and durable nature of this screen guard make it a worthy pick.
CoverON Pixel 6 Pro Screen Protector [2 Pack]
Pros:
2.5D rounded edges
HD clarity, high touch sensitivity
UV resistant
This scratch-resistant tempered glass screen protector features rounded edges that allow it to cover almost full screen for reliable safeguard against scratches. The screen guard leaves some space around the edges of the OLED display and can work with any case. Equipped with a strong glass fortified by 9H hardness, the CoverON screen guard can survive accidental drops and protect the Pixel 6 Pro's 6.7-inch display against scratches.
Additionally, the CoverON screen protector features anti-UV and anti-rainbow coatings that boost the viewing experience. Couple this with the ability to prevent fingerprints as well as smudges, and this screen protector seems to be a solid contender for your Pixel 6 Pro.
LK Screen and Camera Lens Protector [2 Pack]
Pros:
Edge-to-edge protection
Case-friendly design
Includes camera lens protectors
If you want full-on protection for not only the screen but also the triple camera bar, LK's screen and camera lens protector should appeal to your need. The TPU screen guard can offer much-improved clarity and smoothness to help you get the most out of the 120Hz display.
Just like other TPU screen protectors, it also has self-healing capability. As a result, it's able to keep scuffs at a fair distance with ease. The camera lens protectors sport perfect cutouts to offer edge-to-edge protection to the triple-camera bar. Offering HD clarity, LK's 2-pack screen protector doesn't harm the picture quality either.
Orzero PET Screen Protector [3 Pack]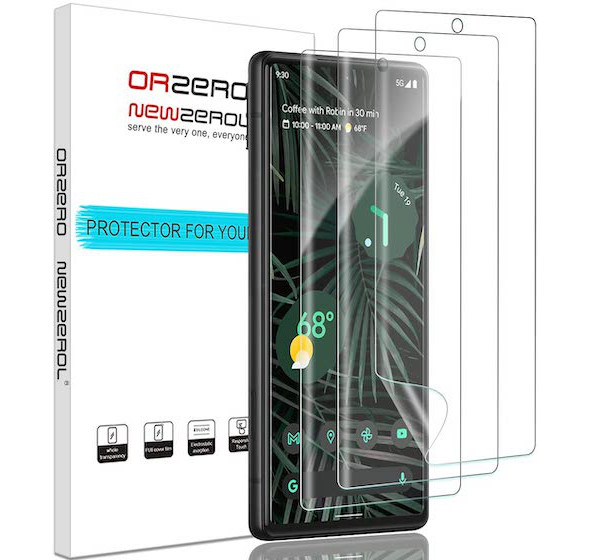 Pros:
Soft PET material
Ultra-thin design
Hydrophobic, oleophobic coating
Cons:
Can't withstand intense bumps
At just 0.15mm thickness, the Orzero screen protector is incredibly thin. Featuring curved corners, the screen guard fits around the edges of Pixel 6 Pro's 6.7-inch OLED display for top-notch protection. It's made of soft PET material that delivers both high transparency and smoothness. The high touch sensitivity allows the in-display fingerprint scanner and the 120Hz display to work seamlessly.
Though PET material can't offer the same level of safeguard against impacts, you can bank on it to absorb less intensive bumps. Since the material also has self-healing capability, you won't have to worry about everyday scratches. Moreover, the inclusion of hydrophobic and oleophobic coating ensures oil and sweat aren't able to harm the clarity and responsiveness of the screen.
Top Pixel 6 Pro Screen Guards Lined Up for You
So that concludes our roundup of the best screen protectors for the Google Pixel 6 Pro. With the top-notch tempered glass and TPU screen guards vying for attention, I guess finding a competent screen defender for the 6.7-inch 120Hz OLED panel should now be an easy task for you. Let me know what type of screen protectors you prefer and which out of these offerings you plan to buy in the comments below.