The Pixel 2 and Pixel 2 XL are likely to be even more successful commercially than their respective predecessors, but neither come cheap. The Pixel 2 XL, in fact, costs almost as much as the insanely-priced iPhone X, so in case you decide to buy it, you'll very likely want to protect it from the occasional bumps or drops. Even though both the devices come with Gorilla Glass 5, putting an additional layer of protection on top of the display is always a good idea, which is why we've curated a list of the 10 best Pixel 2 XL screen protectors you can buy right now:
1. amFilm Google Pixel 2 XL Tempered Glass Screen Protector
If you're looking for hard tempered glass screen protectors for your Pixel 2 XL, you can do a lot worse than the amFilm Tempered Glass Screen Protector that is durable, scratch resistant, and has a 9H surface hardness. Its 0.3mm thickness makes it reliable and resilient, and promises full touchscreen sensitivity. It also gives you full-screen coverage with edge-to-edge protection.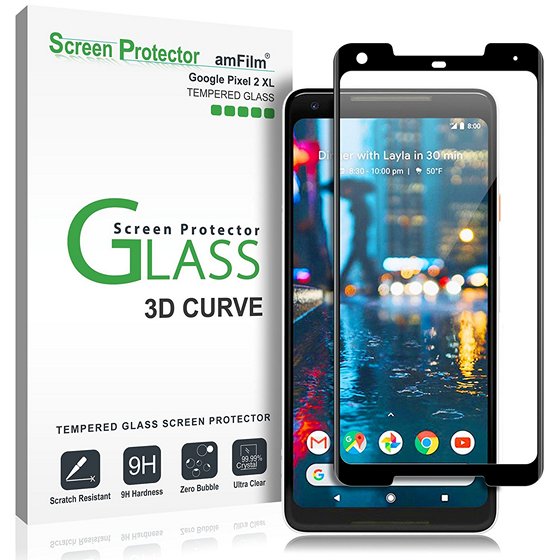 Buy From Amazon: ($13.99)
2. TAURI Tempered Glass Screen Protector for the Pixel 2 XL

Next, we have the TAURI Tempered Glass Screen Protector that is built with HD Clear Ballistic Glass, which, TAURI claims, can protect your phone not just from scratches, but also high impact drops. Like the amFilm product, this one also comes with 9H surface hardness that makes it highly durable and scratch resistant. It's just 0.3mm thick, comes with precision laser cuts for all openings, and has rounded edges for enhanced grip and added coverage.
Buy From Amazon: ($8.99)
3. Olixar Pixel XL 2 Screen Protector
The Olixar screen protector for the Google Pixel XL 2 protects the phone's display from scrapes and scratches by "creating a tough barrier between your screen and the world". They are easy to apply and, once on, is practically invisible. It provides optimal clarity and is thin enough not to affect touch sensitivity negatively. Featured here is a 2-in-1 pack that costs just $6.70.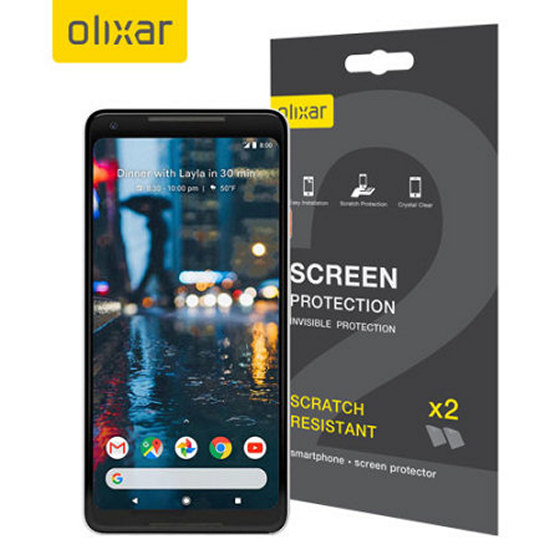 Buy From MobileFun: ($6.70)
4. Incipio Plex Plus Shield Edge Tempered Glass Pixel 2 XL Screen Protector
The Incipio Plex Plus Shield Edge Tempered Glass screen protector for the Pixel 2 XL is built on a custom tempered glass formula that shields the smartphone display from scratches and dings while maintaining precise, touchscreen response. It comes with an integrated scratch-resistant coating, and has a static-free finish. You can currently buy it for $49.99 from the company's own website with free USPS First-Class shipping to all US addresses.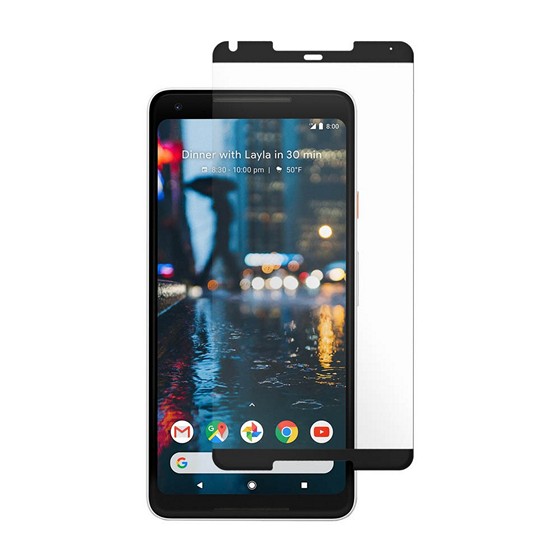 Buy From Incipio: ($49.99)
5.
LK Tempered Glass Sc
reen Protector for Google Pixel 2 XL
The LK Tempered Glass Screen Protector for the Pixel 2 XL is made from 9H tempered glass that is scratch resistant and shatterproof. It also comes with an oleophobic anti-fingerprint coating that keeps your screen free of fingerprints and oily smudges. It is also highly responsive and sensitive, with a high degree of clarity and transparency that ensures smooth performance. The screen protector also has laser-cut openings for the front facing camera, speaker and home button for absolute precision.
Buy From Amazon: ($10.99)
6.
IQ Shield LiQuidSkin Screen Protector for Google Pixel 2 XL
The IQ Shield LiQuidSkin Screen Protector for the Google Pixel 2 XL combines high response sensitivity, self healing durability and non-yellowing, optical transparency into a single layer of flexible yet tough film. Its wet-install method ensures bubble-free installation, while its precise cutouts offer the maximum amount of coverage while maintaining your phone's integrity. As an added bonus, the product also comes with a lifetime replacement warranty.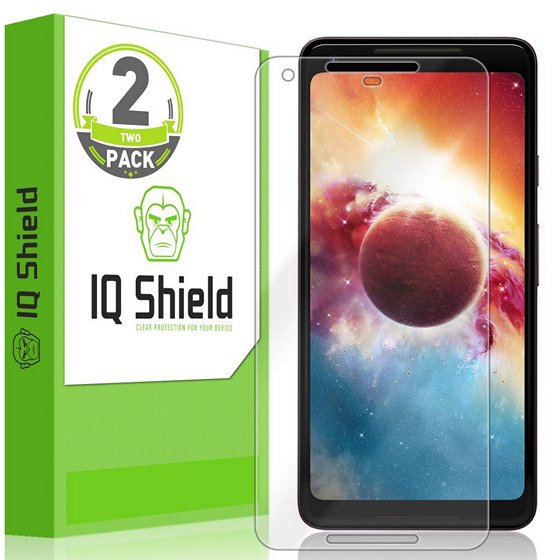 Buy From Amazon: ($7.85)
7. Skinomi TechSkin Screen Protector for Google Pixel 2 XL
The Skinomi Google Pixel 2 XL Screen Protector is optically transparent, virtually invisible, and has a smooth glass-like surface with a "True Touch" feel, which makes it a great alternative to most "static cling" PET screen protectors available in the market. The film comes with self-healing technology, and is flexible yet tough, having been made out of military-grade thermoplastic urethane, designed to absorb impact. The TechSkin is resistant against scratches, punctures and UV light, and is resistant to dust, oil and fingerprint smudges.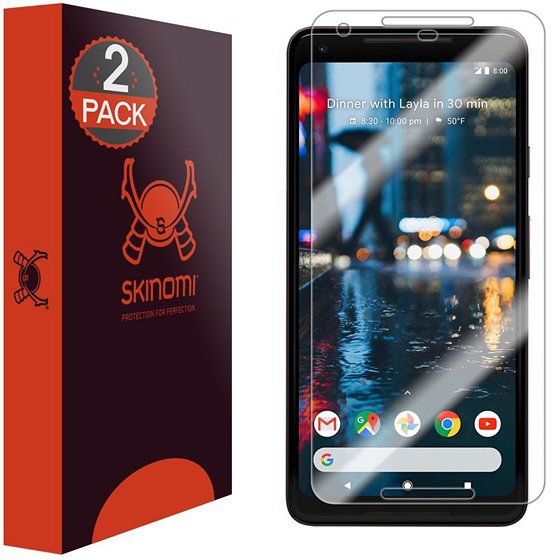 Buy From Amazon: ($7.85)
8.
DeltaShield BodyArmor Full Coverage (Back + Front) Screen Protector for Google Pixel 2 XL
Like many of the other products on this list, DeltaShield BodyArmor Screen Protector for the Google Pixel 2 XL features "Self-Healing" technology that enables the film to revert to its original form even after suffering from small scratches and scruffs. It also comes with 99.9% clarity with 'anti-yellowing' technology, while an anti-fingerprint coating prevents smudges and maintains the clarity of the screen for enhanced viewing. The film's laser-precision design process provides accurate edge-to-edge fitment for maximum coverage.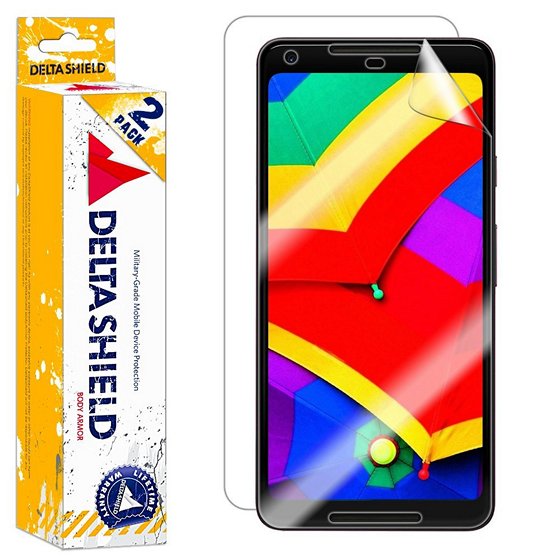 Buy From Amazon: ($11.99)
9. Power Support Tempered Glass Pixel 2 XL Screen Protector
The hard surface coating of the Power Support Tempered Glass screen protector shields your Pixel 2 XL screen from scratches, dirt and dust, while a crystal surface treatment enhances image quality without interfering with responsiveness. There's also a coating on top that eliminates fingerprints and smudges by guarding against your hands' natural oils and dirt. The screen protector is available for both the Pixel 2 as well as the Pixel 2 XL, but while the former is 0.2mm thick, the latter is ever-so-slightly thicker at 0.3mm.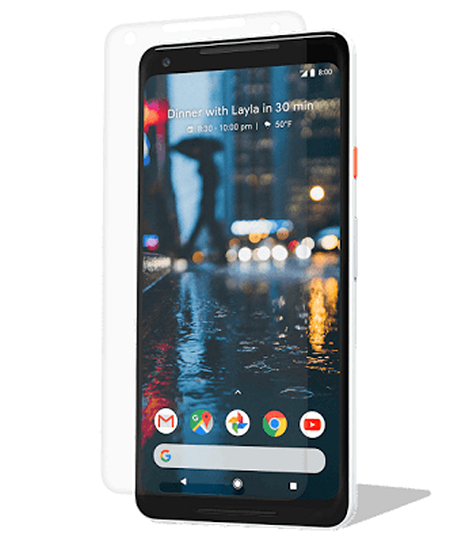 Buy From Google: ($39.95)
10. Zagg InvisibleShield Glass Curve
Zagg has also introduced its own series of screen protectors for the Pixel 2 and the Pixel 2 XL handsets under its 'InvisibleShield' brand. The particular one we're featuring here is fairly expensive at $50, but it does come with a curved design that not only ensures a precise fit, but also offer maximum protection from scratches, scrapes and violent impacts. It comes with great touch sensitivity and high-definition image clarity. It also has an oil-resistant design that helps prevent fingerprints and smudges.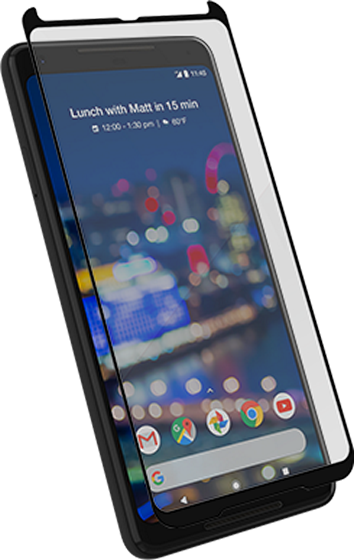 Buy From Zagg: ($49.99)
SEE ALSO: 10 Best Pixel 2 XL Cases and Covers You Can Buy
The Best Pixel 2 XL Screen Protectors You Can Buy Right Now
The display is the single-most expensive part of a smartphone to replace, and yet, it is by far, the most expensive. No wonder then that covers, cases and screen protectors are some of the very first accessories people buy for their smartphones. Thankfully, the aforementioned screen protectors are pretty good, and we can expect them to offer decent protection to Google's latest phablet. So, in case you're planning to get your hands on the Pixel 2 XL, get one of these screen protectors based on whether you're looking for scratch-resistant films or tempered glass panels.