Google announced a slew of new hardware at its press event in San Francisco this week including the Home Max, Home Mini, Pixelbook and Pixelbook Pen. While acres of column space have been devoted to all these devices, the stuff that got most attention, as expected, are the all-new Pixel 2 and Pixel 2 XL smartphones that come with some great new features. However, as is the case with most modern smartphones, they are fairly fragile, and while the Gorilla Glass 5 may protect your super-pricey smartphones from the odd scratch here or there, it's highly unlikely to be of much use if you were to drop it from your hands. That being the case, let's take a look at the 10 best Pixel 2 XL cases and covers that you can buy right now:
Best Pixel 2 XL Cases and Covers
1. Google Pixel 2 XL Fabric Case
Google's fabric cases for the original Pixel smartphones proved fairly popular last year, so the search giant is making them available for the two second-generation Pixel devices as well. The cases have a stiff polycarbonate core with polyester and nylon knit covering on the outside. You'll also find a rather subtle welded silicone "Super G" logo on the back, which tells you that it's an original Google product. The case comes in four different colors – Carbon, Cement, Midnight and Coral – and is available for both the Pixel 2 and the Pixel 2 XL.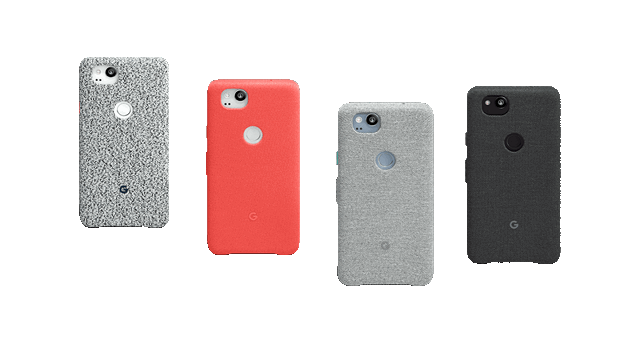 Buy From Google: ($40)
2. Google Earth Live Pixel 2 XL Case
Google has also launched a few "Live" cases for the Pixel 2 and the Pixel 2 XL, just like it did for the first-generation devices last year. The Google Earth Live cases make use of the embedded NFC chip within the phones to change the home-screen wallpaper on a daily basis with the help of a companion app that can be downloaded for free from the Google Play Store. There's also a shortcut button on the back that makes use of the NFC functionality to provide more info about the location you're seeing that day. The cases bring the very best that Google has to offer by combining cutting-edge tech, elegant style and enhanced protection, proving that elegant doesn't necessarily have to mean dull or drab. The Google Earth Live cases cost $50 and you can buy them directly from the Google Store.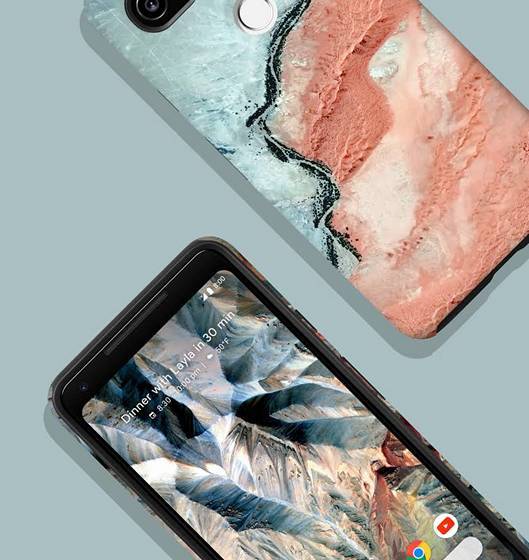 Buy From Google: ($50)
3. Incipio Glitter Star Cut Out Pixel 2 XL Case
Incipio is one of the best-known third-party case makers, and its 'Design' series cases offer some really cool, fashionable designs in a translucent shell that lets the actual phone show through. The case itself is a 'co-molded' rigid hard shell unit that is coated with a scratch-resistant finish, and delivers enhanced protection in a lightweight and compact size. The unit pictured here comes with the 'Glitter Star' design, but you can buy these cases in a variety of different designs, all of which are priced at $25.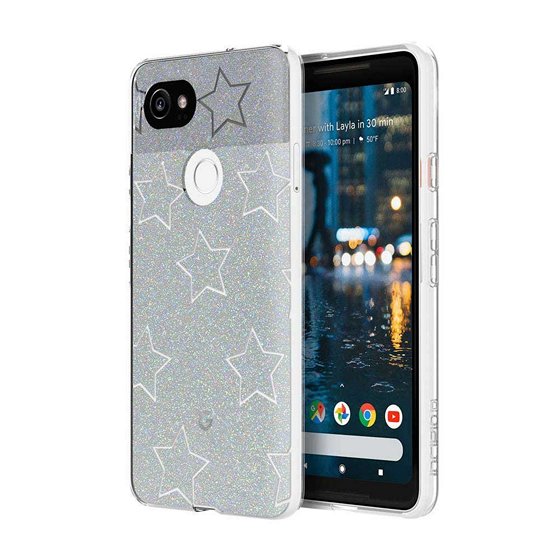 Buy From Amazon: ($24.99)
4. As-Guard Ultra Flexible TPU Gel Protective Case for the Pixel 2 XL

If you want a clear case for your Pixel 2 XL to show off your phone in all its glory, look no further than the admittedly funnily-named As-Guard Ultra Flexible TPU Gel Protective Case. It comes with an ultra-thin design, and is built out of shock absorbent and scratch-resistant gel TPU material that protects your phone from bumps and bruises. The interior is also lined with a dotted pattern that keeps your phone's body free from watermarks. The case is available in a number of different styles, and while the 'ultra-clear' version is featured here, you can also buy it in black, purple, mint and smoke black.
Buy From Amazon: ($7.89)
5. MicroP
Soft TPU Brushed
Protective Google Pixel 2 XL Case
If clear cases that come with a brushed, translucent finish is more your style, you'll love the look of this one by MicroPioneer. It's a soft TPU case that's made out of 'environment-friendly plastic', and comes with a spider-web pattern on the inside. The flexible, anti-stretch TPU rubber ensures perfect grip, and the raised lip protects the screen from minor bumps and scratches. Along with the 'Clear' variant featured here, the case is also available in black, pink, blue, navy blue and purple, which ensures enough options for most people, irrespective of their taste or preference.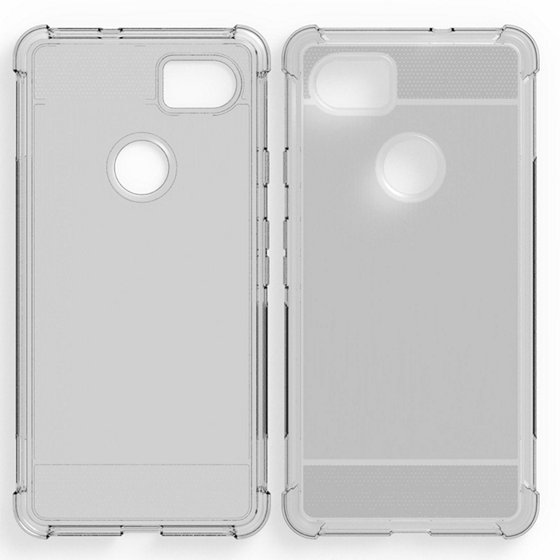 Buy From Amazon: ($7.98)
6. MicroP Hybrid Dual Layer Armor Defender Pixel 2 XL Case

As its name suggests, this particular case is a dual-layer case designed for enhanced drop protection. It is made out of high-quality hard and durable plastic and silicon, and comes with an anti-slip grip to prevent accidental drops. It also has a soft bumper running all around the borders for increased shock-absorption. In terms of design, the case has a synthetic leather print pattern, and is available in three different versions – Z1 Armor Green Owl, Z1 Armor Pink Anchor and the Z1 Armor Purple Flower that's featured here.
Buy From Amazon: ($7.98)
7. NageBee Premium Wallet Case for the Pixel 2 XL

The NageBee Premium Wallet Case for the Pixel 2 XL offers all the features you'd expect of a wallet case. First off, it comes with several slots for credit cards, business cards and licenses, with a separate insert for cash. It also has a kickstand for a hands-free viewing experience, and there's a 'secure snap lock' to keep everything safe and secure inside. The case comes with a slim fitted design to preserve a natural look while protecting the phone from external impacts, bumps and drops. The wallet case comes with a 7-day no-questions-asked money-back guarantee, and is offered in six different avatars: Black, Brown, Fairy Tale, Rainbow, Sunflower and the Plum Blossom version that we've featured here.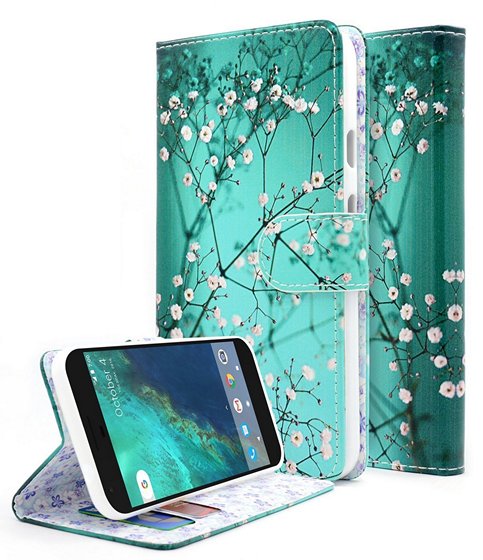 Buy From Amazon: ($9.98)
8. TAURI
Wallet Case For Pixel 2 XL
Another high-quality wallet case for the Pixel 2 XL is the TAURI Wallet Case that's made out of PU leather with a smooth finish on the outside for protection from dust, dirt and scratches. Like the NageBee case above, this one also has built-in pockets to carry credit cards, cash and ID. It also has a convenient kickstand support for comfortable, hands-free viewing. There's also a magnetic clip locking mechanism to keep the case closed providing all-round secure protection for your phone, cards, cash and other belongings. Alongside the black one featured here, the case is also available in purple and rose gold.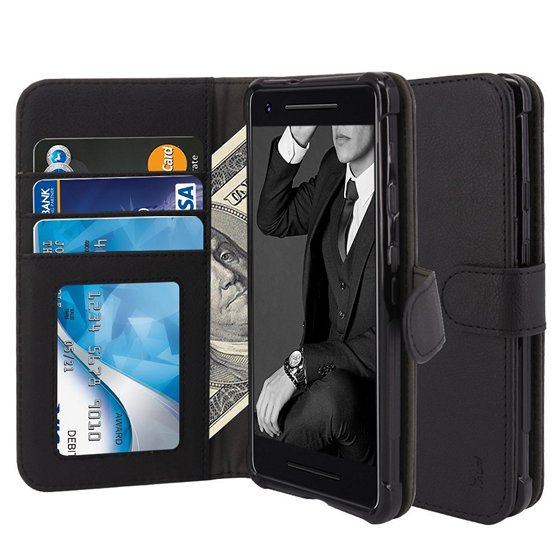 Buy From Amazon: ($9.99)
9. Venoro Heavy Duty Armor Holster Defender

Pixel 2 XL Case

With smartphones getting increasingly more fragile, heavy-duty protective cases are some of the most popular ones these days. If that's what's you're looking for, the Venoro Heavy-Duty Armor Defender case should definitely satisfy you. It is a triple-layer case that consists of a soft TPU inner layer to protect against shocks and drops, and two strong hard polycarbonate outer layers for reinforcement and definition. It comes with a rotatable belt-clip that allows it to rotate 180-degrees to provide different angles while watching movies or video calls. It also has a built-in kickstand for a complete hands-free viewing experience. The case is offered in five different options, including the cool camouflage unit featured here.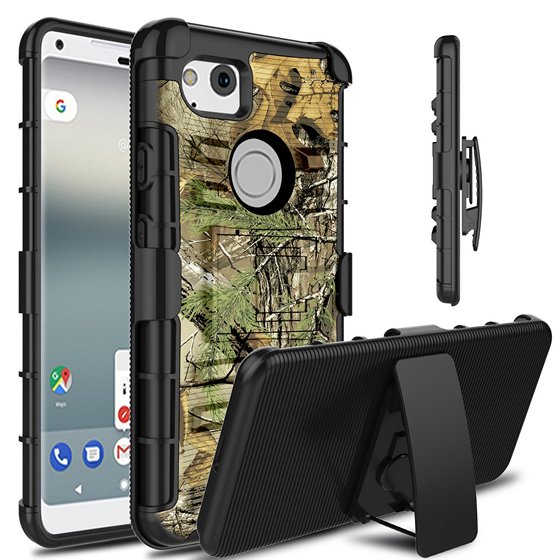 Buy From Amazon: ($8.79)
10. Caseology Parallax

Pixel 2 XL Case

Caseology is one of the best-known names in the world of smartphone accessories, and the company makes some compelling cases and covers for a wide range of devices from Apple, Samsung and Google. The Caseology Parallax Pixel 2 XL case features a slim protective design with dual layer protection, and is made out of shock absorbing TPU & PC material for enhanced impact protection. The case also features a textured geometric pattern on the back, adding enhanced grip and further shock absorption abilities. The case comes with responsive button covers with crisp feedback, precise cutouts and raised lip protection. While we're featuring the burgundy version here, you can also buy it in navy blue, charcoal gray, or ocean gray.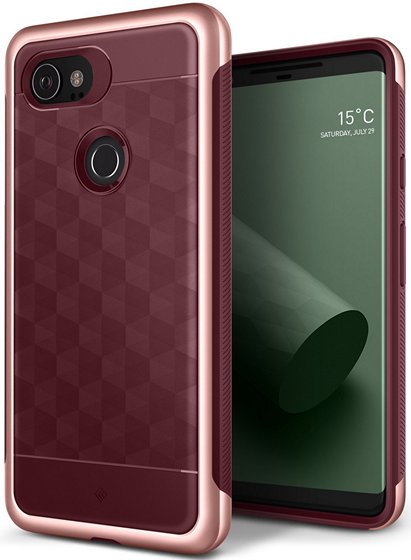 Buy From Amazon: ($13.99)
SEE ALSO: How to Get Pixel 2 Launcher on Any Android Device
The Best Cases and Covers for Your Google Pixel 2 XL
While the Pixel 2 XL promises to be a great smartphone, it is likely to be just as fragile and susceptible to damage as most modern smartphones. That being the case, a protective case of some sort is definitely the order the day if you don't want your pricey new gadget to suffer a tragic and untimely end. We've featured a whole host of cases and covers for the Pixel 2 XL to suit different styles, tastes, and wallet. So take your pick, and do let us know which one caught your fancy and why. We'd love to hear from you.