Whether it's vacation photos you've stashed in your PC, random selfies that you post on social networks, or even wildlife photography that you do as a professional, a robust photo editing software is a must have. As such, there are countless such applications available out there, ranging from basic to ultra-advanced. And that makes choosing one (or more) for your needs all the way more problematic.
But it doesn't have to be that way, and that's why we've compiled this listing of the best photo editing software that you can use to make your digital photos look even more amazing. So without further ado, here they are!
Best Photo Editing Software
1. Adobe Photoshop CC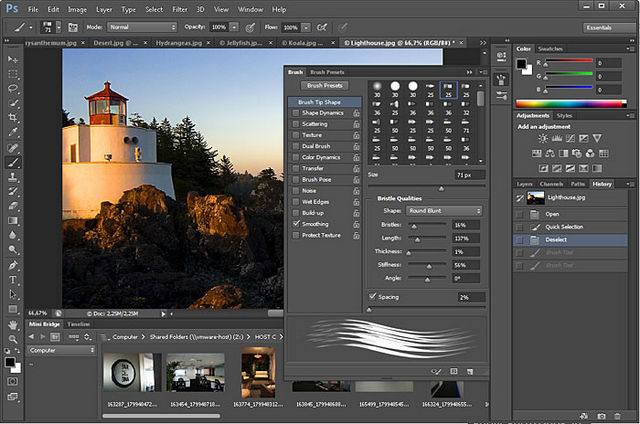 Undeniably the gold standard of image editor applications, the wildly popular Adobe Photoshop CC is filled with more features than you can possibly think of. From basic tweaks (e.g. color/exposure adjustment, re-size, blur/sharpen) to advanced editing operations (e.g. shape tools, masks, alpha compositing), there's nothing that Photoshop can't do. And as of the latest version, there are a ton of new features, including art-boards, a preview of "design space" mode, with seamless access to creative cloud libraries, and integration with Adobe Stock, that lets you find over 50 million royalty free images for use in your projects. And of course, all standard functions like multi-layer capability, and robust plug-in support are there as well. And since Adobe Photoshop CC is a subscription based product/service, you get updates even faster.
Note: Want powerful retouching and editing features in a somewhat lighter package? Give Adobe Photoshop Lightroom CC a look.
Platform Availability: Windows 10, 8, and 7; Mac OS X 10.9 and above
Price: Starts from $9.99/month, Free trial available
2. Affinity Photo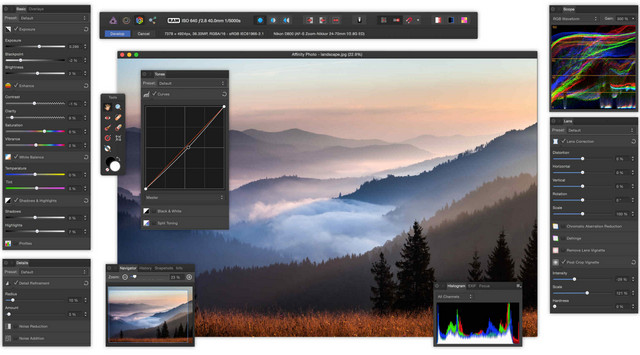 Use a Mac and want a professional grade application that can take care of all your image editing needs? Affinity Photo is all you need. Having a feature set that rivals industry leaders like Photoshop, it offers comprehensive RAW editing functionality with a dedicated workspace, and lets you granularly adjust everything from vibrance and highlights, to chromatic aberration and vignettes. The latest version 1.4 packs an insane amount of functionality, including panorama photo stitching, alpha selections, multiple processing engines, perspective filters, and fully customizable shortcuts. Then there are live blending modes, extensive layer adjustment, numerous special effects, and things like that. No wonder it was chosen as the best Mac app of 2015 by Apple itself. Including PSD, Affinity Photo supports nearly every image format you can think of.
Note: If your platform of choice is Windows, you'll be happy to know that the first beta of the Windows version of Affinity Photo is due to be released soon.
Platform Availability: Mac OS X 10.8 and above
Price: $49.99, Free trial available
3. GIMP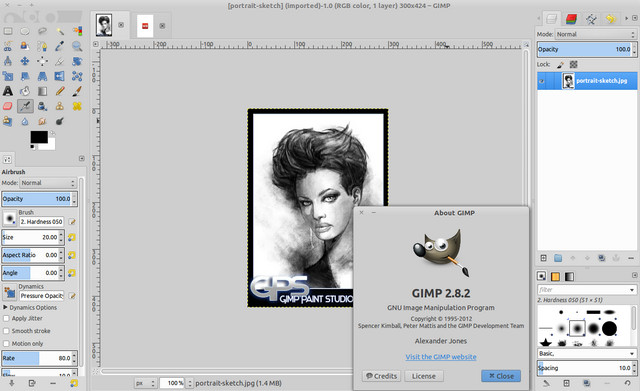 Often touted as one of the best free alternatives to Photoshop, the cross platform and open-source GIMP is a fully loaded image editing software. Whether it's basic editing (e.g. crop, noise reduction) or advanced functionality (gradient editing/blending, layer editing, transformations etc.) GIMP can handle everything. It has a customizable interface, and the functions are separated into multiple modules that can be shown/hidden individually shown/hidden as per need. Extensive hardware support (e.g. pressure sensitive tablets, USB/MIDI controllers) lets you easily bind the most used actions with device actions like moving a MIDI controller's slider. Oh, and there are numerous plug-ins to extend the functionality of GIMP even further.
Platform Availability: Windows; Mac OS X; Linux
Price: Free
4. Paint.NET
If you like (some) features of applications like GIMP and Photoshop, but find them too complicated to use, Paint.NET just might be the image editing software you need. It's a lightweight application that comes with multiple basic (e.g. exposure correction, re-size) to semi-advanced (magic wand, clone etc.) editing features. Paint.NET supports almost all popular image formats, and can handle layer based editing with barely an issue. There are a variety of built-in special effects (e.g. distort, emboss, oil-painting), and the ever useful unlimited undo/redo makes image editing a walk in the park. And if that's not enough, you can use plug-ins to make Paint.NET even more useful.
Platform Availability: Windows 10, 8, and 7
Price: Free
5. Corel PaintShop Pro X8 Ultimate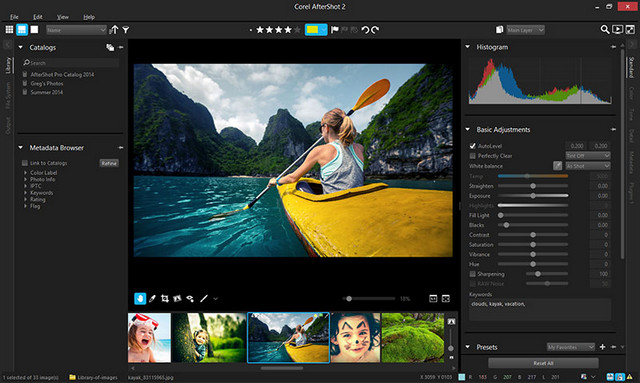 The impressive Corel PaintShop Pro X8 Ultimate is loaded with everything that you'd expect from an image editor of its prowess. Having a tabbed UI, its powerful batch mode lets you edit multiple images in no time. The newest version is loaded up with features like text-wrapping, content aware magic move and full-support for 4K displays. You can make precise selections, and use the special Camera RAW Lab mode for enhanced editing. Then there are things like graduated filter effects, photo-mapping, and full support for raster/vector image formats. What's more, Corel PaintShop Pro X8 Ultimate fully supports Adobe Photoshop plug-ins, in addition to its own. You also get dozens of brushes, textures, and royalty free backgrounds.
Platform Availability: Windows 10, 8, and 7
Price: $99.99, Free trial available
6. RawTherapee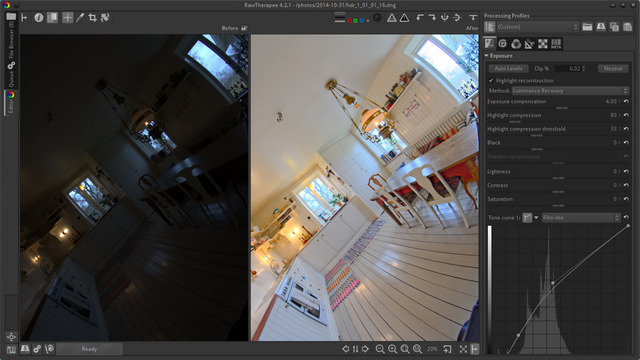 If your image editing needs are primarily centered around working with RAW images, RawTherapee is definitely worth a look. The cross-platform and open-source application comes with a 96-bit image processing engine for effortless non-destructive editing, and uses demosaicing algorithms. It has a range of exposure and tonality control tools, and can easily take care of everything from purple fringing to noise reduction. It also supports parallel editing of images in separate editor tabs, and is compatible with a wide range of DSLR cameras. RawTherapee can even send images to other tools like GIMP, and can be used via command-line as well.
Platform Availability: Windows 10, 8, 7, Vista, and XP; Mac OS X 10.6 and above; Linux
Price: Free
7. Pixelmator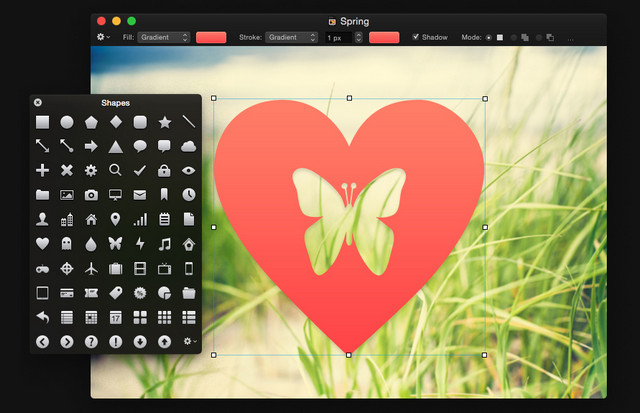 One of the powerful image manipulation applications for the Mac, Pixelmator boasts a long list of advanced editing features. Its "Move Tool" lets you easily distort/rotate any image selection or layer effortlessly, and the smart alignment guides make it easy to distribute objects in image accurately. From selection, to painting to retouching, Pixelmator's vast array of tools help it excel in everything. Advanced tools like Vectormator help you churn out gorgeous composite logos, posters etc. in no time, and non-destructive editing is supported for layers. Pixelmator is built using latest OS X technologies like Core Image and Grand Central Dispatch, and supports Photoshop images too.
Platform Availability: Mac OS X 10.9 and above
Price: $29.99
8. CyberLink PhotoDirector 7 Ultra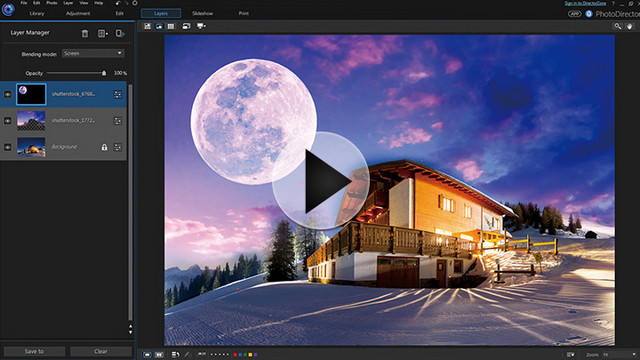 One of the better photo editing applications out there, CyberLink PhotoDirector 7 Ultra packs in a healthy bunch of features. The latest version comes with support for up to 100 layers per image, and 14 blending modes and editing options. The advanced Bracket HDR functionality comes with ghost artifact removal support, and pro-level blur tools let you create unique effects. CyberLink PhotoDirector 7 Ultra can automatically read EXIF data to correct lens distortions, and is compatible with countless digital cameras from manufacturers such as Canon, Nikon, Leica, Kodak, and Hasselblad. And although we're not really big fans of this, but there are also some face/body "beautification" features thrown into the mix.
Platform Availability: Windows 10, 8, 7, and Vista
Price: $99.99, Free trial available
9. FastStone Image Viewer
Powerful image manipulation programs, with their advanced features like layers, alpha compositing are all great, but what if you want just some basic editing functionality? FastStone Image Viewer is the answer. Extremely lightweight, it can fully handle everything from basic editing (e.g. re-size) to semi-advanced operations (e.g. clone, healing brush). Not only that, FastStone Image Viewer also comes with image management features, such as tags, and drag-and-drop copy/moves support. You can create slideshows with over 150 transition effects, and even acquire images from scanners. And if you want to take FastStone Image Viewer with you, the portable version has you covered.
Platform Availability: Windows 10, 8, 7, Vista, and XP
Price: Free
10. Darktable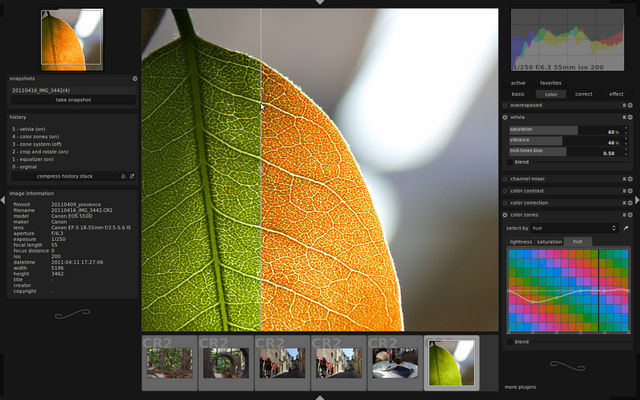 Yet another image editor for RAW image processing, the open-source Darktable packs in quite a lot, and lets you view and manage digital negatives with considerable ease. It supports non-destructive editing, with all functions working on 4×32 pixel buffers. You get full GPU acceleration support, and ICC color profiles are built-in as well. Darktable's functionality is divided into multiple modules, which can be used to effect basic edits, tonal adjustments, lens/pixel based corrections, and filter based processing. All in all, for RAW image manipulation, Darktable is just about perfect.
Platform Availability: Mac OS X 10.6 and later; Linux
Price: Free
SEE ALSO: Turn Pictures Into Slideshows With These Slideshow Makers
Edit photos with effortless ease!
Even though cameras (whether they are standalone, or stuck inside smartphones) have gotten fairly power-packed these days, a little bit of editing and post processing goes a long way in making your digital images perfect. And as seen above, there are quite a few image editor software applications that you can use. So try them all, and let us know your favorite(s) in the comments below.