The most basic customization on any Windows PC, laptop, tablet or phone is the ability to change wallpapers. Now, this is something we do quite often but there are times when we are too lazy to change wallpapers and things get stagnant. Thankfully, with Windows 10 and its universal apps, there are a number of cool wallpaper apps that automatically update the desktop as well as the lock screen wallpaper. These apps offer beautiful wallpapers from Windows Spotlight, Bing, 500px and other sources. So, without any further ado, here are the 6 best wallpaper apps for Windows 10:
1. Brilli Wallpaper Changer
Brilli Wallpaper Changer is a universal app, which means it should work almost the same way on both Windows 10 systems and Windows 10 Mobile devices. It's arguably the most feature rich wallpaper app available on the Windows Store. The app offers you wallpapers from various sources, as well as Bing. You can create a collection of your favorite wallpapers or choose to set Bing images as your lock screen and/or desktop wallpaper. The app lets you set the Bing daily image region, the wallpaper change time interval (15 minutes to 1 day) and the change mode (random or sequential).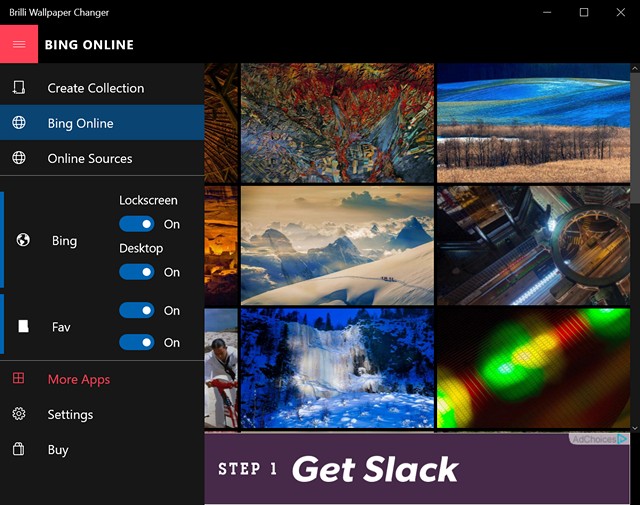 Brilli is available in a free version but it's limited to two collections, 30 files per collection and includes non-intrusive ads. To remove the limitations as well as the ads, you can make an in-app purchase.
Install: (Free, $1.99 in-app purchase to get full version)
2. Dynamic Theme
While the name "Dynamic Theme" might be a little confusing, the app is definitely not. In fact, the Dynamic Theme universal app is my favorite wallpaper app on Windows 10. It's available for free and mimics Windows 10's settings page interface, which makes up a really easy experience. With the app, you can change the lock screen and desktop background to a single Bing or Windows Spotlight image or set the app to automatically update your device with new Bing and Windows Spotlight images.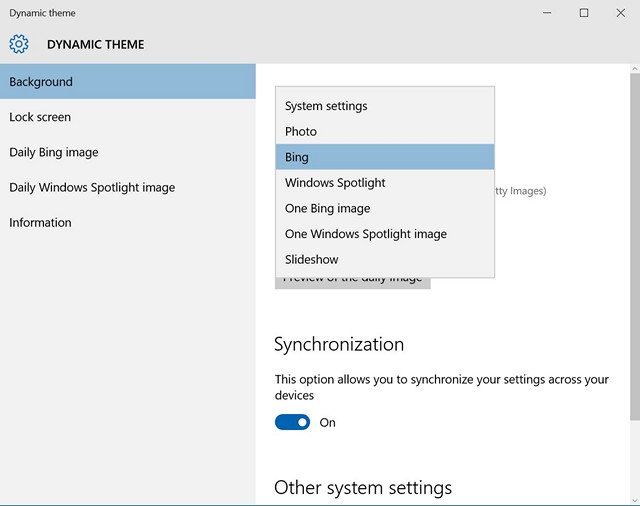 You can preview the current Bing and Windows Spotlight images, change Bing's region and save the new images in a folder automatically. Moreover, the wallpapers are synced across your various Windows devices.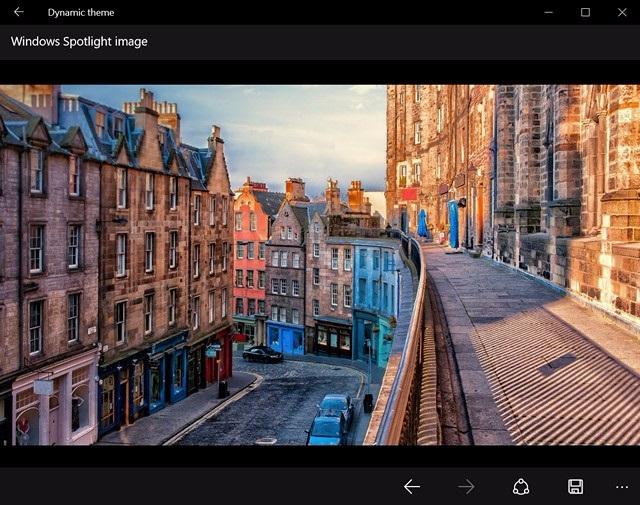 Install: (Free)
3.  Wallpaper Studio 10
The Wallpaper Studio 10 universal app offers wallpapers in various categories like abstract, car, funny, life, nature, quotes, sports etc. for your Windows 10 device. There are thousands of wallpapers here and you can set the app to auto update the lock screen and the desktop in specified intervals. The app also brings a great community and you can even upload your favorite wallpapers for other users.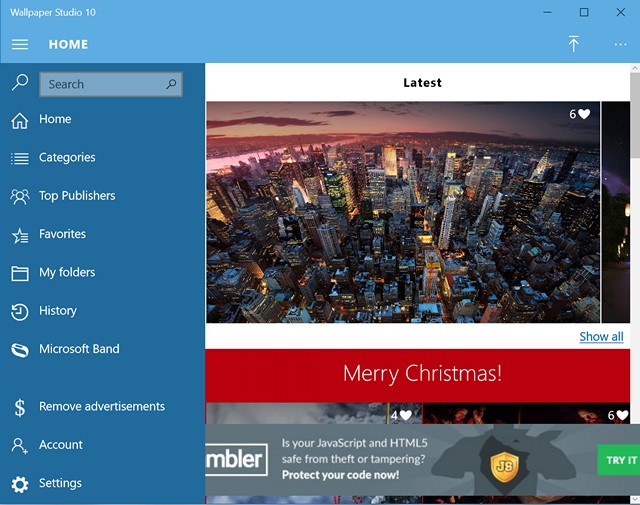 Along with wallpapers for Windows 10 devices, the app also brings customization features for the Microsoft Band. Overall, Wallpaper Studio 10 is a decent wallpaper app but its free version features some really annoying ads. However, you can make an in-app purchase to remove ads.
Install: (Free, $1.35 in-app purchase to remove ads)
4. Dinamic Wallpaper
Unlike other wallpaper apps in this list, Dinamic Wallpaper does not depend only on Bing or Windows Spotlight to bring you wallpapers. The universal app offers wallpapers from sources like 500px Pulse, 500px Macro and NASA Astronomy. Moreover, you can even add your very own pictures to the collection. As with most other wallpaper apps, Dinamic Wallpaper automatically changes lock screen and desktop wallpapers. It also lets you save the wallpapers automatically and set the Bing region.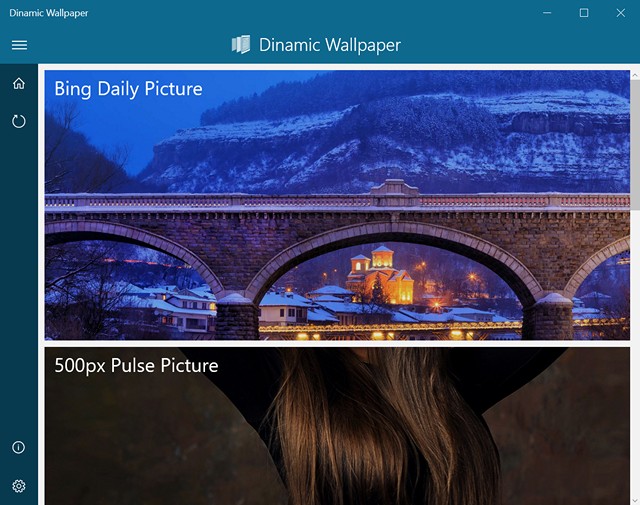 Dinamic Wallpaper is available for free but there's a donate option in the app if you want to support the developer.
Install: (Free)
5. My 500px
As the name suggests, the My 500 px universal app is an unofficial client of 500px, the very popular photography community. The app brings photos from 500px categorized in Popular, Editors, Fresh Today, Upcoming and Highest Rated. The app lets you set lock screen and desktop wallpapers and you can set up an automatic change interval, like other wallpaper apps in this list. What makes the app unique is the 500px community. You get some amazing pictures and if you are a photography enthusiast, you can post your photos to the community. The app is available for free but comes with ads; however, you can remove them with an in-app purchase.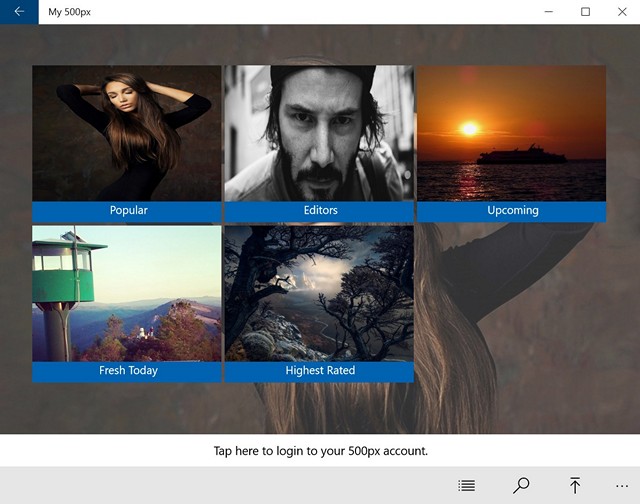 Install: (Free, $1.49 in-app purchase to remove ads)
6. Daily Pic
The pictures brought by Bing's wallpaper of the day are beautiful and if you just want a simple app that lets you save these backgrounds and set them as wallpaper, the Daily Pic app is for you. The app brings you various options, like you can enable automatic saving of new Bing pictures, choose the download resolution, the download folder and more. You can also enable automatic changing of the desktop and lock screen wallpapers. The app is fairly simple and it should work fine if you only want the Bing wallpapers.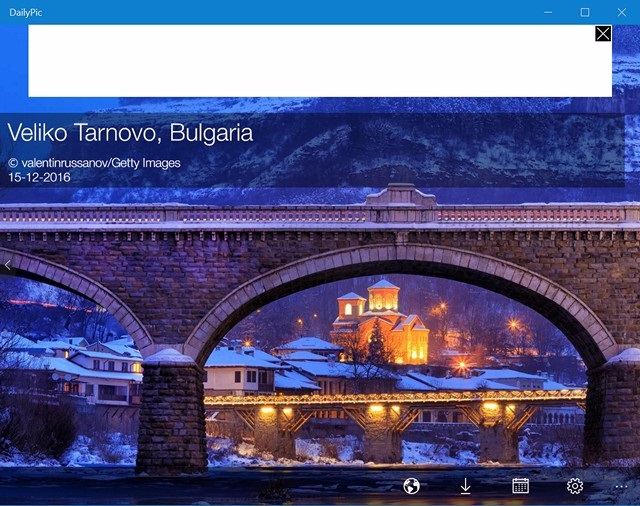 Daily Pic is available in free ad-enabled version but you can make an in-app purchase to remove ads. You can also check out Microsoft's official Bing Desktop software, which automatically sets Bing photos as desktop wallpapers. However, the app does not let you download those pictures.
Install: (Free, $1.99 in-app purchase to remove ads)
SEE ALSO: How To Control and Customize Windows 10 Desktop
Beautify the Windows 10 Desktop and Lock Screen with these Wallpaper Apps
Having the same old wallpaper on your Windows 10 PC's desktop or lock screen can be boring? So, why not spruce things up and get refreshed by a brand new wallpaper every day (or every hour). Well, these cool wallpaper apps for Windows 10 make that happen. Also, all of them are universal apps, which means you can use them on your Windows PC, Surface or any other tablet or a Windows 10 Mobile smartphone. Well, try them out and let us know your thoughts in the comments section below.
---
Load More