While cute cases for iPhone 12/12Pro, mini, and Pro Max with eye-catching design can steal the show, the rich leather texture of handcrafted genuine leather cases is still hard to beat. Apart from giving a pro look and feel to your smartphone, they also ensure you have an enhanced gripping. That's not all, leather suits are equally up to the task when it comes to absorbing shock and fighting out scratches. So, if you have decided to opt for vintage leather covers or incredibly sleek leather suits, this meticulously crafted lineup of the 8 best leather cases for iPhone 12 Pro Max can help you choose the right bet.
Best iPhone 12 Pro Max Genuine Leather Cases You Can Buy
Giving durability more priority, I have selected iPhone 12 Pro Max cases that are carved out of genuine leather. So, you can expect their leather texture to last long. With top-of-the-line craftsmanship, they boast an executive profile. As for protection, they are more than capable to keep your phablet protected from ugly scratches and also the random impact. With that in mind, let's dive straight into the roundup of the top iPhone 12 Pro Max premium leather cases!
1. Bellroy
In more ways than one, this offering from Bellroy is a premium leather wallet case. First and foremost, the case features a pretty compact form-factor that hardly adds any bulk to the smartphone without endangering the protection factor. While the soft microfiber strengthens the construction, the flex polymer further empowers the safeguard against impact.
Notably, the Bellroy case features a SIM card slot and a hidden slot that can comfortably house up to 3 cards. That means you won't have to opt for a traditional wallet if you happen to carry multiple cards.
Thanks to the inclusion of the magnetic closure, it keeps all the cards securely inside. What's more, the very integrated section also doubles as a useful stand to let you enjoy Netflix movies or video calling in the landscape mode.
Buy from Amazon: $79
2. Mujjo
Mujjo is a slim leather case that not only makes a nice-looking match with the iPhone 12 Pro Max but also offers you the flexibility to carry multiple cards. So, if you are willing to get a wallet case without having to sacrifice the elegance of your smartphone, it can be a better pick.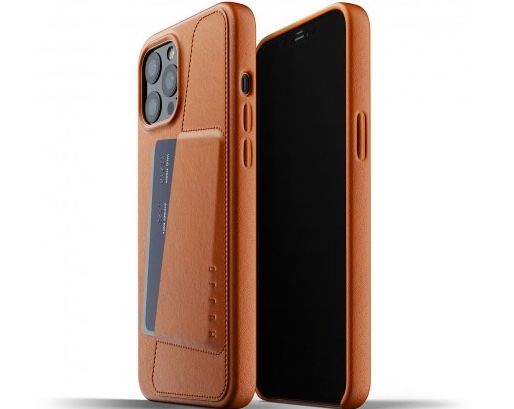 The genuine leather construction features minimal workmanship that gives it a professional-looking design. Talking about protection from drops, it shouldn't disappoint you when it comes to resisting scratches and also absorbing minor scratches due largely to the microfiber-lined interior.
What's more, it also has beveled edges to guard the 6.7″ OLED display and the huge camera bump against scuffs. To sum up, Mujjo is one of the best iPhone 12 Pro Max leather cases with a cardholder.
Buy from Mujjo: $54 
3. Bella Fino from Pad & Quill
A premium smartphone like iPhone 12 Pro Max deserves a luxurious leather wallet case like Bella Fino. Crafted with full-grain American leather, the cover has got a pro look and feel. The marine-grade nylon stitching further enhances its profile as a rich wallet suit.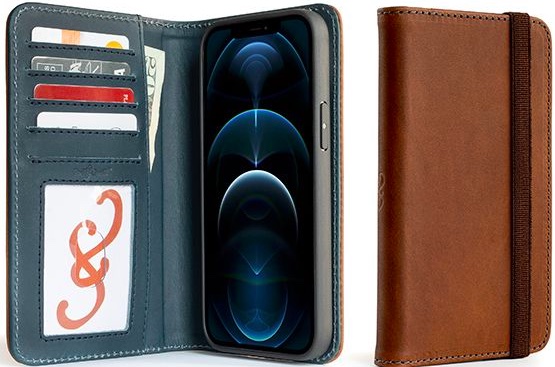 Moreover, Bella Fina is also UV resistant to ensure it doesn't lose the luxurious shine when faced with a real-life test. In terms of protection, you can count on the full-grain leather exterior to endure shock. Besides, the inclusion of microfiber inlay strengthens the casing,
What's more, Bella Fina can hold up to 8 cards and also some cash, which makes it a perfect travel wallet for your iPhone 12 Pro Max. Notably, it also supports wireless charging so that you don't need to remove the case before charging your phablet.
Buy from Pad & Quill: $79.95
4. Apple Leather Case with MagSafe
Showcasing a sleek design that fits around the edges of the iPhone 12 Pro Max, Apple Leather Case with MagSafe has got the profile to be counted as a premium leather suit. The case is carved out of tanned leather and features a rich leather texture that can grace your palm with better grip.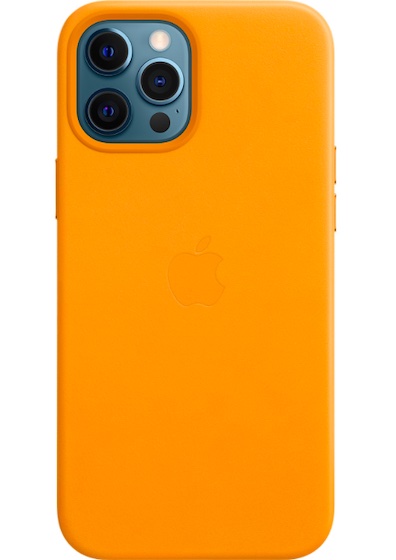 Just like other genuine leather cases, the Apple leather case also develops a natural patina over time. As a result, it will never look ugly even after being old. With the precise cutouts, it makes sure accessing ports remains convenient. On top of all, you can choose this slim leather cover in multiple vibrant color variants including product red, California poppy, and more.
Buy from Amazon: $59
5. Nomad Rugged Case
What has caught my eyes in the Nomad Rugged case is the ability to offer an uncompromised defense to your iPhone 12 Pro Max without putting the style quotient of the smartphone on the backburner. The top-grade Horween leather construction is strengthened by the presence of a shock-absorbing PC interior.
Moreover, the TPE bumper further boosts the durability aspect, while also enhancing grip so that holding the big-screen smartphone will remain convenient for you. Nomad claims that the case can endure up to 10 feet drops, which is great considering that it doesn't look beefy like other protective cases in the market.
Even better, the Rugged case also supports MagSafe charger and other wireless chargers to let you power up your smartphone without any issue.
Buy from Amazon: $49.95
6. AMOVO
Should you wish to go for a luxurious leather wallet case at a comparatively affordable price tag, this offering from AMOVO could be a better choice. The case is crafted with genuine leather and features an impact-resistant interior made of PC and TPU. So, it's fully capable to offer a 360° safeguard to your iPhone 12 Pro Max.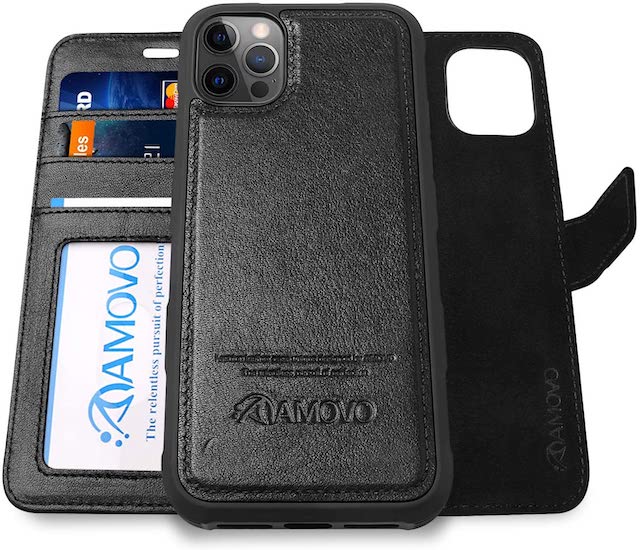 Notably, AMOVO case has multiple pockets to let you store credit cards. Plus, there is a big pocket where you will be able to keep your dollar bills securely. Another major highlight of this case is the detachable design which offers you the flexibility to reduce the bulk and use it as a simple slim leather case.
Priced at $46, the Amovo leather wallet case comes in several vibrant color variants such as black, red, brown, and more. Everything considered; it's a fully equipped travel leather wallet case for iPhone 12 Pro Max.
Buy from Amazon: $45.95
7. ESR Metro Series
For those looking for a comparatively affordable slim leather case, ESR Metro Series seems to be a safe bet. Crafted with high-grade leather, the case sports a professional-looking design. And with the soft leather texture, it also provides a much-improved grip.
As for protection, ESR Metro Series can live up to the mark when it comes to absorbing random impact thanks to the presence of a microfiber interior. Plus, it can also shield your phablet against scuffs.
Better still, the raised bezels ensure that the 6.7″ OLED display and the triple camera bump have the additional safeguard against scratches. Keeping in mind these features, ESR Metro Series is an elegant leather case for iPhone 12 Pro Max.
Buy from Amazon: $25.99
8. TORRO
Looking at this offering from TORRO, all I can say is that it's a premium leather wallet case for iPhone 12 Pro minus a premium price tag. Made of high-grade leather, the cover has a vintage design that can instantly appeal to your taste if you prefer to have a classy leather suit.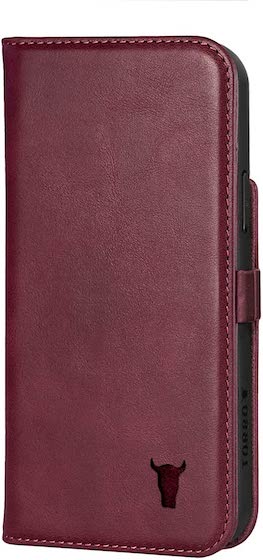 The refined handcrafted design with the visible stitching further bolsters its profile as a pro leather cover. Design aside, TORRO leather cover is equally up to the task when it comes to absorbing impact. The incorporation of the cushioned interior (microfiber and silicone) further boosts durability.
The leather case also has multiple slots for cards and a separate pocket for keeping dollar bills securely. Not to mention, you also have the luxury to choose from a variety of color variants including black, purple, red, tan, and more.
Buy from Amazon: $37.99
Choose the Top Leather Covers for Your iPhone 12 Pro Max
There you go! So, these are our best genuine leather cases for iPhone 12 Pro Max, which you can buy to give a pro look and feel to your all-new phablet while still keeping the essential protection from drops intact.
By the way, which one of these premium leather cases is going to pair with your 12 Pro Max? I guess it's the incredibly sleek leather case with the cardholder that has won you over. Or is it the one that boasts multiple card slots a huge compartment for storing cash? We would appreciate having your feedback in the comments section below.