The unveiling of Apple's newest iPhone(s) is undoubtedly the most hotly anticipated tech event of every year, with things like leaked photos, rumoured specs, news etc. sending everyone from devoted fans to media outlets into a frenzy, months before the devices are officially outed. But the launching of the newest iPhone SE, a few days ago was extra special, as Apple went back to the compact smartphone form factor, releasing a 4 inch iPhone that the users had been asking for so long.
On the outside, the iPhone SE is near 100% identical to the older iPhone 5/5s. However, it's the innards that have changed, as the iPhone SE is loaded with the same latest and greatest hardware that powers the iPhone 6s/6s Plus. In essence, the iPhone SE is a dream come true for Apple fans wanting a compact device. And if you've already ordered one, you'd probably want to protect it with a nice case, once you get your hands on it.
And guess what, we've rounded up some of the best iPhone SE cases that you can get. So without further ado, here they are!
Note: Although most of these cases are specifically for the iPhone SE, some are for the older 5/5s models. However, they are fully compatible with the iPhone SE, because it's identical in dimensions to the iPhone 5/5s
Best iPhone SE Cases
1. Trianium Clear Shock Absorbing Case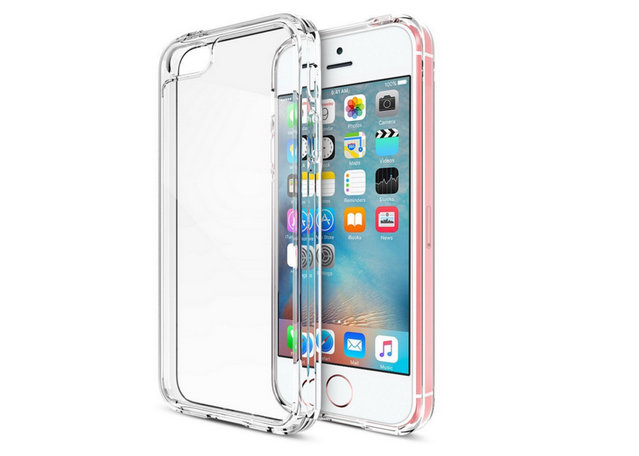 Fully compatible with the iPhone SE, the Trianium Clear Shock Absorbing Case is comprised of two layers, an impact absorbing frame that guards the phone against drops, and a hard back panel for protecting against all kinds of scratches and rough surfaces. The clear, transparent design ensures that the iPhone SE's premium construction shines through it. There are raised bezels on the front and back, which prevent the camera and the screen from touching hard surfaces. Oh, and this thing comes with a lifetime warranty as well.
Where to buy: Amazon.com
Price: $9.95
2. Verus High Pro Shield Case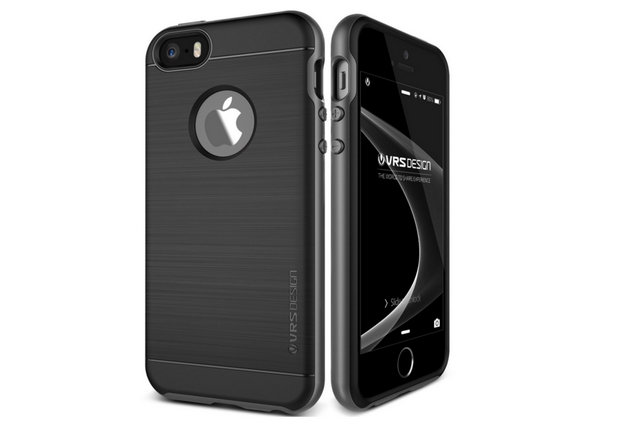 Oozing a premium appeal, the Verus High Pro Shield Case is a perfect companion for your new iPhone SE. It is made of two layers, both of which are impact resistant. The inner layer is made of soft Thermoplastic Polyurethane (TPU) for protection against bumps, while the outer layer is made up of hard Poly Carbonate (PC) for more serious drops and hits. The case sports a brushed metal finish, and precise cutouts provide full access to all of the device's ports and buttons. It's available in a range of cool colors, such as Rose Gold and Steel Silver.
Where to buy: Amazon.com
Price: $16.99
3. Silk Vault Card Cover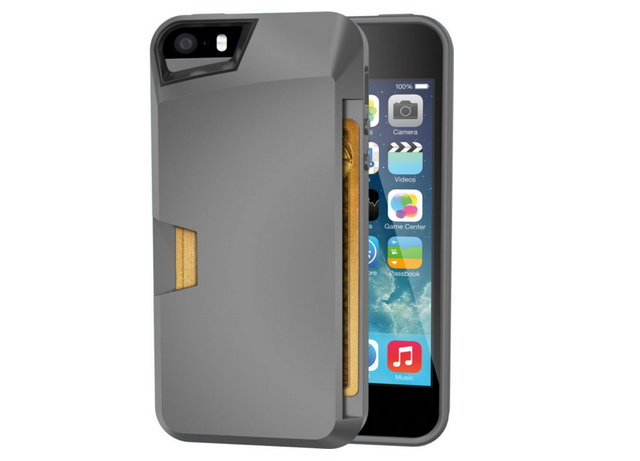 If you're looking for a slim and functional case for the iPhone SE, the Silk Vault Card Cover is something you should definitely check out. Featuring a one-piece construction, it has a reinforced ribbed structure that disperses shocks away from the phone. The corners of the case are hardened for better protection against drops and bumps. But its highlight feature is a built-in slit, that lets you carry up to 3 credit/debit/ID cards and cash, with the phone. What's more, you also get a premium, scratch-resistant screen protector with it. How cool is that?
Where to buy: Amazon.com
Price: $14.99
4. Speck CandyShell Grip Case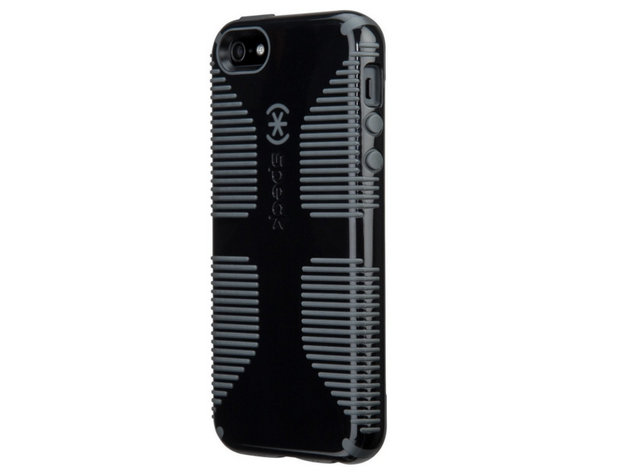 Elegant and robust, the Speck CandyShell Grip Case imparts solid protection to the iPhone SE, without adding too much extra heft. It sports textured finger pads, with interwoven plastic and rubber grips further enhancing the style and strengthening the structure. The dual-layer construction is made up of a hard exterior layer, and a rubberized interior layer that provides shock absorption. And if you like variety, the case is available in numerous colors and patterns, ranging from Beaming Orchid Purple to Aqua Floral Blue.
Where to buy: Amazon.com
Price: $34.95
5. Otterbox Defender Series Case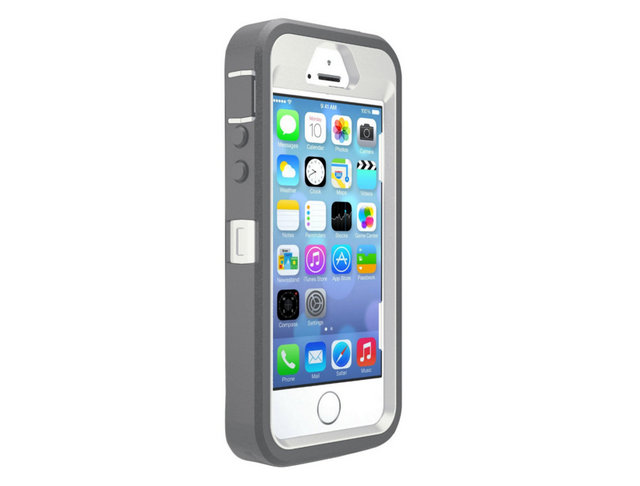 The Otterbox Defender Series Case is for those who want nothing but extreme protection for their iPhone SE. Made up of three ultra durable layers, it helps the phone withstand even the most serious of scratches, drops, and shocks. The layers are made up of Poly Carbonate and Foam, and the port covers keep dust and debris out of the device. Not just that, the case comes with a belt-clip holster that can double up as a kickstand, for a rich. Add to it the built-in screen protector and Otterbox one year warranty, and there's hardly any reason why you shouldn't it.
Want something that's from Otterbox, but a little lighter? Check the Otterbox Symmetry Series Case.
Where to buy: Amazon.com
Price: $26.92 for the Grey variant. Varies by color
6. UAG Feather-Light Composite Case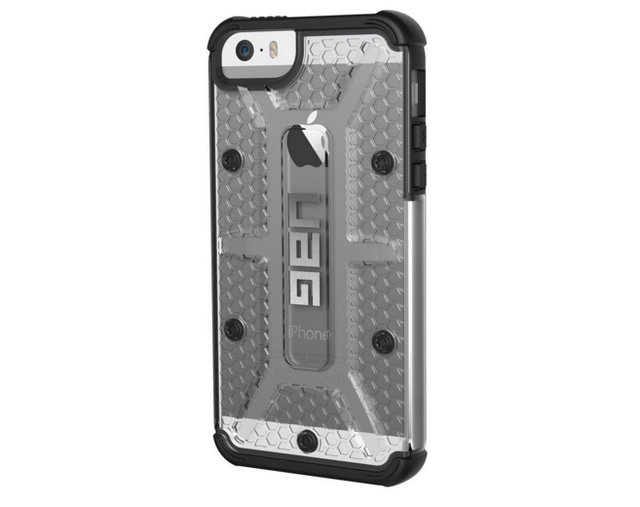 While we're on rugged cases, let's see what Urban Armor Gear has to offer as well. The UAG Feather-Light Composite case is made up of a solid outer Armor shell, with an impact resistant soft core on the inside. The over-sized tactile buttons provide better feedback, and the scratch resistant skid pads make for a better grip. The case meets the military drop-test standards (MIL STD 810G 516.6), and precise cutouts let you access all the device's ports and buttons with zero problems.
Where to buy: Amazon.com
Price: $34.95 (Black variant costs $24.95)
7. Spigen Slim Armor Case for iPhone SE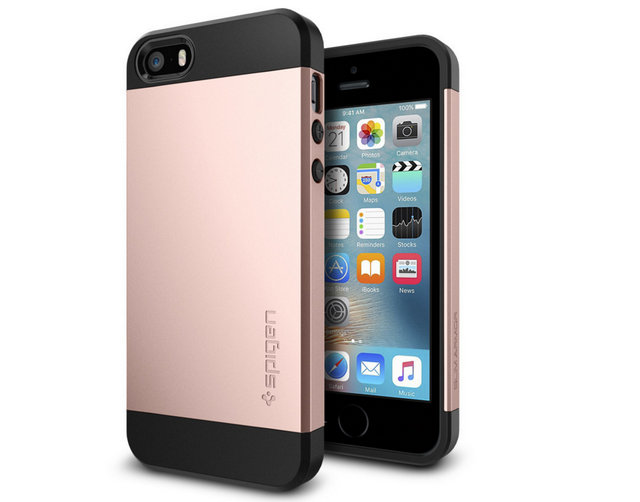 Classy looking and extremely sturdy, the Spigen Slim Armor Case is built to provide lasting protection to the iPhone SE. The dual-layer case is made of a durable Poly Carbonate (PC) exterior, while the inside is fabricated from Thermoplastic Polyurethane (TPU), for maximum impact absorption. The case's sleek design and smooth finish lend it a premium appearance. And with a range of colors (e.g. Gunmetal) to choose from, you're sure to find the one that you like.
Where to buy: Spigen.com
Price: $24.99
8. Griffin Square Card Reader Case
The Square Reader is a nifty solution that lets you accept credit card payments through mobile devices. And if you intend on using your iPhone SE for dealing with credit card payments, then the Griffin Square Card Reader Case is a must have. It's made of silicone which guards the phone against all kinds of bumps and scratches, and the non-slip sides afford a better grip. The case is custom moulded to secure the Square Reader when it is connected to the phone, thus eliminating extra strain on the headphone jack. It even lets you store the Square Reader, when not in use. However, the case is only available in the U.S. and Canada, so do take note of that.
Where to buy: Griffin.com
Price: $19.99
9. Pad & Quill Little Pocket Book Case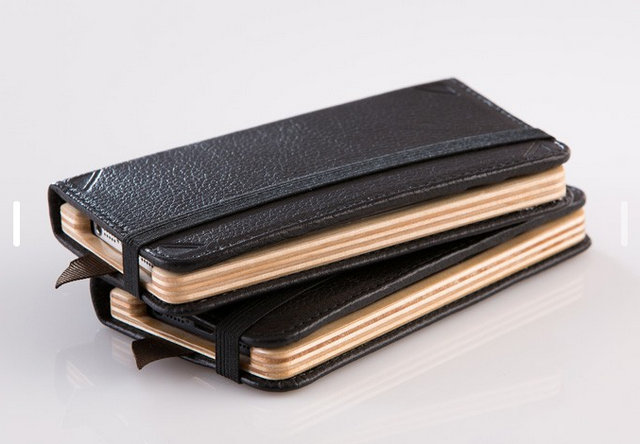 If you want an ultra-luxurious case for your iPhone SE, the Pad & Quill Little Pocket Book Case is for you. Crafted from robust American top grain leather, it comes with nylon stitching. And that's just the tip of the iceberg. This thing has a Baltic Birch wood cradle for holding the phone, complete with an elastic closure. Oh, and you can also carry up to four business/ID cards and cash in the included pockets. Other impressive features include quick access viewing space for business cards, UV resistance, personalization, and multiple color options. No wonder it comes with a lifetime wood warranty, and a 25 year leather warranty. This is seriously premium stuff, people.
Where to buy: PadandQuill.com
Price: $59.95
10. Maxboost Battery Case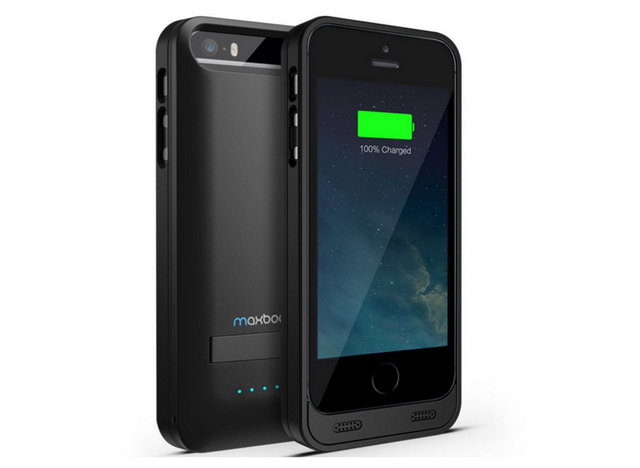 Cases can serve a higher purpose than just protecting phones against dings and scratches, and the Maxboost Battery Case is a solid proof of that. Toting a 2400 mAh battery, it provides up to 120% extra battery life to the iPhone SE. The case comes with a Micro USB port and a lightning output port, which have data and power pass-through enabled, so your phone can be synced/charged while in the battery case. It also comes with precise cutouts for accessing all of the phone's buttons and ports, and includes features like a charging switch, and LED battery level indicator.
Looking for something a bit more official? Give the Boostcase Hybrid Power Case a look.
Where to buy: Amazon.com
Price: $39.99
SEE ALSO: 10 Best iPhone SE Screen Protectors
Give the iPhone SE the protection it deserves
The iPhone SE is one of the best compact smartphones you can get right now, having the signature industrial design of Apple, and crammed with the latest and greatest hardware. And the above mentioned cases and covers ensure that it stays that way, for as long as it can. So which one(s) of these would you be getting for your new iPhone SE? Shout out in the comments below.