A travel kit without a car charger seems incomplete, especially when you are dealing with a long drive and badly need your iPhone to not only entertain you with music but also show you the way using navigation apps like Google Maps. Whether you are a frequent traveler or go for a long-drive only once in a while, you need to have a car charger. Just in case you aren't familiar with modern car chargers, you have both wired and wireless options. Some of them even double up as a super handy car mount. That means, you can use them to not only power up your smartphone wirelessly but also hold your device steadily for a much-improved hands-free usage on the drive. If these features appeal to your needs, head over the jump to explore the best iPhone SE 2020 car chargers.
Best iPhone SE 2 Car Chargers
Wondering which car charger can be right for your needs? Well, if you prefer to have an ultra-portable charger with fast charging speed (24W / 4.8A output), go for the traditional car chargers. But if you have already embraced a life beyond a wired connection, pick out a Qi wireless car charger for your new iPhone SE. Thanks to the smart clamping design and 360° rotation, a wireless car charger can also work pretty well as a car mount for your smartphone. It's worth noting that these chargers also support all Lightning-equipped/Qi wireless charging compatible iPhones including iPhone 11 Series. So, you can get them for other devices as well. Now that you know what's coming, let's get started!
1. Anker PowerDrive 2
When it comes to producing top-notch charging accessories for smartphones, Anker is among the best in the business. So, its PowerDrive deserves a shot right at the top of this lineup. The combination of PowerIQ and VoltageBoost technology enables this car charger to deliver an optimized charging solution. And the ability to charge devices with up to 4.8 amps or 2.4 amps per port makes it a trusted bet for on-the-drive charging. That's not all, this 24W dual USB iPhone SE 2020 car charger also comes with a MultiProtect safety system to prevent hazards like overcharging and shortcircuit from damaging your iPhone.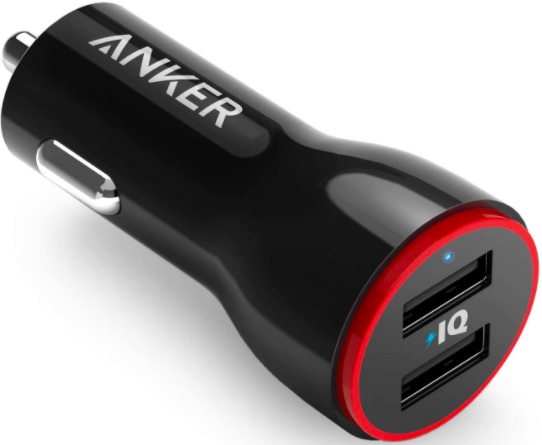 Buy from Amazon: $8.99
2. RAVPower
If there is a car charger that can safely take away the crown of being the best of both worlds: top-quality and cheapest price ($6.99), it has to be none other than RAVPower. The ultra-compact design coupled with a dual USB port (2.4a output each port) makes it a fairly good companion for on-the-go charging. Apart from charging the iPhone at a good speed, RAVPower is also up to the mark in putting dangers like overheating at bay. And when you take the aircraft-grade aluminum alloy body with a scratch-resistant finish into account, it seems to be really hard to beat.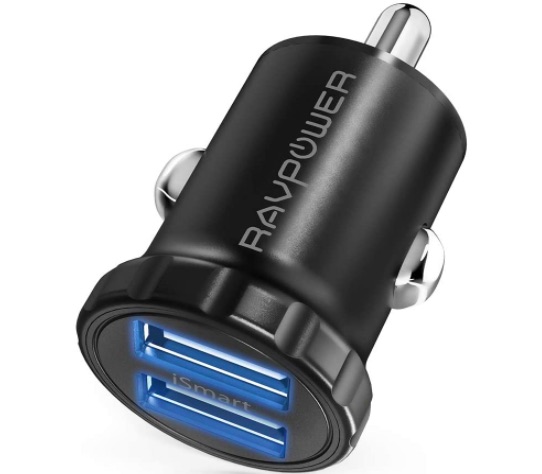 Buy from Amazon: $6.99
3. AmazonBasics
When there is a hunt for the best iPhone SE 2 car chargers, missing out on a contender like AmazonBasics that's rated very highly on Amazon isn't a smart proposition, is it? The car charger has got the Apple MFi certification to work perfectly with Apple iPhones including the latest entry-level iPhone. And with the 3 feet straight cable, it can charge your iPhone at a good clip – 2.4a output. Just in case you don't appreciate dull colors, let me tell you that AmazonBasics comes in three good looking colors: black/red, black, and white.
Buy from Amazon: $15.49
4. iOttie Easy One Touch
Just in case you are looking for a life beyond wired charging, iOttie's wireless charger-cum-mount could be a better pick for you. It comes with a super easy one-touch lock and release mechanism that lets you install and remove the iPhone with ease. With the Qi wireless charging support, it can securely power up your iPhone. As for the car mount functionality, it features a strong suction cup and the telescopic arm that extends from 4.9″ to 8.3″. Since it also pivots on 225° arc, you will get multiple viewing angles. Considering these specs, iOttie is one of the best wireless car chargers for iPhone SE 2020.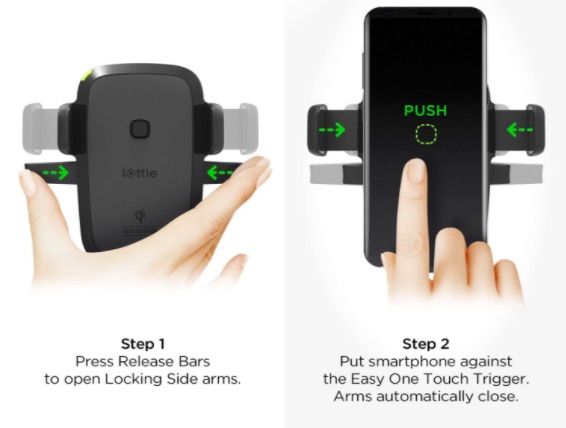 Buy from Amazon: $47.95
5. Maxboost
Sporting an incredibly small form-factor, Maxboost can easily appeal to those who prefer to have a minimalist design. But just in case you think that this car charger may not be competent enough in terms of charging, let me tell you that it delivers 24W / 4.8A output which is sufficient for charging your iPhone SE efficiently. Moreover, the double-injected frame fortified by the use of a rugged PC inner layer and shock-resistant TPU exterior strengthens the casing. Even better, it also comes with an intelligent circuit design to fight out overheating and overcurrent.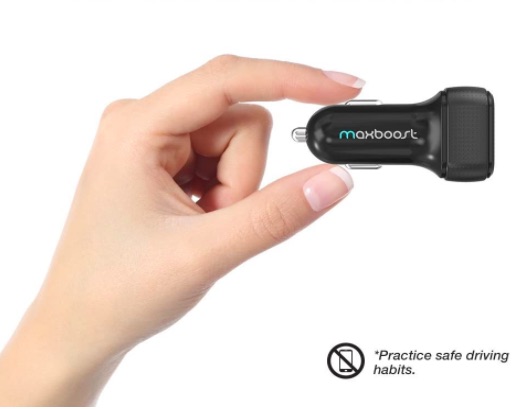 Buy from Amazon: $7.99
6. CTYBB
Another wireless car charger that has caught my attention is from CTYBB. It has rugged construction and features one-button auto clamping technology which allows pretty comfortable one-hand operation. Thanks to the secure locking mechanism, it keeps the smartphone perfectly in place. As for wireless charging, it works as expected. But unlike most wireless car chargers, it works even with rugged cases (up to 0.27-inch) to ensure there is no need to remove the case before charging the device. Better still, the 360° ball joint offers multiple viewing angles so that you have much-improved viewing angles.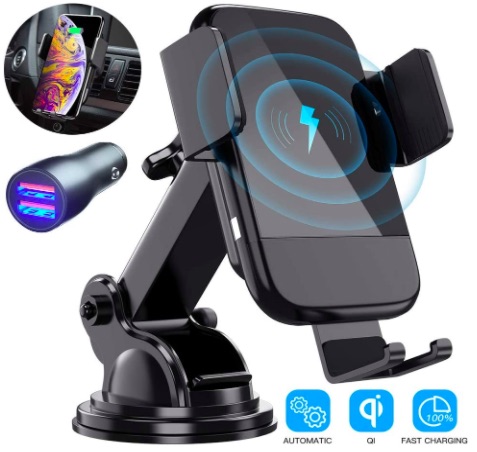 Buy from Amazon: $29.99
7. Czznn
For a fast and secure charging solution on the drive, you can't go wrong with Czznn. The car charger features a compact yet durable construction so that you can comfortably carry it anywhere. The strong Lightning cable coupled with two USB ports ensure you can power up (24W/5V 4.8A) multiple devices at one go. Furthermore, Czznn also features the essential built-in safeguards to keep threats like overcharging and overheating away. Priced at $11, it's also among the cheap car chargers for iPhone SE 2.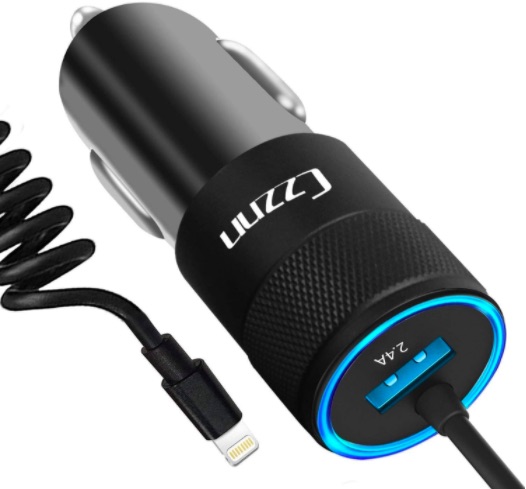 Buy from Amazon: $10.99
8. Syncwire
Times when you want to charge your iPhone comfortably from any position (i.e back seat) of your car, a long Lightning cable comes into play. Featuring a relatively long (3.9 feet) MFi certified Lightning cable, Syncwire ensures you can power up your device with the desired convenience. Just like most of its rivals, it also delivers 4.8A/24W output which is in line with the industry standard. On top of all, Synwire has got UL & CE & FCC certification and doesn't interfere with Bluetooth and Wi-Fi so that you can continue to use your smartphone without any issues.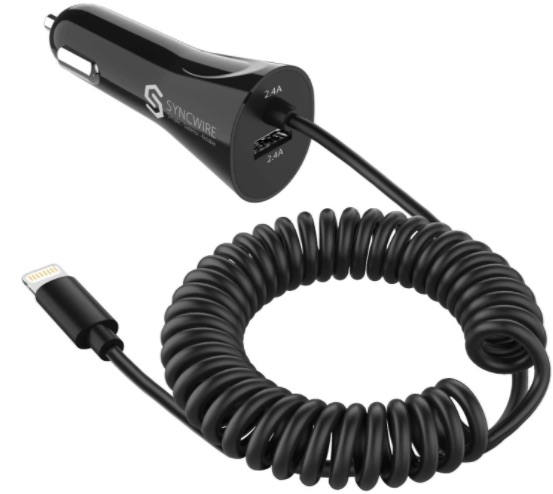 Buy from Amazon: $17.49
9. POWLAKEN
Should you wish to get a reasonably good yet cheap wireless car charger (10W) for your new iPhone SE, give serious consideration to this offering from Powlaken. One of the highlights of this car charger-cum-phone holder is the smart automatic sensor design. That means, installing and removing your iPhone will be a breeze. Being case-friendly, it also allows your iPhone SE 2020 to charge even with a case on (except rugged covers). Add to that the robust suction cup and the 360° rotation and it becomes a fully-featured on-the-go charger for your smartphone.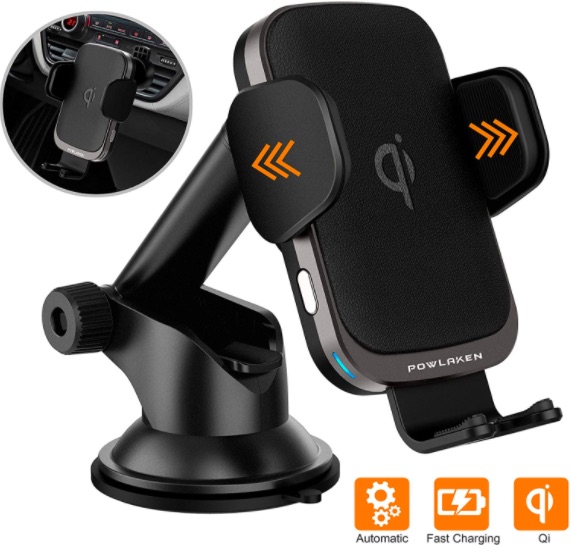 Buy from Amazon: $26.99
10. TIKALONG
Tikalong may not be a big name like Anker and RAVPower but you can bet on its car charger to live up to the expectation. For starters, the car charger consists of 22AWG copper core that empowers it to deliver up to 15% faster charging. And with the incorporation of an intelligent circuit, it's also no pushover when it comes to fighting out hazards like short-circuiting. Additionally, it's got a compact design and features a pretty soft LED so that you won't have to fumble in the dark to locate USB ports.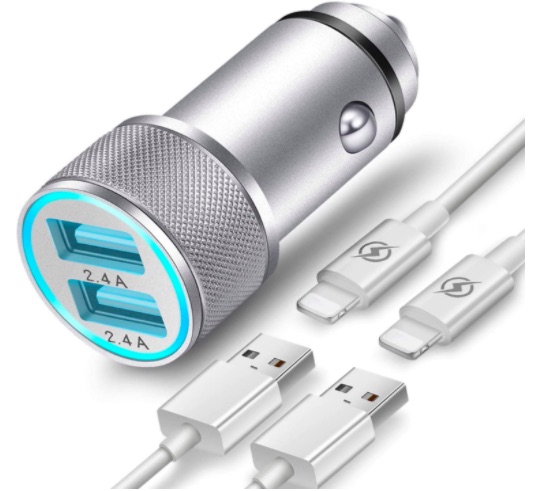 Buy from Amazon: $12.97
Choose the Top Car Chargers for New iPhone SE 2020
Having explored the highly-rated car chargers including the ones that support Qi wireless charging and also double up as car mounts, I hope your needs have found the right charger. But before you go, don't forget to check out our articles on best iPhone SE 2 cases and screen protectors. And yes, also let me know the names of the car chargers that deserve to get a mention in this roundup.