No matter if you're a working professional or a college student, chances are a hectic life follows you wherever you go. We dole out the same breakneck speeds on our modern devices, including iPhones, Apple Watches, and even earphones. However, at the end of the day, charging them is another hassle. With a separate charger for each device in your arsenal, it can get irritating having to plug them all in at the end of the day. Fortunately, there exist charging solutions that juice up all the devices at once without being annoying to set up or damaging your daily drivers. The PITAKA MagEZ Slider wireless charger is one such innovation. But what features does it have that make it stand out from other Apple wireless chargers? Let's talk about this charger in detail.
PITAKA MagEZ Slider Overview
I will be discussing the PITAKA MagEZ Slider's various features. If you would rather skip to a specific one, use the table below to jump right to it without any delay.
Design and Build Quality
No matter which device or accessory we use, we want it to look its best while maintaining a balance between attraction and simplicity. Well, PITAKA's MagEZ Slider nails that right from the start. In a world full of charging devices that stand out a bit too much, PITAKA has managed to create a charging solution that looks elegant on your desk and gets the job done.
Packed in an intricate design with an assortment of charging magnets, the PITAKA MagEZ Slider looks amazing to look at and use. Created with a clutter-free design in mind, users can charge up to 3 Apple devices simultaneously without the fuss of looking for wires or plugging in multiple chargers.
The front of this wireless charger houses a battery pack with MagSafe support. The power bank stays plugged in and charges using a USB-C port while keeping the iPhone solidly attached to the charger. When slid out, it becomes your portable companion for charging on the move. The Aramid textured power bank houses 4,000 mAh of portable energy. The back of the MagEZ Slider's polished frame has a detachable and durable magnetic stand. While looking simple, you can attach it to charge your AirPods or other Qi-enabled accessories.
PITAKA even has something in store for Apple Watch users, bulking up the utility of the MagEZ Slider. The Apple Watch Power Dongle ($59.99) can be bought separately and plugged into the Type-C port on the right. That means you can charge your iPhone, an Apple Watch, and AirPods, all using the MagEZ Slider.
Not only will the Apple Watch dongle work with the MagEZ Slider, but you can plug it into practically any Type-C port. So matter if you have a Macbook, an everyday work laptop, or just a power bank, your Apple Watch will never be out of juice. I found it to be one of the most useful accessories in my everyday setup. The 5-watt fast-charging had my Apple Watch Series 7 charged up and ready to go in no time.
The build quality of the PITAKA MagEZ Slider itself matches its aesthetic appeal. The charger has a build quality that feels robust. The outer construction has a polished metal feel, which is smooth to the surface and pleasing to the eye. At no point during my use of this device did I feel it was weak. Since the entire build is made out of robust materials, it can easily take dings or knocks you might accidentally make. Even if you end up toppling it over, I believe the PITAKA can easily take it and should be up and ready to charge again.
Simplicity with Stress Relief
The device itself is powered by a Type-C port that you can plug into your wall and forget about. Only one wire (and a 20W adapter) powers the entire MagEZ Slider. This simplicity allowed me to tuck it away behind my desk and had the MagEZ slider charging my devices while I penned down my articles. However, if you are someone who would rather keep the MagEZ Slider by your side while you sleep, it also makes for an excellent nighttime companion. Simply place the set-up on your nightstand and have your Apple devices charge wirelessly while you doze off.
While charging solutions just about do their job, the PITAKA MagEZ Slider goes above and beyond in another area. The MagEZ Slider itself rests on a carousel base that supports 360-degree rotation. So you can easily rotate the entire MagEZ Slider with all your devices attached and charging. However, that's not the best part. The carousel makes a soothing clock-ticking sound, which is extremely pleasing to hear. So no matter if you're stressed or simply bored, rotate the carousel and have fun. Don't believe us? Check it out in action in the above video.
Safe and Fast Charging
The PITAKA MagEZ Slider supports only 5 watts of safe wireless charging, which means you will see your iPhone, Apple Watch, and even audio accessories charge fairly quickly. The MFi-certified Apple Watch dongle juices up the smartwatch extremely fast. And no matter what device you latch onto the charger, the extreme ease of use remains universal.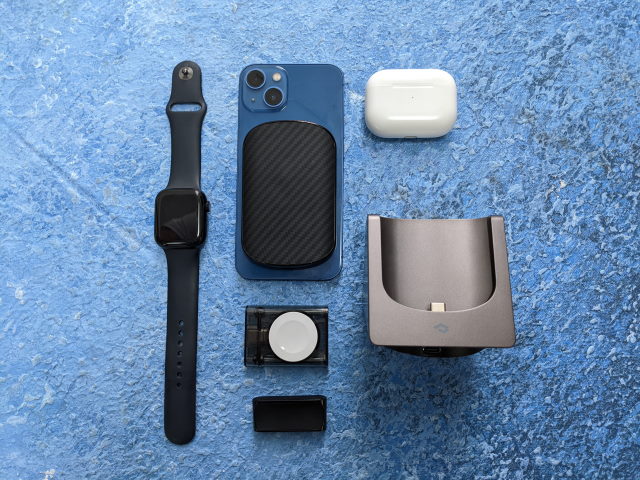 However, our phones are our daily drivers more than anything else. The MagEZ Slider provides easy wireless charging for the iPhone 13/ 12 series (support MagSafe) and Samsung S22 devices (MagEZ Case 2 needed). Plugging in my iPhone 13, the MagSafe charger on the power bank makes a crisp snap sound, indicating it is plugged in. This is due to the high-quality dynamic magnets inside the power bank that only engage when charging is needed.
As for the charging speeds, it took around 1 hour and 5 minutes to get my iPhone 13 up from 5% to 50%. My Apple Watch charged even faster, and it gained over 40% juice in just half an hour. The charger juiced the iPhone efficiently while making sure there was no heat build-up even with a hard case on. I repeated the same process every time I needed some juice quickly, and well, PITAKA's MagEZ Slider wireless charger performed every single time.
Portability with Style
Finally, there may be times when you just need to be out and about even if your phone is running low on charge. For those times and many others, the power bank included in the MagEZ Slider comes to the rescue. With a premium aramid fiber design, the slim 4,000 mAh power bank is incredibly light yet sturdy. When docked on the charger, it serves as the base to snap your phone on. However, once taken off the wireless charging dock, this thing becomes a power bank that goes with you.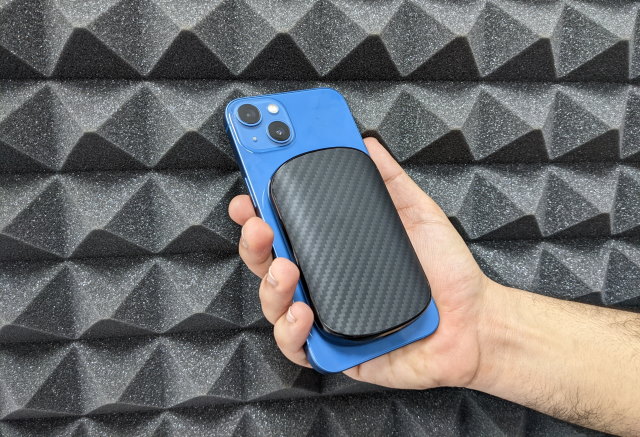 The power bank holds an extremely strong magnetic connection with the iPhone. So if you're worried about the phone falling off while you travel, don't be. The ergonomic design itself gives off a beautiful aesthetic appeal and stands out just enough for users to love it. PITAKA has incorporated such an unobtrusive design that I did not notice I had the power back snapped onto my iPhone while traveling to and fro from work. This level of convenience is rarely seen when we talk about charging solutions.
Once you're back at the office or your home, simply slide the PITAKA power bank back into the MagEZ Slider charger. Unlike most portable chargers, PITAKA's MagEZ Slider's dock can simultaneously charge your devices and the power bank while you work away. Users who want the exact status of the power bank can press the dedicated button and see the status lights in attractive orange color.
PITAKA MagEZ Slider Takes the Hassle out of Charging
If there is one thing the PITAKA MagEZ Slider has proven is that things can always be simplified. This simple yet reliable charging solution takes an inconvenient process and breaks it down into ease. With support for charging all your important accessories in a fast and secure way, the MagEZ Slider is a product by PITAKA that I loved. If you're a working professional or even an everyday user, you will love PITAKA's approach to making stuff simpler; one solution at a time.
---
Load More