The iPhone X was launched earlier this week with much fanfare, and the device is already generating a lot of interest among the media and consumers alike. The device looks stunning, offers unique features and packs great hardware, which should make it one of the most sought-after gadgets this year for those who can justify splurging $1,000 (and more) on a smartphone. So, if you are one of those who're looking forward to buying the new iPhone X, you should definitely check out our list of the 20 best iPhone X accessories to expand the functionalities of your cool new gadget:
Best iPhone X Cases, Skins and Screen Protectors
1. iPhone X Silicon Case
Unlike the iPhone X that comes in only two different colors, the cases and covers for the handset comes in a number of different options when it comes to colors, materials and design. So whether you fancy a leather case or a fabric one, a hard plastic case or one made out of kevlar, Apple has got you covered. You can even opt for Rubber, silicone or TPU cases, with most of them being offered in a bewildering array of color options. In terms of design, you may opt for folio cases, flip covers, back covers, battery cases and more. The image here depicts an official (Product) Red iPhone X silicone case that you can buy for $39 by clicking through the link below.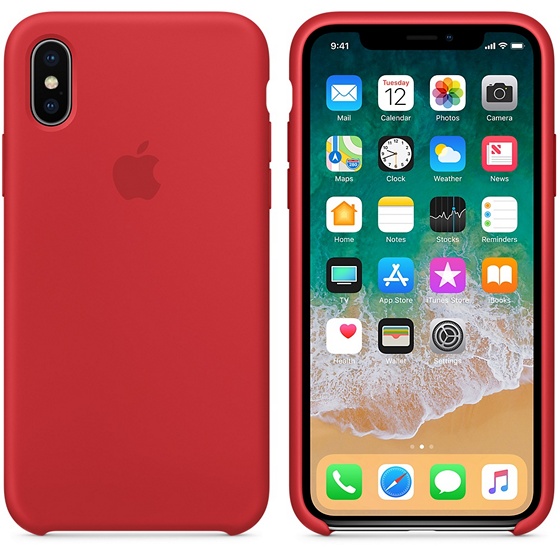 Buy From Apple: ($39)
2. Silk iPhone X Wallet Case
If you're looking for a protective case for your expensive new iPhone X, you should definitely check out the Silk iPhone X Protective Vault Wallet Case that, as its name suggests, doubles up as a wallet that fits at least three credit cards plush cash. The case also comes with textured sides for extra grip, which should hopefully prevent it from slipping out of your hand, because repairing the iPhone X will likely be just as expensive as the device itself. As added protection, the case also comes with protective "Air-Pocket Corners" and a free screen protector film. To top it all, the entire package costs just $17.66, making this a highly-recommended deal if you're looking for a protective case for your iPhone X.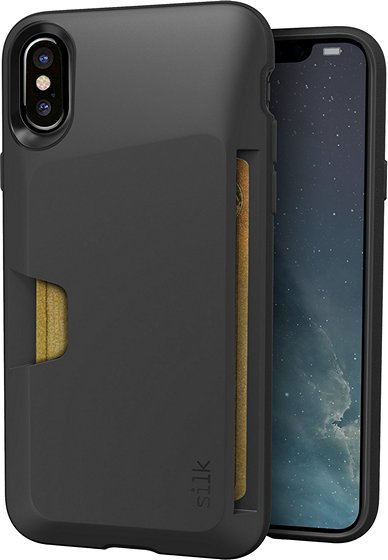 There are a whole bunch of other cases and covers available for the iPhone X, so you should check out our dedicated article on the subject for more options at various price-points.
Buy From Amazon: ($17.66)
3. Fooing iPhone X Screen Protector
The screen is generally the single most fragile part of a smartphone, and you can never really be too cautious when it comes to protecting it. That being the case, the Fooing screen protector comes with 9H hardness tempered glass that can protect the iPhone X's screen from scratches and other external damage. It also has an oleophobic coating that prevents excessive fingerprinting and oil stains, making the film easy to clean. The product is also among the thinnest in its category, measuring just 0.33-inches in thickness, which allows it to maintain the phone's original response sensitivity, ensuring quick app launches and smooth, low-latency gameplay. The Fooing screen protector also comes with an anti-shatter film that makes sure that fragments of the tempered glass sticks together in case it does break.
We have discussed a whole bunch of other iPhone X screen protectors in detail in our dedicated article on the topic, so you should check that out to if you're planning to buy the iPhone X.
Buy From Amazon: ($13.98)
4. dbrand iPhone X Skin
dbrand is one of the best-known brands when it comes to smartphone skins, and the company has already put up for pre-order iPhone X skins that are made out of "authentic 3M vinyl". As is always the case with dbrand, the company allows you customize your smartphone's look and feel to your heart's content. You can choose from a wide range of colors and textures for not just the back panel but also the camera housing. You can either opt for an uniform look by choosing the exact same option for both or, choose to have a contrast by opting for separate options for the two. You can choose between carbon fiber, marble, concrete, metal, wood, bamboo and leather in terms of texture, while color options include black, white, gold, yellow, orange and more. While not all colors are available with all textures, the possibilities, still, are (almost) endless.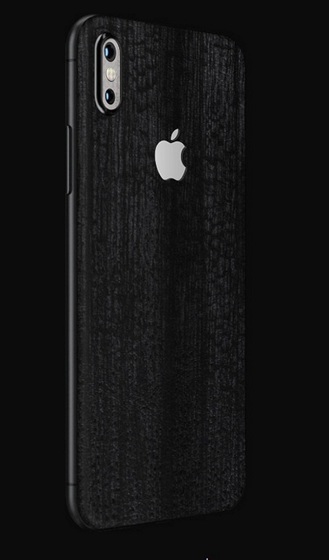 Buy From dbrand: (Starts at $11.95)
5. SHARKSBox iPhone X Front and Back Screen Protector
While we've already covered plenty of screen protectors for the iPhone X, you're probably wondering "what about that back?". Yes, that's right, the iPhone X has a very fragile glass back, and it is a good option to have that protected too. If you're someone who wants to protect the back but wants to flaunt its beauty at the same time, the SHARKSBox iPhone X Tempered Glass Screen Protector is just what you're looking for. It covers both sides of your phone with fortified glass thus offering full protection for your iPhone X. Also, it comes with hydrophobic and oleophobic screen coating which protects the glass against sweat and oil residue from fingerprints.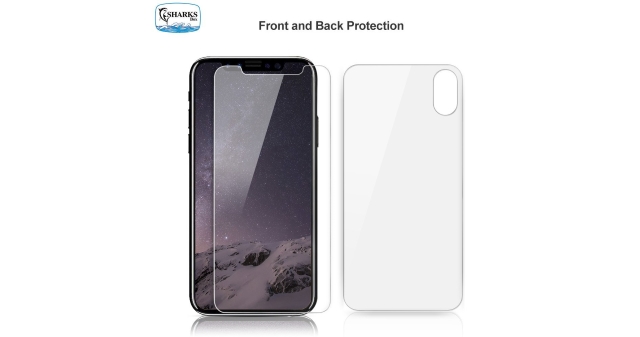 Buy from Amazon: ($8.99)
Best Charging Docks and Battery Accessories for iPhone X
1. iPhone Lightning Dock
The iPhone Lightning Dock is an original Apple accessory that can be used to charge and sync any iPhone that has a Lightning connector. As depicted in the image, the phone itself stands upright on the dock, which makes it ideal for use on a table or a countertop. The Lightning Dock can be connected to a standard wall socket using the Apple USB Power Adapter or to a computer with a standard USB cable to charge its battery. Connecting it to a computer will also allow you to sync between the two devices. What's equally impressive is that you can actually connect powered speakers or any standard headphones to the dock with a 3.5 mm audio jack to listen to music while the phone is syncing and/or charging. The device is available in five different colors, including black, silver, space gray, gold and rose gold.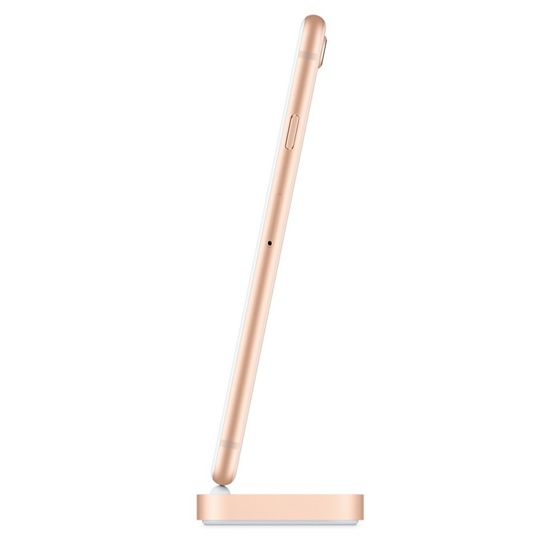 Buy From Apple: ($49)
2. Mophie Wireless Charging Base
While Apple did announce its upcoming 'AirPower' wireless charging station at the iPhone X launch event last Tuesday, the device is only likely to hit the market this winter and in true Apple style, it's unlikely to be priced at reasonable levels anyway. So if you're looking for affordable wireless charging options for your iPhone X, the Mophie Wireless Charger is a great option for you. The Qi wireless charging base is compatible with not just the most expensive Apple smartphone of all time, but also with its two cheaper siblings – the iPhone 8 and 8 Plus. It comes with a non-slip housing that ensures a stable placement and the low-profile design looks subtle and classy. The charging pad also comes with a 360-degree non-slip TPU coating to make sure that your pricey smartphone doesn't get scratched from repeated contacts.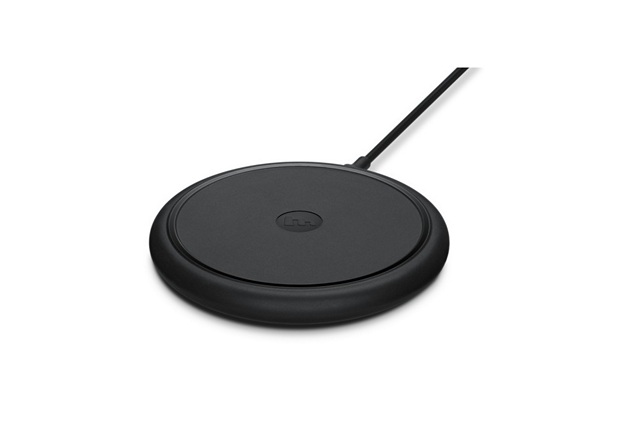 Buy From Amazon: ($59.95)
3. Belkin RockStar Lightning Audio and Charge Adapter
Yes, we're moving into a world where smartphones no longer have the 3.5mm jack. While the lightning port does offer better audio quality, it does come with a catch. Usually, you can either choose between charging your device or listening to the music using the wired earphones. Well, not anymore, thanks to Belkin. Yes, that's right. With the Belkin Lightning Audio + Charge RockStar Adapter for iPhone X, you can actually charge your device while enjoying the music on your lightning port wired earphones.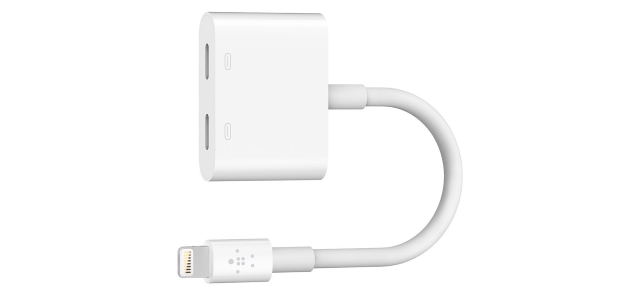 Buy from Amazon: ($79.75)
4. Belkin BoostUp Qi Wireless Charging Pad
Belkin is one the most reputable electronics brands around, and this particular Qi wireless charging pad can charge any Qi- and PMA-enabled device including, the latest iPhone trio. It delivers 15 watts of power to the target device, making it faster than many of the chargers on the market today and, is a hugely convenient investment if you're the type that hates having to plug in a whole bunch of devices into the wall socket at the end of every single day. The Qi-certified induction charger also comes with a cushioned pad to keep your phone from slipping. At just $40, it is also fairly affordable in terms of what it brings to the table, making it an ideal accessory for your iPhone X.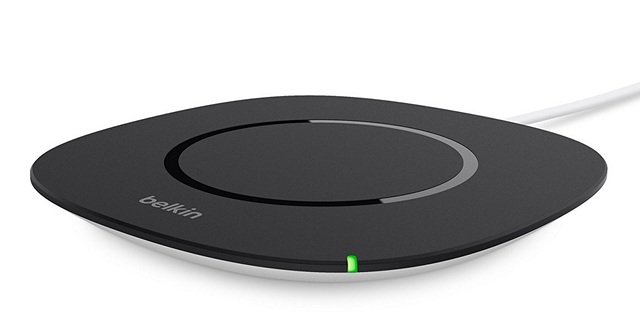 Buy From Amazon: ($39.95)
5. Anker PowerCore 20100mAh
The Anker PowerCore comes with a massive 20,100mAh capacity and has high speed charging with a 4.8 amp output. What's just as impressive is that all of that power comes wrapped in an impressive design and a small form factor. The device weighs just a shade over 12oz, has an 18-month warranty and is offered in black and white, making it an ideal companion to your pricey iPhone X. You can choose to save about $14 by going with the 10,000mAh unit, but with smartphones coming with ever-larger batteries, the big brother just makes more sense in our opinion.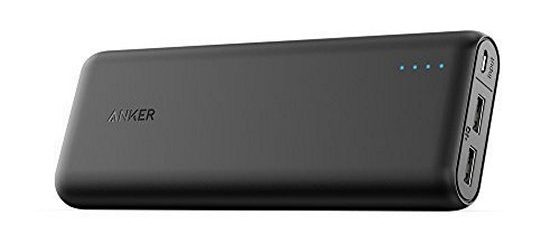 Buy From Amazon: ($39.99)
Best Wireless Earphones / Headphones for iPhone X
1. AirPods
All the jokes and memes notwithstanding, the Apple AirPods have become one of the best-selling Apple accessories in recent memory. The device connects automatically to your iPhone, Apple Watch and Macbook the moment you take them out of their charging case. Powered by Apple's custom W1 chip, AirPods use optical sensors and a motion accelerometer to detect when they're in your ears, which means they can start playing songs the moment you put them in your ear and pause the playback the moment you take 'em out.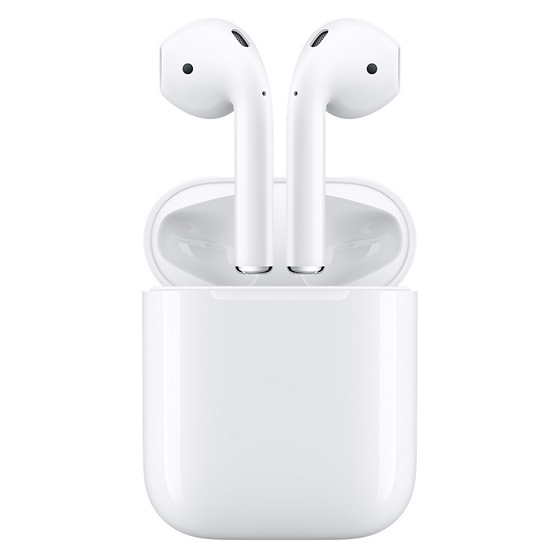 You can also double-tap to activate Siri in case you want to turn the volume up or down, change the track or make a call. According to Apple, AirPods deliver an "industry-leading 5 hours of listening time" on a single charge, while fast charging ensures 3-hours of listening time after just 15 minutes in the charging case. If the AirPods are a bit too expensive for you, you can check out our article on AirPods alternatives.
Buy From Amazon: ($159)
2. Samsung Level U
Now while you can use wired earphones with your iPhone X, why not make the jump to wireless as well? The Samsung Level U earphones are one of the best quality Bluetooth earphones that you can get for your iPhone X. The frame sits on the back of your neck and the earphones go inside your ears. It has 12mm speaker units that deliver high-quality and clear sound. Also, there is dual-mic noise reduction and echo cancellation that reduces outside sound interference and feedback during calls. Plus, with a battery life of up to 11 hours, these will surely be your best wireless companion.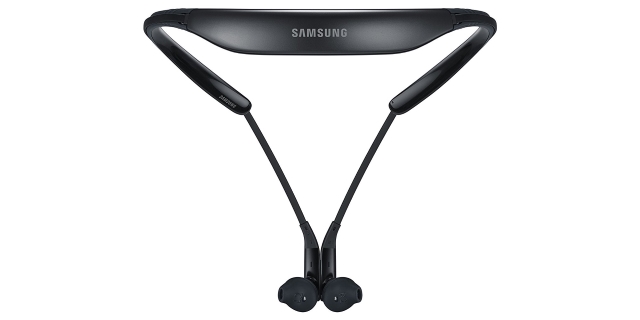 Buy from Amazon: ($39)
3. Beats Solo3 Wireless Headphones
Apple got rid of the legacy 3.5mm audio port on its iPhones a while back, and since then, many other manufacturers have followed suit. What that means in essence is that you need wireless Bluetooth headphones (or Lightning headphones) to listen to music on your iPhones these days. While the AirPods are good enough for most regular consumers, audiophiles have routinely complained against the sound quality of those devices, so in case you want something that sounds better, looks beefier and is unlikely to get lost easily, the Beats Solo3 Wireless Headphones is just what the doctor ordered for you. The headphones looks good, sounds great and is said to have a battery life of up to 40 hours, making them ideal accessories for the iPhone X.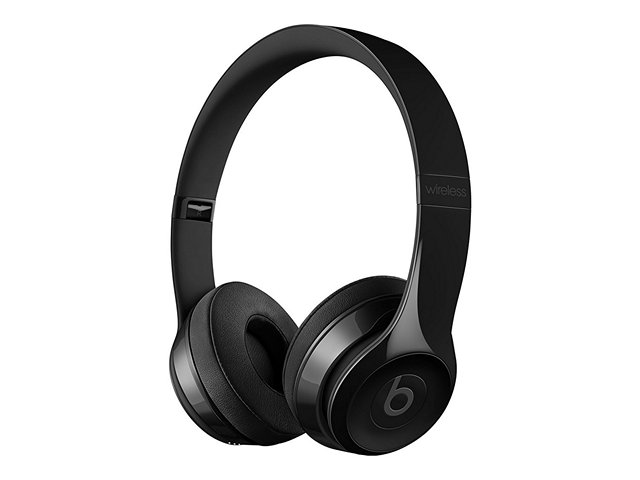 Buy From Amazon: ($219.99)
Best Lightning Earphones / Headphones for iPhone X
1. Audeze Sine
If you are one of those who feel that wireless headphones don't always provide the same quality as wired ones, the Audeze Sine is something you should definitely try out. It comes in two different versions, so make sure that you choose the one that comes with a Lightning cable. The device uses the "planar magnetic technology" that produces a deeper bass and better transients than most other headphones while reducing distortion significantly. They also come with a built-in DAC, while an amplifier is built right into the cable to let you bypass your iPhone's DAC and use the superior headphone DAC instead. The headphones are engineered in California and is designed by BMW's i8 team.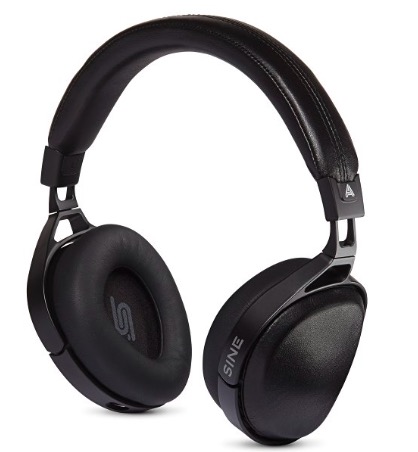 Buy From Amazon: ($499)
2. Philips Fidelio M2L/27
If the Audeze Sine is too rich for your taste, you can always fall back on the Philips Fidelio M2L/27 that comes with a name that's incredibly difficult to remember, but its audio quality is pleasantly surprising for a Lightning-compliant device at its price range. Like the pricier headphones from Audeze, this one also comes with an integrated DAC and amplifier, with a frequency response that ranges from 7 Hz to 20kHz. The device is made out of aluminum and stitched leather, which gives it a premium look and feel. It also comes with a faux suede pouch that makes it easy to carry around while traveling.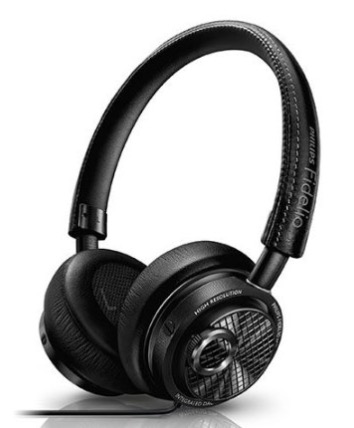 Buy From Amazon: ($199)
Other iPhone X Accessories
1. SanDisk iXpand 64GB
The interestingly-named SanDisk iXpand is the one accessory that you need more than anything else to pair with your iPhone X (or any other iPhone for that matter). Why waste money on buying expensive high-storage versions when you can just use one of these to increase storage on your i-devices, especially, since most of the storage is going to be occupied by media files anyway. The devices are compliant with the USB 3.0 standard and, come with file protection software that allows users to set passwords on their private files, preventing unauthorized access. The SanDisk iXpand flash drives are basically just plug and play, allowing you to transfer all your music, movies and photographs from your iPhone to your computer without having to go through the hoops. You can also listen to music or watch videos directly from the drive itself, which means you don't even need to transfer them to your phone. While the device is available in 32GB, 64GB, 128GB and 256GB versions, we believe that the 64GB model offers the best value proposition right now.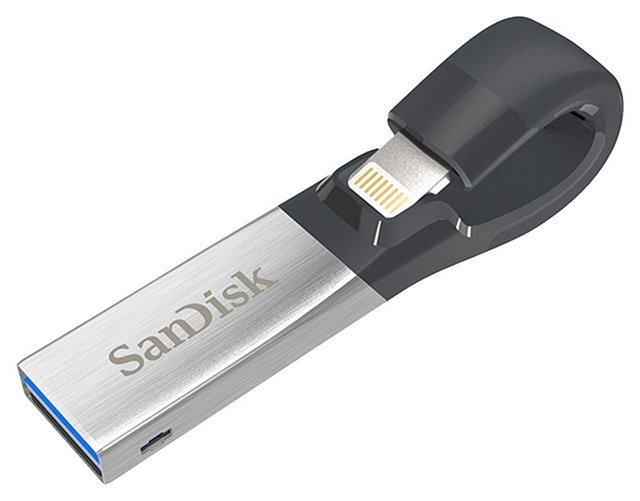 Buy From Amazon: ($53.91)
2. Nomad Battery Cable
The Nomad Battery Cable is probably one of those gadgets you never knew how much you needed. Yes, you can always use a power bank, but the Nomad Battery Cable is so much more convenient. This cable is a pass-through charging cable, which means it works as your usual lightning cable but it also doubles up as a power bank. So, you can use it to charge your iPhone X through the charging brick or without it. It's your choice. And thanks to the high capacity of 2350mAh, it's the only charging cable you will ever need for your iPhone X.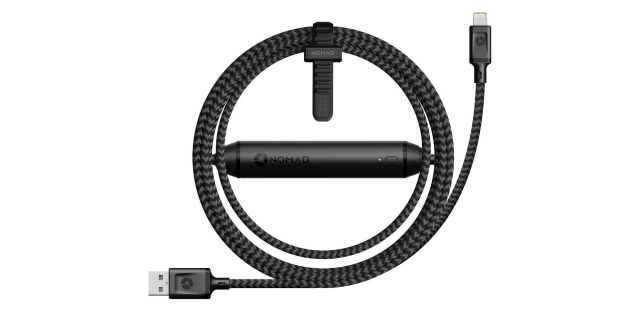 Buy from Amazon: ($49.95)
3. ZJTL Lightning to 3.5mm Adapter
This is yet another product that you wouldn't ever have thought of had Apple not decided to kill off the AUX port on its smartphones. While Apple does provide 3.5mm to Lightning adapters with its retail iPhone units, the ZJTL version of the device is ideal if you happen to lose the original Apple device or need multiple such units for some reason. The device works as advertised and lets you connect your 3.5 mm headphones with the iPhone 7 and 7 Plus and, should remain compatible with the latest iPhone trio as well. They also cost just $8.88, which is significantly lower than Apple's own adapter, making them an easy recommendation for iPhone X owners.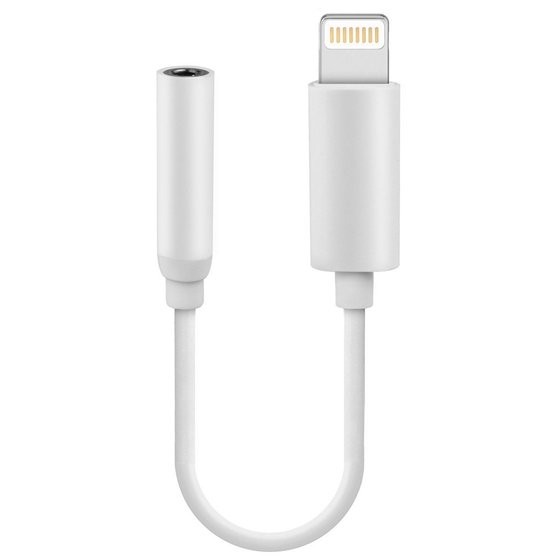 Buy From Amazon: ($8.88)
4. Wilder Qi Charger Car Mount
The Wilder iPhone Qi Charger Car Mount has a 2-in-1 function, insofar as it comes with an air vent mount and a suction mount, with a 360-degree rotating ball joint on both mounts that enables flexible viewing angles while driving. The device has a sturdy rubber base that provides a solid grip and is compact enough to ensure convenience. As far as its wireless charging specifications go, the device has a 5V / 2A input and a 5V / 1.5A output and, is compatible with a whole host of Q-enabled smartphones including, but not limited to, the iPhone X, iPhone 8 and iPhone 8 Plus.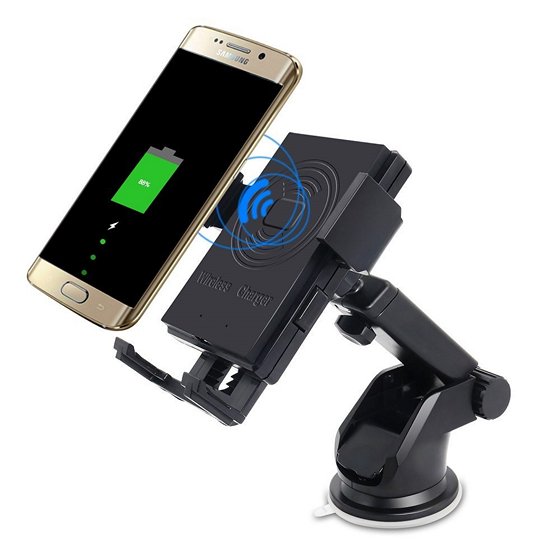 Buy From Amazon: ($27.99)
Best Smartwatch for iPhone X: Apple Watch Series 3
Announced alongside the iPhone X, the third-generation Apple Watch kinda got lost amidst all the flutter created by the iPhone X. But it is still a great device nonetheless, especially you're deeply entwined with the Apple eco-system. The device carries on with the look and feel of its predecessor, but comes with one killer feature that many believe will aid its adoption massively: LTE. That's right, the latest smartwatch from Cupertino comes with an embedded LTE antenna that allows you to make calls directly by tapping a button on the top-left corner of the watch face. In terms of hardware, the Apple Watch 3 also comes with GPS, Altimeter, accelerometer, gyroscope, heart rate sensor and activity tracker. It is water resistant up to 50 meters, runs on watchOS 4 and comes with Bluetooth and Wi-Fi connectivity.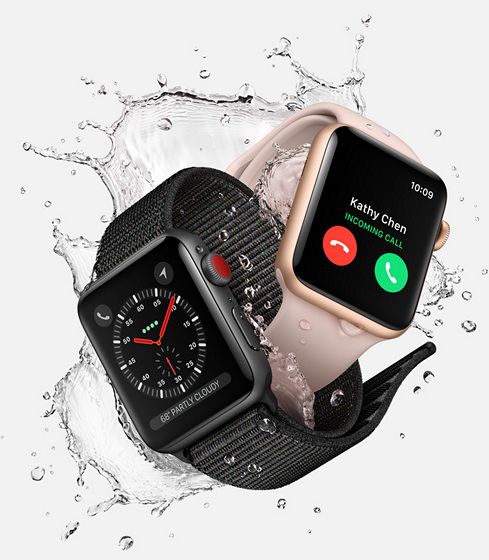 Buy From Amazon: (Starts at $329)
Bonus: PopSockets
How many times have you experienced your device falling off from your hand? With the iPhone X, you've got to be really protective. That's where the PopSockets come in handy. PopSockets are great for enhancing the grip and capabilities of your phone. It also allows your hand to relax while securely holding your phone. Oh, and did I mention that it comes with advanced repositionable, washable and reusable adhesives, so you can use it over and over again. And last but not the least, it comes in a plethora of color options to choose from, so you can choose the color that matches your style statement.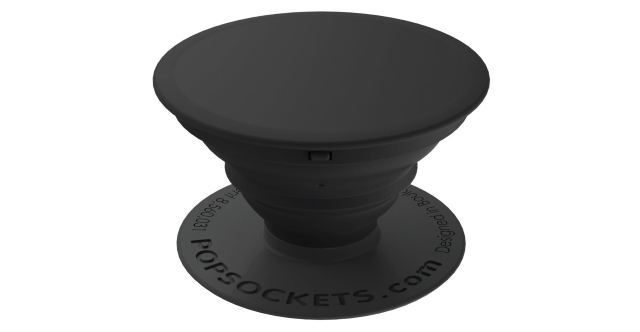 Buy from Amazon: ($8.84)
SEE ALSO: 16 Best Galaxy Note 8 Accessories You Should Buy
The Best iPhone X Accessories You Can Buy
While the number of available accessories are only going to increase with the retail rollout of the iPhone X, these are amongst the very best in their respective categories right now. So, are you planning to get the iPhone X or is it a bit too expensive for your taste (and wallet)? What are the kind of accessories you look to buy for your smartphones anyways, irrespective of your thoughts on the Apple vs Android debate?