While Apple didn't give us choice to choose whether or not we want headphone jacks on our iPhones, thankfully, we do get a choice to keep our home buttons intact. iPhone 8 Plus might not seem as good an upgrade as the iPhone X, but still, it has a lot going for it. And I believe that those who are not yet ready to give up on the physical home button are going to go with the iPhone 8 Plus. iPhone 8 Plus might sport a look of its predecessors, but it is a different beast altogether. Design wise the only difference iPhone 8 plus brings is the glass back. Although glass back brings its own benefits (wireless charging), it also means that your iPhone will be more fragile than before. This means that you will have to be extra careful while using your new iPhone, or you can slap a case on it. So, if you are going the case route, here are 10 best iPhone 8 Plus cases you can buy:
Best iPhone 8 Plus Cases and Covers
1. SUPCASE Unicorn Beetle Hybrid iPhone 8 Plus Case
I really love this case as it protects the iPhone while allowing you to show off the beauty of your new companion. Most of the cases make you choose between the two, but not this one. It does that by creating a hybrid of a hard casing and a flexible and transparent back. In some way, the design is similar to the iPhone 8 Plus, which has a hard aluminium casing and a glass back. The hard casing is made of polycarbonate material while the back utilises the flexible yet strong TPU material. As mentioned, the back is transparent, allowing you to show that new gold finish of your iPhone. It also sports elevated bezels at the front to protect your iPhone's display from shattering if it falls face down. The case strikes a perfect balance of power and protection, and I don't have any qualms in recommending this one.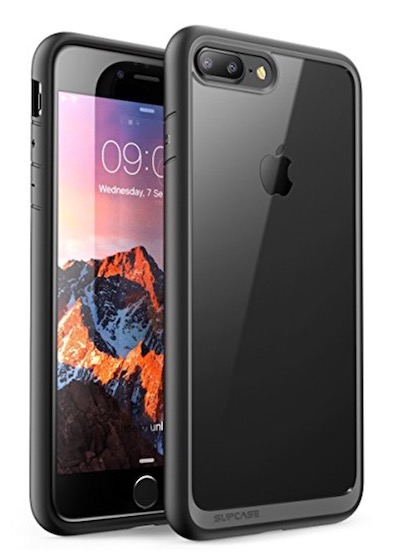 Buy From Amazon: ($13.49)
2. Spigen Liquid Crystal iPhone 8 Plus Case
If you can do with having only a light protection in favour of getting an even lighter case, this offering from Spigen is just for you. The case has a thin minimal design with crystal clear transparency allowing you to flaunt your iPhone in all its glory. The case uses the soft yet durable TPU material which has been hardened around the buttons to give you extra tactile feedback. The material also increases your grip on the phone, preventing it from falling off your hands in the first place. This case is not for someone like me, who drops his phone twice a day. But, it is perfect for someone who needs protection against occasional drops.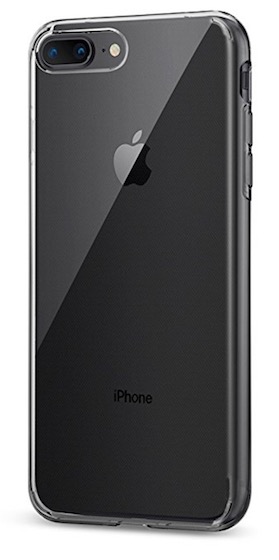 Buy From Amazon: ($11.99)
3. Spigen Ultra Hybrid iPhone 8 Plus Case
This is another great case from Spigen which is similar to the first case on our list. This means that it is a hybrid case which uses hard polycarbonate material for casing and soft TPU material for the back panel. The case while being a light one promises to provide military-grade protection by including air-cushion technology to strengthen the corners. While the word military might have been used rather generously here, this one does promise more protection than the Supcase. It also has raised lips to protect your display in case of drops. If you like the Supcase, you should also take a look at this one.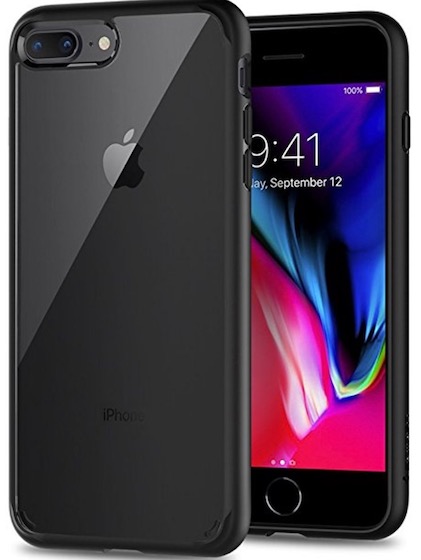 Buy From Amazon: ($12.99)
4. iPhone 8 Plus Leather Case By Apple
This is probably my most favourite case of all time for iPhones. Apple makes cases which feel as premium as the iPhone itself. I especially like the leather cases from Apple as their in-hand feel is just great. However, don't be mistaken to think that they are just there for the looks. The leather case from Apple also provides ample protection to your iPhone. I have been using this case since last one year with my iPhone 7 Plus, and I can't tell you how many times it has saved my phone. The only thing that is not good about the case is its pricing. Apple likes to charge a premium for their products, and this is no different. However, if you can get over its price, you will be more than happy with this case.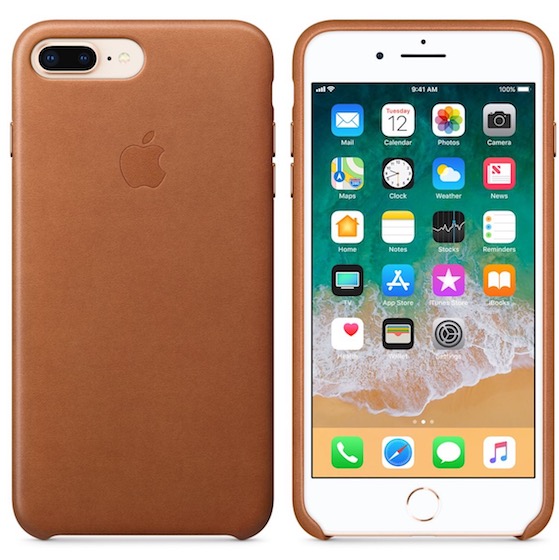 Buy From Apple: ($49)
5. i-Blason Heavy Duty Protection case for iPhone 8 Plus
Till now we have listed those cases which an average person would want to use, someone who wants to strike a balance between protection and the bulk that a case adds. However, some people don't care about the bulk as they need all the protection they can get. This heavy duty protection case is made for them. The case has two layers. The outer layer is made from the hard polycarbonate shell while the inner layer uses the soft TPU material. The combination protects your device from both cracking and scratching. Not only the case protects the back of the case but also the front by covering the head and the chin of the iPhone, and including a hard tempered glass for the display. This one is for anyone looking for an all-around protection for their brand new iPhone.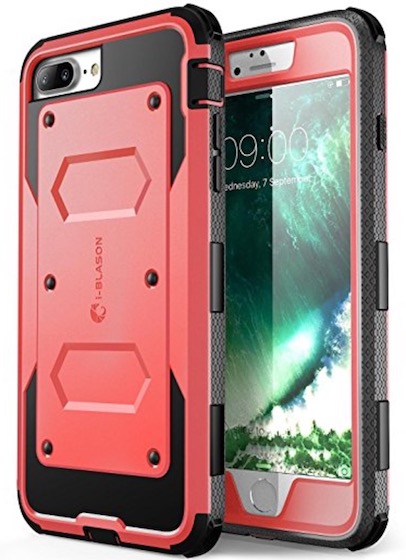 Buy From Amazon: ($19.99)
6. Spigen Tough Armor Case For iPhone 8 Plus
Spigen tough armour case brings a lot of protection for your iPhone. It might not bring the overall protection like the iBalson heavy duty case (as the Spigen doesn't cover the front), but it still provides a lot more protection than the other cases on the list. It uses the similar combo of outer polycarbonate body and inner soft TPU material layer. The camera and the front display panel is protected by elevating the case borders around it. This ensures that in case you drop your phone, the display or the camera module doesn't directly suffer an impact. It also has a built-in kickstand which allows you to enjoy media on your phone hands-free.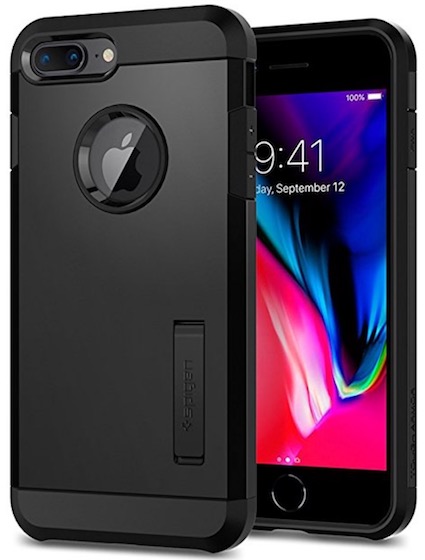 Buy From Amazon: ($16.99)
7. OtterBox Defender Series Case For iPhone 8 Plus
I really love OtterBox as they make some really good cases. The defender series of cases from OtterBox provides all-around protection to your iPhone by covering both the back and the front. It provides a robust protection against scratches, drops, bumps, and shock by utilising a 3-layer construction. The layers help distribute the shock originating from impact, and thus protect your device. Just like i-Balson this one also comes with an included tempered glass screen-protector to provide extra protection to your display.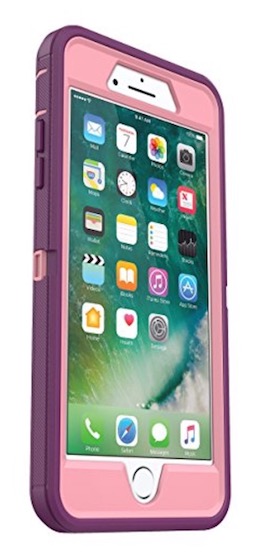 Buy From Amazon: ($25.15)
8. Matone iPhone 8 Plus Clear Shock Absorption Case
This is another great clear case for your iPhone 8 Plus. It is similar to the Spigen clear case but has some extra tricks up its sleeve. The case utilises thin and flexible TPU material which is really durable. The case sports a transparent build allowing you to show off the beauty of your new iPhone. As I mentioned it has a trick up its sleeve, and that trick is the inclusion of shock absorption TPU bumper cushion. Basically, the corners of the case sport thick bumpers which can absorb shocks resulting from drops and falls. Thus, allowing the case to protect your iPhone. The case also offers extra protection against scratches and scuffs.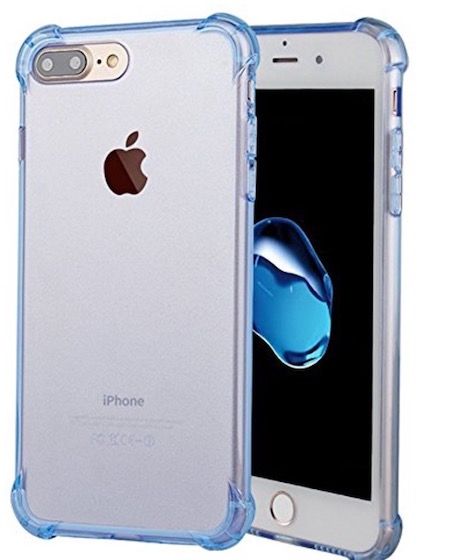 Buy From Amazon: ($7.99)
9. OtterBox Symmetry Series For iPhone 8 Plus
If you want an OtterBox case which is not as bulky as its Defender series, try out their Symmetry series. The symmetry series of cases come with a dual layer construction and are thin, sleek, stylish, and pocket-friendly. The case doesn't add as much bulk as the Defender series, however, it's also not also as light as the crystal clear cases on this list. Still, the case bulk is manageable considering it provides much more protection than the crystal clear cases. The case adds extra protection around cameras and the display by slightly raising the borders around them. The best part is that case comes in many different colours combination allowing you to style your iPhone however you like.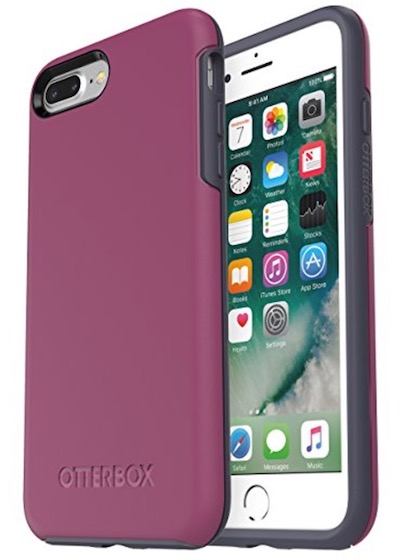 Buy From Amazon: ($39.40)
10. Samhe iPhone 8 Plus Case
This case from Samhe is unique as even though it is a slim case, it provides 360-degree protection to your iPhone by covering both the front and the back. The case has a 3 part build, one covers the back while the other two cover the head and the chin of the iPhone respectively. The case comes at only 0.3 mm thick and hence shouldn't make your phone a carrying hazard for your pockets. It will provide good protection against scratches, scuffs, and minor drops. However, don't go dropping your phone every other day, as such a thin case can only provide so much protection.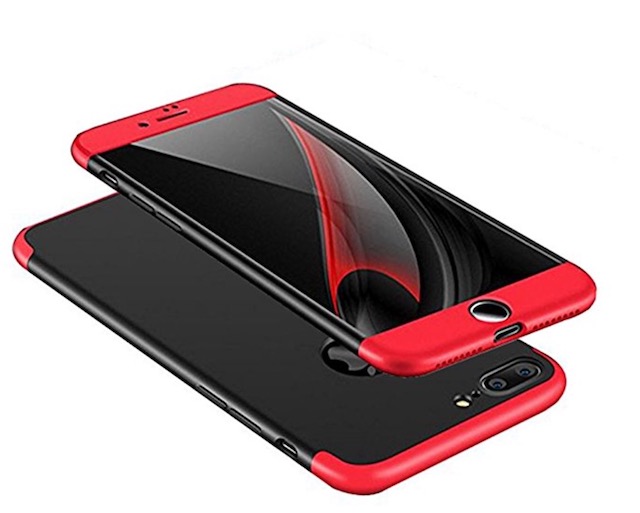 Buy From Amazon: ($10.99)
Bonus: Torras SlimFit Case For iPhone 8 Plus
This is for people looking for a slim fit case but doesn't like the crystal clear or transparent cases. The case is ultra-thin and doesn't add any noticeable bulk to your phone. It can easily protect your iPhone against scratches and scuffs. However, when it comes to drops, since the case is so thin, it can only manage to handle minor drops. However, it does provide extra protection to the back cameras by raising the lips around the camera module. The case has a smooth and yet a grippy back, so hopefully you will not drop your device in the first place.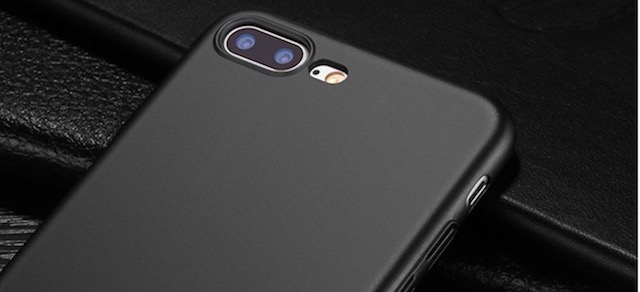 Buy From Amazon: ($9.99)
SEE ALSO: 16 Best iPhone X Accessories You Can Buy
The Best iPhone 8 Plus Cases You Should Buy
Your iPhone might get delivered any day now, so don't wait much and buy a case for it already. Take a look at our list and choose the best one for you. All the cases mentioned on the list are good, and you should only choose the one which fulfills your requirement. If you drop your phone a lot, a little bulkier case will be nice for you, however, if you are buying a case just as a precaution, choose one of the lighter ones. Whichever you choose, do let us know your selection in the comments section below.