The Huawei Honor 8 was recently unveiled in the US with much fanfare due to the fact that it's the company's very first Kirin-powered smartphone to arrive in the country. The smartphone priced at $399 aims to give the iPhones and other Android flagships a run for their money with its great specs at an equally great price. It features a beautiful glass design and packs in specs like a 5.2-inch 1080p display, Octa-core Kirin 950 processor, 4 GB RAM, 32/64 GB storage, 8 MP front and dual 12 MP rear cameras, 3000 mAh battery, fingerprint scanner and more. Sounds great, right?
While the device is certainly value for money, if you plan on buying it, you can expect the back glass panel of the device to be a fingerprint and smudge magnet. Plus, devices with a glass panel aren't as robust as one would like. So, it would be a good idea to get a good protective case for the Honor 8. Well, as always, we are here to help, here are 6 best Honor 8 cases and covers you can buy:
1. Official Huawei Silver Case
Huawei offers its very own case for the Honor 8 and it's the perfect fit for anyone who wants to protect the Honor 8 while accentuating its looks. The Silver case looks gorgeous and sleek, while bringing great protection, thanks to its hard TPU. Plus, it features raised edges to protect the smartphone's display. What else? The case is very light and is designed in a way that you can easily snap it on or off.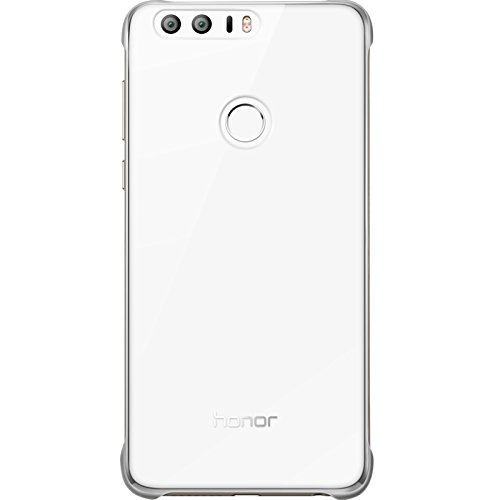 Where to Buy: Amazon.com
Price: $9.99
2. Sparin Crystal Clear Case
The Honor 8 is a stunning looking device and if you want to show it off while protecting it with a case, Sparin's Crystal Clear Case should be a good choice. The transparent case is also very lightweight and slim, so it keeps the beauty of the device intact on all fronts. While the case is soft and flexible, it's no slouch when it comes to protection, as it offers scratch resistance and extreme drop protection. The case also comes with lifetime warranty, so you can be pretty assured when it comes to your Honor 8's protection.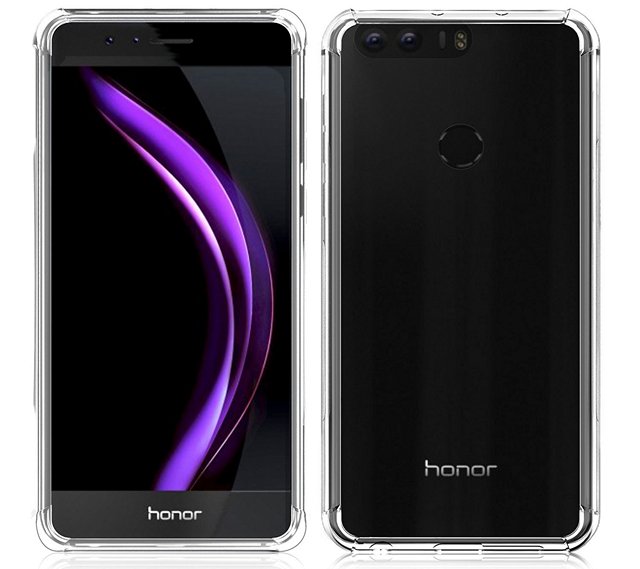 Where to Buy: Amazon.com
Price: $7.99
3. MicroP Elegant Hard Case
If you want an elegant looking case which also brings robust protection to your Honor 8, you must take a look at MicroP's Hard Case. The frosted shield hard case features a textured design, which definitely looks classy and is a pleasure to hold. The case is wear resistant, anti-fingerprint, dustproof and anti-skidding. Also, the case is said to be very rigid, so don't expect it to break anytime soon. MicroP offers 60 days of warranty on the case too to sweeten the deal.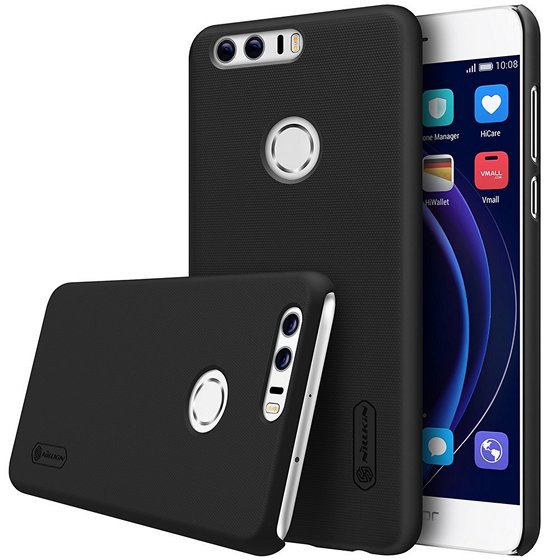 Where to Buy: Amazon.com
Price: $10.80
4. Omotion Armor Case
While the Honor 8 is a good looking and powerful-packed smartphone, it's not necessarily a device aimed at people who travel in rough terrains. Well, you can change that with Omotion Armor Case. The heavy duty case features a soft TPU on the inside while packing a polycarbonate skin on the outside, which makes sure it is shock absorbing and scratch resistant. It also features raised edges to save the Honor 8's display and packs in a stand, so you can use the Honor 8 to watch movies and make video calls with ease.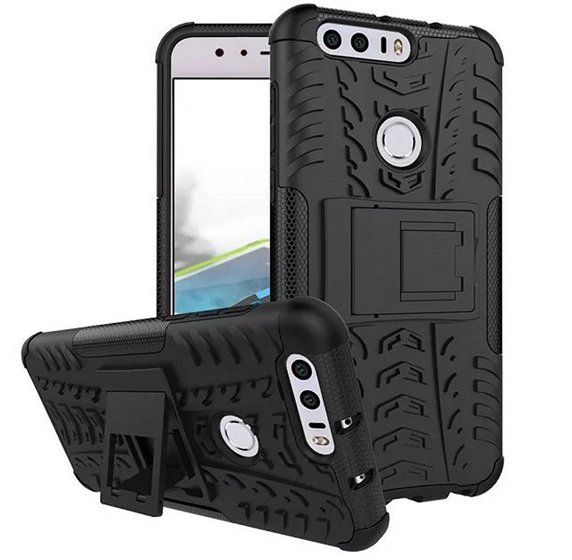 Where to Buy: Amazon.com
Price: $6.99
5. JD Wallet Flip Cover
Looking for a folio style case for the Honor 8? Well, the JD Wallet Flip Cover has you covered. The cover features synthetic PU leather, which features a shock absorbent TPU for drop protection. Along with the protection, the case features slots for cash & cards along with a kickstand for media viewing. Moreover, it also packs a wrist strap to make sure you can easily carry your Huawei Honor 8. Along with Black, the cover is available in a cool looking Aqua and Brown version.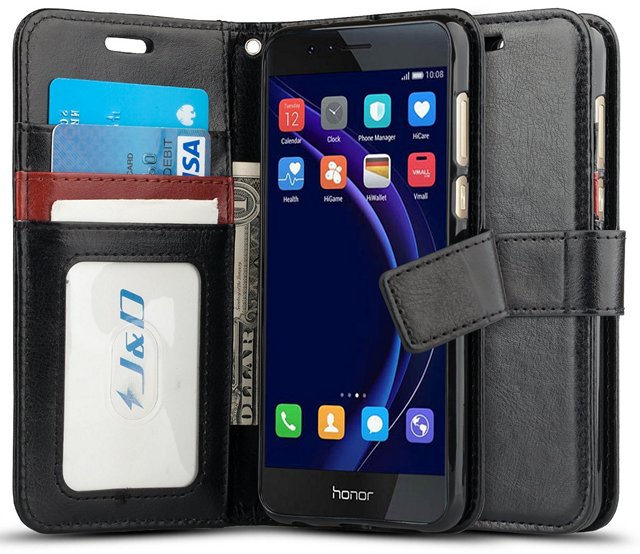 Where to Buy: Amazon.com
Price: $10.95
6. Vinve Hard Case with Stand
Want a slim case for your Honor 8 that also comes with a stand? You can check out the Vinve case. The Vinve Bear stand (it features a bear icon on the back, which kind of looks cute) is made up of PC raw material, so it's tough and should not get out of shape very soon. The case also claims to bring protection against falls, bumps and scratches while being resistant to tear and dust accumulation. Moreover, unlike most cases with a stand, it looks pretty cool. The case comes in the usual Black variant and a fancy Rose Gold variant to add personality to your Honor 8.
Where to Buy: Amazon.com
Price: $9.89
SEE ALSO: 10 Best Samsung Galaxy Note 7 Cases and Covers
Protect your shiny Honor 8 with a protective case
Since the Huawei Honor 8 is very new to the market, there aren't a lot of cases available for it but you can be assured that we'll update this list, as more cases arrive for the device. Until then, the aforementioned ones are definitely the best Honor 8 cases and covers you can buy. So, if you have bought an Honor 8 or planning to buy one, you should get one of these cases to go with it. Don't forget to let us know the case you like, sound off in the comments section below.