With its launch in early 2023, Steam Deck by Valve brought forth a competitor to the Nintendo Switch and gave a new meaning to gaming on the go. It allows users to play their favorite PC games anywhere they want. With thousands of games currently playable, some perform exceptionally well on the system. So, if you have just picked up a Steam Deck, here are the 25 best games you should download on your handheld console.
Before we proceed, I want to point out that the games on this list are ranked based on the gameplay experience Steam Deck. With that out of the way, here are the top 30 games you should try out on Steam Deck:
1. Vampire Survivor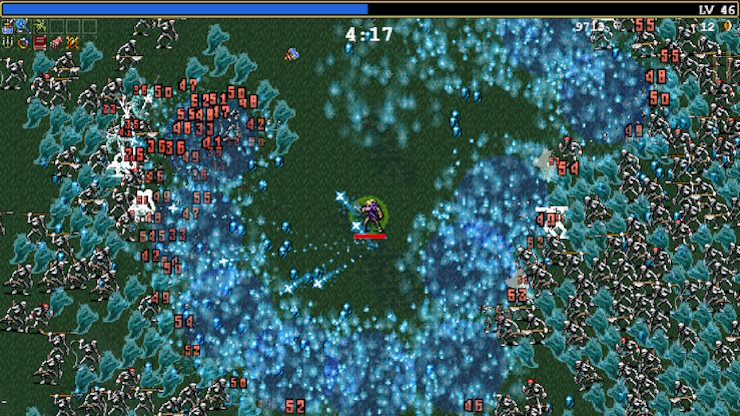 The first title on this list is Vampire Survivors. It is a time-survival game with rogue-like elements in it. You play as one of the many heroes offered in the game and fight against hordes of enemies. At each level-up, you have the option to get randomized power-ups and items, and they help in fighting the horde. The goal is to survive the hoards of enemies as long as possible while discovering new items, enemies, and more. The game is casual for everyone to pick up and play and is super addictive.
As for the Steam Deck performance, it's a double-edged sword. Some best practices to extend the Steam Deck battery life, such as adjusting the TDP, will net you a whopping five hours in the game. However, the frame rate will immediately dip to an abysmal single digit when more enemies are on the screen. Regardless, I cannot recommend this game enough for its replayability and simple gameplay, especially if you have a Steam Deck.
Buy the game ($4.99)
2. Stardew Valley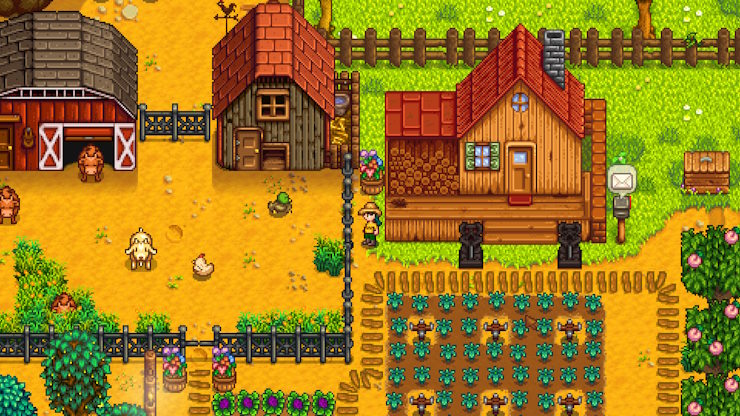 Stardew Valley is a farming and life simulator developed by ConcernedApe and published by Chucklefish. It was released in 2016 and quickly became a fan favorite for its retro-style graphics, relaxing gameplay, and immersive world-building. You start by inheriting your grandparent's derelict farm and can make a beautiful farmhouse of your liking. Furthermore, players can romance NPC characters, build relationships, complete missions, and more. You can also play co-op with a friend of yours online.
As for its compatibility with the Steam Deck, Stardew Valley is a perfect title for the handheld device. Its retro-style graphics and relaxing gameplay make it ideal for on-the-go play, and its open-ended nature means that players can pick up and play at any time without feeling lost or overwhelmed. What's more, the game is not at all demanding, thanks to its pixel art graphics. Hence, gamers need not worry about battery life while playing the game. Don't be fooled by its browser game like graphics. This is a masterpiece.
Buy the game ($14.99)
3. Cuphead
Cuphead is a side-scrolling platformer developed and published by StudioMDHR. Launched in 2017, the title gained a reputation for its challenging gameplay and unique hand-drawn art style, akin to the old American cartoons like Disney. The game follows the story of Cuphead and his brother Mugman, who journey through various levels and defeat challenging bosses to pay off a debt they owe to the devil. The game is known for its difficulty and features a variety of weapons, abilities, and bosses.
For Steam Deck compatibility, Cuphead is another perfect title for a playthrough on the handheld console. The hand-drawn art style isn't graphically demanding for the hardware, and dropping the TDP to 4-5W gives somewhere from 4-5 hours of battery life. As for controls, the game has proper control bindings with the option for players to rebind them in-game. Overall, Cuphead is a perfect title to play on the go.
Buy the game ($19.99)
4. South Park: Stick of Truth
Everyone knows South Park. You know, the adult cartoon featuring the inhabitants of the small town of South Park. Years in the making and after a developer switch, we finally got the long-awaited video-game adaptation of the TV series in all its adult humor glory. South Park: The Stick of Truth follows a new kid playing through an RPG campaign alongside South Park kids. The game features turn-based combat, a class system, and incredibly crass humor. Unless you live in Australia, in which case, the game was tastefully censored.
Thanks to its graphics, the game runs well on the Steam Deck. You can expect somewhere around 2-3 hours of playtime. Bring down your TDP to 5-6 watts to achieve that. The battery life increases substantially if you cap the frame rate to 40FPS or lower, giving you almost 4-and-a-half hours of playthrough in one full charge. Additionally, the game has proper Steam Deck control binding, and users can summon and use the Steam Deck keyboard hassle-free in-game to type.
Buy the game ($29.99)
5. Hollow Knight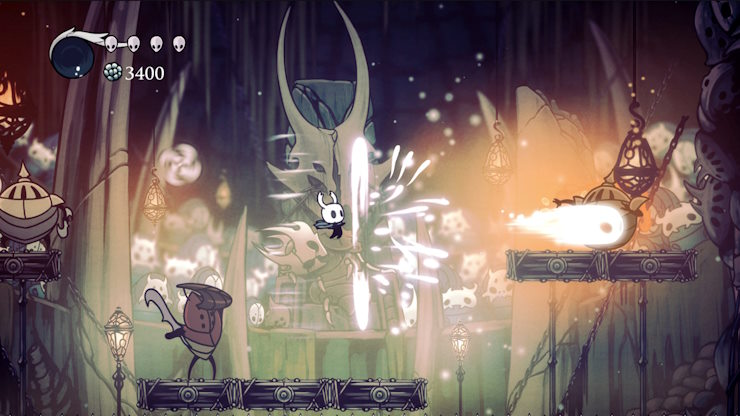 Hollow Knight is a 2D metroidvania title by Team Cherry, an independent game studio. It follows a knight exploring the Hollownest, a fallen kingdom plagued by a supernatural infection. The game features diverse locations, NPCs to interact with, and a fluid melee combat system. Players can fight a diverse group of bosses, unlock new abilities throughout the journey, and flavor text that gives intriguing lore for the story.
One of the many great games perfect for Steam Deck, Hollow Knight has been optimized to run perfectly on this portable console. It has proper controller bindings, proper screen resolution, and can give upward of five hours of battery life. Adjust the overall TDP to something around 4-5 watts. Granted, you need to lock the game to 60 FPS and drop the TDP down to a mere 3 watts, but the battery life makes it one of the best games on Steam Deck.
Buy the game ($14.99)
6. Dark Souls Remastered
The game that gave rise to the Soulsborne sub-genre, Dark Souls Remastered, is the remastered port of the critically acclaimed Dark Souls from 2008. It comes with all the bells and whistles available in the original release and adds much-needed improvements such as better framerate, a playable blight-town, DLCs, multiplayer, and more. The game is known for its world-building and level designs in video games. Some even compare it to Metroidvania for its interconnected world design.
On Steam Deck, Dark Souls Remastered runs in 60 frames, apart from a few instances where it drops down to 50 frames. As for the battery life, the game delivers 3-3.5 hours of playtime if TDP is adjusted to 7-8 watts. Furthermore, if you lock the frame rate to 40FPS, this number goes above 4 hours in a full charge. Control-wise, the game detects the Steam Deck buttons as an Xbox controller, so everything is bound by default. Dark Souls Remastered is a must-try on Steam Deck for the amount of fun it manages to provide.
Buy the game ($39.99)
7. Hades
Hades is a rogue-like hack-n-slash game made by Supergiant Games. It follows Zaegreus, the son of Hades, in his quest to leave the underworld for Olympus, where his relatives reside. The game features procedurally generated dungeons, randomized enemies, and power-ups. Death is expected in this game, and you will die a lot. But players can learn various ways to overcome past mistakes, discover trinkets to assist them in their runs, and even meet new characters after each death.
Hades runs exceptionally well on Steam Deck because the developers worked with Valve to optimize the gameplay experience. Every action is bound to the system buttons, and the game has the appropriate screen resolution. Performance-wise, it runs perfectly. You get around 60 FPS at all times if the TDP is lowered to around 4-5W. Steam Deck can operate for more than 3 hours while playing this game. Overall, Hades is another game to try on the go, especially because of its impressive battery life.
Buy the game ($24.99)
8. Grand Theft Auto 4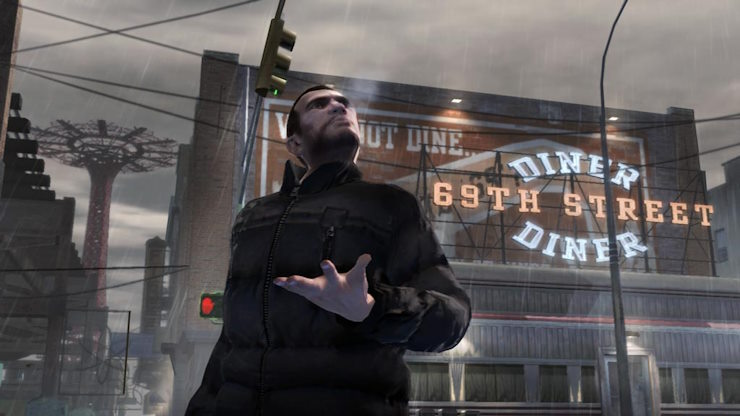 While we could have replaced Grand Theft Auto 4 (GTA 4) with any Grand Theft titles, I went for the fourth entry because I am replaying the game on my Steam Deck system, and by 2023 standard, it plays well. An open-world action-adventure game released by Rockstar Games in 2008, GTA 4 follows the story of Niko Bellic, an Eastern European who ran away to Liberty City, the fictional re-creation of New York City. The game is known for its open world and gritty depiction of urban life, with the title brushing shoulders with topics such as the American Dream and more.
The game's popularity and legacy make it a must-play for any serious gamer, and Steam Deck's powerful hardware can handle it well. Moreover, it still has the best game physics of all the GTA games. The attention to detail is mind-boggling, to say the least. The game's open-ended nature makes it an ideal title for on-the-go gaming, as players can pick up and play at any time without feeling limited to a linear storyline or rigid objectives. There are so many games like GTA that have tried adapting the formula, but nothing comes remotely close to being the perfection that you call GTA IV. If you lock the screen refresh rate to 40 and drop TDP to 6 watts on a full charge, your Steam Deck will run for 3 hours.
Buy the game ($19.99)
9. Octopath Traveller
Octopath Traveller is an old-school turn-based RPG by Square Enix that was initially released for Nintendo Switch. It covers the story of eight individuals with unique backstories and abilities going on an adventure. The game features old-school pixel graphics akin to titles like Chrono Trigger and Dragon Quest, exhilarating turn-based combat, side quests to complete, and a mesmerizing world to explore, with eight distinct regions.
On the Steam Deck, the game features support for the 1280×800 resolution and proper controller binding. Furthermore, thanks to its art style, the game is not taxing on the system, drawing power sufficiently for an extended battery life. Dropping the TDP to 3-5 watts will make the system run for approx 2.5 hours – 3 hours. Octopath Traveler is an ideal title for the handheld device as its stunning visuals and immersive world-building make it a perfect game to play on the go, with its open-ended gameplay and multiple storylines offering endless possibilities.
Buy the game ($59.99)
10. Slay The Spire
One of the first titles popularized during the indie boom on Steam Deck was the rogue-like deck-building title Slay The Spire. It is a card RPG that takes the players going through an adventure. Each enemy encounter gives you a randomized deck of cards that you can use to attack or progress through the game. Furthermore, you can level up your deck, and since it is a rogue-like game, every run gives different scenarios and a deck of cards.
Slay The Spire is one of the numerous games made perfectly for the Steam Deck. For starters, its gameplay loop is perfect for extended periods of travel sessions. On top of that, the keybindings are optimized for Steam Deck by the developers. Furthermore, the game isn't taxing on the system because of its art style. With an adjusted TDP of even 3 watts, Slay the Spire can run for five hours without any problems. That alone makes it a perfect game for the handheld PC hybrid.
Buy the game ($24.99)
11. Valheim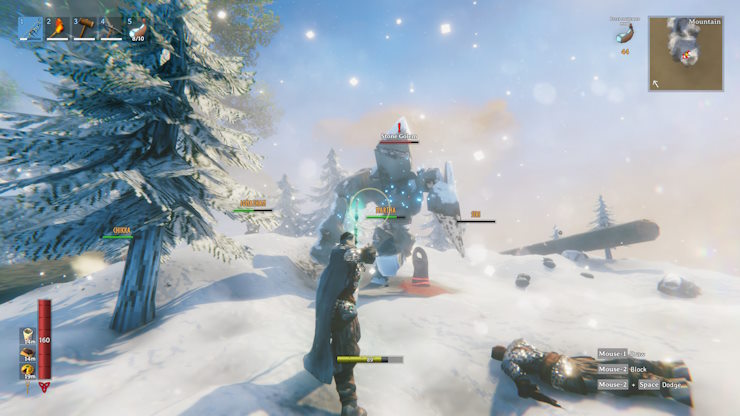 The early-access launch of the open-world Viking survival game Vallheim rocked the gaming world during the lockdown, touting thousands of players. And for good reason. The title puts players in a world inspired by Nordic mythology and the Viking lifestyle. Players gather, build, and hunt to survive, and there are unique bosses for you to conquer. Vallheim also boasts having multiplayer servers for players to band together in their journey, a unique base-building feature, and a beautiful mix between low-poly retro aesthetic and modern graphical options.
As for its compatibility with the Steam Deck, Valheim is an ideal title for the handheld device. The game's emphasis on exploration and discovery lends itself well to portable play, as players can pick up and play without feeling lost or overwhelmed. Furthermore, the developers have ensured that Steam Deck gamers can effortlessly play the title by providing proper controller binding for in-game actions, graphic options, and minor QoL adjustments.
However, Vallheim as a game is quite demanding, so unless a user tweaks the title through the performance mode, they might need to carry a power bank to play the game on the go. Or, you can go ahead and look for games like Valheim that are less demanding. Moreover, you may find it a tad difficult at first to get used to. However, there are quite a few amazing Valheim Discord servers to help boost the process.
Buy the game ($19.99)
12. Dead Cells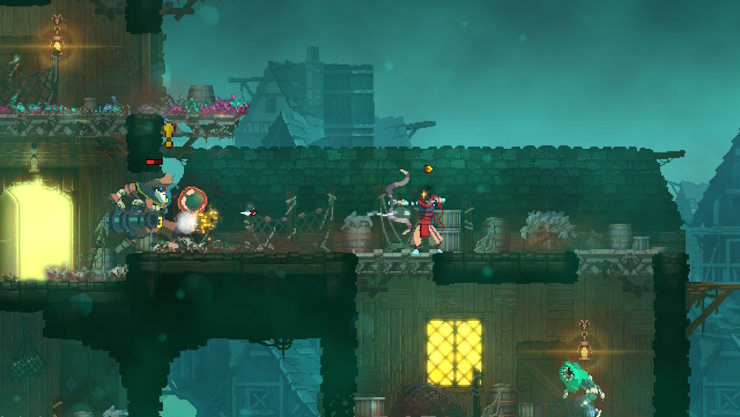 Dead Cells is a 2D rogue-like platformer by developer Motion Twin, released in 2018 on Steam and later on for consoles, Nintendo Switch, and even mobile phones. The game puts you in the shoes of a mysterious warrior traversing through interconnected levels that are procedurally generated and feature permadeath. Over the years, the game has launched various DLCs, so content is something you should not worry about.
For its Steam Deck compatibilities, the game has full controller bindings for the system and houses the appropriate resolutions required to run it on the system without any complications. Dead Cells' art style contributes to a longer battery life for Steam Deck. This alone makes it a preferred title for the handheld PC by Valve. The game runs in 60 frames by default and will provide 2.5 hours of battery on full charge. However, to increase this, lock the frame rate to your preferred one and drop the TDP down to 4-5 watts.
Buy the game ($24.99)
13. Subnautica
Subnautica is a popular survival adventure game developed and published by Unknown Worlds Entertainment in 2018. It takes place on an alien planet covered by water, where you must explore the ocean depths to gather resources, build structures, and survive against various aquatic predators. The game features a variety of biomes, including coral reefs, deep trenches, and volcanic vents, each with its unique creatures and challenges. The gameplay requires you to craft and explore through an engaging storyline that unfolds as the player progresses.
Subnautica on Steam Deck is one of the games recently updated by the developers to run hassle-free on the system. For starters, it has proper control key binds and graphic options set by default. Because of this, the game runs perfectly fine for the system. As for battery life, the default system settings would only make Steam Deck run for an hour and a half. However, dropping a few options to medium in-game, locking the frame rate to 40FPS, and limiting the TDP to 8W will extend the battery life while playing Subnautica.
Buy the game ($29.99)
14. Project Zomboid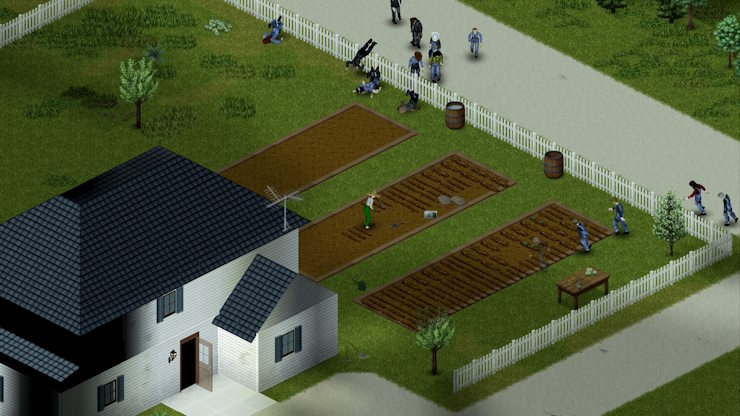 A game made by an indie team, Project Zomboid is a hardcore zombie survival game where players try to survive their days against a zombie outbreak. The game is hardcore, and character death is second nature. The game features immersive survival mechanics, including hunger, thirst, exhaustion, and injury. You must scavenge for food, water, and supplies while defending yourself from zombies. Furthermore, there is a crafting system for weapons and structures to fend themselves from the undead. The last update finally added multiplayer to the game, so you and your friends can survive the apocalypse together.
You'd think Project: Zomboid will have difficulty running on a system like Steam Deck since games like these are meant for a keyboard and mouse playthrough. However, the developers ensured that every single aspect of the game was accessible on Steam Deck and bound them to the appropriate keys on the controller. As for performance, the game runs on stable 60FPs for approximately three hours, with some adjustments from the in-game settings.
Buy the game ($19.99)
15. Hi-Fi Rush
Hi-Fi Rush by Tango Gameworks managed to pull off various things. It managed to pull a crowd of gamers towards it by launching the game on the day of its announcement. It managed to pull off its unique rhythm-based hack-and-slash gameplay. And it managed to run on Steam Deck without any problems. The game puts players in the shoes of Chai, a young teenager tasked with taking down an evil corporation hell-bent on eradicating him and trying to control the world. Hi-Fi Rush features rock music by popular bands, unique rhythm-based hack-and-slash gameplay, beautiful Sunday morning cartoon-inspired art style, and a cute robot cat as a companion.
The Steam Deck might struggle running it on 60fps, given that the game is a recently-released title. As such, the system battery life also might chug unless tweaked. Locking the game frame rate to 40 and TDP to 10 watts is optimal, giving you 2 hours. However, gameplay and visuals are not compromised, as the developers kept Steam Deck in mind while tweaking the controller bindings and graphic options.
Buy the game ($29.99)
16. Yakuza 0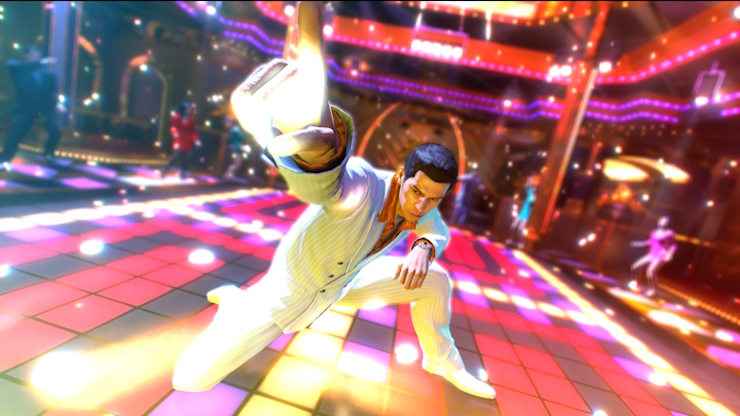 Another series that is near and dear to my heart. I could've suggested the few Yakuza titles that are playable on Steam Deck. However, we went for Yakuza 0 as it is the beginning of the long-running beat-em-up series canonically, and it is a solid title in its own right. The game follows the two fan-favorite characters from the series- Kazuma Kiryu and Goro Majima through 80s Japan. Featuring a story that involves an empty plot of land, Yakuza 0 officially shows the turbulent beginnings of the legendary Dragon of Dojima and Mad Dog of Shimano. Yakuza 0 features various side activities for players to sink time in, side stories to complete, and fun beat-em-up gameplay.
On Steam Deck, the game runs pretty well when tweaked accordingly in the performance settings of the system. It has full controller binding and proper screen resolution and pulls off 60FPs. However, we suggest locking the framerate to 40 and dropping TDP to 7-8 watts. Doing that will give you a pleasant gaming experience while not wasting the battery life. Give this game a try. Otherwise, you will miss out on a great title.
Buy the game ($19.99)
17. Batman: Arkham Asylum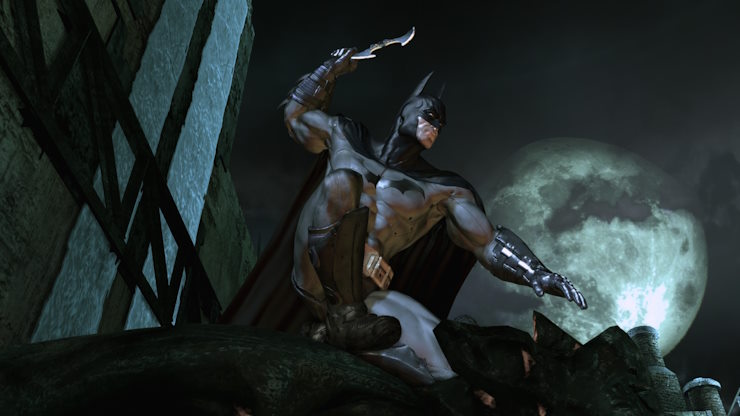 2009's Batman Arkham Asylum did what many titles were trying – deliver a memorable superhero title and a near-perfect Batman game. It is, in fact, after all these years, still regarded as one of the best Batman games to have ever been created. There were only a handful of good Batman games and Marvel titles back then. Arkham Asylum changed that, providing an original tale of Batman going against his rogue's gallery members like Joker, Bane, and Poison Ivy. The story sees Batman fending off Joker and his inmates after they plan a breakout in Arkham Asylum.
On Steam Deck, the game runs phenomenally. Arkham Asylum considers the Steam controls an Xbox 360 controller. Hence, the buttons automatically bind themselves to standard control schemes. Furthermore, thanks to its age, Arkham Asylum runs very well on the Steam Deck, performance-wise. And, if a user locks the frame rate to 40fps, they can expect a solid three-and-a-half-hour of action-packed gameplay.
Buy the game ($19.99)
19. Apex Legends
Respawn Entertainment's Apex Legends has made their home on practically every available system. Though their mobile endeavors were unsuccessful, Steam Deck users with network access can try the 3-player battle royale game whenever they want. In Apex Legends, a team of three players drops down in the battle zone after selecting one of the many legends and aims to become the arena champion and the winner.
The Steam Deck version of Apex Legends houses everything expected from the PC version, optimized for the small form factor. Its fast-paced gameplay and intuitive controls make it an ideal title for the handheld device, and its free-to-play model means that players can jump in and start playing without needing to purchase the game. There are a lot of games like Apex Legends out there, but nothing can beat the adrenaline rush that the OG battle royale brings to the table.
Try the game (Free)
19. Dragon Quest XI S: Echoes of an Elusive Age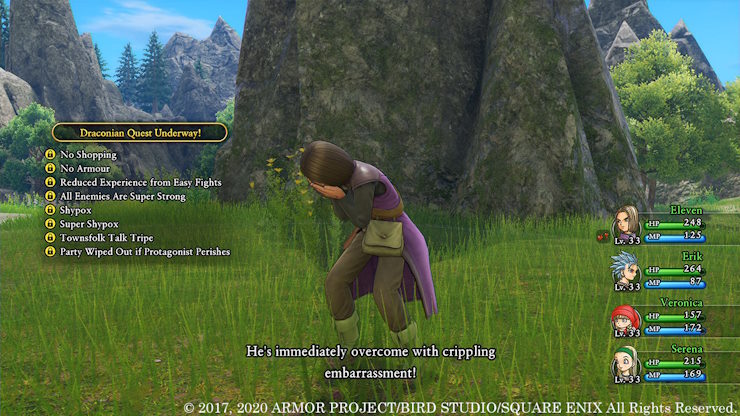 A roleplaying game developed and published by Square Enix, Dragon Quest XI S: Echoes of an Elusive Age – Definitive Edition is an updated release of Dragon Quest XI, with new bells and whistles added to them. The game follows the journey of the Luminary, who is fated to save the world from an evil entity known as the Dark One. Dragon Quest XI S features a beautiful open world with numerous towns, dungeons, and landscapes to discover. This edition includes several new features, including additional story content, new character options, and the ability to switch between 2D and 3D graphics.
On Steam Deck, Dragon Quest XI can be a demanding title requiring a lot of juice off your battery, but not one that the system cannot handle. While control bindings and resolution is something the game has figured itself out, players need to go the extra mile to tinker with the graphic. Limiting frame-rate to 40, turning off anti-aliasing in-game, and dropping some of the environment graphic options to medium should give some three and a half hours' worth of playthrough.
Buy the game ($39.99)
20. Devil May Cry 5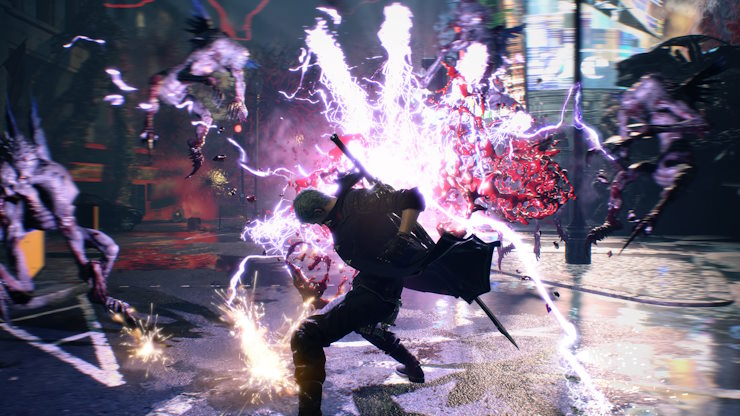 After many long years, Capcom finally launched the fifth entry in their long-running Devil May Cry series, and it successfully delivered the over-the-top gameplay the series is known for. Canonically taking place after the end of Devil May Cry 2, the game sees three protagonists fending off a demon invasion in their respective chapters. Devil May Cry V features beautiful visuals, fast-paced hack-n-slash combat, and a serviceable storyline. Furthermore, the three protagonists of DMC5 bring over-the-top gameplay, and each of them is vastly different from each other.
Another game marketed by Valve officially for Steam Deck, Devil May Cry V, runs well on the system. The game looks crisp in the 1280*800, partly thanks to Capcom's RE Engine running the title. Additionally, the controls are bound to Steam Deck's buttons, letting users pull off some crazy SSS combos. We do not recommend frame-rate locking, as games of this nature benefit from full frames. However, lock the framerate to 40 and drop the TDP to 8 watts if necessary. Furthermore, ensure you have turned off particle effects in-game since it helps with frame rate.
Buy the game ($29.99)
21. Persona 5 Royal
Whether Persona 5 gave birth to the real-world district of Shibuya in Japan is debatable. It managed to give birth to a memorable turn-based RPG that a lot of people love. The fifth entry to the long-running Shin Megami Tensei spin-off, Persona 5, sees the new kid transferring to Tokyo after getting into trouble at his last place. The game also doubles down as a life simulation, where the player has to befriend other students and thwart evil individuals using mythical creatures called Personas. Persona 5 Royal is an upgraded version of Persona 5 that adds a few more months to the in-game calendar, a new character, more dungeons, and other things.
On Steam Deck, the game requires tweaking to gain additional battery life. If battery life is not a problem, then the game runs perfectly. Still, we suggest locking the frame rate to 40 by dropping the refresh rate and locking the TDP to 8 watts. Additionally, the game has proper Steam Deck controller support and resolution. Persona 5 Royal is the best game if a user enjoys RPG and turn-based features.
Buy the game ($59.99)
22. Risk of Rain 2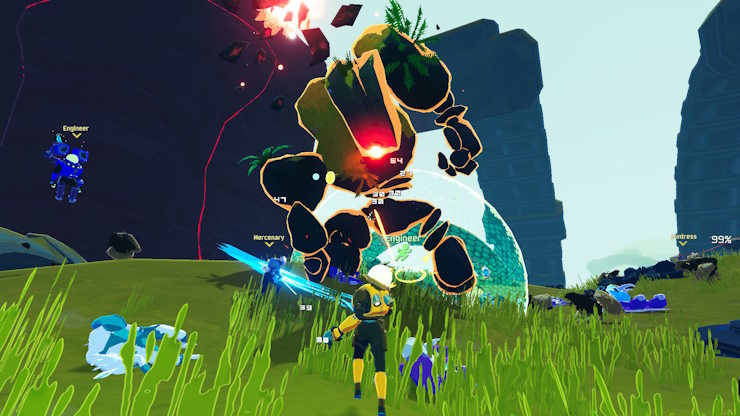 Another favorite rogue-like, Risk of Rain 2, is the sequel of the side-scrolling rogue-like Risk of Rain. In it, players choose one of the many characters available and venture to a planet filled with hostile life and secrets to uncover. Players progress through levels by finding power-ups throughout the maps as quickly as possible since the game difficulty keeps increasing every minute. Risk of Rain also includes multiplayer, so two players can team up to complete the levels together. Furthermore, since it is rogue-like, every power-up, enemy placement, and world exit is randomized.
On Steam Deck, the game runs well for the most part. The frame rate drops to 30-40 when numerous enemies appear on the game map. Additionally, players can get around 3 hours of battery life if they adjust the TDP to 6-7 watts. Additionally, turn off particle effects and drop the graphics quality to medium. This will provide a better performance for the title. The game is a must-play title on Steam Deck solely because of its replayability nature.
Buy the game ($24.99)
23. No Man's Sky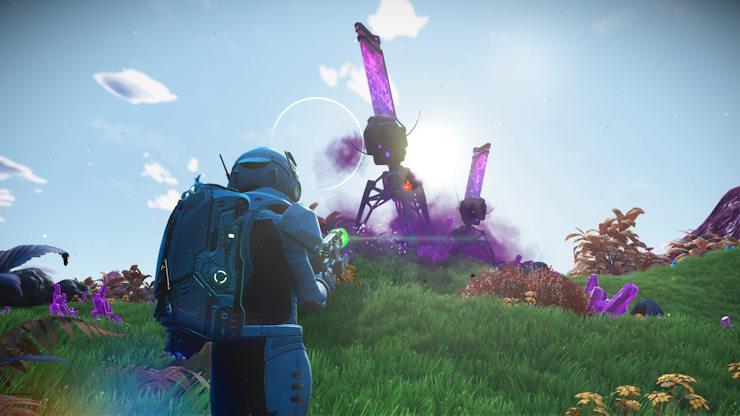 No Mans's Sky is a sandbox exploration game where you play as an explorer, venturing through various star systems. The game features millions of planets that players can land on, with procedurally generated biomes, environments, and much more. Later, players can command their fleet, get sentient ships, build bases, and even get mechas. The game at launch received criticism for its incomplete nature. Over the years, however, the developers have dropped various free updates to make this a must-play title for people who enjoy exploration.
On Steam Deck, No Mans Sky has proper controller support and appropriate screen resolution. As for battery life, if you adjust the TDP to 8 watts and lock the frame rate to 40, expect somewhere around 3 hours' worth of exploration. No Mans Sky on Steam Deck supports AMD's FSR upscaling. Hence, utilize the tech if you want a stellar playthrough experience while exploring the planet. Choosing anything below 720p and under scaling FSR makes the game run better while giving you better battery life.
Buy the game ($59.99)
24. Divinity Original Sin 2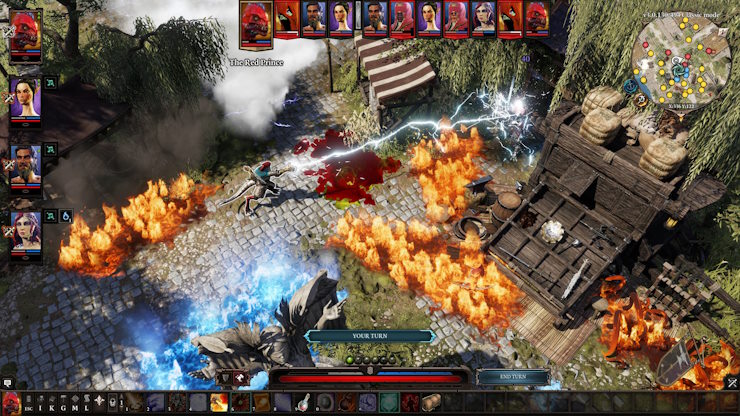 A sequel to the critically acclaimed Divinity: Original Sin, Original Sin 2 features an improved combat system, expanded character creation options, and a fully voice-acted cast. You create your character and join a party of adventurers on a quest to become god-like beings known as "Source Masters." The game features a deep story with multiple paths and endings, a vast world filled with intriguing characters and secrets, impressive turn-based combat inspired by old-school RPGs, and a deep character progression system.
Divinity: Original Sin 2 on Steam Deck is one of the few games on the system that utilizes the entire system of features available. Players can play the title with either the touch-screen of Steam Deck, the trackpad, or the controller buttons. Furthermore, it has proper resolution support and provides sufficient battery life without tweaks. If you want to get more out of it, drop the TDP down to 9-10w and enjoy more hours of battery life out of the game.
Buy the game ($44.99)
25. Dying Light
An open-world survival horror action game developed and published by Techland, Dying Light puts you in the role of Kyle Crane, an undercover agent sent to infiltrate a quarantine zone in Harran, a fictional Middle Eastern city. The game features a day-night cycle where you scavenge for supplies and craft weapons during the day. During the night, the game becomes much more dangerous as the zombies become more aggressive and deadly. The game's end-game content, side-quest, events, parkour mechanics, and co-op gameplay bring back new and veteran players.
On Steam Deck, Dying Light is one of the many games that perform better than expected. It runs between 50-60 frames without any adjustments. Furthermore, the game comes with properly bound controls and resolutions. If you lock the refresh rate to around 30 or 40, you can easily pull off 3 hours of gameplay. Furthermore, the game requires a minimum of 7-8 watts TDP. Hence, dropping and adjusting the same will optimize the frame rate and give you better battery life. So, if you are on the lookout for the best horror games for your Steamdeck, this will definitely hit the spot for you!
Buy the game ($29.99)