There are many ways in which Apple TV stands out from the competition. Whether it's for streaming 4K HDR Dolby Atmos content, or controlling your HomeKit smart home devices, the Apple TV can do it all. What's more, thanks to the powerful A12 Bionic chip, the smart TV box can even play some really amazing games. So, if you're looking to play some games on the big screen without having to splurge on the best PS5 games, here are the 20 best Apple TV games you can play for free right now.
Best Free Apple TV Games You Should Try (2022)
While all the Apple TV games listed in this roundup are available for free, you will need to shell out some bucks to unlock all the goodies. Since the in-app purchases are optional, you can keep playing the freemium versions forever if you don't want to upgrade. One thing worth pointing out upfront is that most of the games support not only Apple TV but also other iDevices including iPhone, iPad, and Mac, which make them a perfect foil for the game party. Just in case you want games that are more suitable for each of these iDevices, explore our roundup of the best games for iPhone, iPad games, and games for Mac. That all being said, let's jump right in!
1. Rayman Adventures
Rayman Adventures is an epic platformer with intriguing gameplay. The game is about helping Rayman and his friends rescue Ancient eggs in order to breathe a new lease of life into the Sacred Tree. Boasting timeless adventures, more than 55 characters, and several amazing worlds to explore, the game has got all the ingredients to deliver hours of fun. Not to mention, Rayman Adventures is packed with over 200 levels with varying obstacles. In each level, you will battle with a plethora of monsters and run through mysterious lands with hidden secrets. Long story short, it will never let you get out of the hook unless you bring on your astute tactics into play.
Rayman Adventures does require you to connect a game controller to your Apple TV. However, we were able to play the game with the Apple TV remote as well.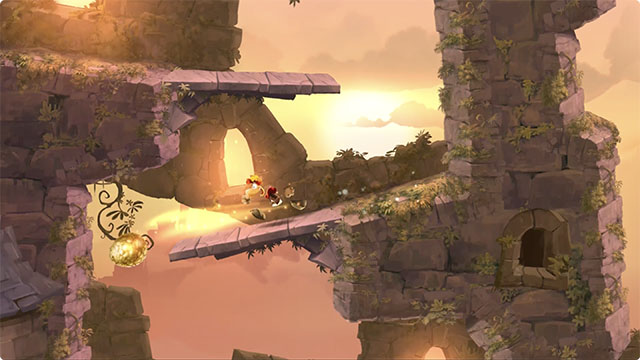 Controller required? Yes, but you can play with the Apple TV remote as well.
Install: (free, a bunch of gems is available for $1.99)
2. Crossy Road
Crossy Road is the sort of game that you will never get tired of playing on your Apple TV. While the graphics are pretty simple, the gameplay is easy but becomes very addictive once you get into the groove. This endless arcade hopper features a variety of characters such as barnyards, animals, robots, and more. Hence, you have plenty of freedom to experiment with characters and settle with the one that is in line with your taste. Bear in mind that the endless arcade hopper is about thinking from toes to outsmart your rivals. Else, you will keep scratching your head as to why the chicken crossed the road!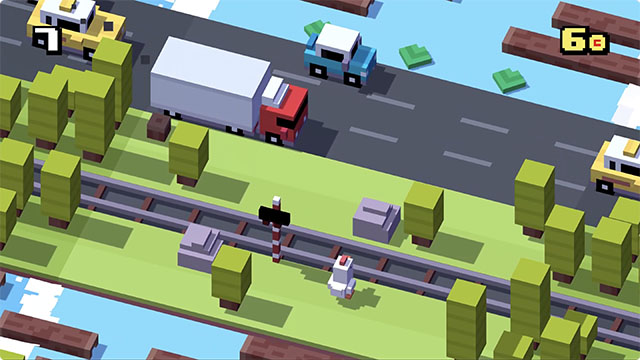 Controller required? No, but can be used.
Install: (free, Fortune Chicken is available for $0.99)
3. Mushroom Wars 2: Tower Defense
Should your hunt warrants nothing less than the very best multiplayer tower defense strategy game, you would be hard-pressed to find a more exciting game than Mushroom Wars 2. You read that right! This real-time strategy game is a great mix of tower defense and hero skill elements of a MOBA (multiplayer online battle arena). As for the gameplay, it's about upgrading your fungi base, hacking battle map objects, and commanding your massive mushroom armies to victory. To make sure you never lose grip, be sure to summon legendary heroes and use them smartly to decimate rivals in multiplayer PVP and co-op modes. Faced with more than 200 grueling missions, you will need to both improvise and reboot your strategy to remain in the contest.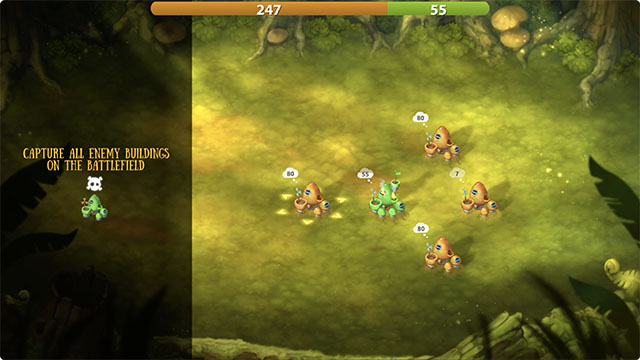 Controller required? Yes
Install: (free, the dragon frame is available for $2.99)
4. Into the Dead
For the folks who have a huge penchant for a survival game, Into the Dead could be a fantastic pick. Up against a brutal world of the zombie apocalypse where there are no second chances, you've got to bring on your "A" game to stay alive by hook or by crook. The challenging gameplay together with an arsenal of powerful weapons, top-notch visuals, and matching sound design makes it stand out as a zombie runner. So, what's stopping you from challenging your friends to beat your high score and competing on global leaderboards?
Controller required? No
Install: (free, a small coin pack is available for $0.99)
5. Jetpack Joyride
As someone who has a huge penchant for the endless running game, I have always relished playing Jetpack Joyride which comes from the makers of the insanely popular Fruit Ninja game. In this endless running game, your goal is to beat scientists to the end of the lab by going against all odds. Thanks to a wide variety of crazy vehicles to ride, the option to earn plenty of achievements, and a lot of power-ups to bolster your might, it ensures your endless running never becomes boring. Not to underestimate, Jetpack Joyride is also up to the task when it comes to customization. Thus, you can customize your look with amusing outfits to look unique in the crowd. Taking everything into account, it deserves to be rated as one of the best free Apple TV games.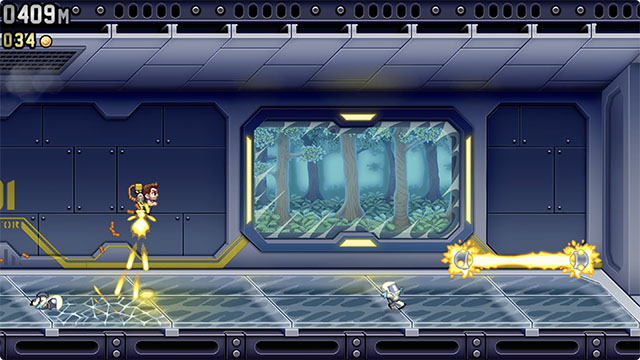 Controller required? No
Install: (free, a coin booster pack is available for $1.99)
6. Real Racing 3
Claiming to deliver the ultimate racing experience, Real Racing 3 deserves serious consideration, especially if a high-octane racing extravaganza on Apple TV is on top of your mind. What puts Real Racing at the forefront is a growing collection of over 250 vehicles from well-known manufacturers such as McLaren, Ford, Aston Martin, Pagani, and more. Combine that with plenty of officially licensed tracks at almost 20 real-world locations and it leaves very little room for complaint. Another feature worth taking note of is the option to compete in over 4000 events including cup races, Formula 1 Grands Prix, endurance challenges, and more. Plus, you can also drop into any race to challenge the AI-controlled versions in the time-shifted multiplayer. Since Real Racing features social leaderboards, you can race your way to the top to stand out.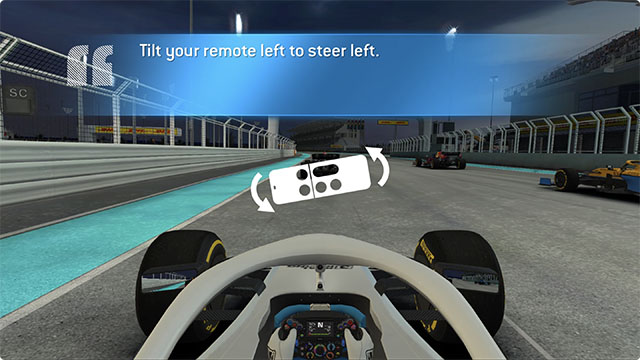 Controller required? Yes, or a first-gen Siri remote
Install: (free, a handful of gold is available for $1.99)
7. Asphalt 8: Airborne
Gameloft's Asphalt 8: Airborne belongs to the elite league of racing games for Apple TV. So, there is no question of missing out on this one. In this real-time online multiplayer racing game, you can put your hands on more than 300 official speed machines from Ducati, Bugatti, Lamborghini, Mercedes, Ferrari to Audi. For a fully personalized experience, Asphalt 8 lets you not only customize your avatar but also give the personal touch to your favorite rides with a variety of decals. And when you bring dozens of professionally-designed tracks and over 400 career events complete with car mastery challenges into the mix, it makes for a strong case for your exclusive roster of car racing games.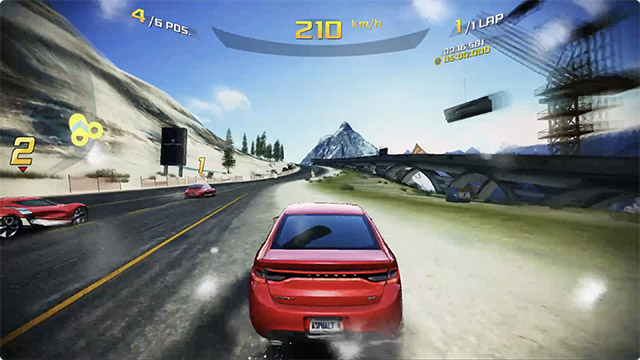 Controller required? No
Install: (free, rookie credit pack is available for $1.99)
8. Hungry Shark Evolution
Ubisoft's Hungry Shark Evolution is a fun-filled shark action game where you will need to go your all out to take control of the very hungry shark. In the insane ocean rampage, surviving is a herculean task, unless, of course, you unleash the killer version of yourself. Beyond the battle with mighty sharks, you will get a chance to explore the incredible underwater world and also evolve iconic sharks. The stunning graphics and sound effects further enliven your adventure in the underwater world. Now, the only question is, how long can you keep those dreading sharks at bay?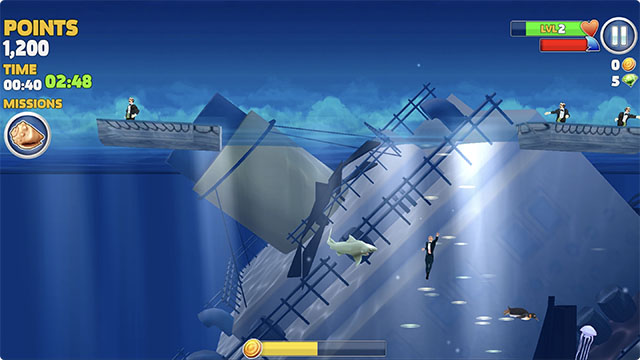 Controller required? No, but it's difficult to play without one.
Install: (free, 20 gems are available for $1.99)
9. Alliance: Air War
How about playing a flight simulator game? Alliance: Air War is a highly-rated flight simulator game designed to test your air combat pilot skills such as fleet attack, attack the ace, free flight, assassination, dogfighting, and more. You can showcase your dogfighting prowess against enemy fighters using Vulcan cannons, rockets, machineguns, guided missiles, and whatnot. Moreover, the game has six different modes with several challenges and there are also leaderboards to rank yourself against the world's best players. Gaming aside, discovering decades of air combat developments is a treat; particularly if that appeals to your curiosity.
Controller required? Yes, but you can play with a 1st-gen Apple TV remote (Siri remote) as well.
Install: (free, small fuel purchase is available for $0.99)
10. 2048
Times when you may want to indulge with a relaxing brain teaser, 2048 can have a role to play. In this puzzle game, all you need to do to crack puzzles is to join numbers and get to the 2048 tile. You can use the Siri remote to move tiles, and when two tiles with the same number touch, they merge into one. Pretty cool, isn't it? Yeah, that's exactly what makes it a hot pick for gaming with family.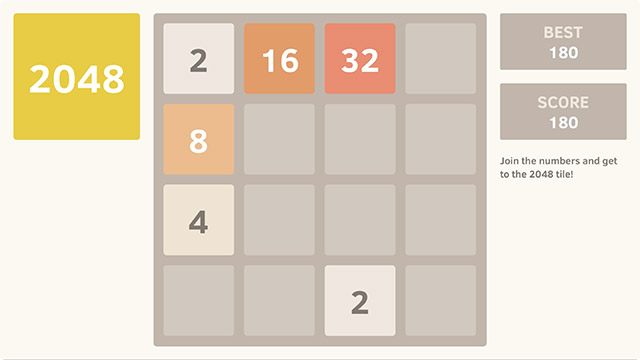 Controller required? No
Install: (free, ad-free version is available for $2.99)
11. Minion Rush
If you are on the lookout for a family-friendly endless runner game, Gameloft's Minion Rush could be a perfect foil for your game party. In this game, you will enjoy dashing off with the minions on a series of secret missions. Be it dodging traps in the lab, racing through the neighborhood, or jumping into supervillain hideouts, there are plenty of new adventures and challenges to test your running skill. Moreover, you can unlock different stories and prizes by crushing special missions. Every secret you uncover will help your profile to become a minion spymaster. On top of all, Minion Rush also offers a great deal of customization to let you design costumes to your liking. So, kickstart this game to check how far can you go.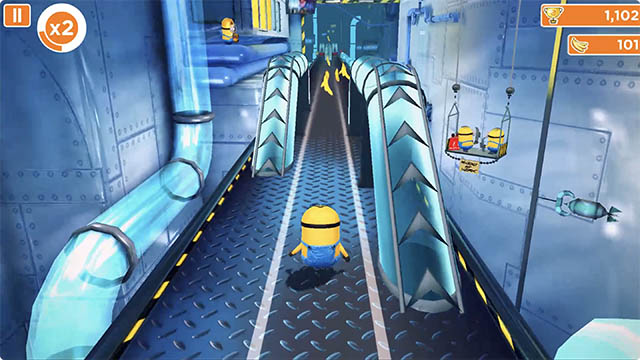 Controller required? No
Install: (free, a stack of tokens is available for $1.99)
12. Hill Climb Racing
Hill Climb Racing is a super addictive physics-based driving game. This driving game is about a brave uphill racer named "Newton Bill" who is on a mission to conquer the highest hills. Equipped with several hill climbing environments, it is able to keep predictability away. What I love the most about this game is the garage mode where you can customize your vehicles to your heart's liking. Even better, Hill Climb Racing also has an extensive roster of vehicles such as motocross bikes, police cars, fire trucks, monster trucks, and more so that you can try different vehicles. Take it for a ride and I bet you will enjoy every bit of hill climbing.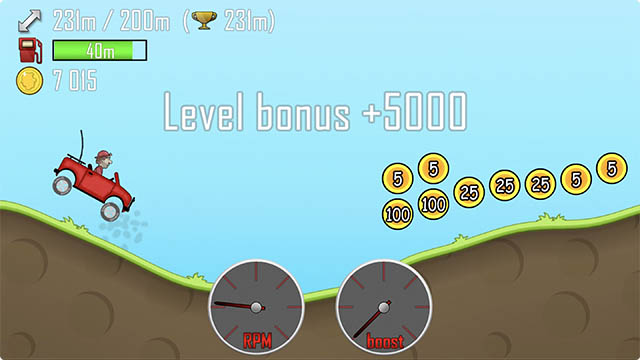 Controller required? No
Install: (free, 150,000 coins for $1.99)
13. Mars: Mars
An engrossing space adventure game like Mars: Mars deserves a mention in this extensive lineup of the best free Apple TV games. What makes it a notable addition is the vast red planet with a number of secrets. If digging deep into secrets and revealing what they have in store enchant you, Mars: Mars won't take much time to be one of your favorite games. Oh yes, you can also snap selfies on mars' awesome sightings and brag about your adventure with your friends and loved ones on Instagram.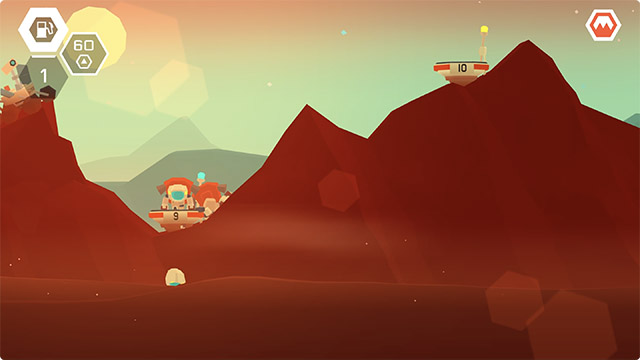 Controller required? No
Install: (free, Ufo is available for $0.99)
14. Playdead's Inside
I don't think there are too many indie adventure games that can take on Playdead's INSIDE. This dark and narrative-driven platformer is designed to put your thinking gears against the wall. However, if you are fond of solving puzzles, you may find it spot on for your specific taste. Notably, this 2D puzzle platformer features praiseworthy art and animations. And with the ambient soundtracks in the mix, solving conundrums feels joyful.
Controller required? No
Install: (free, the full version is available for $6.99)
15. Hoppy Frog 2: City Escape
Enough of an endless runner, now it's time to take on the endless hopper. In this crazy never-ending hopping game, you will assist the hopping hero as he, unfortunately, gets entangled in false accusations and lands in jail. Hoppy is desperately looking on you to help him skip bail and escape to the hills. As the hopping makes an insane dash for freedom, jumping and gliding across the city skyline in a bid to avoid police and enemies, bring on all your killer tactics to help him succeed in his mission.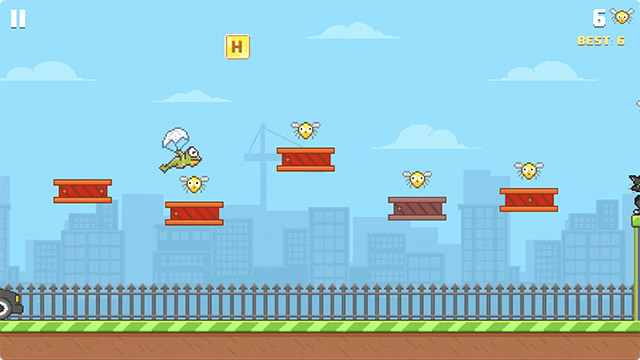 Controller required? No
Install: (free, the micro pack of gems is available for $1.99)
16. Hit Tennis 3
Well, I have picked Hit Tennis 3 for those who can't get enough of tennis games. If you are one of them, you should put it right on your radar. The gameplay is pretty simple where you just have to swipe or flick to hit the ball. However, do not take the gameplay too lightly as it requires some time to master. Notably, Hit Tennis 3 features 24 tournaments across 8 different locations. Upon winning a tournament, you will receive a lot of prizes and a big trophy.
Controller required? Yes, or a 1st-gen Siri remote
Install: (free, 30 tennis bucks is available for $0.99)
17. Sonic CD Classic
Do you want to reignite your affair with SEGA console classics? If yes, Sonic CD, which is part of the SEGA Forever classic games, is the one you should try. In this vintage game, you will travel through time to rescue Amy Rose and recover the illustrious Time Stones. Bear in mind that D. Eggman and his nefarious creation Metal Sonic will keep throwing hurdles and will never miss any chance to put your entire campaign in complete disarray, so you've got to be extra cautious.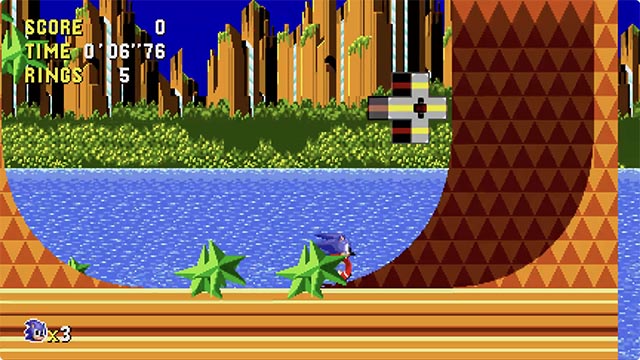 Controller required? No
Install: (free, premium upgrade for $1.99)
18. Highway Crash Derby
Last but not least, Highway Crash Derby is all about taking your fast-paced car on the highway and trying to cause maximum damage in order to create mayhem. Of course, in the reel world where nothing can stop you from becoming the most gruesome racer in town. The longer you stay alive, the higher you can score. Though it can't go head to head against Real Racing 3 or Asphalt 8, it won't let you down if all you want is a decent car racer with a handful of different vehicles.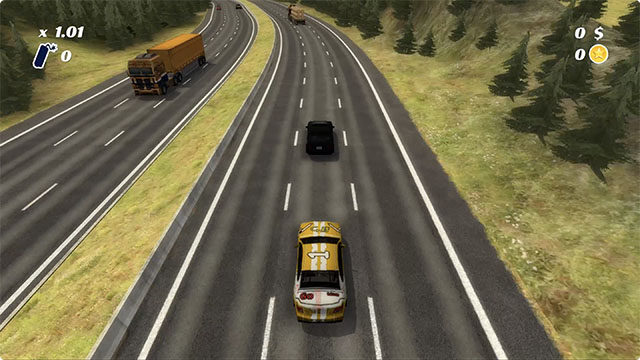 Controller required? No
Install: (free, 400 coins are available for $1.99)
19. Pako Forever
Pako Forever is another one of the best free Apple TV games you can play right now. The game is full of explosive action and car chases. You're on the run from the cops in your car, and you're going to do everything you can to escape the long arm of the law. There are a lot of unlockable cars, endless levels, leaderboards and so much more. Pako Forever is definitely a game you need to play on the Apple TV.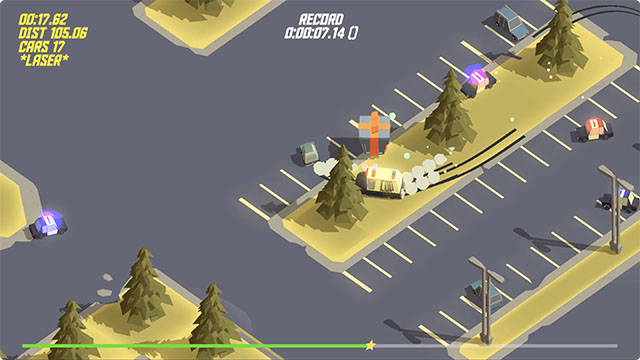 Controller required? No
Install: (free)
20. Beach Buggy Racing
If you love casual racing games, Beach Buggy Racing will probably be your favourite Apple TV game. The game has cartoonised graphics, and is a decent fit for younger kids as well, so regardless of who's playing on the Apple TV, this game can definitely find a place. The controls are simple, and there are a ton of power-ups to make things more interesting.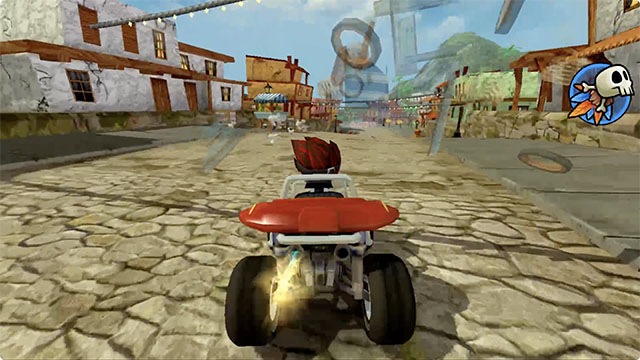 Controller required? Yes, or a 1st-gen Siri remote
Install: (Free)
Top Free Games for Apple TV Lined Up for You
There you go! So, that concludes this exhaustive lineup of the best free Apple TV games. Hopefully, you've found the games you were looking for. But before you go on a long gaming spree, do not forget to let us know the names of the games that have found a safe spot in your exclusive collection. Besides, if you want any of your favorite games to get included in this roundup, tell us about them as well.
---
Load More