Games are now played at a competitive level where each move counts and is crucial. One of these competitive genres is the fighting/arcade style. Many players spend day and night to perfect their skills in fighting games. Many of these players opt for an arcade stick or fight stick as their weapon of choice in the fighting world. So if you want to go old-style and use an Arcade stick for gaming then you have come to the right place. Here, we have curated a dedicated list of fight sticks for both professionals and beginners. So without any delay, here are the 10 best Fight Sticks (Arcade Sticks) that you can buy for fighting games.
Best Fight Sticks (Arcade Sticks) — Updated September 2020
Take a look at all the Arcade sticks from our list below. You can click on the link and move to the corresponding stick just like that. Apart from that, if you want to learn how to choose an Arcade stick then go through our explainer below.
How to Choose an Arcade Stick?
First and foremost, you should check the material of the Arcade stick. If it's made of metal then the stick will last for a much longer period. Similarly, if it's a plastic body then you can expect shorter durability.
Next, you must check if the Arcade Stick allows you to mod the buttons as many players tend to customize the action buttons according to their preference. And most importantly, if your Arcade Stick features Sanwa Denshi buttons then you will have a very responsive experience while gaming with the stick. They are just better in terms of time and accuracy.
Lastly, you must check if an Arcade Stick is compatible with your gamepad or console. If the stick is indeed compatible then you are good to go.
List of Top Fight Sticks (Arcade Sticks)
1. MAYFLASH Arcade Stick F500 / Elite (PC, PS3, PS4, Xbox 360, Xbox One, Nintendo, Android, SEGA)
The Mayflash F500 is one of the best Arcade sticks that you can buy right now. It's a successor to the Mayflash F300 and the stick is made up of a solid piece of metal with rubber feet and a good amount of weight to make it a durable fight stick. The F500 is an 8-button arcade stick with a reasonable joystick. Mayflash has designed the F500 with modding in mind.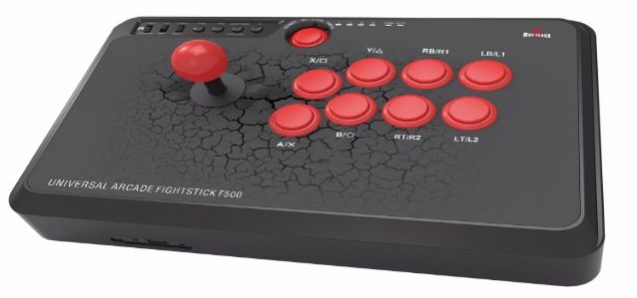 Each of the eight buttons can be swapped out to the player's liking, even with genuine Sanwa parts, with the joystick being no exception either. The stock experience of the arcade stick is not bad either with the buttons being slightly convexed and light, and the joystick being responsive.
With it being $85 on Amazon, it does lack some amenities such as Sanwa Denshi Buttons, but the compatibility is exceptional. However, if you want all the premium features like Sanwa buttons and joystick then you can go for the F500 Elite version. By the way, both are compatible with PCs, PS3, PS4, Xbox 360, Xbox One, Android, and SEGA.
Pros
Wide Compatibility
Quite affordable
Great performance
Mod the buttons
Pretty good build quality
Offers Elite version with Sanwa buttons
Cons
Buy From Amazon: F500 ($85.98), F500 Elite ($129.96)
2. HORI Real Arcade Pro 4 Kai (PC, PS3, PS4, Xbox One, Xbox 360)
The HORI Arcade Pro 4 Kai is another highly used high-end arcade stick, with many features to back up its comparatively lower price of about $145. This arcade stick is beautiful while maintaining a lightweight despite the bottom being metal.
The joystick is an original Hori Hayabusa, providing very fast and accurate inputs once mastered. The Arcade Pro 4 ditches Sanwa buttons in favor of Hori Kuro buttons, which are harder to master than Sanwa, but when mastered provide remarkable durability and response.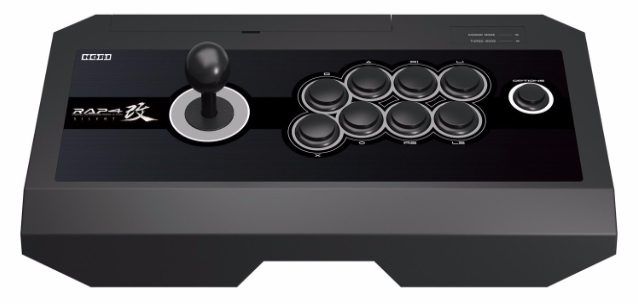 The arcade stick is an 8-button stick with a start button on the right and L3 and R3 buttons on the side. The Arcade Pro 4 Kai also has a precise touchpad, and a turbo functionality as well.
Like many other high-end arcade sticks, the Hori Arcade Pro 4 Kai can also be modified quite easily, and the buttons can also be replaced by Sanwa buttons. The Arcade Pro 4 also has good compatibility, covering the PS3 and PS4 in consoles, and PCs as well.
Pros
High-end material
Accurate touchpad
Replaceable buttons
Compatible with major consoles
Cons
False inputs once in a while
Buy From Amazon: PS3/PS4/PC ($149.99), Xbox/PC ($164)
3. Qanba Drone Joystick (PS3, PS4, and PC)
Qanba Drone is a really good entry-level fight stick that is compatible with both Play Station 4/3 and Windows PC. The fight stick comes with a single Qanba joystick and eight Qanba buttons. The Qanba Drone features a plastic construction that doesn't feel cheap. It also sports rubber pads at the bottom which allows it to sit firmly on the table and your lap.
I also love the adjustable and removable cable clamp which makes the set up clean. The Qanba Drone also comes with different stick gates including a square gate, hex gate, and circular gate, allowing you to fit any stick that you want to use.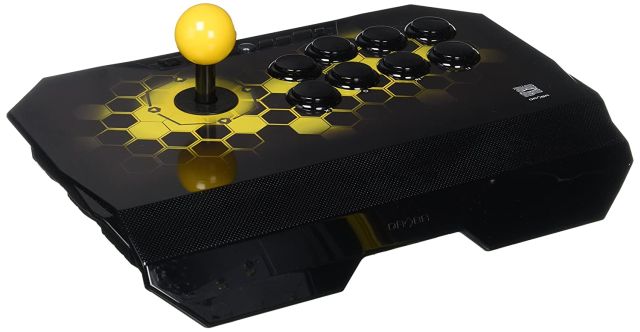 When not in use, the cable can be easily stored in the built-in storage which is a nice thing. The Qanba Drone is designed to be modded and a single Google search will give you access to all the necessary resources.
You can even replace the sticks, buttons, ball top, and other hardware parts to make it your own. The only drawback here is the attached USB chord which is a little shorter for my test. Other than that, it's a perfectly good arcade stick which you should buy.
Pros
Mod the buttons
Feels premium
Adjustable clamp
Replaceable buttons
Cons
Buy From Amazon: $67.90
4. Madcatz Arcade FightStick TES+ (PS3, PS4)
Madcatz covers all the different budgets, and the Arcade FightStick TES+ is certainly one of their high-end fight sticks. With a price tag of $130, this arcade stick is surely made for the enthusiasts who will utilize all the features this fight stick comes with. The Madcatz TES+ is a tournament edition fight stick made for competitive gaming.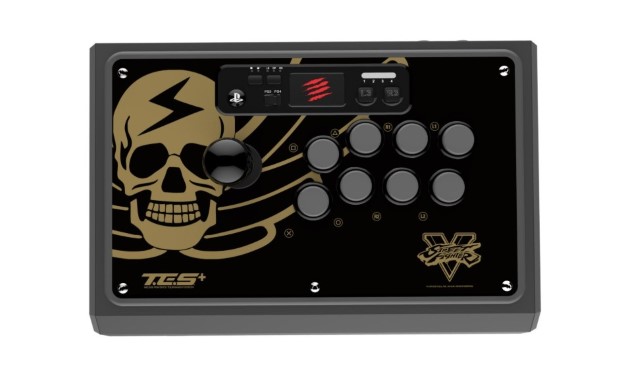 The build quality of the TES+ sets the bar high, with the fightstick being constructed of metal, plastic, and glass, with rubber for a good grip on the surface. The fight stick features an 8-button layout, like many other high-end arcade sticks with high-quality parts. Both the buttons and the handle are Sanwa Denshi parts, with the buttons being extremely responsive with a little resistance to make it ideal for fighting games.
It brings a 3-way button that enables the joystick to emulate a left or right analog stick or D-Pad. I also love the 9.8ft/3m USB cable on this Street Fighter arcade stick which keeps me at a comfortable distance from your TV while enabling low latency gameplay. Overall, this is a great arcade stick and you should definitely check it out.
Pros
Powerful fight stick
High-quality parts
Excellent performance
Very responsive
Cons
Buy From Amazon: $169.99
5. Mayflash F300 (PC, PS3, PS4, Xbox 360, Xbox One)
The Mayflash F300 is the predecessor to the Mayflash F500 but it's still an amazing arcade stick, especially for beginners aiming to use it with multiple devices. The F300 comes in under $60 and offers a great experience. For the price, you are getting a nice 8-button layout, with some extra buttons on the top for turbo and changing the input of the arcade stick.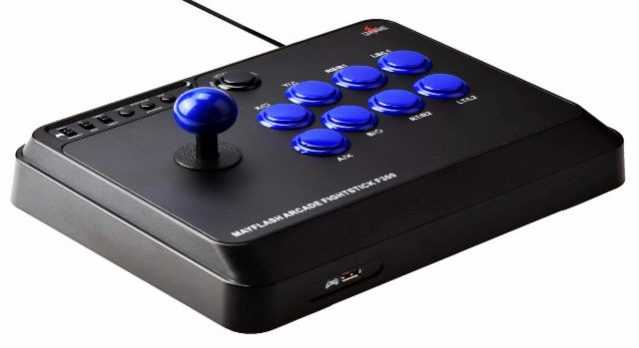 The F300 hosts an all-plastic body with rubberized feet for added stability. The affordable arcade stick is well constructed and does not feel cheaply made, although the buttons are a compromise here, as they are not Sanwa parts out of the box, with some modding, you can replace the stock buttons to any button of your choice – even Sanwa buttons.
The buttons do provide an adequate response, with the handle being light. The Mayflash F30 does not offer longevity, but the true beauty of this arcade stick is in its compatibility. It is compatible with every popular console out there, including the PS4, PS3, Xbox 360 & Xbox One, along with PCs running Windows 7 to Windows 10.
Pros
Best for budget users
Great response; almost no latency
Wide compatibility
8-button layout
Cons
Buy From Amazon: $52.39
6. Razer Panthera (PS4) / Razer Atrox (Xbox One)
If you are looking for a premium arcade stick for your brand new PS4 or Xbox One then these are the arcade stick you should look at. Both the Razer Panthera and Razer Atrox feature almost similar features with the only difference being their compatibility.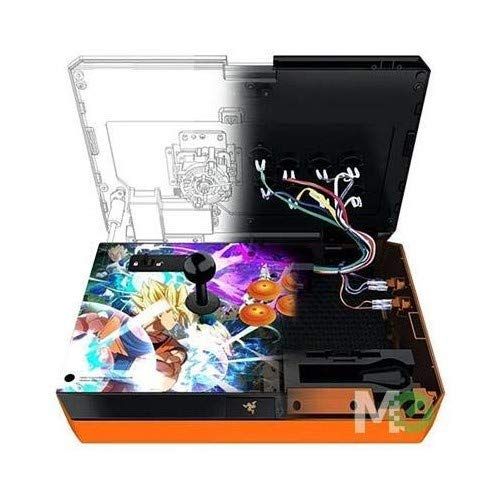 While the Razer Panthera is compatible with PS4, the Razer Atrox is compatible with Xbox One. By the way, both of them are compatible with PC. Both of these arcade sticks use high-quality Sanwa hardware components (joystick and buttons) so you know that you are getting quality material here.
There are ten highly tactile buttons along with an 8 way joystick which is something that you don't find in budget arcade sticks. I love that they both come with an internal storage chamber that can be used to store the detachable screw-lock cable, screwdriver, and two extra buttons.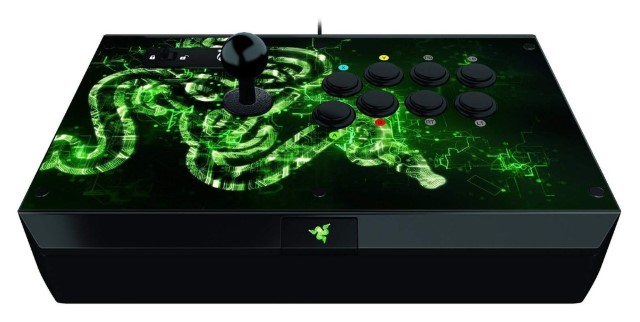 The Panthera is fully modular allowing users to change the buttons and joystick if they want to. They both are compatible with most major fighting games allowing you to play games of your choice. If you want an arcade gaming experience, this is the fight stick that you should buy.
Pros
Premium Arcade stick
Change functionality of buttons
Compatible with major consoles
Great accuracy
Cons
Buy From Amazon: Razer Panthera (179.99) / Razer Atrox ($179.99)
7. Neogeo Arcade Stick Pro (PC, NEOGEO Mini and Android)
The Neogeo Arcade Stick Pro edition is a work of art. The front plate has a translucent finish, along with an SNK electrostatic-style joystick. It's a high-end fight stick one with 720p output and 3.5mm headphone jack. The buttons are all Sanwa Denshi parts with the superb responsiveness, and the clicking noise is minimal.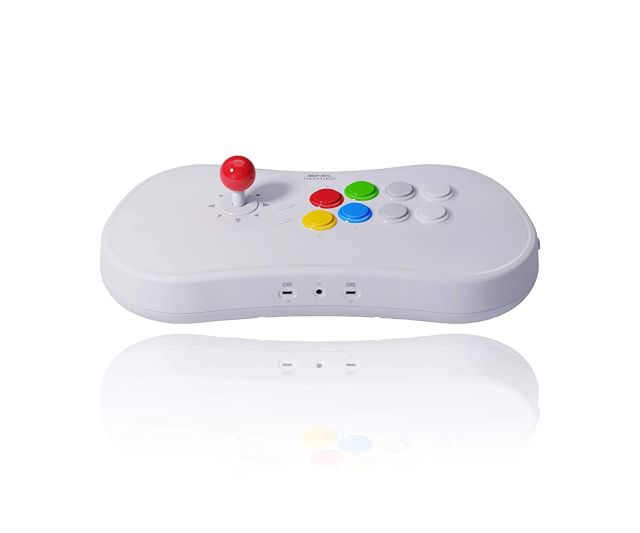 It has an 8-button layout and has the start button on the side to prevent accidental presses. The Neogeo Arcade Stick Pro also comes with control buttons such as the turbo button, and the controller lock/unlock switch, which deactivates the buttons you do not want to use.
The Neogeo Arcade Stick Pro is a pretty stick with high-quality parts which makes it great in both form and function. The only drawback is that it is not compatible with mainstream gaming consoles.
Pros
Best for NeoGeo Mini
Simple and lightweight design
Supports Android too
8-button layout
Cons
8. HORI Switch Fighting Stick Mini (Nintendo Switch)
The HORI Switch Mini is a great starter stick, made for just Nintendo Switch. It is extremely affordable, coming at about $50, and the overall experience is more than decent. This arcade stick is made up of plastic and has rubberized feet to prevent it from moving.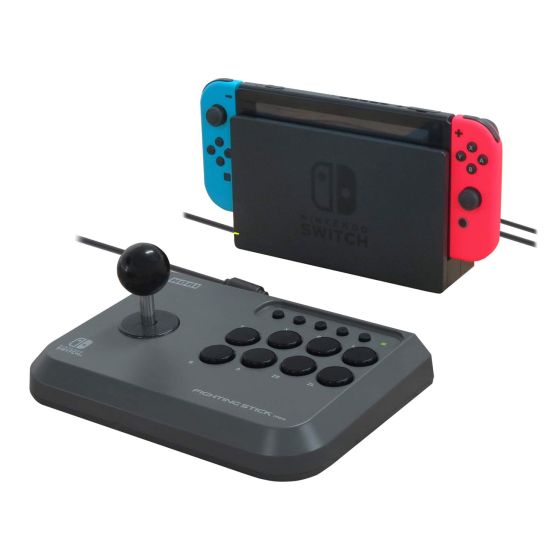 Its build quality is remarkable for the price, with corners being cut at the right places for the reduced price. The plastic construction makes for an extremely light and portable arcade stick, which makes it great for traveling gamers. The footprint of the Arcade Stick Mini is also small, as implied by its name.
The buttons are flat and wide, which offer good responsiveness and the handle is quite comfortable, albeit a little too small for people with large hands. It is an 8-button arcade stick and also comes with turbo functionality. To sum things up, the HORI Switch Mini is a great bang-for-the-buck stick for Nintendo gamepads, and you should give it a look.
Pros
Best stick for Nintendo users
Build quality is excellent
Great response
Pretty Affordable
Cons
Limited to Nintendo Switch
Buy From Amazon: $49.99
9. 8Bitdo Arcade Stick (Nintendo Switch, PC)
If you are a fan of Nintendo games that you will enjoy this arcade stick. I still remember my first Mario game which I played using an arcade stick and this sure does bring those memories back.
The 8Bitdo stick is compatible with not only Nintendo's latest console, the Nintendo Switch but also with Nintendo games that you can run on PC. Apart from its features, my favorite thing about this arcade stick is its looks. Just look at it, it looks like any old Nintendo hardware and I love it.
Talking about its features, the 8Bitdo Arcade Stick brings both wired and wireless connectivity. You can connect it to your system either using a USB cable or Bluetooth. It comes with one joystick and eight switches which are mod-friendly.
It brings both D-Input and X-Input functionalities along with turbo and d-pad modes. If you love Nintendo, you should check this retro arcade stick.
Pros
Mod the buttons
Both wired and wireless modes
Another great stick for Nintendo users
Retro look
Cons
Buy From Amazon: $89.99
10. PXN 0082 Arcade Stick (PS3/ PS4/ Xbox One/Switch/Window PC)
The PXN 0082 is an entry-level arcade stick with basic functions and decent build quality. The arcade stick has a small form factor and is made up of plastic with some rubber padding underneath to prevent it from sliding in the heat of the battle.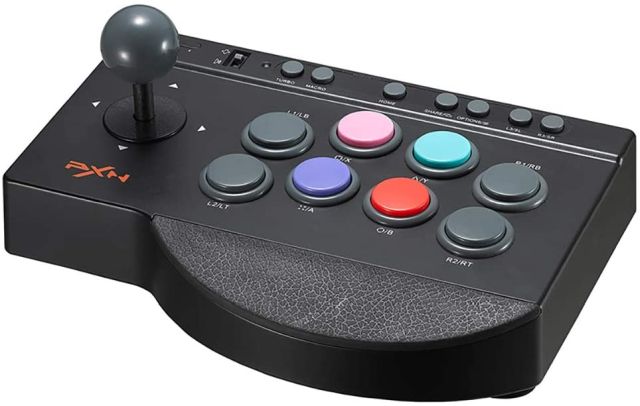 The PXN 0082 is more aimed towards beginners looking for a starting point rather than professionals and comes in at around $40. This arcade stick is ideal for people who travel a lot due to it being lightweight and small in size. The Alpha does not come with Sanwa Denshi Buttons, but the normal buttons are decent when you get the hang of them.
If you are looking for the ability to mod this stick, then you will be disappointed to know that the parts are soldered to the board, and hence cannot be modified as easily as some other arcade sticks. The PXN 0082 Arcade Stick is compatible with PS3, PS4, Xbox One, Nintendo Switch, and Windows PC.
Pros
Decent pick for budget users
Compatible with a large pool of consoles
Lightweight
Small form factor
Cons
Buy From Amazon: $39.99
Frequently Asked Questions
Q. Which is The Best Arcade Stick?
I would easily pick Mayflash F500 because of its compatibility with wide range of devices and overall great performance. If you have a higher budget then go for F500 Elite which comes with Sanwa Denshi buttons.
Q. What Arcade Sticks do Pros Use?
From Mayflash to Hori and Qanba, professionals use all kinds of Arcade sticks. You can go through our above list to find some pro-level fighting sticks.
Q. Are Arcade Sticks Better than Controllers?
There is a section of gamers who prefer Arcade sticks to controllers mostly because of extra functionality. You have 8 buttons and you can customize them with your quick actions. As I said, for some users, that's a huge advantage.
Q. How Do You Use an Arcade Stick?
Using an Arcade stick is pretty simple, but you need to spend some time to get the grip of the buttons. You will have to connect your fighting stick with your gaming console or gamepad. And then you can start using an Arcade stick.
The Best Fight Sticks and Arcade Sticks You Can Buy
If you are looking for an entry-level fight stick or a tournament edition stick, we have covered everything and then some. Choose the one stick that you like and play with it until you can pull-off every move in your favorite game. When it comes to fighting sticks aka arcade sticks, it's all about getting the hang of it. Also, feel free to mention your favorite fight sticks in the comment sections below.
---
Load More