The other day while tracking down my daily dose of iPhone hacks, I stumbled upon a few charging animation apps. Upon finding them really cool, I tried them out to set an eye-catching custom charging animation on my iPhone. Having just created a quick hands-on guide on setting custom charging animation on iPhone, I think it would be great to share some of the best charging animation apps for iPhone that have caught my attention. If you are on the lookout for an app that can offer plenty of fascinating charging animations and sounds, make sure to check out my top picks.
Best Custom Charging Animation and Sound Apps for iPhone
So, what sort of charging animation should you use on your iPhone running iOS 14 or later? Well, it all boils down to your taste. With a variety of charging sounds and animations at your beck and call, you get the full freedom to mix and match.
What if you don't like the predefined charging animations? A few of these apps also let you craft your own charging animations/sounds for iPhone. So, you can choose a desired video and sound to create an out-of-the-box animation that will come alive every time you try to juice up your iPhone. Having said that, it's time to jump right in to explore what's more these apps have to offer!
1. Charger Master
Charger Master is probably the most feature-rich custom charging animation app for iOS. All the animations are beautifully crafted and work as expected. Apart from having a huge roster of animations, the app has also got a solid library of sounds which you can use for things like "Disconnected", "Connected", "Full", "Low Power" and more.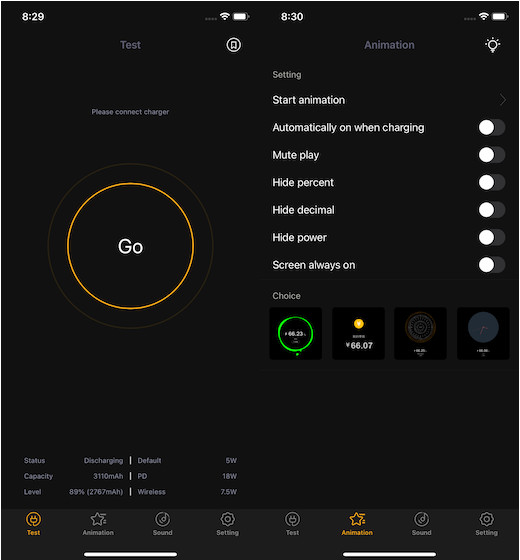 That's not all, Charger Master also offers plenty of customizations so that you can fine-tune the charging animations and sounds as per your taste. For instance, you can start animation automatically, mute play, hide percent, hide decimal, hide power, or keep the screen always on.
Once you have customized the charging animation, you can preview it to ensure it's perfectly in line. That's not all, the app also lets you check the battery health of your iPhone to determine whether or not it's good enough to deliver the peak performance. Long story short, Charge Master has got all the bases covered to stake the claim of being a top-notch custom charging animation and sound app for iPhone.
Install: (free)
2. Charging Animation
Charging Animation" didn't have to spend much time to impress me. The app boasts one of the largest collections of charging animations and sound effects. So, you have the luxury to explore a massive library and choose the animation that fits your needs.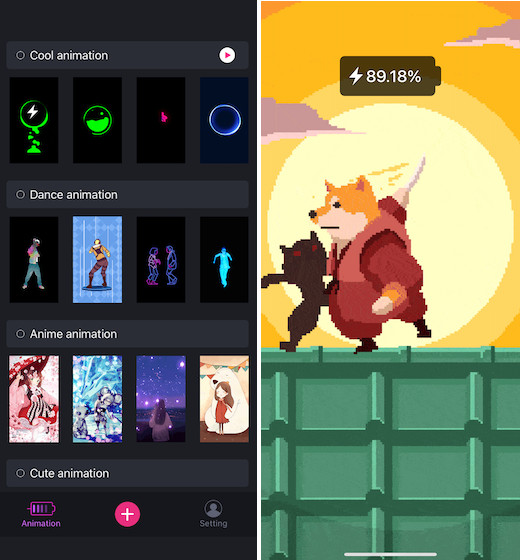 Some of my favorite animations of this app are dance animation, cool animation, cute, and rock animation. If you are fond of crazy stuff, chances are pretty high that dance and rock animations would win you over right away. Once you have found a nice charging animation, simply tap on it and then hit the Apply button to select it.
What's more, the app also lets you create custom animations. To do it, all you have to do is just tap on the "+" tab at the bottom. After that, tap on the "+" button in the center of the screen and select a video that you want to use for animation from the photo library. Then, mix and match the available tools to create a nice custom animation.
Taking everything into account, it's one of the best charging animation apps for iOS without any doubt.
Install: (free)
3. Charging Sound & Effects
Another app that has found a safe spot in this roundup is "Charging Sound & Effects". What makes it worth giving a shot is a wide range of charging effects and sounds. So, just in case you want to have a variety of effects, this one could be one of the better contenders.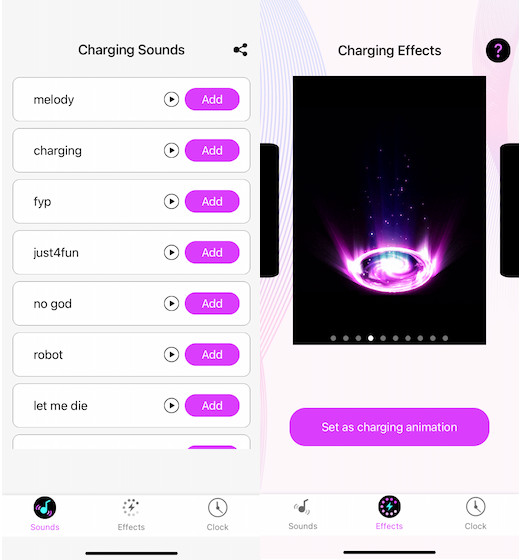 Furthermore, the app also offers some customization so that you can set your desired charging sound and animation effect. One of my top picks of this app is a collection of charging clocks. They are beautifully designed and can play a crucial role in letting you amp up the customization game.
As the app is available for free, you will need to watch a video before you will be allowed to add the sound/effect or charging animation. Though it does seem to come in the way, I don't think it should be a dealbreaker for most. Overall it's a decent charging sounds and effects app for iOS.
Install: (free)
4. Charging Sound
For the folks who want to have plenty of charging sounds, this app can be a top choice. It has a wide assortment of sounds including bang, Pikachu, low battery reminder, defeat, Mario dies, and whatnot. So, whether you want to set a funny charging sound or go for a weird one, you have the variety to choose from.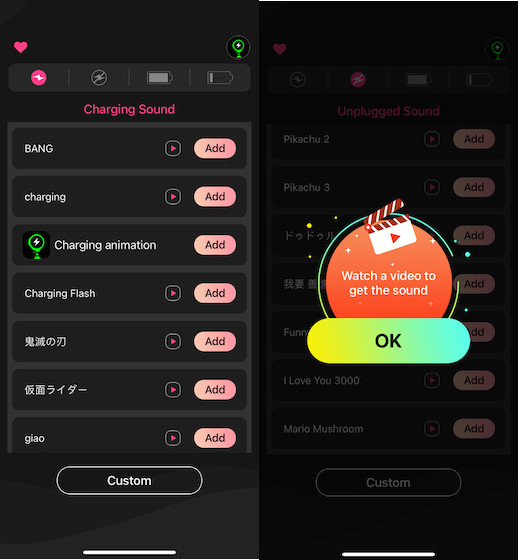 What if you want to set your own rule as far as charging sound is concerned? Well, you can also make hilarious custom charging sounds for a personalized experience. To get it done, tap on the custom option at the bottom of the screen.
After that, you can record a funny sound or head into the photo library to let the app extract audio from your video or add a readymade sound from the existing library. Lastly, the app is available for free, so you have the liberty to try out all the available sounds or create one. Everything considered; it's a pretty handy charging sound app for your iPhone.
Install: (free)
Top Charging Animations and Sounds At Your Disposal
So, that ends our roundup of the custom charging sound and animation apps for iOS. Now that you have got a ton of animations, set a nice one as the charging animation on your iPhone.
Ever since I stumbled upon this hack, I have been using it. So far it has worked pretty well without any issues. The entire process might seem to be a tedious affair but once you have set it up perfectly, you can count on it to get rid of the boring built-in charging sound with a fascinating charging animation.
If you love customization, you may also want to take a peek at the best iPhone home screen widgets, home screen design ideas, and the way to create custom app icons for a more personalized experience. Besides, I would also recommend you to check out our complete guide for improving iOS 14 battery life.