A kickstand case has a role to play when you wish to enjoy your favorite movies without engaging your hands or light up your moments with your friends through free-wheeling video calling. A kickstand case is equally up to the task when it comes to enhancing the style quotient or protecting your iPhone from accidental drops. So, if you are on the lookout for a case that does much more than just showcasing your smartphone or shielding the device against impact, these are the 8 best cases with stand for iPhone 12 and 12 Pro you can buy right now.
Best Kickstand Cases for iPhone 12 and 12 Pro
It's worth noting that we have already rounded up the top iPhone 12 Pro Max kickstand cases. So, if you are willing to get a case with stand for the bigger sibling, do check that out. Furthermore, we have also covered a variety of cases like leather cases, cute cases, and an extensive roster of essential accessories for iPhone 12/12 Pro. Make sure to take a peek at them as well, if you want to explore more.
Coming back to this lineup, it has got you fully covered with both protective and stylish kickstand cases designed to make a suitable pair with iPhone 12 and 12 Pro. Therefore, whether you want to keep the elegance intact or amp up the safeguard against impact, look no further than this roundup. That all being said, let's get going!
1. TORRAS MoonClimber
Striking a fine balance between style and the much-needed safeguard against impact, TORRAS MoonClimber is a top-notch kickstand case. Flaunting a clear design, the case lets your iPhone 12/12 Pro showcase its design.
The PC material is anti-yellowing. That means the clear case won't lose its shine so easily. With the metal stand at the disposal, you can prop up your 6.1″ iPhone both vertically and horizontally to spice up your video streaming or video calling with friends.
The durable casing coupled with the raised lips enables MoonClimber to offer a 360° shield to your iPhone, including the camera bump and the OLED display. Overall, this offering from TORRAS deserves to be rated as one of the best cases with stand for iPhone 12 and 12 Pro in the market right now.
Buy from Amazon: $23.69
2. ESR Metal Kickstand Case
If TORRAS MoonClimber claims to be the best of the lot, ESR metal kickstand case is not behind in the game either. In fact, if you are hunting for a relatively cheaper iPhone 12/12 Pro kickstand case, you shouldn't fail to check out it. Featuring a clear design, the case ensures the elegance of your all-new iPhone remains intact.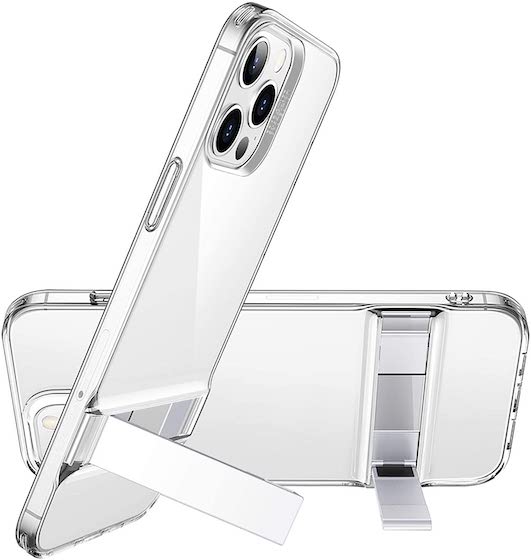 As for protection from shock, it has got a shock-absorbing interior and fortified corners to shield your smartphone against impact. Plus, there are bezels to protect both the rear cameras and the Retina display. That's not all, its metal stand is quite durable and props up your iPhone in multiple viewing angles without any fumbling.
Buy from Amazon: $15.99
3. Spigen Tough Armor
Sporting a pretty compact yet exceptionally protective profile, Spigen Tough Armor doesn't take too long to impress you. The hybrid construction (PC and TPU) endows it the needed strength to endure shock, while the elevated bezels help it safeguard the camera bump and the beautiful display against scratches.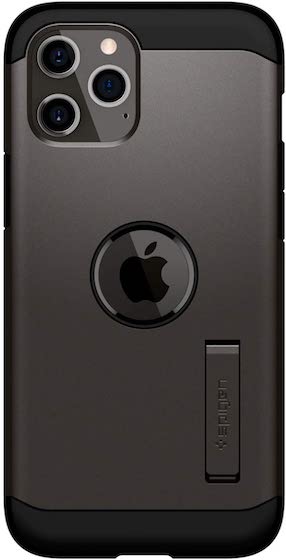 Thanks to the durable form-factor, Tough Armor offers a certified [MIL-STD 810G-516.6] military-grade protection to your smartphone. That aside, it has also got a fairly good kickstand always ready to improve your hands-free experience.
Couple that with the wireless charging support and Tough Armor seems to be a great choice without any doubt. Everything considered; it's among the top iPhone 12/12 Pro cases with a stand.
Buy from Amazon: $16.99
4.
ESR Machina Series Case
ESR has produced yet another equally impressive kickstand case that wraps around the iPhone 12/Pro snuggly and also lives up to the task when it comes to withstanding impact. Unlike its other sibling (mentioned in this roundup), it doesn't sport a clear design but has got a more durable form-factor thanks to the rugged construction.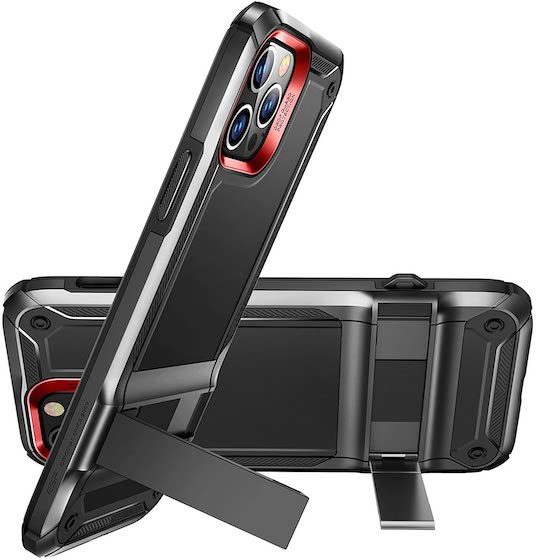 Aside from the rugged casing coupled with the cushioned corners, ESR Machina Series features elevated edges to lift the camera and the touchscreen off a flat surface. The metal kickstand (adjustable up to 60°) does a reliable job of holding the smartphone steadily for a comfortable viewing experience. Furthermore, the kickstand case also doesn't interfere with wireless charging, which is yet another plus.
Buy from Amazon: $16.99
5. Poetic Revolution
Boasting heavy-duty construction, Poetic Revolution is designed to offer an uncompromised safeguard to your iPhone. The combination of rugged PC and soft TPU has given it a shock-absorbing construction. With the solid bumper and the fortified corners, it delivers 360° protection from impact.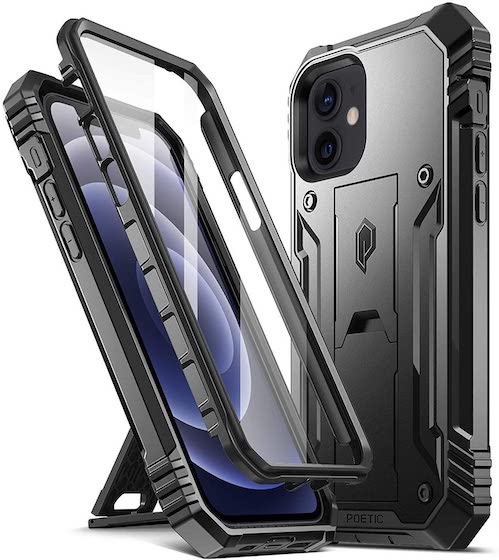 To further amp up the safeguard against nasty bumps, the case features a built-in screen protector to defend the 6.1″ OLED display against scratches. Talking about the foldable stand, you can use it to place your smartphone in both portrait and landscape modes to get a convenient viewing angle.
The only downside of this heavy-duty case is that it doesn't support MagSafe charging, which means you will need to remove it before charging your iPhone wirelessly. This shortcoming aside, it's still one of the best rugged cases with a built-in stand for iPhone 12/12 Pro.
Buy from Amazon: $12.95-$18.95
6. LeYi
What about trying out a nice-looking ring holder case? Exhibiting a snug-fit form-factor with a clear design, this offering from LeYi could be a better choice. Made of soft TPU, the case has a soft and flexible casing. And with the impact-resistant bumper, it also offers trusted military-grade protection to the smartphone.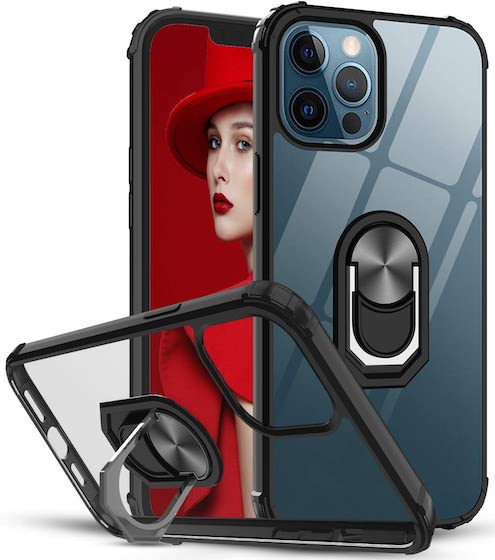 Thanks to the 360° rotation, the ring holder offers multiple viewing angles. Apart from enhancing your media watching experience, the ring holder also plays a key role in letting you hold your smartphone securely. What's more, LeYi case also supports magnetic car mounts to let you hold your device steadily during navigation.
Buy from Amazon: $12.99
7. Vena vCommute
Vena vCommute is different from all the kickstand cases mentioned in this roundup. First and foremost, it's a wallet-cum-kickstand case. That means you can use it to not only carry multiple credit cards securely but also boost your hands-free experience.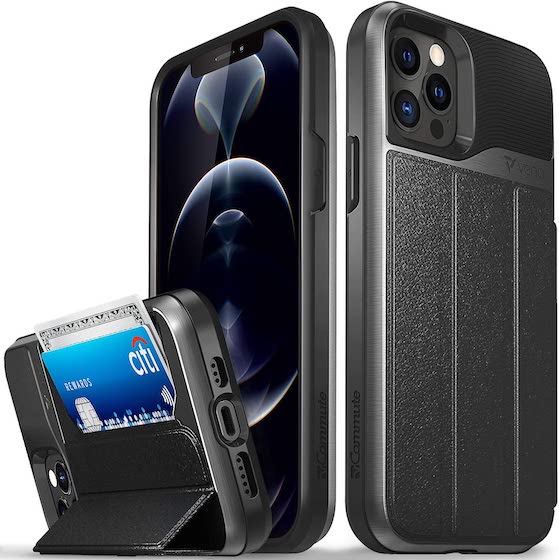 Design-wise, vCommute looks simple and pocket-friendly. With a durable construction topped by a rugged bumper (MIL-STD 810G-516.6) delivers certified military-grade protection. There is a hidden slot on the rear side that allows you to store a couple of cards.
That's not all, foldable leather flap also turns into a useful stand to hold your smartphone steadily in landscape mode. As for the reinforced buttons, they are tactile and easy to press. Considering these notable features, vCommute seems to be a great choice at $30.
Buy from Amazon: $29.99
8. Cenmuttek
Going by the ratings (almost 5 stars from over 1400 ratings), Cenmuttek is probably the most popular iPhone 12/12 Pro case with a built-in stand on Amazon. And looking at the features that the case has to offer, I must say that it deserves high praise for multiple reasons.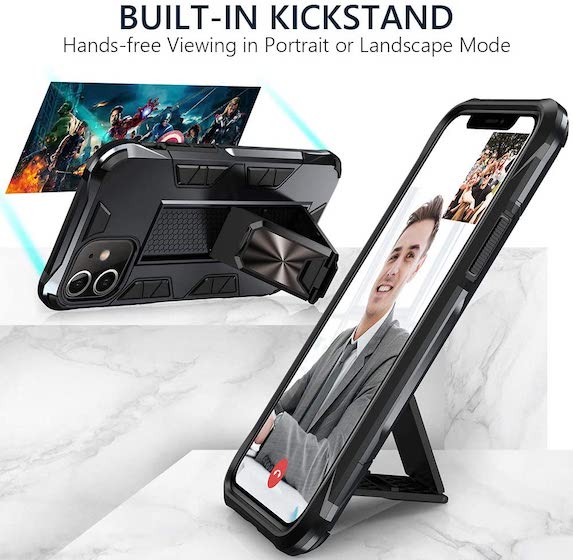 First and foremost, the case has an impact-resistant design that offers military-grade protection. For all being so protective, the case doesn't seem to add unnecessary bulk to the smartphone. Second, the built-in kickstand offers you the flexibility to position your iPhone in multiple orientations. And third, it also features embedded magnets to work with magnetic car mounts
On top of all, Cenmuttek is priced at $7 which makes it one of the cheapest kickstand cases for iPhone 12/12 Pro.
Buy from Amazon: $6.98
Top iPhone 12/12 Pro Cases with Stand Lined Up for You
So, that ends our article about the best kickstand cases for iPhone 12 and 12 Pro. Now that you have got a variety of cases designed to bolster your hands-free experience, pick out the one that fits your bill. And also pair nicely with your all-new iPhone.
As always, be sure to share your thoughts about the cases mentioned in the above roundup. Furthermore, if you think that some other kickstand cases deserve to get included in this article, feel free to let us know their names as well.