Smartphone gaming is getting more popular by the minute. After the huge popularity of games like PUBG Mobile, as well as those like Call of Duty: Mobile, more companies have started trying to make smartphone gaming a thing. Whether it's with hardware efforts like the plethora of gaming smartphones that have launched in the market, or with services such as Apple Arcade — a subscription service that allows you to play any included game free of cost, with no in-app purchases, and no ads. So, if you're excited to check out Apple Arcade, here are the 30 best games on Apple Arcade that you should play in 2022.
Apple Arcade: Things To Keep in Mind
Now, before going to the games, do keep in mind that Apple Arcade is a subscription-based service. Plans start from as low as $4.99 per month and go all the way to $49.99 for an annual plan. However, if you want to try before you buy, Apple provides a free 1-month trial for the individual plan and a free 3-month trial for the Family Sharing plan.
Moreover, you need a compatible device running at least iOS or iPadOS 13, and tvOS 13 to run the games which the platform offers. So, iPhone models like the iPhone 6 and 6 Plus that do not support iOS 13 would not be compatible with Apple Arcade.
However, once you subscribe to the service, you can download and play as many Apple Arcade games as you want without any additional in-app purchases or ads.
With these things in mind, let's get into the best 30 games on Apple Arcade which you should try out in 2021.
Best Apple Arcade Games
The list of the best Apple Arcade games has been divided into various categories. So depending on what type of game you're looking for, use the table below and jump to your favorite category. 
Best Action Games on Apple Arcade
Gamers looking for a thrill should check this goldmine of the best Apple Arcade action games.
1. The Pathless
Developed as a collaboration between Annapurna Interactive, the studio behind some of the most ambitious games, and Giant Squid, the developer of Abzu, The Pathless is a game that combines action and exploration elements amidst a beautiful backdrop. You are the Hunter, a master of archery who travels to a mystical island to lift it from a dark curse that plagues it.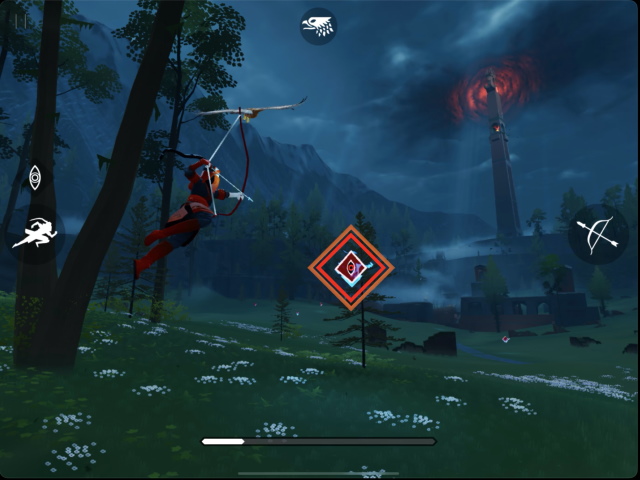 Aided by a trusty eagle and your bow, The Pathless has players hunting down corrupted spirits, exploring deep secrets within the island, and absorbing the beautiful scenery that surrounds them. If you've been looking for an action game, The Pathless is on the top of our list.
Key Features:
Action-Packed Gameplay
Breathtaking Environments
Added Storyline
Stealth Elements
Check out "The Pathless" from Apple Arcade
2. EarthNight
Gamers looking for an action game with an unparalleled visual style will love EarthNight. This action platformer game takes place in a dystopian future where humans have been exiled to space and are forced to live above the planet. EarthNight will give players control of Sydney and Stanley, two humans who have decided to go back down while taking out their enemies, the Dragons.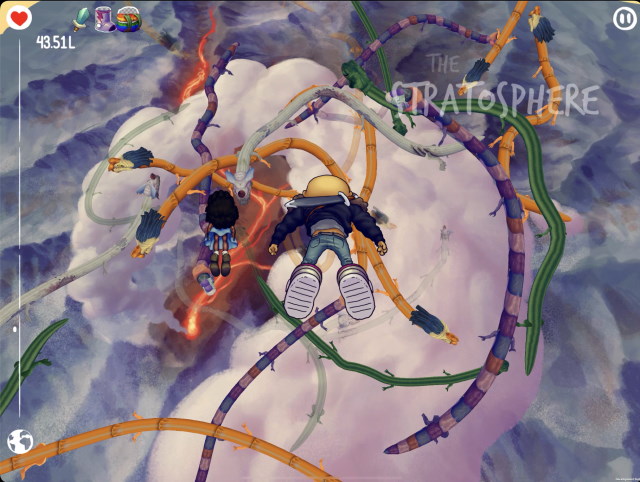 While you will have fun jumping across the backs of dragons and defeating enemies, EarthNight stands out for something else. All the 10,000+ frames of art and animation have been custom-painted by an actual artist named Mattahan. Also available on the Nintendo Switch, EarthNight is one Apple Arcade Game you should play.
Key Features:
Custom Painted Game Design
Immersive Gameplay
Procedurally generated Levels
Check out "EarthNight" from Apple Arcade
3. Exit the Gungeon
Picking up immediately after the adventures of the misfit Gungeoneers, Exit the Gungeon is a spinoff of the extremely popular dungeon crawler, Enter the Gungeon. Exit the Gungeon like its predecessor, is a dungeon crawler game that has made the Gungeon a paradox and it is collapsing.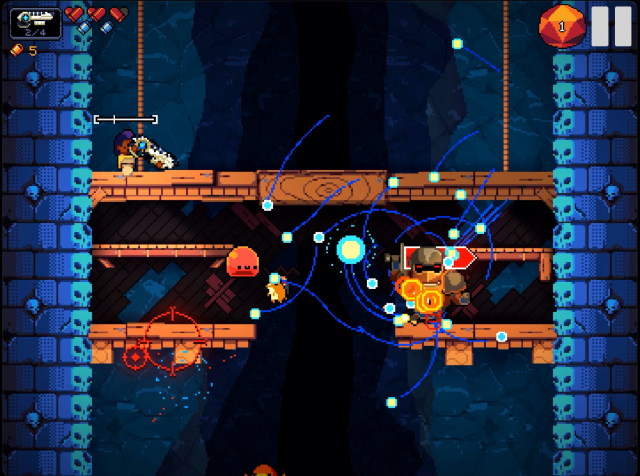 This action-packed game will have players battle the Gundead with a gun that rapidly changes based on their performance. Rack up a higher score to upgrade your arsenal or stay low and weak. While set in the same universe as the previous game, Exit the Gungeon brings a boatload of new mechanics, guns, and characters. So if you love classic dungeon crawler games, search this up on Apple Arcade.
Key Features:
Classic Dungeon Crawling
Befitting Soundscore
Fast-Paced Gameplay
Check out "Exit the Gungeon" from Apple Arcade
4. Lego Brawls
Lego Brawls, published by The Lego Group and developed by the American studio, RED Games is a crazy online fighting game that you can play with your friends. In this game, you play with a team of four other players to capture and defend a certain point on a map. You can use various power-ups that spawn at random points in the arena.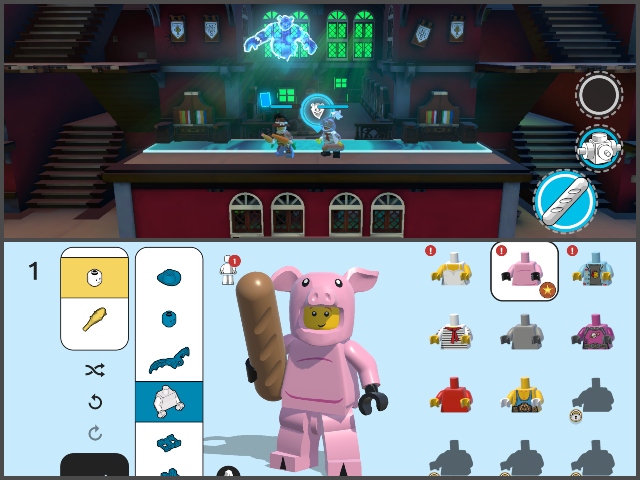 And once you die, you respawn at a base and go into the fight again, until the timer runs out. Moreover, you can customize your Lego character with various attachments and appearance elements. So, all in all, it is a super-fun action game to play in your leisure time.
Key Features:
Easy controls.

Partying with friends.

Character customizations.

Weekly rewards.
Check Out "The Lego Brawls" from Apple Arcade
5. Butter Royale
Named after the popular category of online games, Butter Royale is actually an online Battle Royale in which you fight against 32 other players to become the last one standing. However, instead of shooting bullets, you will shoot various food items to eliminate your opponents.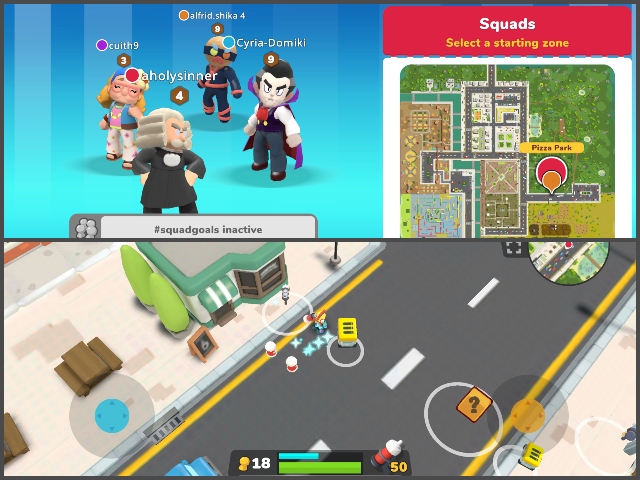 In the game, you start from a certain point on a map with only a melee weapon and must find food-guns to eliminate other players. You can also collect shields and health packs that are scattered all around the map. It is one of the most fun games that we have played on Apple Arcade and one you should check out.
Key Features:
Super-fun UI.

Easy controls.

Integrated screen-recorder.

Support for partying with friends.
Check Out "Butter Royale" from Apple Arcade
6. Spongebob Squarepants: Patty Pursuit
Spongebob Squarepants: Patty Pursuit is a super-fun runner game in which you take control of Spongebob to chase his eternal enemy, Sheldon J. Plankton all around the underwater town of Bikini Bottom. The evil genius, Plankton has again stolen the secret formula of the famous Krabby Patty and it is up to Spongebob and his friends to get it back from him.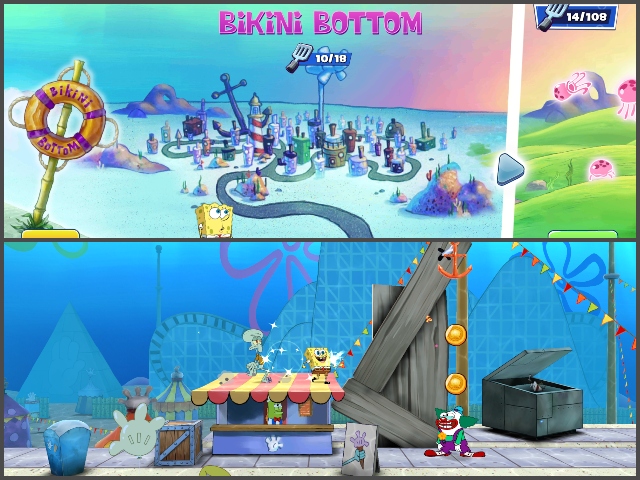 So, make Spongebob jump, drop like a heavy iron, or eliminate evil clowns and plankton-bots in this challenge-filled running game. Moreover, expect Patrick and Squidward to join his quest in the game.
Key features:
Familiar characters.

Challenging levels.

Super-fun sound effects and original Spongebob soundtrack.

In-game checkpoints that save your progress in a level.
Check Out "Spongebob Squarepants: Patty Pursuit" from Apple Arcade
Best Strategy Games on Apple Arcade
For players who love planning their every move, check out the best strategy games that you can find on Apple Arcade.
1. Outlanders
Outlanders is a town-building simulation game that might remind the veteran gamers of the world of Age of Empires. While not as rich as AOE, Outlanders is a strategic builder that mixes light storytelling with a calm atmosphere.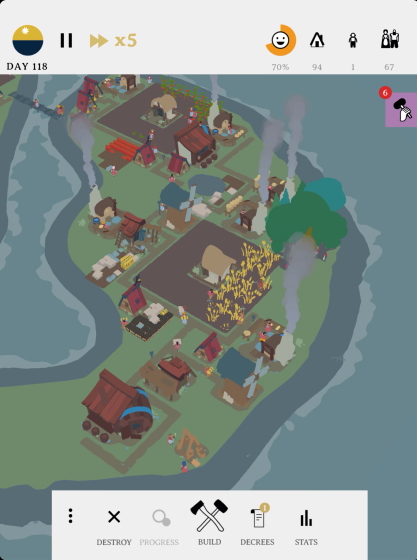 You play as the leader of a group of people building a town. However, it won't be easy because as the leader it is your job to manage your resources and make sure the town prospers. Since every choice you make directly affects your town and its inhabitants, you must plan your approach strategically.
Key features:
Variety of Levels

Light storytelling mixed in Strategy
Choice-based system

Wide variety of buildings.
Check Out "Outlanders" from Apple Arcade
2. Manifold Garden
Manifold Garden is a beautiful puzzle strategy game that will have you rediscover gravity and even doubting the plane of existence. Based inside a world where the laws of physics work differently, Manifold Garden presents players with various puzzles that must be solved before the next area is unlocked.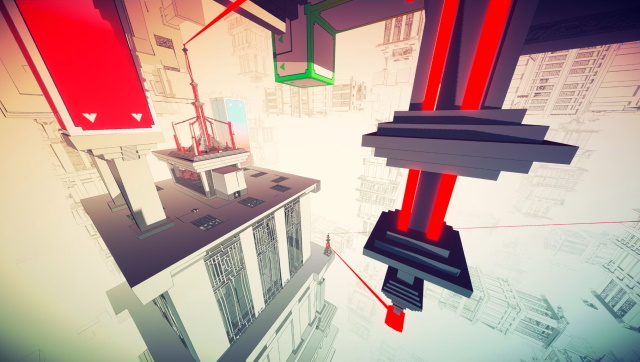 To do that you must find and fit color-coded blocks onto doors. Your approach to getting to them depends on you. Transform floors to walls, walk on ceilings, and manipulate the vast and beautiful architecture to get to the next area. Play Manifold Garden to blow your mind.
Key features:
Intricate and Beautiful Architecture
Mind-bending levels
Attractive visual design
Check Out "Manifold Garden" from Apple Arcade
3. Operator 41
Taking strategy and combining stealth, Operator 41 is a truly impressive game on Apple Arcade. You are an operator who is tasked with reaching the telephone to relay vital intel. However, standing in the way are guards who watch the grounds and security cameras watching you all.
You must make your way through each level through a strategic approach. Throw objects to distract or knock the guards out, sneak by the camera's cones of vision and always remain silent and hidden. Operator 41 comes with all this and a beautiful look that has been inspired by 1960s spy movies. The game has been created by a young BAFTA award-winning game designer and is surely one you should check out.
Key features:
A good combination of strategy and stealth
Classic Spy thriller visual elements
Requires strategic planning and approach
Check Out "Operator 41" from Apple Arcade
4. Mini Motorways
One of the most popular strategy games on the platform, Mini Motorways is truly an exquisite game to play. Its minimalistic UI, soothing sounds, and the visual treat of the tiny cars moving along the roads you build will surely give a sense of tranquility. However, the game challenges your brain in the best way possible as you will have to focus hard to design and build a working road network for a mini-city.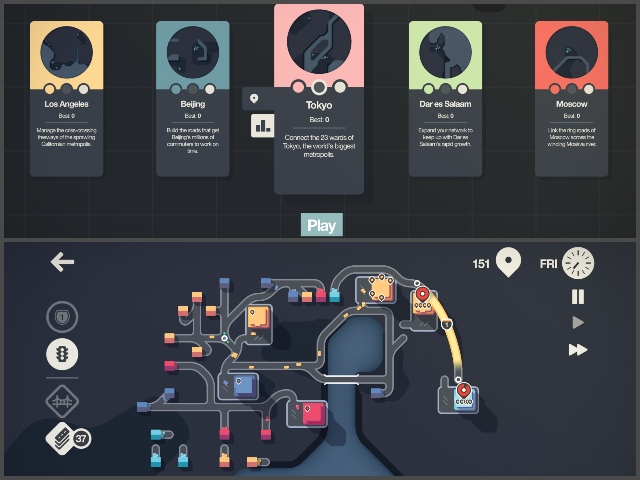 You will be given a blueprint-like canvas on which, from time to time, some destination buildings and some initial point-buildings will pop up. Your task will be to connect the multi-colored smaller buildings with their color-matched destination buildings. Pretty easy, right? Go play it and find out.
Key features:
Minimalistic UI.

Soothing sound effects.

Support for Night/Dark Mode.

Improves designing and planning abilities.
Check out "Mini Motorways" from Apple Arcade
5. Decoherence
If you are into robotics and strategy, then Decoherence is the game that you should play on Apple Arcade right now. It combines robot-designing with strategy as you have to design and build bots and microbots to defeat your opponent. You will have some pre-built bots that use energy (in kW).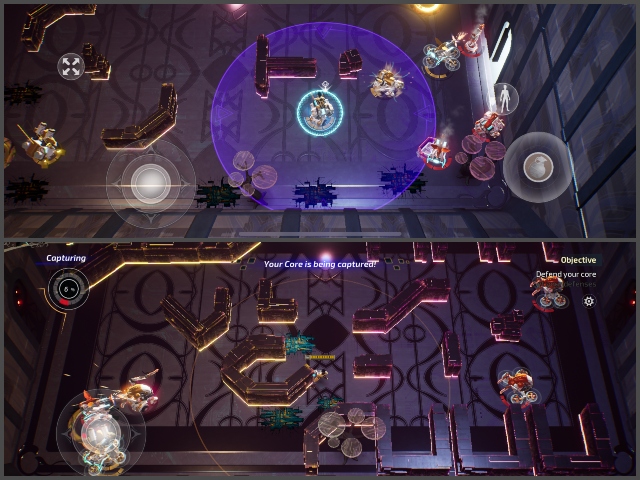 With a limited amount of energy to design and build your bots using the available components, power-ups, and commands, you must strategize and capture the "core" of the enemy bots or destroy them all.
Key features:
Fast-paced strategy game.

Futuristic game-design.

Powerful sound effects.

Immersive haptics.
Check Out "Decoherence" from Apple Arcade
6. Card of Darkness
Card of Darkness is a unique strategy game based on, well, cards. It brings a unique twist to the traditional card-based games by introducing various elements. You are an anonymous character who starts each round with 20 health points (HP).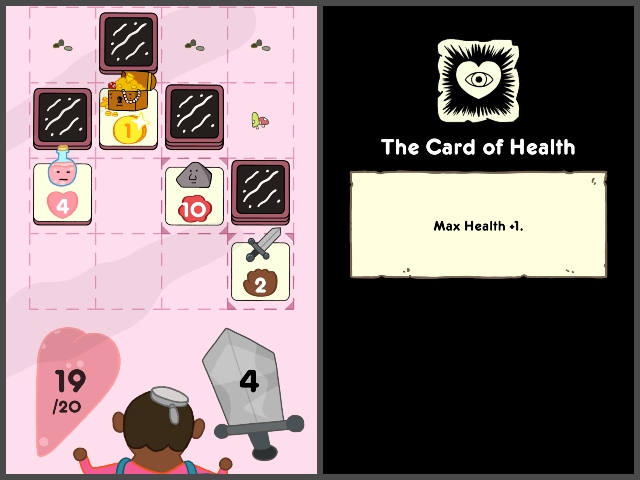 There are some face-up cards on the board which you have to select until you reach the other side of the board. Selecting each card might damage you, heal you, or gain you a weapon. So, your main aim is to reach the other side of the board without getting eliminated by the cards.
Key features:
Colorful theme and super simple UI.

Challenging yet fun levels.

A new and unique concept.
Check Out "Card of Darkness" from Apple Arcade
Best Racing Games on Apple Arcade
For the gamers among you who race even when they're asleep, wake up and check out these best racing games on Apple Arcade.
1. Super Impossible Road
Marketed as one game where 'Winning is Cheating', Super Impossible Road is a futuristic racing game. Placed on dangerous looping race tracks, you can choose to compete against bots that show you no mercy or online players.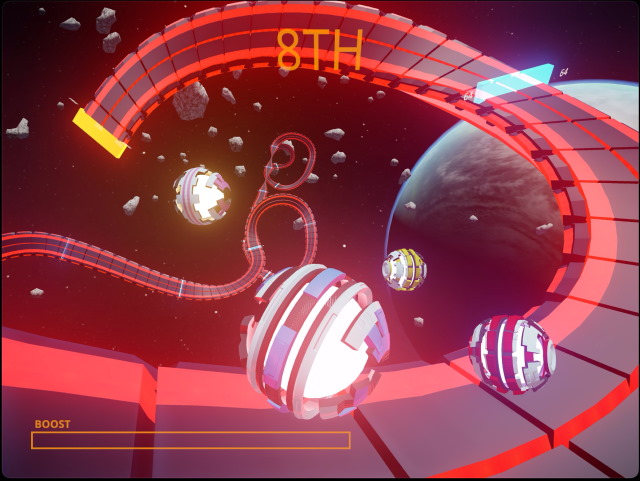 However, things are not so straightforward as you might find your car rolling out of the rollercoaster-like tracks into nothingness. Since every level is procedurally generated, good luck trying to memorize a track to win. Super Impossible Road also features a career mode with even more challenging levels for the ones who dare. Check this racer out on Apple Arcade.
Key features:
Procedurally Generated race tracks

A different take on racing
Frustratingly fun
Check Out "Super Impossible Road" from Apple Arcade
2. Speed Demons
For the racers who prefer good old highway racing, Speed Demons takes the cake. This highway racing simulator gives you a selection of over 25 upgradeable vehicles that range from hatchbacks to semi-trucks. Rev up your engine and head out to create chaos on procedurally generated highways that never end.
You can choose to take part in classic Races or rack up damage in Pursuit and Rampage modes. Furthermore, Speed Demons is accompanied by an immersive soundtrack and features a retro-level design. Check this highway racer out on Apple Arcade.
Key features:
Procedurally Generated highways

Varied vehicle selection
Create chaos with ease
Check Out "Speed Demons" from Apple Arcade
3. Warp Drive
Warp Drive is a racing game with a unique hip-hop-style background score, cyberpunky game design, and colorful environments. The game is simple. You control a hovercar to leave your enemies far behind and become the first one to cross the finishing line.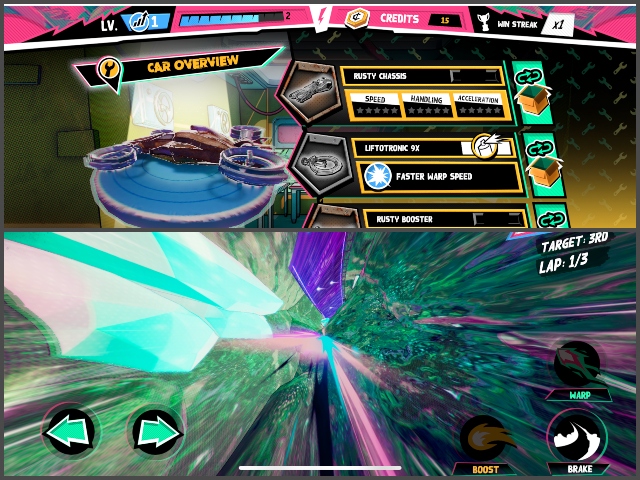 On the road, you can find "Warp Crystals" which you collect to gain a temporary speed boost. You can also knock the drivers during a turn by drifting in the right way. Moreover, you can customize and upgrade your hovercar using the credits that you earn from your races in the workshop.
Key features:
Fast-paced racing.

Attractive color scheme and unique game design.

Support for compatible controllers.
Check Out "Warp Drive" from Apple Arcade
4. Sonic Racing
If you're been looking to combine Sonic the hedgehog and racing, then Sonic Racing is the Apple Arcade game for you. Players can choose one of the 15 playable characters from the Sonic universe to drive their cars in fast-paced races. Moreover, you can create your own team with various characters to set up traps, boost each other using unique abilities, and use "Wisps" to beat your rival team.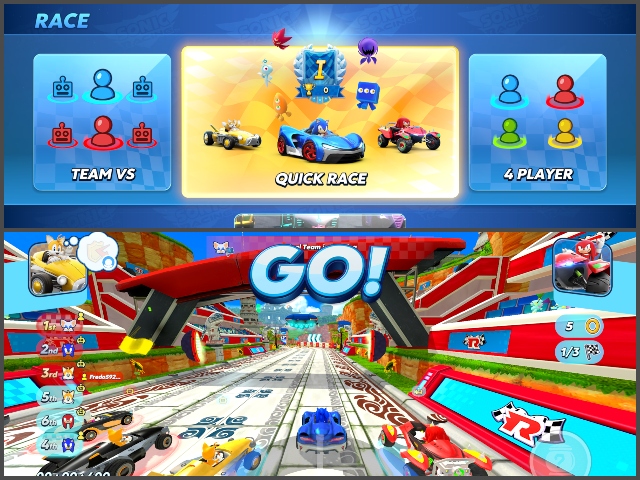 The game offers a single-player mode to go solo or a multiplayer mode to play with your friends. You can also play with players from all around the world if you wish.
Key features:
Playable characters from Sonic's universe.

Unique character abilities.

Upgradable power-ups.
Check Out "Sonic Racing" from Apple Arcade
5. Agent Intercept
Agent Intercept is a story-based racing game rather than an online one. It puts you in the shoes of an undercover agent driving a special car called "Sceptre" to take down the bad guys in time. You use the Sceptre to steer through rough terrains, dodge obstacles, and take down the enemy vehicles using gadgets and power-ups.
So if you are looking for a story-based racing game in which you will be racing against time rather than online players, Agent Intercept is the one for you.
Key features:
Story-based missions and objectives.

Cinematic visuals.

Easy controls.
Check Out "Agent Intercept" from Apple Arcade
6. Chameleon Run+
Whoever said you need cars to reach breakneck speeds anyway? Chameleon Run+ is a fast and challenging running game that has focuses on the player clearing levels. As a racer on foot, you're tasked with running, jumping, and switching through various platforms to get to the end.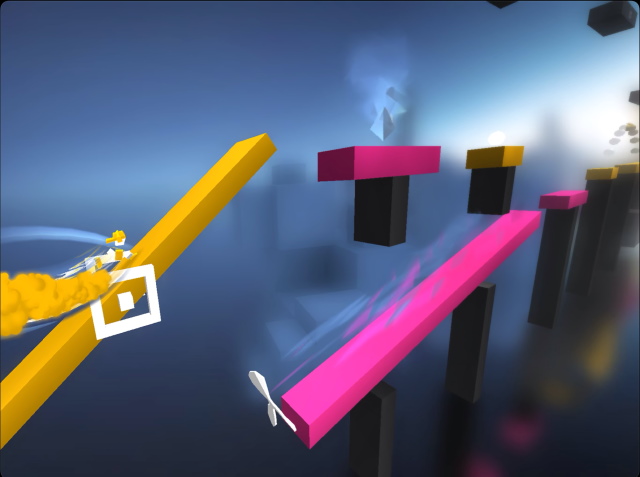 You must, however, switch your color to match the ground you're running on else you'll fail. Initially available as a paid game on the App Store, Chameleon Run+ comes bundled with the Apple Arcade subscription and definitely a running racer you must check out.
Key features:
Runner Racing Game
Cool traversing mechanics

Simple controls
Check Out "Chameleon Run+" from Apple Arcade
Best Sports Games on Apple Arcade
If you're a gamer heavily into sports, check out these games on Apple Arcade that will help you get started.
1. NBA 2K21 Arcade Edition
Basketball fans among you will be overjoyed to know that NBA 2K21 is on Apple Arcade. Packed with full PlayStation5 and Xbox Series X/S controller support, NBA 2K21 Arcade Edition puts players on the court among today's top NBA stars including Kevin Durant, Damian Lillard, Steph Curry, and Anthony Davis.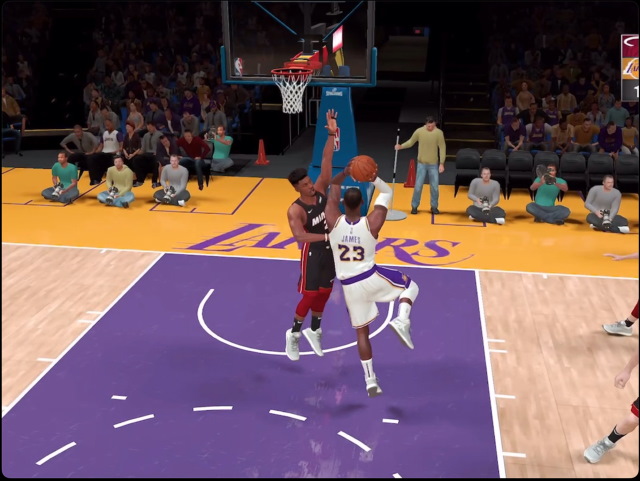 Featuring over 30 different NBA arenas and online multiplayer support, NBA 2K21 is one of the best sports games you can play on Apple Arcade.
Key features:
Features top NBA stars
Over 30 NBA arenas
Full PlayStation5 and Xbox Series X/S controller support
Check Out "NBA 2K21" from Apple Arcade
2. HyperBrawl Tournament
Featuring similar stylistic elements similar to Rocket League which is also available on mobile, HyperBrawl Tournament is a futuristic combat handball game. While this is a game you can play solo, we recommend gathering three other pals and playing the online mode where you can all battle it out.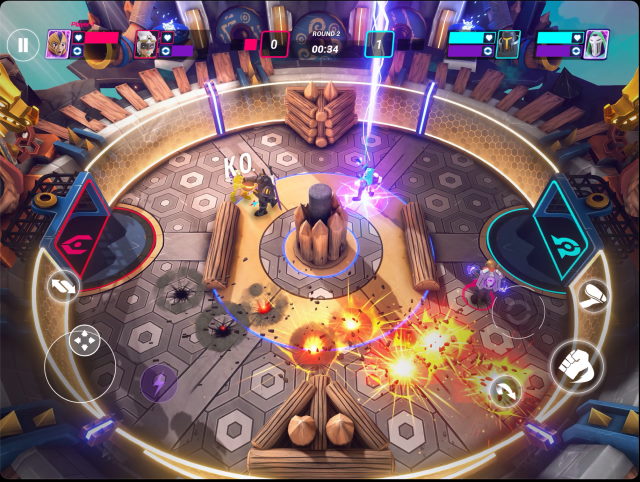 Choose from over 12 unique arenas and over 4,000 move combinations, HyperBrawl Tournament bends the laws of physics and allows players to curve their shots mid-air before it reaches the goal. For players looking to play handball with a twist, check out this game on Apple Arcade.
Key features:
Physics bending handball
Over 12 unique arenas
Two to four-player online multiplayer
Check Out "HyperBrawl Tournament" from Apple Arcade
3. Skate City
If you are looking for a minimalistic game, in the sports genre, then Skate City is the perfect title for you to try. The game offers a unique experience of virtual skating using mellow sounds and pastel-themed environments.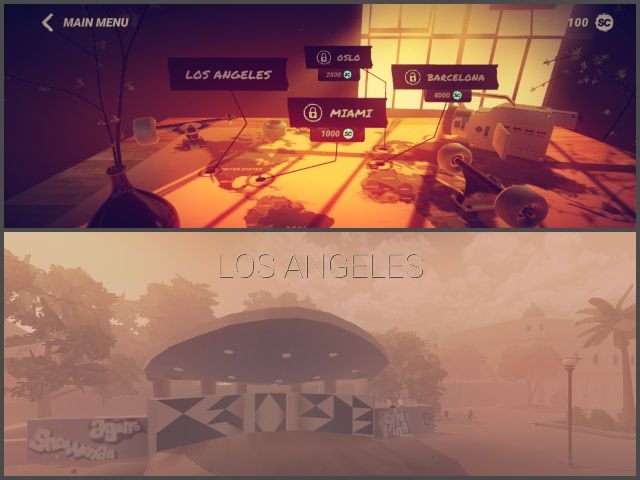 It is not a multiplayer game. Rather, it is a single-player, freestyle kind of game in which you skate through cities like Los Angeles, Miami, Barcelona, and Oslo. You can enter a session of "Endless Skate" to just roll and perform the given tricks to earn rewards. Visit Skate City on Apple Arcade.
Key features:
Endless Skating mode.

Minimalistic UI.

Lo-fi background score.

Feature-packed screen recorder.
Check Out "Skate City" from Apple Arcade
4. Charrua Soccer
Charrua Soccer is a unique take on the game of football that combines fast-paced play with easy-to-use controls. It features various game modes for you to try out, including a recently added "Career Mode". You take control of an entire team of miniature players to score goals and win matches. You can even create your own in-game avatar to manage your team and lead them through a season.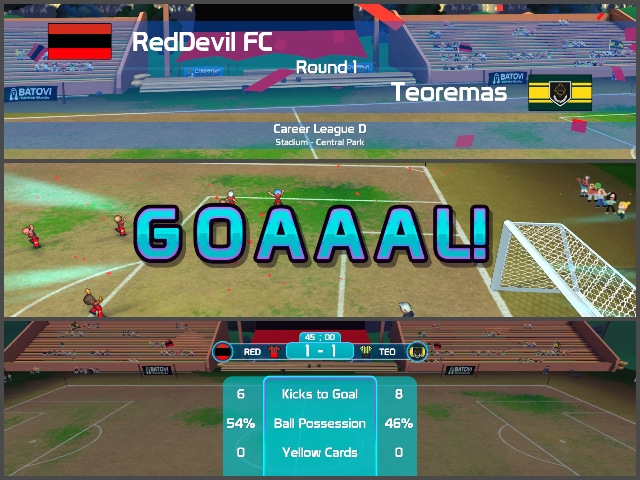 The gameplay is pretty similar to PES or FIFA on mobile but is much more fast-paced than both the games. You use the on-screen navigation joystick to move the players around the field and other options like tackle, pass and shoot among more. Moreover, the game even provides stats after each half to help you better understand the position of your team.
Key features:
Fast-paced matches.

Easy-to-use controls.

Smooth gameplay experience.
Check Out "Charrua Soccer" from Apple Arcade
5. Cricket Through the Ages
Cricket Through the Ages is anything but a cricket game. It is essentially a physics-based, one-tap game that takes you through some crazy scenarios from history in which you have to throw ball-shaped rocks and swing bats against an AI opponent or your friend.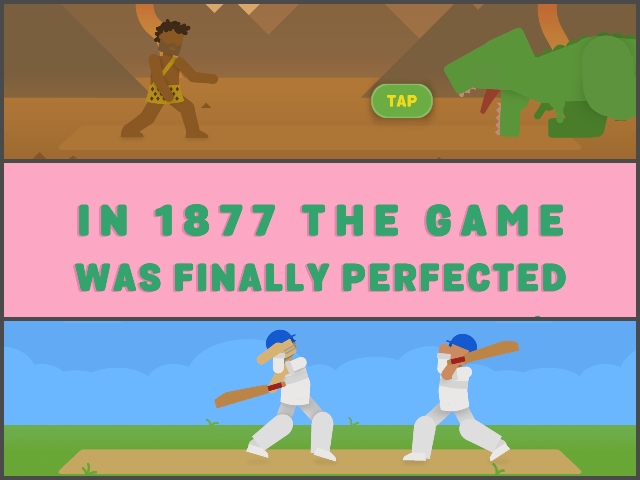 It is a simple yet crazy game that lets you knock your opponent (or sometimes yourself) in the most hilarious ways possible. Some of the bizarre in-game characters include stone men, astronauts, and even a T-rex. Players looking for a kinda sports comedic game, check it out.
Key features:
Simple one-tap control

Single-player or Co-op mode.

Hilarious game-physics.
Check Out "Cricket Through the Ages" from Apple Arcade
6. Ballistic Baseball
For players looking to get a feel for swinging a baseball bat and watching your ball hit a home run, check out Ballistic Baseball. This simple baseball game is focused on players hitting more home runs than their opponents. However, things get challenging as you have to strike your shots with speed and accuracy.
Players take part in head-to-head matches they can choose the perfect pitch and strike away. Since the game is focused on playing against real opponents, expect a heavy challenge at any moment. However, there is also a career mode if you're inclined to make it to the big leagues. Check it out.
Key features:
Variety of Players

Accuracy based sports game

New Career mode
Check Out "Ballistic Baseball" from Apple Arcade
Best Story-Driven Games on Apple Arcade
Sometimes, you just want to immerse yourself in stories that take you far away from your own. For those times, these best story-driven games on Apple Arcade will do the trick.
1. Sayonara Wild Hearts
If there is one game we absolutely recommend to gamers looking for a mesmerizing experience, it's Sayonara Wild Hearts. Published by Annapurna Interactive, the same company behind The Pathless, Saynorara Wild Hearts is a unique story-driven game but with a heavy emphasis on music.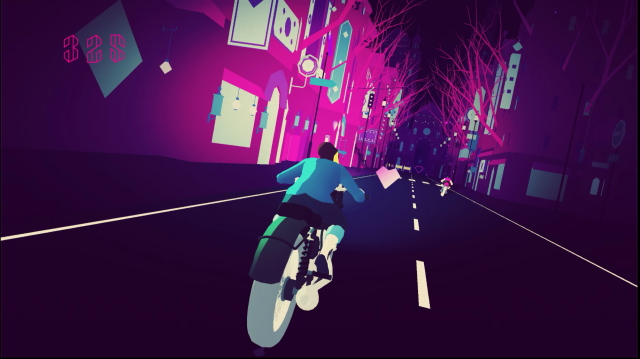 Annapurna describes the game as a 'dreamy arcade game about riding motorcycles, skateboarding, dance battling, shooting lasers, wielding swords, and breaking hearts at 200 mph.' Make of that what you will but from what we saw, Sayonara Wild Hearts is a beautiful experience that takes the hard work out of it and just lets you enjoy it. Check it out on Apple Arcade to get a better idea.
Key features:
A unique experience

Custom written pop-soundtrack
Immersive storyline
Check Out "Sayonara Wild Hearts" from Apple Arcade
2. Fantasian
From the creator of Final Fantasy himself, Fantasian is an exciting and ambitious mix of a new RPG game combined with a unique storytelling angle. Players begin their journey in a realm that is governed by machines. You play Leo, a person who awakens from a massive explosion and finds himself in a strange land and only one memory. The plot of the game revolves around Leo and his quest to regain all his memories while finding out more about the mechanical infection that is slowly spreading to mankind.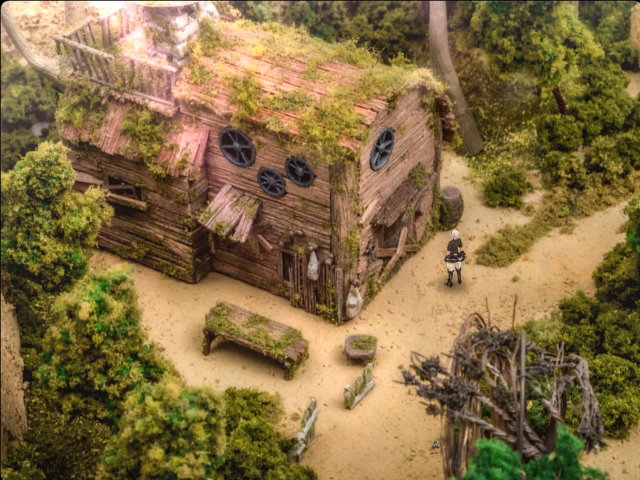 The RPG elements of the game are an improvement iteration to the famous JRPG genre and feature over 150 handmade dioramas that blend physical and 3D environments. This is just a glimpse of what awaits you. Check out Fantasian to experience this world in all its glory.
Key features:
Immersive story-rich RPG game
Over 150 handmade dioramas
Story by Final Fantasy's creator
Check Out "Fantasian" from Apple Arcade
3. Alba: A Wildlife Adventure
Alba is a game that comes directly from the BAFTA award-winning studio that made the famous Monument Valley. You are Alba, a child who visits her grandparents on a Mediterranean island. Albas's journey in the game revolves around exploring the entire island with Ines to find AIWRL, an organization that can save the island.
Alba: A Wildlife Adventure is a game that is based on pure exploration and relaxation with storytelling sprinkled in. So when you log off from work after a tiring day, consider getting Alba from Apple Arcade and enjoy the custom-created soundtrack accompanied game without any worries.
Key features:
No rush relaxation game
Handcrafted visuals
Combines exploration and storytelling
Check Out "Alba: A Wildlife Adventure" from Apple Arcade
4. Hitchhiker – A Mystery Game
Where do you go when you have no memory nor a destination? Hitchhiker lets you answer that question. You play as a hitchhiker who remembers nothing about where they came from or where they're going. This story game combines elements of mystery and gives players charge as they hitchhike with various people that range from stoic farmers to off-duty waitresses.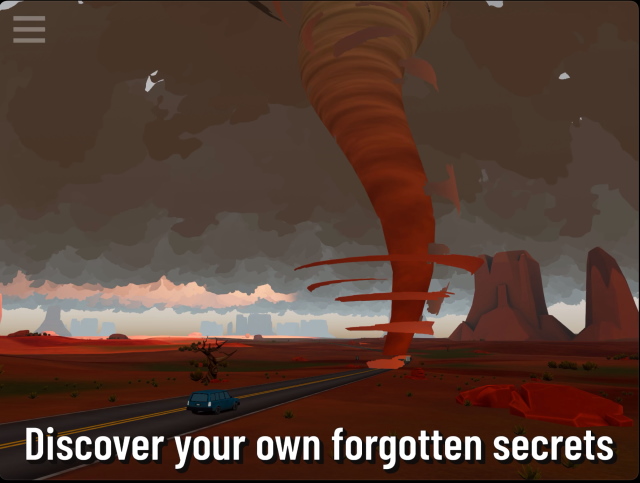 As you ride and talk with the strangers, however, you discover their story and piece together your own. Watch out for clues as you drive across various areas and solve environmental puzzles and be sure to find yourself before the game ends. Check this mysterious game out on Apple Arcade.
Key features:
Story rich mysterious game
Environmental puzzle solving
Gets you thinking
Check Out "Hitchhiker" from Apple Arcade
5. Game of Thrones: Tale of Crows
If you are a fan of the Game of Thrones universe, then GOT: Tale of Crows is a must-have for your Apple Arcade collection. It is a decision-based game that lets you guide the decisions of the Lord Commanders of the Night's Watch, which is an iconic group of defenders of the realm in the series. You carry out various expeditions and manage the Night's Watch to defend Westeros from all the perils of the North.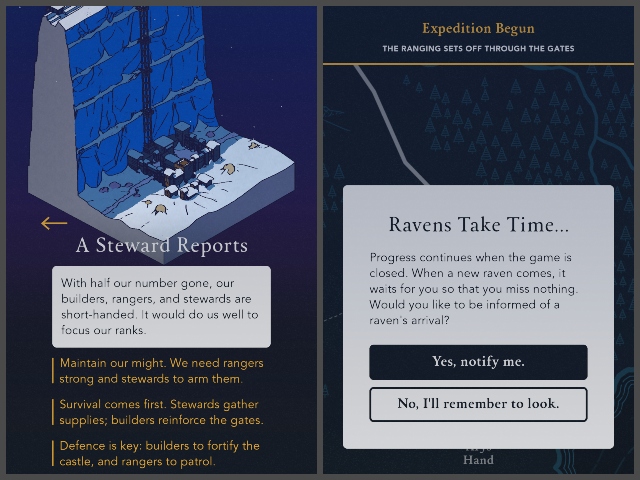 So, if you are crazy about Game of Thrones and want to take up the duties of the head of the Night's Watch, much like Geor Mormont, then try this game out right now.
Key features:
Idle, decision-based game.

Based on the Game of Thrones universe.

Amazing visual and sound elements.
Check Out "Game of Thrones: Tale of Crows" from Apple Arcade
6. Crossy Road Castle
Taking casual gameplay and combining small single-player, Crossy Road Castle is a fun game you can try out. It is a simple game that brings Super-Mario-like gameplay to your mobile device.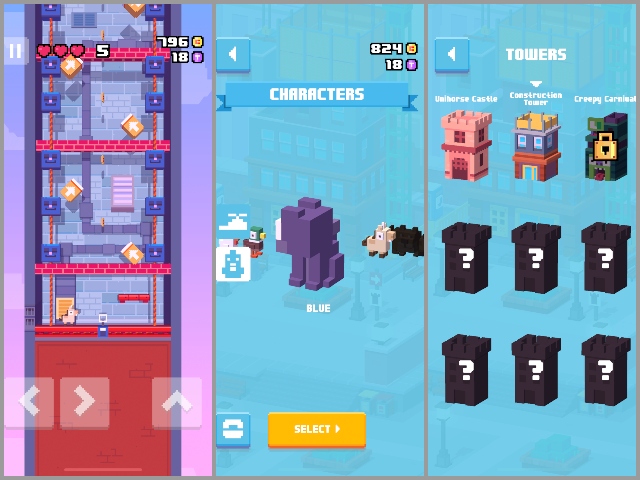 In the game, you control one of the many unlockable, pixelated animal-characters to go through the challenging levels inside various buildings and castles. There is a single-player mode in the game, as well as a co-op mode that lets you play with your friends together. Otherwise, you can also join online matches with random players via Apple's Game Center.
Key features:
Simple controls.

Challenging levels.

Support for partying with friends.

Controller support.
Check Out "Crossy Road Castle" from Apple Arcade
Best Apple Arcade Games You Should Play
That was our list and your guide to the best Apple Arcade games you can play right now. Since Apple Arcade has multi-platform support, you can leave a game at a certain point while playing on your iPhone, and catch up from that same point while playing it on your iPad. For Nintendo fans who have been reading this, check out these best Nintendo Switch games you must play. Got recommendations for more games? Let us know in the comments below.