About Us page is the most important page on a website after home page because It's the page from where visitors get information about the website, such as, what the website is all about, how the website got its start, who are the people involved & how far they have come till now and a lot of other information.
No matter what kind of website you have, be it a single page website, a blog, an eCommerce website or a site offering some service or software About Us page is equally important in all the sites.
But having an about page isn't enough, you need to have a creative and well designed about us page because a visitor lands on your website's about page only when he/she is interested in knowing more about you or your business and if the page succeeds in impressing the visitor, you earn a loyal visitor which can benefit you in one or another way.
It's very much like making an impact on the first meeting.
To help you understand better, here i am sharing some of the best About Us pages on the Internet in 2015. Check them out, get inspired and create an equally impressive About page for your website as well.
1. KickStarter
KickStarter is world's largest crowd-funding platform.
As a matter of fact, KickStarter doesn't have an about page, but It has an even better page known as Who we are. When you open this page you will see a moving picture of the team members of KickStarter. I have never seen any page designed as beautifully and intelligently as this one. Check it out.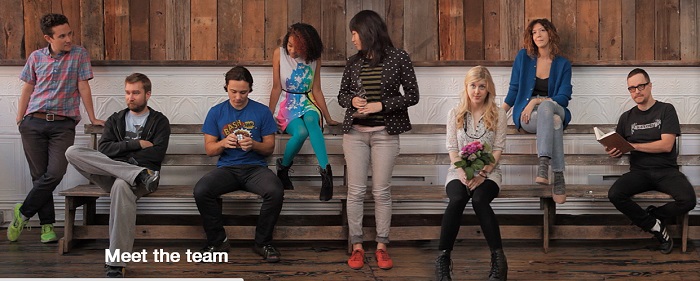 2. Moz
Moz started as an SEO consulting company in 2007 and since then it has grown tremendously.
The about page of Moz tells the story of Moz's journey from 2007 to 2014 in a beautiful timeline.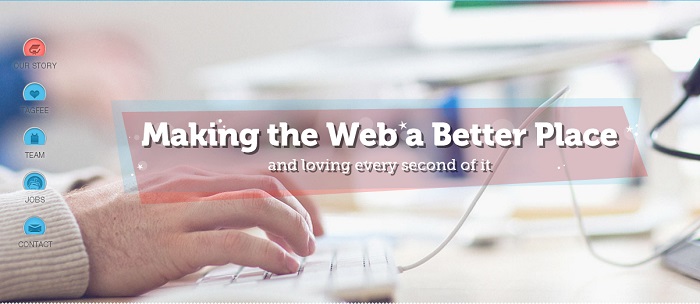 3. Tumblr
Tumblr started as a micro-blogging and social networking site in 2007, later acquired by Yahoo in June 2013.
It has an impressive about us page which provides real time stats on what's actually happening on the site. You can see the total number of blogs, number of employees and many other interesting stats. It's really interesting, do check it out.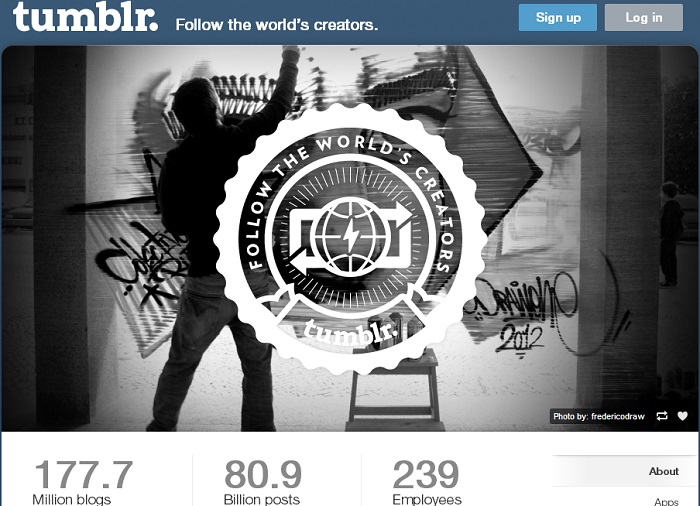 4. MailChimp
MailChimp is one of the most widely used email marketing tool. As of now, there are more than 3.5 million registered users of this service.
About page of MailChimp is sleek in design and provides every bit of information that a reader needs to know such as, an overview of the company, testimonials, previous year's highlights, etc.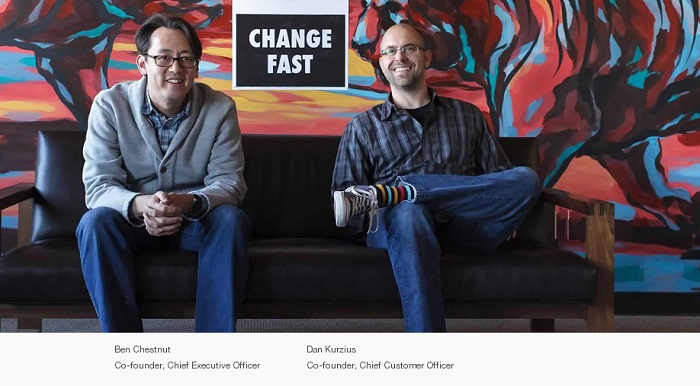 5. Oneblis
Oneblis is a digital agency which provides services such as design & development, troubleshooting, building mobile apps and providing social media solutions.
The about us page of Oneblis is neatly designed and the 'crew' section surprises you with the magic you see on hovering mouse on various team members.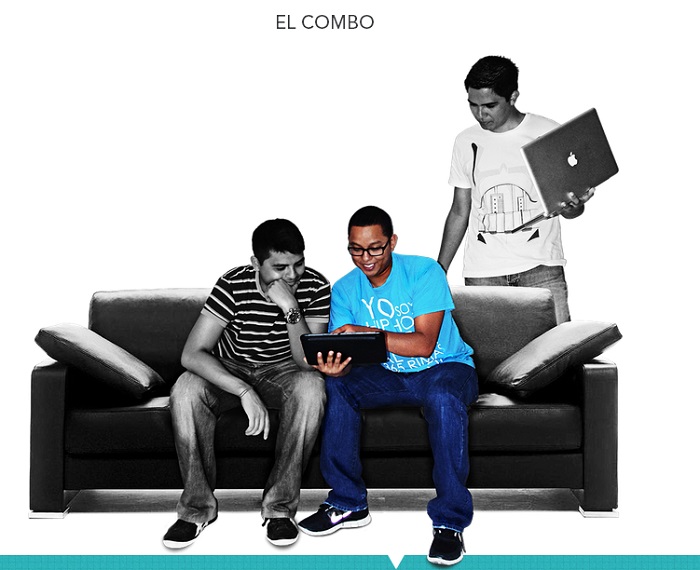 This website is a single page site and serves the purpose of a personal space, but the design and creativity makes it noteworthy. The about us page gives you information about Mr. Joseph in the form of a story and the bird on his shoulder tweet every time you hover mouse.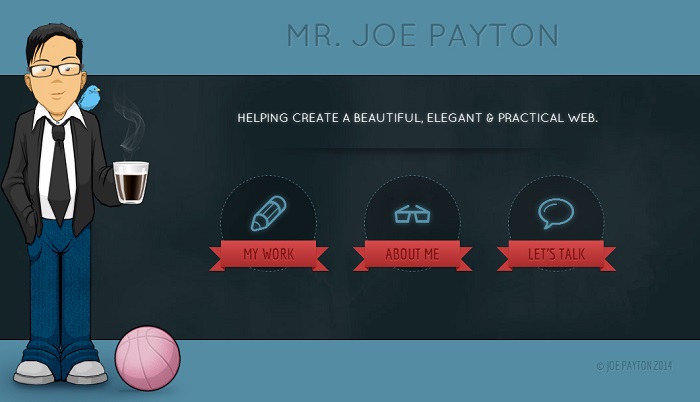 SuperFluentDesign offers design and contract based services.
The about us page of SuperFluentDesign is very creative. In the beginning of the page there's a brief profile of the guys behind the website, after that comes their working philosophy (short & crisp) and in the end comes FAQs in the form of chat threads on mobile. You must visit this page at least once.
8. ideaWare
ideaWare offers design and development services.
The website as a whole is designed beautifully and About us page totally justifies the company's motive, which is to provide fresh and innovative digital solutions. The page has Sleek design, complete information, and process flow of projects, which is awesome. Check this page out.

9. Shaun Dona
Shaun Dona is a creative web designer and this website proves it to the core. The entire website's design is sleek, easy to understand and very creative.
The about page of the website is one of its kind, though there's isn't much design, but a lot of creativity. It features a digital timer calculating the age of Shaun in real time and other details are showcased in the form of simple yet effective timeline.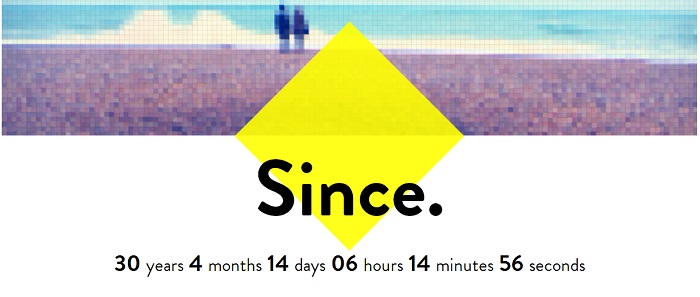 10. 500px
500px is one of the most popular social networking website for photographers.
The about us page of the website sums up the motto of the website in just three simple words and sleek design makes it look even better. Apart from that, there's a timeline of history of the company since its inception. It's an ideal about us page.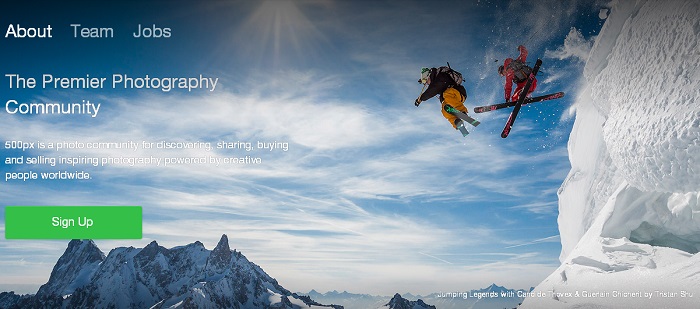 11. H-ART
H-ART is a marketing and technology company, which designs awesome experiences in the digital world.
The about us page of H-ART tells the story of company in the form of an interactive stats counter and mentions almost everything necessary to make sure that visitor's curiosity about the company is satisfied.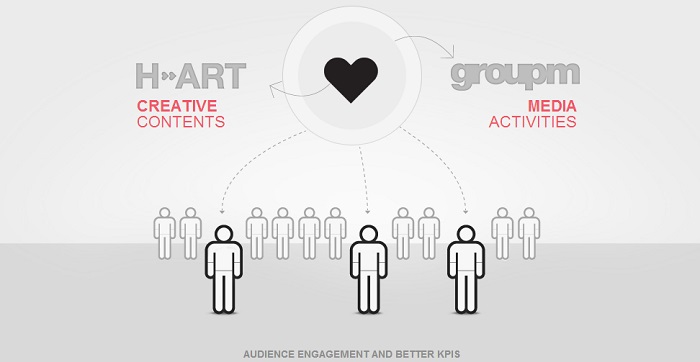 12. Wix
Wix provides a platform for everyone to create beautiful and stunning websites.
The about us page of Wix is neatly done, neither over-designed nor too creative, but provides every bit of information in a simple way, and that's what makes it look good.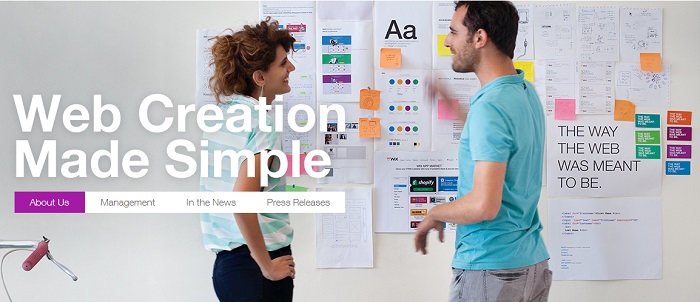 13. ConfederationStudio
'ConfederationStudio is a multi-disciplinary design studio'.
The about us page of this website is special because it is completely different from what we have seen till now, there's not much design involved, just a simple picture of the office where everyone's working with complete dedication. A little bit of extra creativity would have made the page look more beautiful.
14. Salem Town Board Co.
Salem Town Board Co. build handmade skateboards.
The website's design is beautiful, and their social media presence is great. Coming to the about page, the first thing that you will see on this page is a very effective video, an intro video about Salem Town Board.  In the video they have explained inspiration behind the company and how it actually works. After that comes the pictures of staff members and all the necessary information. The page looks amazing.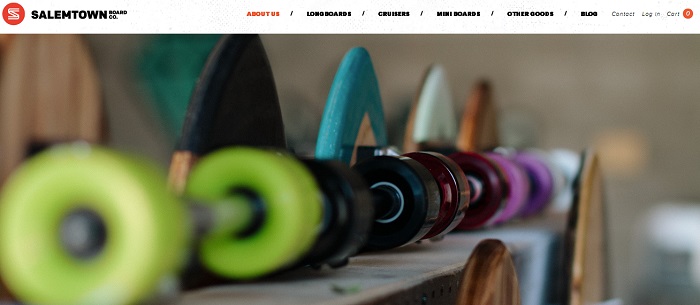 15. Grain & Mortar
Grain & Mortar is a design and branding company.
This website's about us page is brilliantly designed. The page looks complete with all the information and sleek design, On the top of the page you will see pictures of team members with introduction, after that comes pictures of their beautiful office and in the end a small section for press mentions. The page succeeds in impressing the visitor.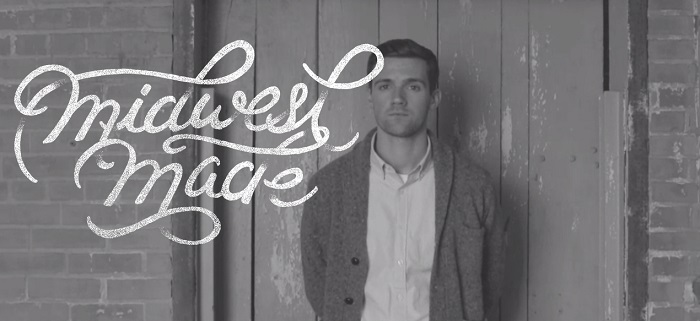 16. Apple
Yes, we are talking about Apple Inc.
Apple celebrated 30th anniversary by creating a beautiful timeline on their official website, the page tells the complete story of Apple in the form of a beautiful horizontal timeline UI. The reason why I have included this page in this list is because it is a great source of inspiration for everyone who wants to create an equally awesome about page for their website.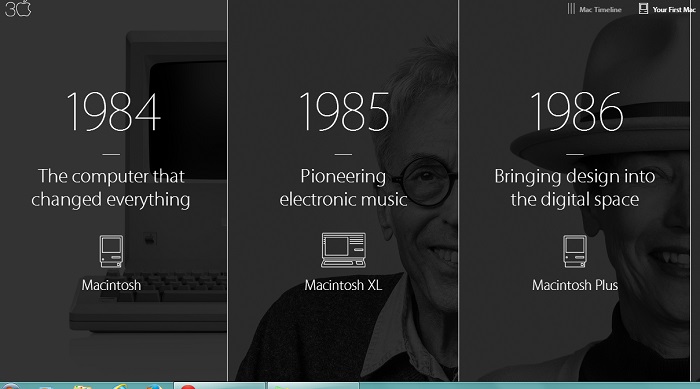 17. Giphy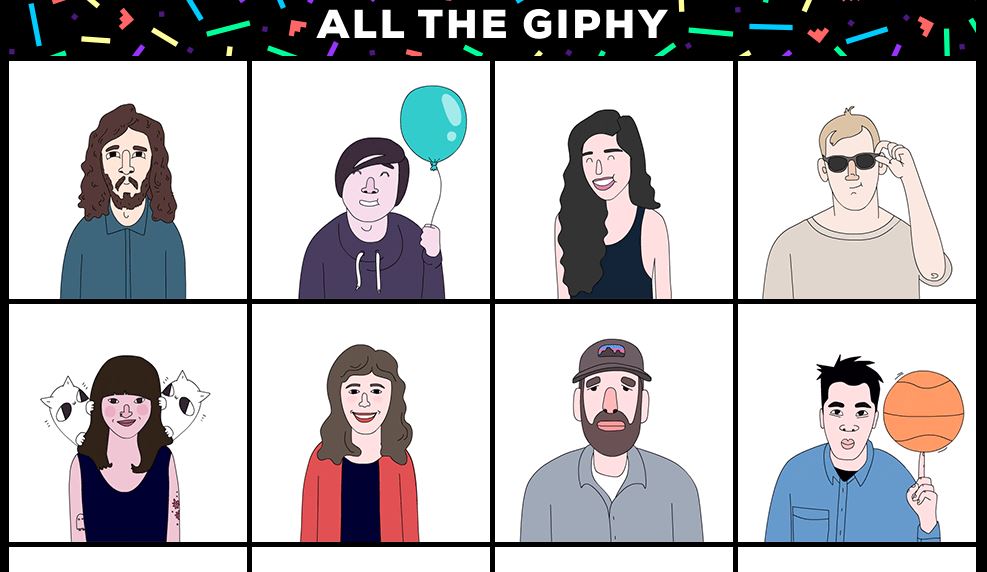 Giphy lets you search, share and discover GIFs on the internet.
Their about us page features GIF caricatures of their team members and when you hover the mouse over any of the team member their contact detail screen appears over the GIF. The page syncs really well with the concept of website.
SEE ALSO:
20+ Fresh, Creative and Hilarious 404 Error Page Designs
I hope this post inspires you to create beautiful and creative 'about us' page for your website. If you have any query or suggestion, feel free to comment below the post.
Last Updated: April 2014