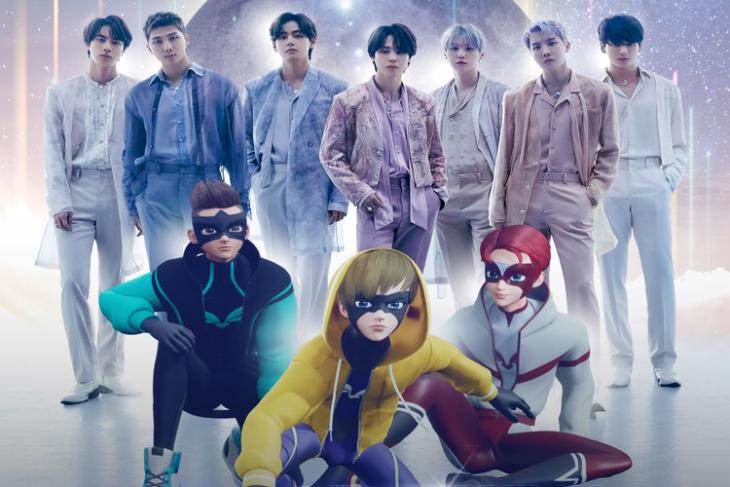 As fans must be aware, the famed K-pop sensation BTS has been on hiatus as they serve their civic duties in the South Korean military and work on solo releases. But, the group has just released some fantastic news to keep their fans engaged throughout this waiting period. As a present for its admirers and the whole K-pop fanbase, BTS is releasing new music via the upcoming Korean superhero 3D animation series called Bastions.
Keep reading to learn more details on the Bastion animated series, including its release date, platform, and more. Also, we have included a sneak peek at the Bastions opening theme song by BTS in this article.
Bastions: A BTS x Crunchyroll Animation Series (2023)
Crunchyroll, one of the best anime streaming platforms, has joined hands with producer Thymos Media to bring their new 3D animation series Bastions from Korea to fans globally. It was announced earlier today by Crunchyroll with the details and an official trailer on their platform.
Talking about this new partnership, Asa Suehira, Crunchyroll's Chief Content Officer (CCO) remarked, "Crunchyroll has an extraordinary opportunity to introduce fans to more animation styles from Asia, and this exciting new series from Korea does just that, and having the music of so many K-pop stars really broadens the appeal of Bastions".
This is indeed true as this addition will broaden Crunchyroll's library and present the fans with a unique story and animation style. You can watch the official Bastions trailer below:
Bastions Animation Series: Release Date, Plot, Cast & More
Essentially, BTS is being brought together as idol superheroes in this upcoming five-part animation series. It should be noted that the Bastions is the K-pop group's first project since the release of their anthology album "Proof" in June of last year. The opening track and the theme song of Bastions are composed by none other than BTS (including band members Jin, Suga, RM, J-Hope, Jimin, V, and Jungkook).
Alongside BTS, the famous K-pop group Le Sserafim, and solo artists such as Heize and AleXa are also part of the project. They are going to bring the best of K-Pop to this Bastions universe. That said, here is a 30-second teaser for the Bastions opening theme track performed by BTS:
Bastions Story
For those wondering about the story of the animated series, here is the official plot of Bastions:
"These unconventional heroes are gearing up to prevent disaster! In a world where superpowers are the norm, a group of beloved idols work together to keep society safe. But they're about to face a new enemy: Wash Green. This megacorporation may call itself eco-friendly, but it's really the leader in environmental pollution. Can Bastions persevere and save the planet?"
Release Date
The confirmed release date for the Bastions animation series is May 13th. All Crunchyroll users will be able to stream the first episode of this much-awaited series from 8:45 am PT (9:15 pm IST) on May 13th. It will be available to stream globally, excluding a few countries such as mainland China, Japan, North Korea, South Korea, Hong Kong, Macau, and Taiwan. This 3D Korean animation series follows the usual weekly template much like other anime and will have five episodes in total.
That's everything we know about the new Bastions so far. This Korean animation series will be available to stream just two days from now, and I'm eager to hear the complete opening track by BTS. Are you excited about this new Korean anime featuring your favorite K-pop stars and their new songs? Tell us in the comments below.