Apple, a few days back, introduced the iOS 17.0.1 update for all as a way of fixing a few bugs and also released the iOS 17.0.2 update for the iPhone 15 series. Now, the iOS 17.0.2 update is available for all compatible iPhones, which is also meant to fix a bug. Have a look at the details.
iOS 17.0.2 Update Now Out!
The iOS 17.0.2 has the build number 21A351 while the iPhone 15-exclusive one came with the build number 21A350. Nonetheless, both of them serve the purpose of fixing a data transfer issue, which didn't let users transfer data from another iPhone during the setup process.
Many users complained that the iPhone froze while restoring data from an old iPhone and this majorly happened when the iOS 17.0.2 update was skipped. Users with the iPhone 15 models were required to update their phones with iOS 17.0.2 at the initial setup stage!
Now that it is available for all, it is best advised to download it to avoid any problems. For the uninitiated, the iOS 17.0.2 update is available for the iPhone XS series, the iPhone XR, the iPhone 11 series, the iPhone 12 series, the iPhone 13 series, the iPhone 14 series, and the iPhone 15 series. You can get it by heading to Settings -> General -> Software Update.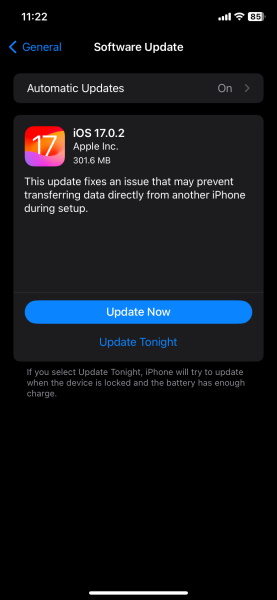 To recall, the iOS 17.0.1 update also aimed to solve some security and privacy issues, which were reportedly being exploited in the wild. There are no new features as of now as the iOS 17 update was released 10 days back. It comes with features like NameDrop, Contact Posters, new iMessage features, and more. You can check out the best iOS 17 features to know more!
So, have you downloaded the new iOS 17.0.2 update? Let us know in the comments section below.
---