Apple has slowly been spelling the end of iTunes over the years, thanks to the widespread success of its music streaming service. Apple Music has grown to become a preference for users and Cupertino has given it a much needed push with the release of a dedicated Music app on macOS Catalina. Well, Apple Music has now got another nudge and this could help the streaming service give Spotify a run for its money.
Apple Music is now available inside your browser. Yes, you read that right. Apple has now further expanded beyond the confines of iTunes, with a beta web player available for the subscribers to test out. Well, I have recently got into K-pop music and my Spotify is now flooded with recommendations for the same. So, I had been meaning to switch to a new two music streaming app regime, with Apple Music as my secondary streaming app, for quite some time now.
The timing of Apple Music's web app launch was perfect as I instantly picked up a new subscription and have been using the streaming app for a day now. And, here's what I think about the beta experience:
Design/UI
The Apple Music web app is pretty clean, but barebones at the same time. The interface looks exactly like the new Music app on macOS Catalina. But there's a feature that I've found to be quite handy – the web app switches between the light and dark mode based on your Mac's theme (which is the device I tested the app on). Pretty neat!
The web app opens up with the 'browse' section front and center, recommending you all the latest albums, tracks, and curated playlists. I haven't listened to enough music to see how good the recommendation algos are, but the web app is well-designed. Apart from Browse, you get access to For You, Radio, and your library from the left pane. The 'Now Playing' tracks, along with shuffle, repeat, and queue features are shown up top – like it always has since the iTunes days. There's no setting option at the moment, so you won't be able to tweak anything.
The Spotify web app feels a bit slower as compared to Apple Music, but the former comes equipped with one feature that's currently lacking in the latter – playlists. I know this beta has just arrived but the lack of playlists from the get-go feels awkward to me. I hope the web app will gain this feature in the coming weeks. I would also love to see a shortcut to add songs to your library over album art or next to 'Now Playing' tracks for quick addition to your collection.
User Experience
Apple Music on the web has been launched with only a 'core set of features' in public beta. The browser-based music player works perfectly fine, allowing you to search for and play music with ease. The entire catalog of 50 million tracks is at your beck and call if you are a subscriber, along with playlists and radio stations. The usual stuff.
The beta gives users a basic idea of what the service will look like, how you interact with everything, and what to expect from Apple Music inside a browser. It runs smoothly and I did not come across any major hiccups in my brief time with the service. A couple of niggles that I observed were that new song additions to my library weren't automatically updated and I had to refresh the webpage to retrieve an updated list. Also, the web app sometimes took a moment too long to load and start playing tracks.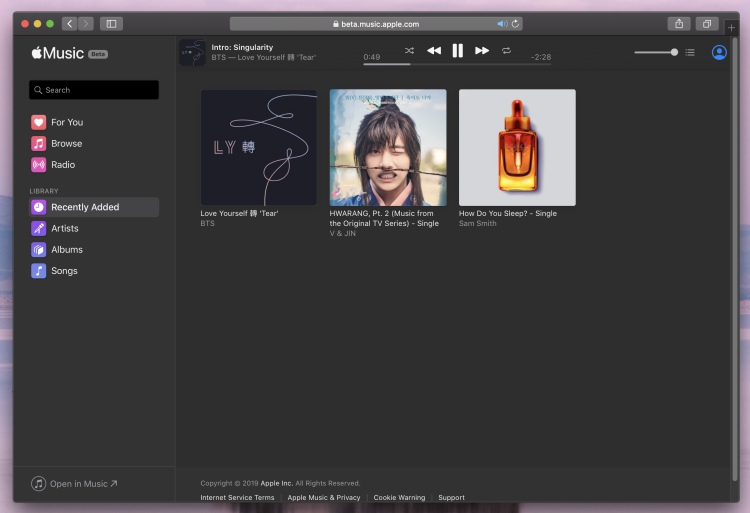 Apple Music has already been available on macOS, iPhones, Sonos, Amazon Echo, and Android devices for quite some time, but the launch of a web player makes it platform agnostic. Windows users could stream music using iTunes in the past, but that was the most unintuitive experience. But, All you need now is a browser window and an active Apple Music subscription.
So, if you're still unhappy with the missing catalog on Spotify, you now have the option to make a switch to Apple Music. Ain't it? Let us know your thoughts in the comments below.
---