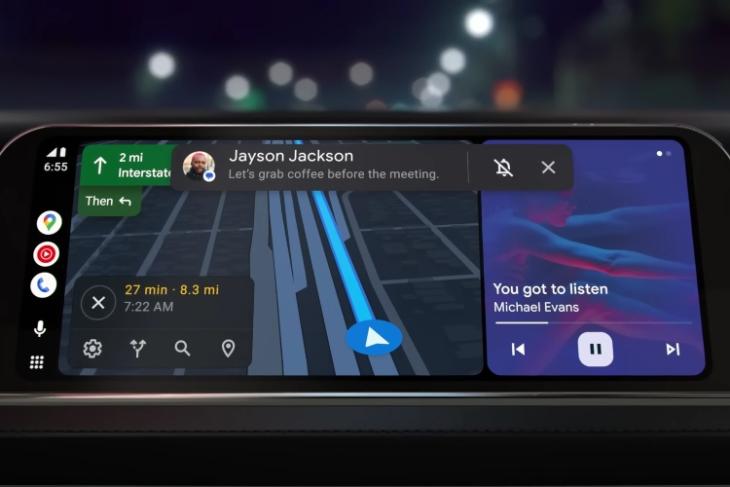 After waiting for many months, Google finally unveiled the massive Android Auto redesign at CES 2023. The new UI is quite compact and designed for quick communication with easy-to-use features. Google says the new Android Auto dashboard is more personal than ever. So to learn more about the Android Auto facelift, follow along.
Android Auto Facelift Arrives For Everyone
You no longer have to join the Beta program to get the new Android Auto update. Google has now started rolling out the new dashboard to all users. The new update offers better navigation and ease of communicating and playing music. Drivers can now access Google Maps quickly from the dashboard and the Material You-themed media cards let you find your favorite album and music.
In addition, Google has added a quick launcher to find recently-used apps. What I like most is that the new Android Auto supports split screen layout for most apps, which is awesome. You can navigate using Google Maps and at the same time, play music from Spotify, side-by-side.
Apart from that, Google Assistant is now a lot more helpful. It offers smart suggestions, which include missed call reminders, quick arrival time-sharing, and instant access to music or podcasts. There are also on-screen shortcuts to quickly reply to messages or call your favorite contacts.
Not to forget, Google has finally added a seekable progress bar for music and podcasts, which is amazing. And if you have one of the latest Pixel or Samsung phones, you will be able to make WhatsApp calls with the new Android Auto. The feature may roll out to other users in the future.
While digital car key sharing is already possible between Pixel and iPhone users, Google has now announced that the feature is coming to Samsung and Xiaomi users, later this year. You will be able to share the digital car key with your trusted friends and family. Currently, digital car key tech is supported on BMW cars only, but Google is working to expand it to more card brands.
Uninterrupted Listening Across Android Devices
Besides the new Android Auto announcement, Google also showcased a new media experience that moves with you wherever you go. If you were listening to a podcast on your phone and move to your car, you will get a media notification on your car to continue from where you left off.
Later, when you arrive at your home, you can continue uninterrupted listening to your nearby devices like kitchen or living room speakers. In addition, Google is also working with Spotify to bring Spotify Connect devices to Android's media player. This will save you time and you can select your choice of playback device right from the native media player. So, what do think about the new Android Auto features? Let us know your thoughts in the comments below.