Huawei had a great showcase at IFA 2018, launching the Kirin 980 processor along with the Huawei AI Cube. However, it seems like that wasn't all. The company also took the opportunity to showcase the first preview of EMUI 9.0 Beta based on Android 9 Pie, and will also allow its consumers to experience the new version of EMUI.
EMUI 9.0 is based on Android 9 Pie and brings along plenty of the new Android features along with more of Huawei's add-ons. As reported by Android Central, the EMUI 9 builds upon EMUI 8, with a focus on lighter colors, and improvements to the consistency of EMUI's look and feel.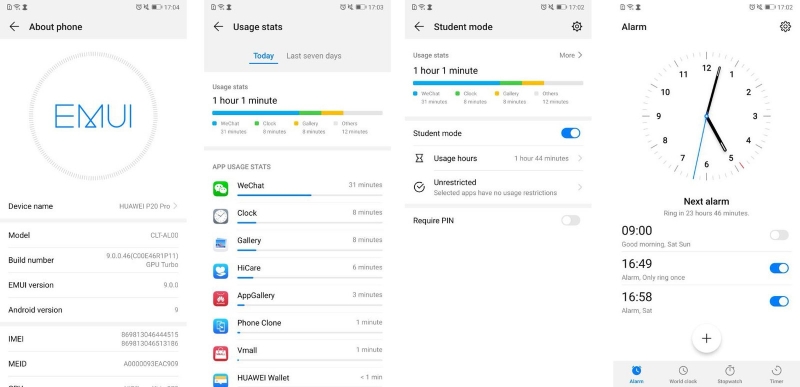 EMUI 9 will focus on speed and simplicity, and will also bring a number of improvements related to performance, bug fixes, and visual changes too. The company also mentioned that it will bring Google's Digital Wellbeing features, faster gaming and a more streamlined UI. What's more is that the fullscreen visuals for alarms and incoming calls aim to take advantage of the large screens of modern smartphones, while artistic illustrations punctuate the Settings app and other preloaded apps.
One of the most persistent issues with EMUI was its overall look, and while EMUI 9.0 still looks like a custom skin, it looks much cleaner now. But its not just about the looks and simplicity, Huawei has also promised better performance with EMUI 9.0. Huawei quotes 12.9% smoother operation on the new version, with app load times up 12% in Instagram, 16% in Amazon and 11% in Spotify compared to EMUI 8. Huawei's GPU Turbo 2.0 feature also promises faster gaming on the new OS version.
Huawei has announced that the P20, P20 Pro, Mate 10, Mate 10 Pro, Honor 10, Honor View 10 and Honor Play will be able to apply to test this early version of EMUI 9. If you own any of the above devices, you can install the EMUI 9.0 Beta on your device by heading over to Huawei's Friendly User Test page an installing the Huawei Beta app on your device. Then, inside the app, just head over to Personal -> Join Project, and tap on the EMUI 9 Beta Progam to enroll in it, after which you'd get an OTA Update for the same.
Note: Reports suggest that only 100 slots per country were made available to upgrade. As such, while the method below would remain the same, you'd get a notification for the update only once new free slots are made available.
The stable build for EMUI 9.0 should arrive with the launch of the Huawei Mate 20, which is scheduled to launch on October 16.