Amazon India seems to be making a number of changes to its platform to streamline the user experience. The e-commerce giant just recently started testing the ability to use its mobile website and app in Hindi, but it's their desktop website that is now receiving a minor revamp.
The Amazon India website, which I access regularly, looked quite different to me this morning and then I realized that it had been updated to finally fall in line with its American counterpart.
You may not be able to notice the change right off the bat due to the same blue aesthetic and featured carousel, but the navigation bar at the top is now flatter and the UI beneath the carousel now features a card-style layout. Here's a quick look at the new interface of Amazon India's website: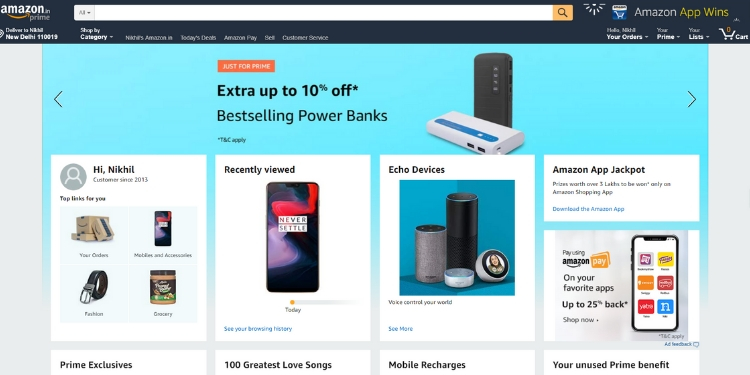 As you can see in the screenshot above, the first set of cards will now greet you and show 'top picks for you' – based on your search and purchases, recently viewed items (just one, the most recent one), and an obvious Echo devices card to attract new users into picking their smart speaker.
Amazon is now also planning to bring new users to its mobile app with the 'Amazon App Jackpot' card, which attracts you via prize money and a call-to-action download link. It's now also possible to jump straight into the recharge section directly from the homepage, along with Prime exclusive deals, songs via Amazon Music, and much more.
Overall, Amazon India's website now looks a lot cleaner and pleasing, now that it has a gray background, center-aligned the content in a card-based UI. The revamp is steadily rolling out and is still not available to everyone at the Beebom office itself.
We had first assumed that it was restricted to Prime subscribers, but that's not the case and the refreshed UI should be available for you soon.