The Amazon Echo is a really great device. The smart speaker packs in Amazon Alexa, and is capable of performing a variety of tasks. Plus, with additional Skills, the Echo's capabilities are easily augmented. If you actually want to use Amazon's offering, but in a smaller form factor, you can check out our article where we pit all of Amazon's smart speakers against each other. However, not everyone would want to use the Echo as their home smart speaker solution. You may be looking for something more portable, or more affordable, or frankly speaking, something that looks (or sounds) better. So, here are 15 cool Amazon Echo alternatives that you can use.
Top 15 Amazon Echo Alternatives You Can Buy
In this extensive roundup, we have lined up a variety of devices like Amazon Echo. While some excel in offering top-notch sound quality, others are quite versatile in carrying out a wide variety of tasks including controlling smart home devices and making video calls hands-free.
Considering different requirements, we have chosen alternatives to Amazon Echo based on budget as well. So, whether you are willing to get a premium substitute or planning to have a more affordable replacement, there is a high chance that you may finally find your perfect smart speaker. So, let's get down to business!
1. Google Home
Google Home is one of the best smart speakers you can get. The Google Assistant-powered smart speaker packs in almost all of Google's considerable abilities, and the voice recognition works extremely well. In fact, Google Home puts up a great fight against the Amazon Echo.
You can use Google Home to perform a variety of tasks, such as setting alarms, streaming music from music services like Spotify, Google Play Music (obviously!), and more. The speaker has a rich list of commands, and packs in quite a number of tricks, as well.
Design-wise, I prefer the Google Assistant, because it seems to blend in with the environment, instead of looking like a weird tube placed on your living room table. Even the sound quality is much better in the Google Home, but that actually varies from person to person; some people prefer the bass-rich sound of Google Home, while others prefer the clear treble output from the Amazon Echo.
Alternatively, if you're looking for something that comes in a smaller form factor but still packs in all the punch, the Google Home Mini might pique your interest. It's a pretty solid smart speaker that comes with awesome sound quality, a gorgeous yet low-profile fabric outer-shell, and all the smarts of the Google Assistant. Plus, it's only $49.
Pros: 
Built-quality is impressive 
Google Assistant is excellent at carrying out various tasks 
A rich list of commands
Bass-rich sound
Cons: 
Support for smart home devices is not in the same league as that of Amazon Echo 
Buy: ($129) 
2. Google Nest Hub
If you're looking for a smart display, the Google Nest Hub (formerly Google Home Hub) is the best one you can get right now. For starters, it looks great. It's small, comes in nice, soft colors, and basically fits right in no matter where you place it — that's actually a core part of Google's design philosophy with its 'Home' line up of speakers.
Other than that, the Nest Hub comes with a 7-inch display that has been calibrated to near perfect by the company. In fact, if there's one thing that everyone agrees on about the Google Home Hub, it's that the display is so good that you just can't complain about it.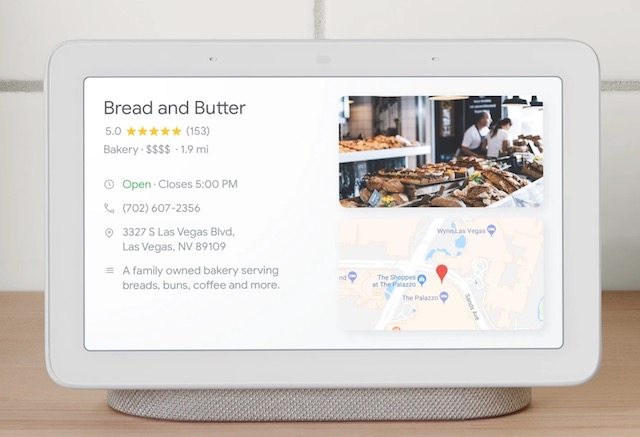 The Home Hub is also packed with technology — it has ambient light sensors that automatically adjust the brightness of the display so you don't get dazzled by it at night. It also comes with the Google Assistant, which is definitely one of the best smart assistants out there right now, and definitely better than Alexa (that you'd find in the Amazon Echo).
The Google Home Hub doesn't have a camera though, so if you were thinking of making video calls with this, well, you can't. However, that was a deliberate design choice from Google so people would feel comfortable keeping the Home Hub even in their bedrooms and private spaces in their homes.
The Home Hub also comes with a cool new Dashboard feature which basically shows you an overview of your entire smart-home, so you can easily control all your rooms, lights, speakers, cameras, and door locks from a single 'hub'. It's definitely a pretty awesome smart display, and one of the best ones out there.
Pros: 
Allows you to easily control all your rooms, lights, and speakers
Comes with a cool new Dashboard feature
7-inch display
Ambient light sensors
Cons: 
Buy: ($149)
3. Google Nest Hub Max
If you are looking for a slightly larger and more efficient variant than Google Nest Hub, Google Nest Hub Max could be a viable option. For starters, it features a better looking 10-inch display. And with the built-in camera, you can keep a tab on your home with ease.
Besides, you can send video messages and make video calls to stay in touch with your friends and loved ones. Thanks to the ability to share reminders and to-dos, you can take control of the important to-dos and also carry out the tasks on time.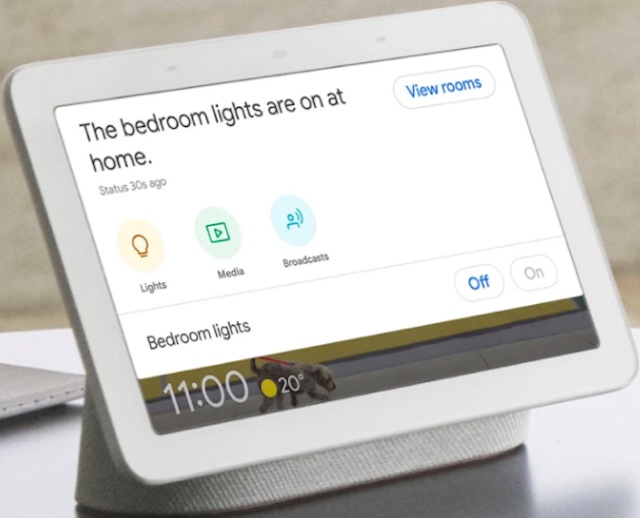 One of my favorite features of the Nest Hub Max is the stereo speakers that deliver impressive sound quality. Courtesy the built-in Chromecast, it also offers a straightforward way to stream apps and listen to music with YouTube, Spotify, Pando, and other supported services.
Furthermore, it has support for thousands of smart home devices such as locks, lights, and TVs, which make it a solid alternative to Amazon Echo.
Pros: 
Good-looking 10-inch display
Support for thousands of smart home devices
Built-in Chromecast
Share reminders and to-dos
Cons: 
There is no option to cover the camera with a shutter
Some connections with third-party smart home devices don't work perfectly
Buy: ($229)
4. Lenovo Smart Display
If you're looking for something that comes with a display, but not with Alexa, the Lenovo Smart Display is something you should definitely check out. The Lenovo Smart Display comes in three variants: 7″, 8″, and 10″.
While the 7″ model is low-end ( 1x microphone array, 2MP wide-angle front camera), the 8″ and 10″ models are higher end with more powerful specs like a 2×2 dual-microphone array and 5MP wide-angle front camera.
Other than that, the smart displays come with Google Assistant, and support for Chromecast. Plus, thanks to the built-in camera, you can make video calls straight from your smart display with Google Duo integration.
Having a camera on your smart display might not feel like the smartest thing to do, though, which is why Lenovo's smart display has a built-in camera kill-switch that physically covers the camera so you don't have to feel creeped out by it.
The higher Lenovo Smart Display comes with 2×2 microphone arrays so it can hear you easily from even across the room, and it has 10W speakers so you can enjoy your favorite music and videos by simply asking it to play them.
One of the most popular uses of this smart display is in a kitchen, where it can be used to show recipes with helpful visual aids to guide you along in your quest to cook that perfect meal.
If you're looking for a smart display, you should definitely check out the Lenovo Smart Display.
Pros: 
Google Duo integration
Comes with 2×2 microphone arrays
10W speakers
Built-in camera
Supports Chromecast 
Cons: 
The sound quality is not in the best league 
Buy: (starts at $99.99)
5. Harman-Kardon Allure
If the reason you're looking for alternatives to the Amazon Echo is because the design of those smart speakers just doesn't appeal to you, let me introduce you to the Harman-Kardon Allure smart speaker. Unlike the Echo, which features a mostly functional industrial design, the 'Allure' has a very alluring design with a nice semi-transparent body and lighting features.
The Allure smart speaker comes with the Alexa voice assistant, which means it has access to all of the amazing Alexa skills that you'd get access to with the Amazon Echo.
The speaker comes with 4 far-field microphones for voice recognition, and it should be able to hear you easily from across the room, plus, it has some amazing speakers — as you'd expect from a speaker built by Harman-Kardon.
Everything considered, Harman-Kardon Allure is definitely the smart speaker to go with if you're looking for something that's classy and stylish, while also being competitively priced.
Pros:
Compact and durable design 
Nice semi-transparent body
4 far-field microphones for voice recognition
Amazing Alexa skills
Cons:
Amazon Alexa doesn't work perfectly 
Buy: ($258)
6. Apple HomePod
If you're an iOS user, the HomePod is probably the best smart speaker for you thanks to its obviously deep integration with iOS. The HomePod is a premium smart-speaker that offers audiophile-grade sound quality and can also get pretty loud.
The speaker is designed pretty much like the Mac Pro of old or the Echo Sub that was recently launched, but it's mesh-design looks really nice, and the tiny display on top means you get some amazing animations when Siri is activated.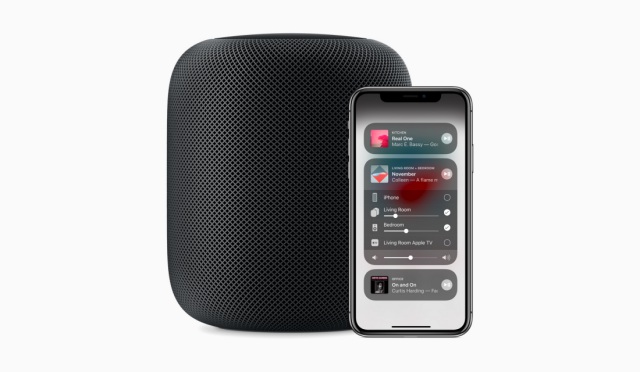 Yeah, the HomePod is powered by Apple's smart assistant, Siri, and it doesn't have the best track record of being useful when you need it to be. However, if most of your use-case for a smart speaker is to listen to music on it, the HomePod will not disappoint you.
Apple's audio-design in the HomePod is simply excellent and the quality of the audio here is unlike any other. I'd definitely recommend iPhone users to check out the HomePod.
The HomePod has a six-microphone array for listening to voice commands, and while that's less than what the Amazon Echo has, it's definitely not bad at listening to voice commands. There's also support for multi-room audio playback, so if you have multiple HomePods, you can have them sync-up and play music around your entire house with ease.
Pros:
Top-notch built quality
six-microphone array
Top-of-the-line sound quality
Support for multi-room audio playback
Works seamlessly with iDevices
Cons:
Buy:  ($299)
7. Bose Home Speaker 500
If there was a race for the best-sounding smart speaker, Bose Home Speaker 500 would comfortably finish among the top three. Yes, you heard that right! The smart speaker features eight mic arrays that deliver high-quality audio. Another feature that is worth taking note of is the good-looking front display that makes it more functional. With a modern design, it can seamlessly make a match with any home decor.
Beyond design, Bose Home Speaker 500 supports Alexa which opens the gate for a ton of voice commands. Notably, it is compatible with Amazon multiroom platform which lets you group the speaker with other Alexa speakers for an enhanced music listening experience.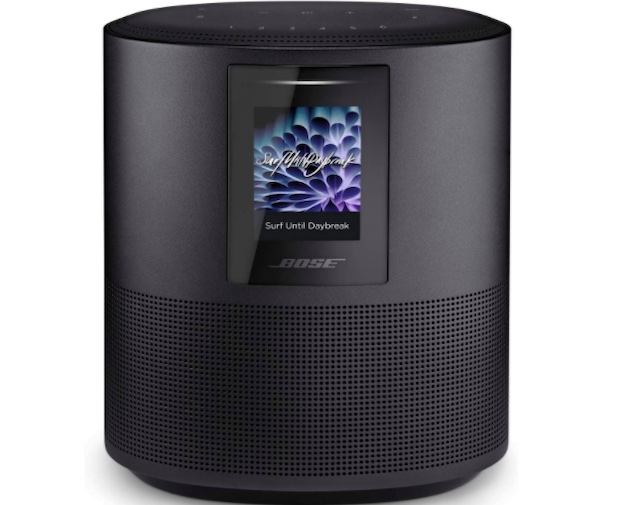 Home Speaker also works with Google Assistant. So, whether you are fond of Alexa or enjoy using Assistant, you can choose the preferred assistant to control your smart home devices or carry out other essential tasks.
At $299, Home Speaker 500 does seem quite expensive as compared to Amazon Echo. However, if appreciable built-quality coupled with great sound is what you are after, it's worth taking a chance. Just in case you find Home Speaker 500's $299 too much for your budget, check out the Home Speaker 300 that is available for $199.
Pros:
Works with Amazon Alexa and Google Assistant
Supports Amazon multiroom platform
Good-looking front display
Features eight mic arrays
Deliver high-quality audio
Cons:
Google Assistant doesn't seem to work perfectly all the time 
Setting up the speaker with apps seems problematic 
Buy: ($299)
8. Libratone Zipp
Another smart speaker that has never failed to amaze me is the Libratone Zipp. It sports a nice-looking design and can rival the best in the business on the sound quality front.
Libratone Zipp can deliver sound in 360-degrees which plays a vital in offering an immersive listening experience. If you are fond of listening to music, you would really appreciate its ability to fire out at 360°. Besides, the presence of dual-mic and 15W woofer plays a key role in offering a much-improved sound.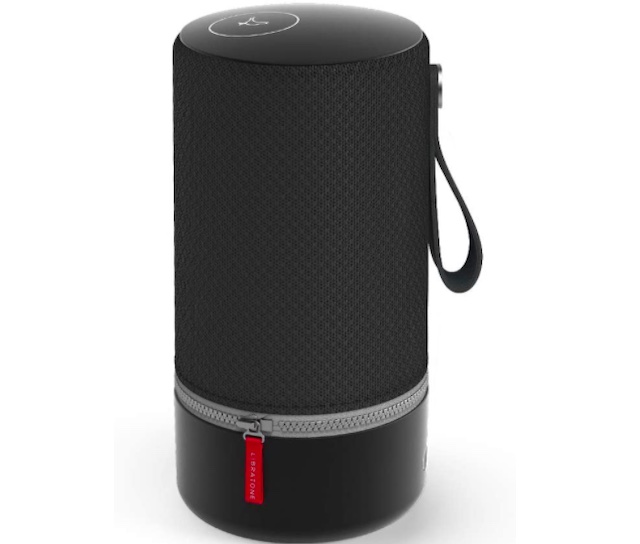 Notably,  Libratone Zipp interchangeable jackets which put it a special league. Just like most of its counterparts, it also comes with a companion app that allows you to perfectly customize everything in line with your taste.
With the support for Alexa, it can carry out a number of tasks efficiently through a wide range of voice commands. It delivers 12 hours of playtime which is more than enough to last a full tilt.
Pros:
Nice-looking sound quality 
Interchangeable jackets
Deliver sound in 360-degrees
15W woofer
Dual-mic
Cons:
Some Wi-Fi configurations don't work well
Buy: ($170)
9. Bang and Olufsen Beosound A1
When you talk about the highly-rated Amazon Echo substitutes, missing out on an able challenger like Bang and Olufsen Beosound A1 would be a huge mistake. Bang and Olufsen is well-known for producing exceptional speakers. And this one has got all the attributes of a great smart speaker.
Design-wise Beosound A1 looks classy thanks to the pretty compact and slim design. That means you can comfortably carry it anywhere. Beyond design, it features 3 microphone array to deliver clear and crisp audio. Thanks to the far-field technology, Alexa voice assistant works pretty well even from far off.
Up to 18 hours of battery life make Bang and Olufsen Beosound A1 one of a kind. That's not all, it's also IP67 rated which makes it fully equipped to spice up your beach party.
In a nutshell, if portability and high-quality sound are your top priorities, Beosound A1 can fill up the void as a notable Amazon Echo alternative.
Pros: 
Compact and slim design 
3 microphone array
18 hours of battery life
IP67 certified 
Cons: 
Buy: ($231.24)
10. Invoxia Triby Smart Speaker
Triby is yet another smart speaker powered by Amazon's Alexa. The portable, battery-powered speaker combines a host of features into a small and good looking package. With Alexa built-in, you can perform tasks such as ask for the weather, checking the news, and do a lot more.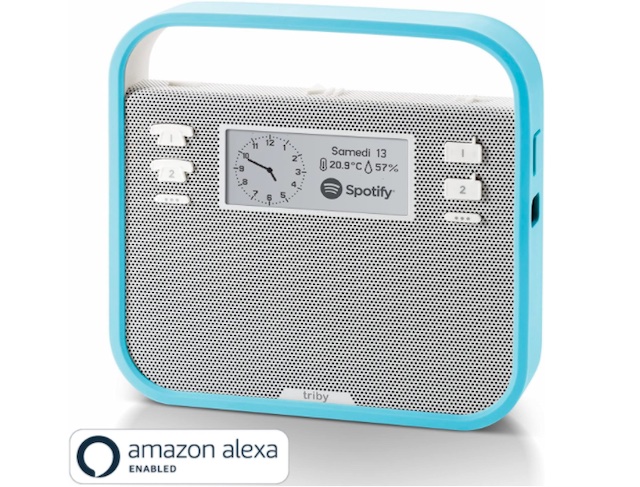 Plus, with the Triby app on your smartphone, you can do a lot more with your speaker. Triby can be mounted on your refrigerator (a feat I'm glad Echo can't perform because honestly, that'd be quite weird to look at), and using the mobile app, you can send doodles to the e-paper display on the speaker, change your settings, and do a lot more.
Whenever a new doodle is set on the Triby's e-paper display, a little yellow flag pops out, acting as a notification that there's a new message, which is something I really like, even though it looks like a novelty. Plus, the Triby can be used as a portable Bluetooth speaker for listening to music or making hands-free calls. Currently, Triby is available for $110 on Amazon.com, making it a fairly good deal.
Pros:
Lightweight design 
e-paper display
Preset Internet radio stations 
Option to make calls over VoIP
Two-days of battery life 
Cons:
Sound quality is a little below par  
Buy: ($109.83)
11. Mycroft Mark II
Not Sherlock's brother, no. This Mycroft is artificial intelligence for everyone. Instead of going for proprietary hardware, the makers of Mycroft built it on Raspberry Pi, and Arduino, and added Natural Language Processing to understand your commands, and perform the appropriate actions.
Features like array microphones, beamforming, active noise cancellation, and a decent screen make Mark II a big upgrade. It also integrates with any smart home devices you may own, including SmartThings hub, so you can easily control your smart home devices with your voice.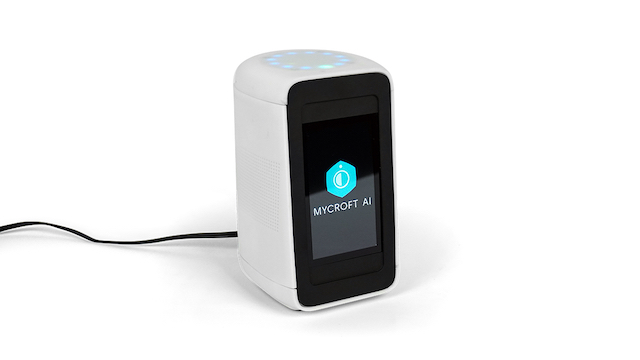 Mycroft is meant to be an open platform, which is why the makers chose to use Raspberry Pi, and Arduino boards. With the highly active community surrounding these hardware devices, it's quite evident that Mycroft's abilities will only grow with time.
Also, the company behind Mycroft is getting ready to launch the Mycroft Mark 2 soon and it's already on pre-order right now.
Pros:
Active noise cancellation
Integrates with any smart home devices
Array microphones
An open platform
Cons:
The voice assistant needs plenty of improvements 
Buy: (Price hasn't yet been revealed)
12. JBL Link View Smart Speaker
Yet another smart speaker that comes with a display, the JBL Link View is not the best looking smart display out there, especially when put against the Google Home Hub, but it definitely is worth checking out.
The JBL Link View is powered by the Google Assistant so you can rest assured it'll be an amazing experience. Google Assistant doesn't really have as many skills and third party features as Alexa does on the Amazon Echo, but in everyday usage, it's definitely better than Alexa is.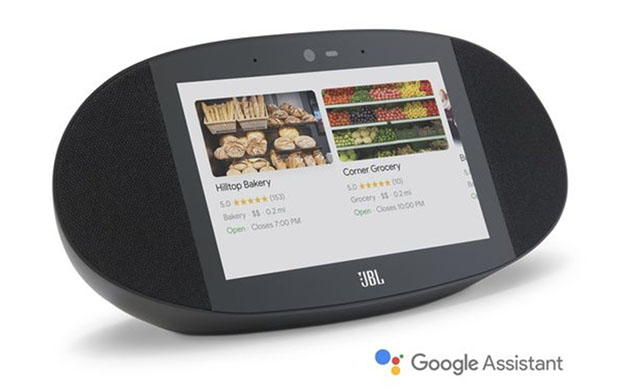 There's an 8-inch HD display here, which is fine since most smart displays under 10 inches have HD displays, which is great for watching videos or just checking out recipes in the kitchen. Plus, with the built-in 5MP camera, you can easily make video calls when you want to.
Plus, the JBL Link View also has a physical shutter button for the camera which you can use to cover the camera for times when you just need some privacy.
Pros:
8-inch HD display
Built-in 5MP camera
Powered by the Google Assistant
Great sound quality
Cons:
The design doesn't look appealing
Buy: ($249.95)
13. Sonos One
Sonos also came out with its own Alexa-powered smart speaker, so if you're someone who's looking for the Sonos' gorgeous looks with Alexa's smarts, the Sonos One is a smart speaker you should consider.
It's worth noting that Sonos' older speakers (like the Sonos Play:1) supported Alexa, but they needed an Echo speaker to be able to use Alexa. The Sonos One, on the other hand, comes with Alexa built-in, so you can just use it as a standalone Alexa smart speaker as well.
Sonos One has two drivers that are capable of producing excellent sound, and it comes with a touch-sensitive top that you can tap to increase or decrease the volume, or even mute the microphone for privacy, just like the Amazon Echo.
There's multi-room support here as well, and you can easily pair two Sonos One speakers together to form a stereo pair with ease.
Pros: 
Two drivers deliver excellent sound
Touch-sensitive top
Alexa support
Multi-room support
Cons: 
The sound may distort at top volume
Buy: ($199)
14. Ultimate Ears MEGABLAST
Though Ultimate Ears MEGABLAST is not as popular as Amazon Echo, it's got all the essential features to be a great pick. There are three appreciable features that make MEGABLAST a worthy contender.
First and foremost, MEGABLAST features a good-looking design that can easily win attention. Second, it offers 360° rich sound which puts it in the elite league. The sound is clear and doesn't distort even at the top volume unlike Amazon's offering. Plus, it also supports the multi-room feature to let you enjoy music to the fullest.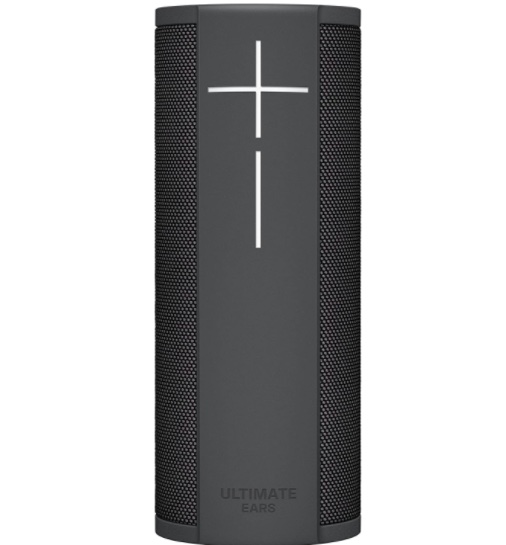 Third, it delivers up to 12 hours of battery which is just up to the mark. But what makes it a great choice is the IP67 rating. Thanks to the waterproof capability, you can use it to light up your outdoor parties.
At $240, MEGABLAST does seem a touch expensive. However, you can't go wrong with it considering the solid features.
Pros: 
Offers 360° rich sound
Multi-room support 
Waterproof 
12 hours of battery
Cons: 
Doesn't have a lot of support for smart home devices
Buy:  ($199.95)
15. KitSound Voice One
Last but not least, KitSound Voice One deserves a mention in this extensive round of the best Amazon Echo substitutes, especially if you are hunting for a mid-range smart speaker.
Design-wise, KitSound Voice One looks a bit old-fashioned. However, when it comes to sound quality, it is on par thanks largely to the 20W power. Plus, the support for 60 Hertz – 20000 Hertz frequency response further enhances its ability to deliver good audio. The multi-room connectivity for up to eight Voice One speakers is worth taking note of as well.
With the Amazon Alexa, you can use Voice One to check weather updates, play music, find out daily news, and more. It also supports a ton of other Alexa skills so that you can perform essential tasks with ease.
Besides, the compatibility with multiple music-streaming services like Apple Music, Spotify, and Amazon Music offers you the freedom to pick your favorite music streaming service to enjoy music to the fullest.
Everything considered; it can be a fairly good Amazon Echo replacement speaker.
Pros: 
Support for 60 Hertz – 20000 Hertz frequency response
Multi-room connectivity
Supports a ton of other Alexa skills
USB charging output for other devices 
Cons: 
Lacks a good-looking design 
Buy: ($125.43)
Bonus: Build Your Own Smart Speaker
If you're into DIY, you should consider building your very own smart speaker. It's not too difficult, doesn't cost a lot, and will give you a great way to spend a weekend with a Raspberry Pi, a soldering iron, and your laptop to configure the smart assistant.
Plus, you can install both Google Assistant and Alexa on it, as we did, and use whichever one you want whenever you want. If that sounds like something you'd like to do, you should check out our detailed video on building your own smart speaker.
It's embedded below. If watching the video doesn't sound fun, you can also check out our detailed article where we explain everything about building your own smart speaker.
Frequently Asked Questions
Which home assistant is best?
Going by the sheer numbers (globally), Amazon Echo leads the chart by some distance. Though Google Home is catching up pretty fast.
Can Alexa say anything other than OK?
You can use the Brief Mode to make Alexa stop shouting "OK!" after every single smart home command. When the Brief Mode is enabled, the virtual assistant will offer a subtle confirmation chime instead.
Is Alexa better than Google?
No. Google Assistant is by far the most intelligent virtual assistant.
What can Google Home do that Alexa cant?
There are quite a few differences. One notable difference between the two is that Google Home still doesn't support Apple Music, unlike Alexa.
Who's better Siri or Alexa?
Even though Apple has vastly improved Siri, it still lags behind due largely to several restrictions.
Use these Cool Amazon Echo Alternatives
If the Amazon Echo is not the smart speaker you want, you can easily choose a smart speaker from this list. I have tried to include speakers of various types in this list, so no matter what you're looking for, you'll hopefully find something that suits your needs.
If you just need Amazon Echo in a smaller form factor, you should definitely check out the Amazon Echo Dot, and Tap devices; and if that's not the case, you can choose from any of the options in this article.
As always, I'd like to know your thoughts on the Amazon Echo, Alexa's capabilities, and the devices I've covered in this list. Also, if you know of any other cool Alexa alternative, do let us know about it, in the comments section below.