The Amazon Echo is a really great device. The smart speaker packs in Amazon Alexa, and is capable of performing a variety of tasks. Plus, with additional Skills, the Echo's capabilities are easily augmented. If you actually want to use Amazon's offering, but in a smaller form factor (Amazon Echo Dot), or you're looking for portability (Amazon Echo Tap), you can check out our article where we pit all of Amazon's smart speakers against each other. However, not everyone would want to use the Echo as their home smart speaker solution. You may be looking for something more portable, or more affordable, or frankly speaking, something that looks (or sounds) better. So, here are 10 cool Amazon Echo alternatives that you can use:
1. Google Home
The Google Home is one of the best smart speakers you can get. The Google Assistant powered smart speaker packs in almost all of Google's considerable abilities, and the voice recognition works extremely well. In fact, the Google Home puts up a great fight against the Amazon Echo. You can use Google Home to perform a variety of tasks, such as setting alarms, streaming music from music services like Spotify, Google Play Music (obviously!), and more. The speaker has a rich list of commands, and packs in quite a number of tricks, as well.
Design wise, I prefer the Google Assistant, because it seems to blend in with the environment, instead of looking like a weird tube placed on your living room table. Even the sound quality is much better in the Google Home, but that actually varies from person to person; some people prefer the bass rich sound of Google Home, while others prefer the clear treble output from the Amazon Echo.
Alternatively, if you're looking for something that comes in a smaller form factor but still packs in all the punch, the Google Home Mini might pique your interest. It's a pretty solid smart speaker that comes with awesome sound quality, a gorgeous yet low-profile fabric outer-shell, and all the smarts of the Google Assistant. Plus, it's only $49 (Non US buying link).
Apart from that, if you're looking for a smart speaker that offers what is probably the best audio quality of any smart speaker out there so far, check out the Google Home Max which is exceptionally good at audio and can easily get very loud while still retaining its clarity. It's pretty expensive though, and you can buy it for $399 from the Google Store.
Buy ($129) (Non US buying link)
2. Google Home Hub
At its Pixel 3 launch event, Google also launched the Google Home Hub — Google's very own addition to the world of smart displays, and yes, if you're looking for a smart display, the Google Home Hub is the best one you can get right now. For starters, it looks great. It's small, comes in nice, soft colors, and basically fits right in no matter where you place it — that's actually a core part of Google's design philosophy with its 'Home' line up of speakers.
Other than that, the Home Hub comes with a 7-inch display which has been calibrated to near perfect by the company. In fact, if there's one thing that every one agrees on about the Google Home Hub, it's that the display is so good that you just can't complain about it. The Home Hub is also packed with technology — it has ambient light sensors that automatically adjust the brightness of the display so you don't get dazzled by it at night. It also comes with the Google Assistant, which is definitely one of the best smart assistants out there right now, and definitely better than Alexa (that you'd find in the Amazon Echo).
The Google Home Hub doesn't have a camera though, so if you were thinking of making video calls with this, well, you can't. However, that was a deliberate design choice from Google so people would feel comfortable keeping the Home Hub even in their bedrooms and private spaces in their homes.
The Home Hub also comes with a cool new Dashboard feature which basically shows you an overview of your entire smart-home, so you can easily control all your rooms, lights, speakers, cameras, and door locks from a single 'hub'. It's definitely a pretty awesome smart display, and one of the best ones out there.
Buy ($149)
3. Lenovo Smart Display
If you're looking for something that comes with a display, but not with Alexa, the Lenovo Smart Display is something you should definitely check out. The Lenovo Smart Display comes in two variants. There's an 8-inch variant that comes with a 1280×800 resolution screen, and a 10-inch variant with a Full HD screen so you can choose the one that fits your needs best.
Other than that, the smart displays come with Google Assistant, and support for Chromecast. Plus, thanks to the built-in camera, you can make video calls straight from your smart display with Google Duo integration. Having a camera on your smart display might not feel like the smartest thing to do, though, which is why Lenovo's smart display has a built-in camera kill-switch that physically covers the camera so you don't have to feel creeped out by it.
The Lenovo Smart Display comes with 2×2 microphone arrays so it can hear you easily from even across the room, and it has 10W speakers so you can enjoy your favorite music and videos by simply asking it to play them. One of the most popular uses of this smart display is in a kitchen, where it can be used to show recipes with helpful visual aids to guide you along in your quest to cook that perfect meal.
If you're looking for a smart display, you should definitely check out the Lenovo Smart Display.
Buy (starts at $149.99)
4. Harman-Kardon Allure
If the reason you're looking for alternatives to the Amazon Echo is because the design of those smart speakers just doesn't appeal to you, let me introduce you to the Harman-Kardon Allure smart speaker. Unlike the Echo, which features a mostly functional industrial design, the 'Allure' has a very alluring design with a nice semi-transparent body and lighting features.
The Allure smart speaker comes with the Alexa voice assistant, which means it has access to all of the amazing Alexa skills that you'd get access to with the Amazon Echo. The speaker comes with 4 far-field microphones for voice recognition, and it should be able to hear you easily from across the room, plus, it has some amazing speakers — as you'd expect from a speaker built by Harman-Kardon. This is definitely the smart speaker to go with if you're looking for something that's classy and stylish, while also being competitively priced.
Buy ($149.95)
5. Apple HomePod
If you're an iOS user, the HomePod is probably the best smart speaker for you thanks to its obviously deep integration with iOS. The HomePod is a premium smart-speaker that offers audiophile grade sound quality and can also get pretty loud. The speaker is designed pretty much like the Mac Pro of old, or the Echo Sub that was recently launched, but it's mesh-design looks really nice, and the tiny display on top means you get some amazing animations when Siri is activated.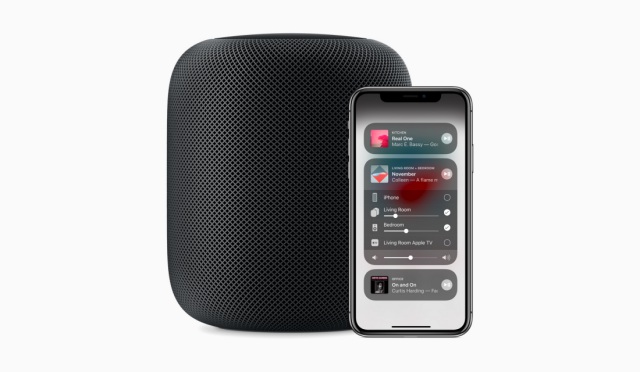 Yeah, the HomePod is powered by Apple's smart assistant, Siri, and it doesn't have the best track record of being useful when you need it to be. However, if most of your use-case for a smart speaker is to listen to music on it, the HomePod will not disappoint you. Apple's audio-design in the HomePod is simply excellent and the quality of audio here is unlike any other. I'd definitely recommend iPhone users to check out the HomePod.
The HomePod has a six-microphone array for listening to voice commands, and while that's less than what the Amazon Echo has, it's definitely not bad at listening to voice commands. There's also support for multi-room audio playback, so if you have multiple HomePods, you can have them sync-up and play music around your entire house with ease.
Buy ($349)
6. Triby Smart Speaker
Triby is yet another smart speaker powered by Amazon's Alexa. The portable, battery powered speaker combines a host of features into a small, and good looking package. With Alexa built in, you can perform tasks such as ask for the weather, checking the news, and do a lot more. Plus, with the Triby app on your smartphone, you can do a lot more with your speaker. Triby can be mounted on your refrigerator (a feat I'm glad Echo can't perform, because honestly, that'd be quite weird to look at), and using the mobile app, you can send doodles to the e-paper display on the speaker, change your settings, and do a lot more.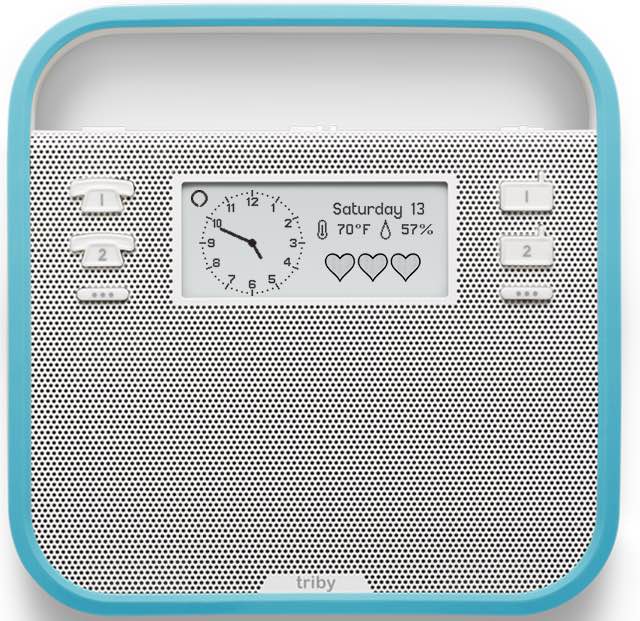 Whenever a new doodle is set on the Triby's e-paper display, a little yellow flag pops out, acting like a notification that there's a new message, which is something I really like, even though it looks like a novelty. Plus, the Triby can be used as a portable Bluetooth speaker for listening to music, or taking handsfree calls. Triby retails at $199, but is currently available for $99 on Amazon.com, making it a steal.
Buy ($99)
7. Mycroft Mark 1
Not Sherlock's brother, no. This Mycroft is an artificial intelligence for everyone. Instead of going for proprietary hardware, the makers of Mycroft built it on Raspberry Pi, and Arduino, and added Natural Language Processing to understand your commands, and perform the appropriate actions. Mycroft also integrates with any smart home devices you may own, including Philips Hue devices, SmartThings hub, and more, so you can easily control your smart home devices with your voice.
Mycroft is meant to be an open platform, which is why the makers chose to use Raspberry Pi, and Arduino boards. With the highly active community surrounding these hardware devices, it's quite evident that Mycroft's abilities will only grow with time.
Also, the company behind Mycroft is getting ready to launch the Mycroft Mark 2 soon and it's already on pre-order right now.
Buy ($179.99)
8. JBL Link View Smart Speaker
Yet another smart speaker that comes with a display, the JBL Link View is not the best looking smart display out there, especially when put against the Google Home Hub, but it definitely is worth checking out. The JBL Link View is powered by the Google Assistant so you can rest assured it'll be an amazing experience. Google Assistant doesn't really have as many skills and third party features as Alexa does on the Amazon Echo, but in everyday usage, it's definitely better than Alexa is.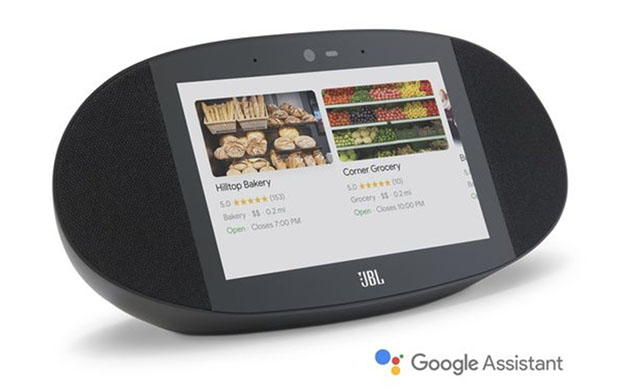 There's an 8-inch HD display here, which is fine, since most smart displays under 10 inches have HD displays, which is great for watching videos, or just checking out recipes in the kitchen. Plus, with the built-in 5MP camera, you can easily make video calls when you want to. Plus, the JBL Link View also has a physical shutter button for the camera which you can use to cover the camera for times when you just need some privacy.
Buy ($249.95)
9. Sonos One
Sonos also came out with its own Alexa-powered smart speaker, so if you're someone who's looking for the Sonos' gorgeous looks with Alexa's smarts, the Sonos One is a smart speaker you should consider.
It's worth noting that Sonos' older speakers (like the Sonos Play:1) supported Alexa, but they needed an Echo speaker to be able to use Alexa. The Sonos One, on the other hand, comes with Alexa built-in, so you can just use it as a standalone Alexa smart speaker as well. The Sonos One has two drivers that are capable fo producing excellent sound, and it comes with a touch sensitive top that you can tap to increase or decrease the volume, or even mute the microphone for privacy, just like the Amazon Echo. There's multi-room support here as well, and you can easily pair two Sonos One speakers together to form a stereo pair with ease.
Buy ($198.95)
10. Harman Kardon Invoke
If you're looking for a smart speaker that'll play well with Windows, and Cortana in general, you should check out the Harman Kardon Invoke. This is the smart speaker that Microsoft had announced quite a while back, and now it's here for anyone to buy and use. The Invoke features a seven far-field microphone array so it can easily hear you from across the room. Since the speaker is powered by Cortana, and built in collaboration with Microsoft, it obviously works well with Microsoft's ecosystem of apps and services, and if you're someone who's invested in the Microsoft ecosystem, this is probably the best smart speaker for you.
Having been built by Harman-Kardon, the speaker brings amazing sound quality, thanks to the three direct radiating woofers, three tweeters, and two passive radiators that the company has put inside the Invoke.
Buy ($64.48 on Amazon; $199.95 on Harman-Kardon)
Bonus: Build Your Own Smart Speaker
If you're into DIY, you should consider building your very own smart speaker. It's not too difficult, doesn't cost a lot, and will give you a great way to spend a weekend with a Raspberry Pi, a soldering iron, and your laptop to configure the smart assistant. Plus, you can install both Google Assistant and Alexa on it, like we did, and use whichever one you want whenever you want. If that sounds like something you'd like to do, you should check out our detailed video on building your own smart speaker. It's embedded below. If watching the video doesn't sound fun, you can also check out our detailed article where we explain everything about building your own smart speaker.
SEE ALSO: 7 Cool Amazon Echo Tricks You Should Try With Alexa
Use these Cool Amazon Echo Alternatives
If the Amazon Echo is not the smart speaker you want, you can easily choose a smart speaker from this list. I have tried to include speakers of a various types in this list, so no matter what you're looking for, you'll hopefully find something that suits your needs. If you just need Amazon Echo in a smaller form factor, you should definitely check out the Amazon Echo Dot, and Tap devices; and if that's not the case, you can choose from any of the options in this article.
Also, I struggled for quite some time with the idea of including the Facebook Portal smart display in this list, and I decided to not include it because I'm just not comfortable advising anyone to put a Facebook-owned camera in their house. That's just a really terrible idea, and I won't condone it. That said, if you're bullish about getting a Facebook owned smart camera that, by the way, can follow you around the room, here's a link.
As always, I'd like to know your thoughts on the Amazon Echo, Alexa's capabilities, and the devices I've covered in this list. Also, if you know of any other cool Alexa alternative, do let us know about it, in the comments section below.