If you are an Android user, you must have used AirDroid or at least heard of it. Yes, the app is that popular and deservedly so. AirDroid is an app that lets you manage your Android device from a computer using the web or the desktop clients. With AirDroid, you can manage files, check out notifications, reply to messages, remotely control your device and do a lot more from your computer. While there's no doubt about AirDroid's capabilities, the service did come under scrutiny, with the security firm Zimperium releasing details on various security loopholes in the app. Also, users have been complaining about the app featuring bloatware off late. So, all is certainly not well with the AirDroid app. So if you are looking for an AirDroid alternative or a similar app for iOS, here are 10 AirDroid alternatives you can use in 2020.
Best AirDroid Alternatives in 2020
1. Pushbullet / Portal
AirDroid is a one-stop solution for everything, be it notifications, file transfer, screen mirroring, remote access and more. However, there are very few apps in the market that offer all these features into one app. One of the best examples is Pushbullet which allows you to access your smartphone notifications, send messages, links, files, share universal clipboard and more. All the while, offering end to end encryption for top-notch security. However, it misses out on the WiFi file transfer that AirDroid is so popular for. Sure, Pushbullet has native support for local file transfer, but it does not offer a full-fledged local web address for file sharing. So to bring this support, Pushbullet has released a new app called Portal which offers you the same WiFi file transfer through a designated web address. So in a way, Pushbullet and Portal make the best combination as an alternative to AirDroid.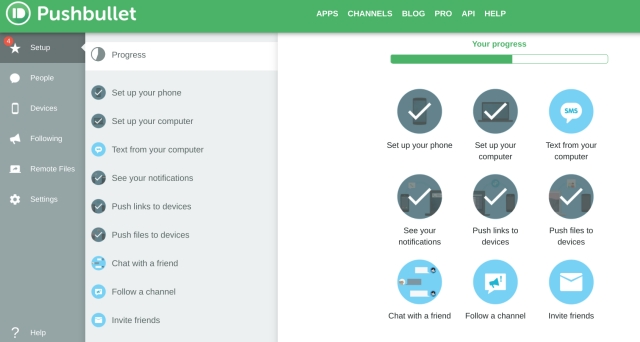 Availability: Android, iOS, Windows, macOS, Chrome, Firefox, Safari (Free, Pro subscription starts at $4.99/month) / Portal (Free)
2. Snapdrop
If you are looking for an AirDroid alternative for file sharing purposes then you must check out Snapdrop. It's the fastest and easiest way to share files across various platforms without downloading any app, creating an account, or scanning a QR code. Snapdrop is an open-source web-based platform that works across all platforms. All you need is a common WiFi access point. If your PC and smartphone are connected to the same WiFi network then simply open snapdrop.net on both devices and start sharing files. The best part about Snapdrop is that it's extremely fast, you can share multiple files in one go and there are no ads whatsoever. Not to mention, all your file transfers are encrypted using TLS protocol unlike the free version of AirDroid. To conclude, if you use AirDroid mainly for file transfers then Snapdrop is the best alternative bar none in this list.
Availability: Android, iOS, Windows, macOS, Chrome OS, Linux, Chrome, Firefox, Safari, Web (Free)
3. Your Phone Companion
Your Phone Companion is an app by Microsoft to bridge the gap between smartphones and Windows computers. Similar to AirDroid, you can receive notifications, send messages, access photos and best of all, receive calls on your PC using this app. Microsoft seems to be working really hard on Your Phone app and as a result, it has got many new features in the recent past. In fact, if you own a flagship Samsung smartphone then you can do a lot more. You can mirror the screen on your computer, resume document editing from where you left on the smartphone and more. Overall, Your Phone Companion is a feature-packed app and can bring lots of AirDroid features without paying for the Pro version. The only downside is that Your Phone Companion is not available on iOS at this moment, but you can expect development in the future.
Availability: Android (Free), Windows 10 (Free)
4. ShareMe (MiDrop)
Although ShareMe is not as feature-packed as AirDroid, I have mentioned it for the sole reason that it does not show any kind of ads. There are a plethora of apps for local file sharing on the Play Store, but almost all of them push intrusive ads including sleazy videos which makes the experience bad to worse. Apart from that, ShareMe is best known for sharing files between Android smartphones. But with the recent update, ShareMe has got an option to share files between computers and smartphones. You can easily create a local FTP URL on your Android device using the app and then you can access all your files on a web browser. So if you want an app for local file sharing between Android smartphones and computers then ShareMe is another great option you can consider in place of AirDroid.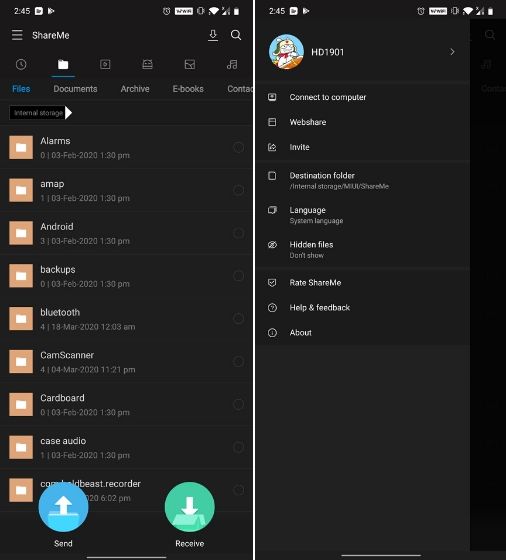 Availability: Android (Free)
5. AirMore
As the name suggests, AirMore is very similar to AirDroid. While it does not offer all the features from AirDroid, it does include almost all the important features. Like AirDroid, you can use AirMore to transfer files from your Android smartphone to PC and vice versa. The app lets you play media and syncs your apps, contacts, and messages. That's not all, it also includes a "Reflector" feature, which lets you mirror your Android device's interface to a computer, like AirMirror. Plus, the app mirrors the notifications and also lets you send messages from your PC. Also, if you are an iOS user and you have always wanted AirDroid for iOS, well, AirMore is available for iOS devices.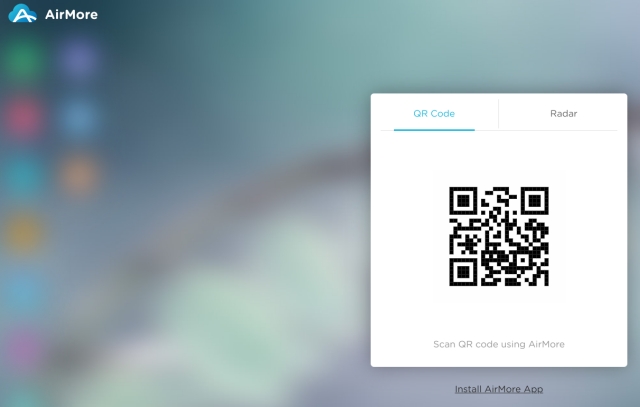 Apart from that, unlike AirDroid, AirMore is free and while it lacks features like remote camera, screen recorder, ability to make calls, take action on notifications and desktop clients, it's still among the best AirDroid alternatives that you can reliably use.
Availability: Android, iOS, Web (Free)
6. ApowerMirror
Apart from AirMore and Your Phone Companion, ApowerMirror is the third app in this list which supports screen mirroring. It's a dedicated app for screen mirroring and the app has been developed by the same company as AirMore so you can expect great reliability while controlling the device from your PC. The best part about ApowerMirror is that it does not need root or any ADB command to enable screen mirroring. Similar to AirDroid, all you need is its desktop client and you are all set. Other than that, you can stream Android and iOS screens to Windows PC or Mac. Furthermore, it allows you to remotely control Android devices on the computer using mouse and keyboard. All I would say is if you want an AirDroid alternative for only screen mirroring then ApowerMirror is an excellent app.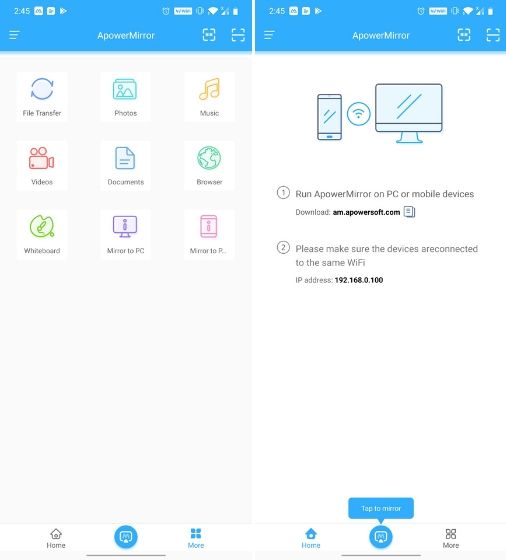 Availability: Android, iOS, Windows, macOS (Free)
7. Scrcpy
Scrcpy is another powerful app for screen-mirroring that is open-source and available on a host of platforms including Android, Windows, Linux, and macOS. While you need to have some expertise to get the app running, it's highly recommended that you do so. You will have access to a number of great features that are generally found in the premium version of apps. For instance, you can control the Android screen from your PC with almost zero lag. Further, you can record the screen in various resolutions, use keyboard shortcuts on your Android device, push audio through the computer, send files and more. Simply put, if you are looking for a free alternative to AirDroid then there can't be a better alternative than Scrcpy.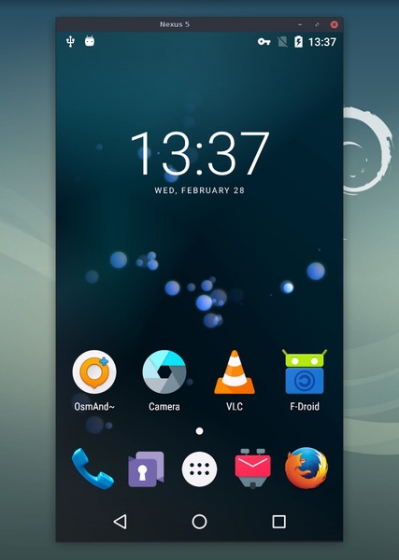 Availability: Android, Windows, macOS, Linux (Free)
8. Vysor
The AirMirror feature on AirDroid is pretty great, however, due to its wireless nature, the quality of the mirror largely depends on the WiFi connection. Thankfully, you can use Vysor, which lets you mirror your Android device's screen to a computer. Moreover, you can even control the Android device through the mirrored interface using the keyboard and mouse on your PC or Mac. The app is available in a free version but you can get the Pro version if you want features like wireless mode, full screen, better quality mirror, drag & drop files and more.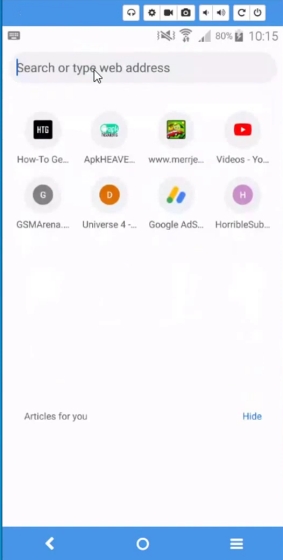 Availability: Android, Chrome (Free version, Pro subscription starts at $2.50/month)
9. Xender
If you've used AirDroid primarily to transfer files from your computer to your smartphone, you can try out Xender. It's a popular file-sharing app available on multiple platforms but what makes it a great alternative to AirDroid is its web app. The web app lets users drag and drop files from their Windows PC or Mac to an Android smartphone or iPhone/iPad. While there's a Windows app available, the web app makes sure you can use it on almost any platform. The app is free and you can transfer any number of files of any size and the good news is, it works pretty well and transfers files very quickly without using your bandwidth.
Availability: Android, iOS, Windows, macOS, Web (Free)
10. Join
Join has gained a lot of popularity among the Android community as a Pushbullet alternative and that in turn makes it a decent AirDroid alternative. While Join does not offer a polished interface like AirDroid, it lets you share files, links, and location to multiple devices. It also mirrors your notifications, messages and you can use the app to send messages from your computer. Also, if you are a Tasker user, you are going to appreciate the Tasker integration in the app. While it lacks the device management features, screen mirroring and other features of AirDroid, it's still an app worth a try.
Availability: Android, Windows, Web (Free, Full version at $1.49)
Bonus: AirMirror
AirMirror adopts a different fashion in which it works and unlike other apps in the list, it is actually dedicated to casting the display of your smartphone onto another mobile device. AirMirror is an app developed by SAND Studio, which is the developer of AirDroid. The app can be useful for a variety of applications including tech support, file sharing, or simply entertainment. The only caveat of using the app is that the setup process is a bit complicated and requires some technical know-how. If you are rooted then the process is seamless. However, for non-root users, you will have to use the AirDroid PC app to authorize some permission through ADB. Nevertheless, if you want to mirror an Android device to another smartphone then it's a great app to try.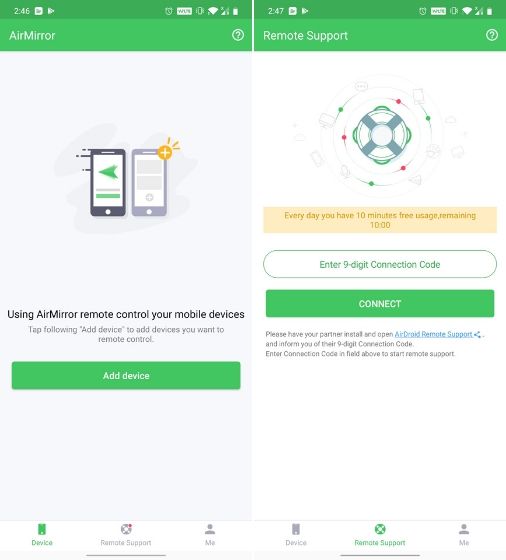 Availability: Android, Windows (Free)
Try Out These AirDroid Alternatives
AirDroid is no doubt a brilliant app but the security of users is of paramount importance. So, if you want to move on from AirDroid, these alternatives should be good enough. Well, that's all from our side, try them out and let us know your thoughts and suggestions in the comments section below. Also, if you think that we miss out on an app, drop them down too.
---
Load More