If you are an Android user, you must have used AirDroid and if you haven't used it, you must have at least heard of it. Yes, the app is that popular and deservedly so. AirDroid is an app that lets you manage your Android device from a computer using the web or the desktop clients. With AirDroid, you can manage files, check out notifications, reply to messages, remotely control your device and do a lot more from your computer. While there's no doubt about AirDroid's capabilities, the service has come under scrutiny off late, with the security firm Zimperium releasing details on various security loopholes in the app.
Also, users have been complaining about the app featuring bloatware off late. So, all is certainly not well with the AirDroid app. The AirDroid team has rolled out a security fix but if you are still concerned about your security with the AirDroid app or if you don't like the new features or if you just want an AirDroid like app for iOS, here are 6 AirDroid alternatives you can use in 2019.
Best AirDroid Alternatives in 2019
1. AirMore
As the name suggests, AirMore is very similar to AirDroid. While it does not offer all the features from AirDroid, it does include almost all the important features. Like AirDroid, you can use AirMore to transfer files from your Android smartphone to PC and vice versa. The app lets you play media and syncs your apps, contacts and messages. That's not all, it also includes a "Reflector" feature, which lets you mirror your Android device's interface to a computer, like AirMirror. Plus, the app mirrors the notifications and also lets you send messages from your PC. Also, if you are an iOS user and you have always wanted AirDroid for iOS, well, AirMore is available for iOS devices.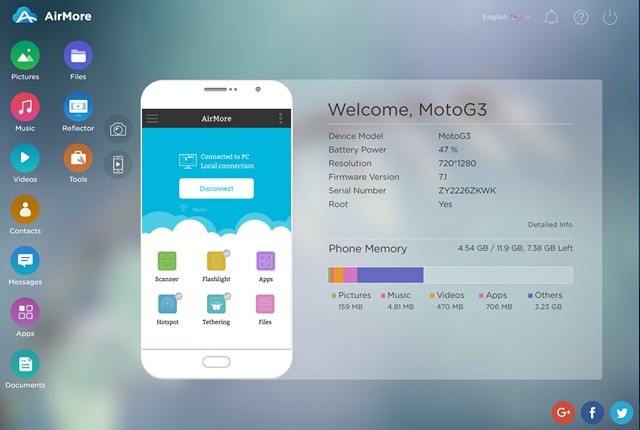 Unlike AirDroid, AirMore is free and while it lacks features like remote camera, screen recorder, ability to make calls, take action on notifications and desktop clients, it's still the best AirDroid alternative you can use.
Availability: Android, iOS, Web (Free)
2. Pushbullet
If you used AirDroid to send texts or check out your Android smartphone's notifications on your computer, then Pushbullet is a decent alternative app you can use. Along with the ability to mirror notifications and take actions on them, Pushbullet lets you transfer files between multiple devices, just like AirDroid. There are other similar features too, like universal clipboard and the app offers end to end encryption, so if security is your concern, you are covered with Pushbullet. The app is also available on more platforms compared to AirDroid.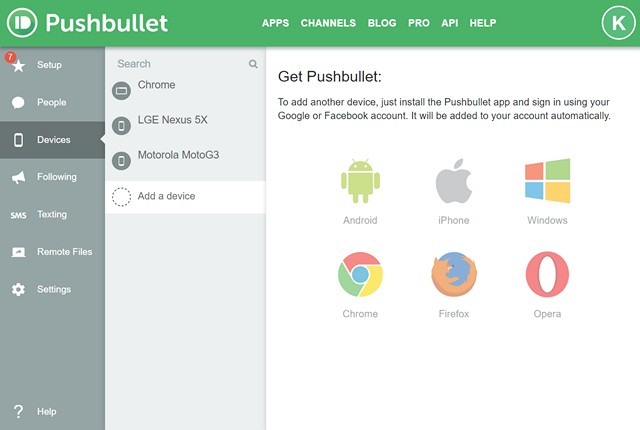 Like AirDroid, Pushbullet offers a Pro subscription, which includes features like actionable notifications, universal clipboard and removes limitations on messages sent and file sharing.
Availability: Android, iOS, Windows, macOS, Chrome, Firefox, Safari (Free version, Pro subscription starting at $4.99/month)
3. Xender
If you've used AirDroid primarily to transfer files from your computer to your smartphone, you can try out Xender. It's a popular file sharing app available on multiple platforms but what makes it a great alternative to AirDroid is its web app. The web app lets users drag and drop files from their Windows PC or Mac to an Android smartphone or iPhone/iPad. While there's a Windows app available, the web app makes sure you can use it almost any platform. The app is free (with non-intrusive ads) and you can transfer any number of files of any size and the good news is, it works pretty well and transfers files very quickly without using your bandwidth.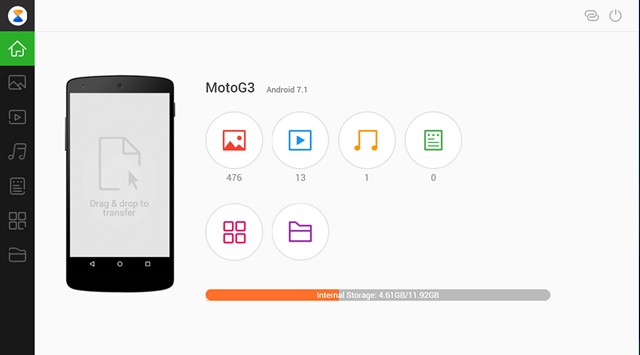 Availability: Android, iOS, Windows, Web (Free)
4. Vysor
The AirMirror feature on AirDroid is pretty great, however, due to its wireless nature, the quality of the mirror largely depends on the WiFi connection. Thankfully, you can use Vysor, which lets you mirror your Android device's screen to a computer. Moreover, you can even control the Android device through the mirrored interface using the keyboard and mouse on your PC or Mac. The app is available in a free version but you can get the Pro version if you want features like wireless mode, fullscreen, better quality mirror, drag & drop files and more.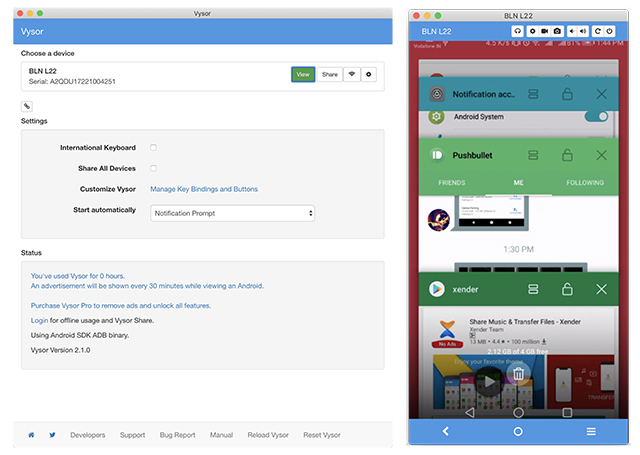 Availability: Android, Chrome (Free version, Pro subscription starts at $1.99/month)
5. Join
Join has gained a lot of popularity in the recent months as a Pushbullet alternative and that in turn makes it a decent AirDroid alternative. While Join does not offer a polished interface like AirDroid, it lets you share files, links and location to multiple devices. It also mirrors your notifications, messages and you can use the app to send messages from your computer. Also, if you are a Tasker user, you are going to appreciate the Tasker integration in the app.
While it lacks the device management features, screen mirroring and other features of AirDroid, it's still an app worth a try. It is available in a free 30-days trial, after which you just need to make a one-time payment of $3.99, unlike AirDroid's subscription plan. However, the only caveat is you have to pay for the app separately on different platforms. For instance, you need to pay separately on the Play Store and the Windows Store to use the app on both the platforms after the trial. However, the Chrome extension is available for free.
Availability: Android, Windows, Chrome, Web (Free trial, Full version $3.99)
6. ApowerManager
ApowerManager is, by all means, a great and useful AirDroid alternative which comes with a host of features and a few additions over AirDroid. ApowerManager covers all bases in terms of support for the files which it can transfer. Besides letting users transfer documents, music, gallery media, and contacts, ApowerManager helps them manage contacts directly from the PC. Using the manager app, you can take a look at the existing apps and uninstall the ones you don't want. Further, there's an option to cast your smartphone's screen on to the PC with the inbuilt Reflector option, besides the ability to take screenshots. Lastly, you can view messages and other notifications, and get details like the battery and the root status of your smartphone, and even set a ringtone on iPhones.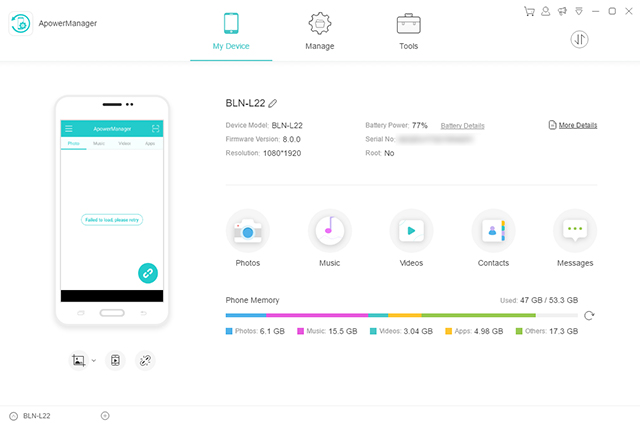 ApowerManager is a useful management app for Android smartphones or iPhones and does not ruin your experience with ads. However, you'll have to purchase the full version in order to access features like file export/import, SMS sending, and screen recording. The VIP account starts at $29.90 a month, but as part of the limited period offer, you can get it for only $12.95. The lifetime subscription is currently available for $79.95.
Availability: Android, iOS, Windows, Mac (Free trial, Paid plans start at $12.95 per month)
7. MoboPlay
MoboPlay is a smartphone management tool with an app store built into it. Just like other AirDroid alternatives we have included in this list, MoboPlay lets you take control of the smartphone by letting users manage contacts, installed apps, messages, and the media directly from the PC. Beyond basic management, the app are separated under the categories of Installed and System apps. Further media is also segregated into images, videos, music, videos, photo albums, and wallpapers. It also features an inbuilt reader app which lets you read text files with common document and ebook formats. Besides these features, MoboPlay will allow you to mirror the smartphone's screen onto the PC and will allow you to download and install apps, including the ones not present on the Play Store or App Store, as well as notify you of the upcoming unreleased apps which you can try.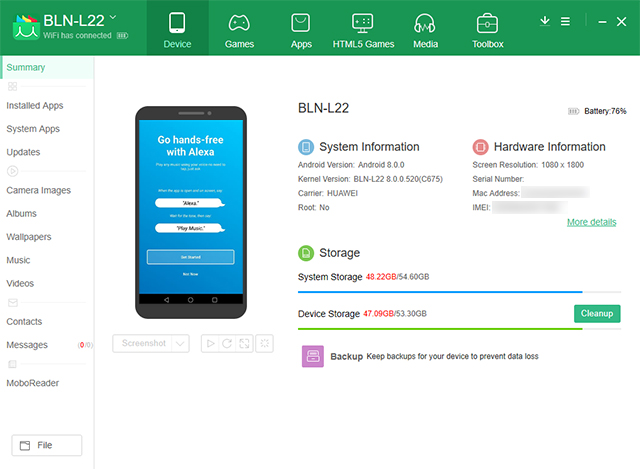 Availability: Android, iOS, Windows (Free)
Bonus: AirMirror
AirMirror adopts a different fashion in which it works and unlike other apps in the list, is actually dedicated to casting the display of your smartphone onto another mobile device. AirMirror is an app developed by SAND Studio, which is the developer of AirDroid. The app can be useful for a variety of applications including tech support, file sharing, or simply entertainment. The only caveats of using the app are that the host device will have to be rooted and the setup process is complicated and requires some technical know-how. Furthermore, the app is only available on Android devices currently.
Download AirMirror on Google Play Store (free, requires root)
SEE ALSO: How to Transfer Files Between Android and Mac
Try Out These AirDroid Alternatives
AirDroid is no doubt a brilliant app but the security of users is of paramount importance. So, if you want to move on from AirDroid, these alternatives should be good enough. Well, that's all from our side, try them out and let us know your thoughts and suggestions in the comments section below.