If you ever come across a blogger at their beginning stages, ask them about their monetization strategy and chances are pretty high that you will hear 'AdSense' from them. Ask a veteran blogger the same thing and he'll tell you 'It depends'. Monetization strategy depends on the niche of your blog, what it stands for, the potential target audience, and so forth. While AdSense is prevalent in the monetization strategy of millions of blogs worldwide, that doesn't impart you have to put all your eggs in one basket! So in this article, we bring you the 15 best AdSense alternatives that offer a better payout, have minimum traffic requirements and the approval is fast. On that note, let's go ahead and find the top AdSense alternatives in 2022 to make money off your blog.
Best AdSense Alternatives for Your Blog (Updated 2022)
If you are a blogger and looking for ways to better monetize your Website, you can think better than Google AdSense. Here, we'll help you think big and explore the possibilities of Website monetizing, beyond Google AdSense. Here are some of the Best Alternatives to Google AdSense.
1. Media.net
Media.net is one of the best alternatives to AdSense offering CPM, CPC, and Display ads for the monetization of blogs and websites. It brings up relevant contextual ads from Yahoo! and Bing Network. You can sign up as a publisher here, select your Display ad units and choose to display contextual and relevant ads from thousands of brands.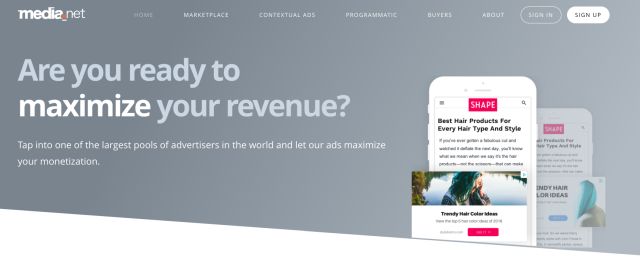 Media.net offers you a huge advertisement pool, mobile advertisements, better control over your ads, analytics, and much more. Media.net imposes a minimum payout threshold of $100. Their payment modes include PayPal or Wire transfer.
Although it does not impose a certain level of daily traffic to approve a website as a Publisher, you must have some amount of traffic from UK/US/Canada to be in their better books. Prohibited content includes Illegal or Adult content, Promotion of Drugs, Alcohol, and such. You can give this network a go for better CPM rates and targeted advertising.
2. BuySellAds
BuySellAds is a premium agency similar to AdSense that lets you sell your website advertisement spots to major brands through them. The network is free to join but it is extremely exclusive. That is, you would be needing a good amount of daily visitors and website traffic to get their approval. This service charges a 25% commission on your proceedings from the website. You can then decide which ad units you want to sell and the set price for the same.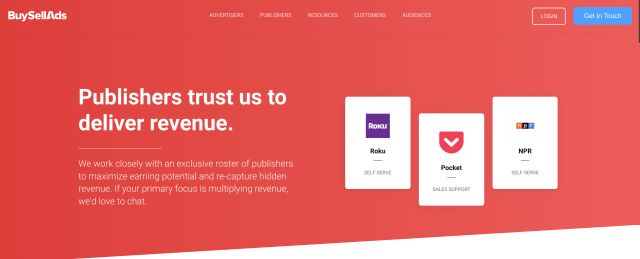 BuySellAds does not impose a monthly minimum payout threshold and you can also withdraw your earnings to your PayPal account, twice a month. Higher traffic, not having published any prohibited content, or having a better history in the online publishing industry could get you easily approved to their network. This is not something for everyone, not at least the bloggers just getting started out. Its minimum payout threshold is $20.
3. PropellerAds
PropellerAds is currently growing pretty fast and many publishers are using its ad network in place of Google AdSense. The main feature behind PropellerAds is the background ad which gets loaded after the user goes back or closes the window. This helps in showing large-screen ads to a huge audience. If you think, it's kind of aggressive for your website, you can choose to display traditional ads like banners, native ads, video ads, and so on.
In case, you want support for push notification, ProPellerAds supports it too and can easily be integrated with your content. The best part is that, unlike Google Adsense, the minimum payout is just $5 and there is no minimum traffic requirement to start your ad campaign. I would say, for both old and new websites, PropellerAds can drive huge revenue with its flexible requirements and large ad network.
4. Monumetric
If you get decent traffic on your website, and your AdSense account is not being approved by Google because your website has not hit some key metrics, worry not. You can still generate revenue with Monumetric. With 10,000 monthly views, you can set up your Monumetric account and start an ad campaign right away. The best part about Monumetric is that it serves high-quality targeted ads, relevant to the content.
Other services including Google AdSense use CPC or CPM models to monetize the content. However, Monumetric has a unique CPI (Cost per Impression) model that pays the website just for viewing the ad. While the revenue from CPI is not the same as CPC, its highly-relevant ads start an engaging business with the viewers. Not to mention, the minimum payout is just $10, in comparison to AdSense's $100 so that is just great.
5. AdMaven
If you are looking for a strong and stable AdSense alternative that offers a wide range of premium advertising solutions for publishers and advertisers, look no further than AdMaven. It's a platform like AdSense that lets you create for your own website multiple ad formats across any platform, browser, and device. You can truly scale your website or blog to a global audience with AdMaven's global coverage plan. AdMaven's excellent ad campaigns can help publishers rise their daily revenue by connecting them to the most relevant advertisement, and helping publishers choose the most profitable ad format for the website. AdMaven ad formats: Pop under, push notifications, in-page push, etc.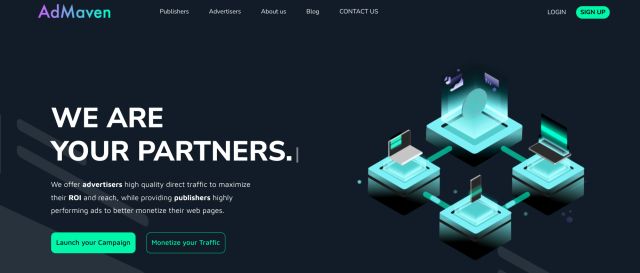 Unlike other services, AdMaven particularly operates on a managed self-service mode, though you will always be able to get support when needed. It offers an ad-block bypass feature that lets you serve ads by bypassing ad blockers. Moreover, you can choose from a variety of payment methods including PayPal, Payoneer, bank wire transfer, Paxum, etc. It means you can serve targeted ads to your users from thousands of advertisers and earn high revenue. Not to mention, AdMaven is pretty strict about maintaining a great user experience on your website. With its proprietary tech, AdMaven keeps its ad network clean and removes unsuitable ads and malware so that visitors feel welcome on your website.
So what are you waiting for? Go ahead and sign up on AdMaven for the best ROI and high CPM. I would say, if you want to see effective results, there is no better optimization expert than AdMaven in the industry.
6. Sovrn (Formerly VigLink)
While you may have heard of text link advertisements, Sovrn, earlier known as VigLink, takes text-linking and affiliate programs to an all-new level. Sovrn allows users to put affiliate links in the content, instead of just making them pop up some random advertisements. These links open up to Affiliate products and you earn a commission on every purchase made through your links. This makes Sovrn one of the potential alternatives to AdSense.
The best thing about Sovrn is that it does not affect your SEO and you also get to choose your own products to promote hence making it an effortless way of earning money. The commission rate varies from product to product, and it may range from anything between 3-4% to 50% depending on the product. The minimum payment threshold is $10 per month and the payment is made only through PayPal.
7. Amazon Associates
Amazon Associates program is one of the best AdSense alternatives that you would find on the web to market tons of products. Given the global presence of Amazon, it would be easy for you to find a relevant locally available product to promote on your webpage or blog. Amazon offers up to 9% commission on products to their Associates when visitors buy products through your website or Blog.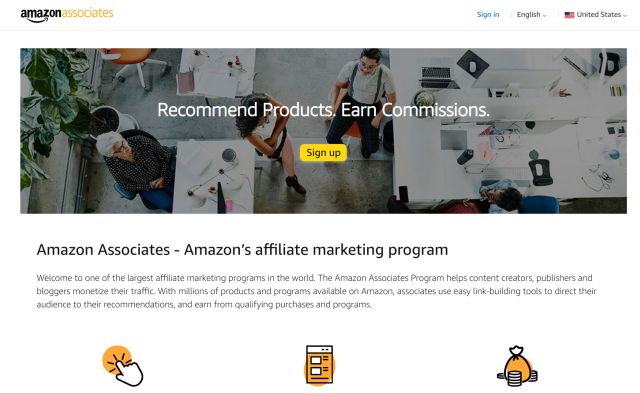 You can get started by simply registering on their website, choosing the products you wish to promote, and adding relevant widgets or banner ads to your website. Other than that, you can also link to these products through in-line text links. You can also track your Amazon Affiliate offerings through in-detail reporting. Amazon Associate follows a minimum threshold payment of $10 (Rs. 2500 in India).
8. BidVertiser
As the name suggests, BidVertiser is a bidding-style campaign for advertisement spots on your website. It's very different from how Google AdSense operates. Basically, BidVertiser sells ad space on your website for a bid, and whichever advertiser pays the most, gets the ad space. All this happens in real-time and the targeted ads are relevant to the content so that the advertiser also gets a sale from the click.
This way, you will also earn more, much better than traditional ad networks. If you are wondering about the minimum payout, it's just $10 per month and can be withdrawn from PayPal.
9. SHE Media
If you have a woman-centric blog then I would strongly recommend SHE Media in place of Google AdSense or other ad networks. SHE Media caters to all things women, be it related to fashion, travel, etc. It connects you to thousands of female-focused advertising partners that bring high visibility to your website. It will help you convert clicks to sales, among the women audience.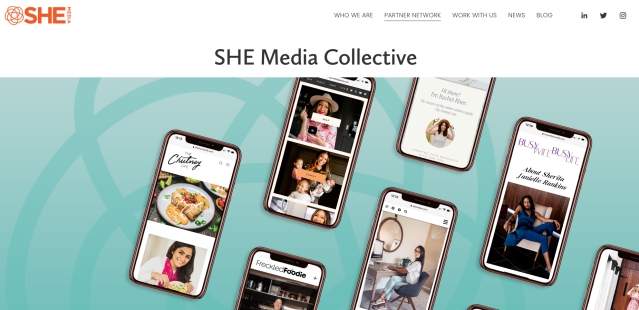 Having said all of that, there are a few requirements you need to fulfill. Your website or blog must have over 20,000 views per month and 70% of all visitors should be at least female. SHE Media does not disclose the payout amount but it can transfer the money through PayPal or direct deposit. I would say, for blogs and websites catering to women, SHE Media is a great place to start earning revenue.
10. ylliX
For new publishers out there, ylliX is the perfect place to start placing ads on your website and earning some money off your blog. It offers everything that you want including banner ads, push notifications, pop-ups, in-app ads, and more. The best part is that there is no traffic requirement at all and the minimum payout amount is just $1 which is what you need for a new publisher.
Not to forget, ylliX is quite fast at approving applications too which is amazing. To sum up, if you are looking for an AdSense alternative for new publishers, there is simply no better option than ylliX.
11. Revcontent
If you have a reputable website with more than 50,000 hits per month, Revcontent would pay you more than Google AdSense. Revcontent is a very selective ad network and it only approves those publishers who create valuable content which can be monetized by its select advertisers.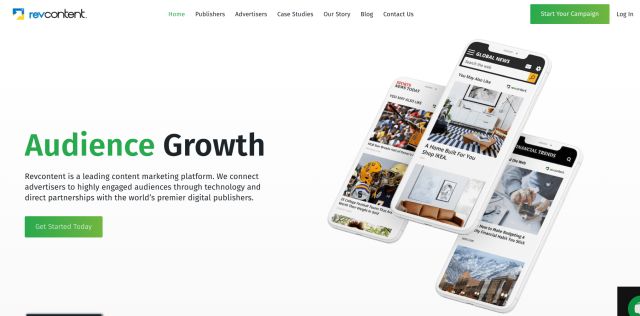 The chance of click-to-sale conversion is pretty high on the Revcontent network as the company chooses its advertisers carefully. The engagement is said to be the highest on Revcontent since it offers native ads that can meld well with the content and everything looks organic. As for the minimum payout rate, it's $50 per month.
12. Apple Services Performance Partners
If you happen to be operating a blog or website relating to Apple or its products, the Apple Services Performance Partners program (earlier known as iTunes Affiliates) would be much more effective than Google AdSense. Apple Services Performance Partners allows anyone with a top-level domain name to Sell Apple products ranging from Apple Music, Movies, Books, and apps on your website. You can place links and widgets on your website to receive the commission when a sale is made under 24 hours after clicking the link.
The commission rate varies for different products, but a 7% rate is accepted widely throughout the network. The minimum payment threshold is $30 for US-based Affiliates and $50 for worldwide. The payment through this network is Wire transferred to your bank account 90 days after the payment is initiated.
13. Outbrain
Outbrain offers the best Content syndication platform for both publishers and advertisers. With over 80% of the top brands using Outbrain and with a reach of over 561 Million users per month, you can't go wrong with Outbrain. This is an extremely exclusive network, so look away unless you happen to meet their 10 million unique pageviews required per month to get accepted.
Outbrain is not particularly open and transparent about its Payment methods and Minimum Payout slabs for its partnered publishers. Still, you can be assured that this service offers the best Payout rates when compared to other Content Syndication platforms.
14. Taboola
Taboola is one of the biggest competitors of Outbrain, offering similar content syndication services. It's a bit lenient as compared to Outbrain, given the fact that it requires a minimum of 1 million unique pageviews per month to get accepted. Their CPC ads are posted as sponsored content below your posts, linking to over 1,000 well-recognized brands worldwide.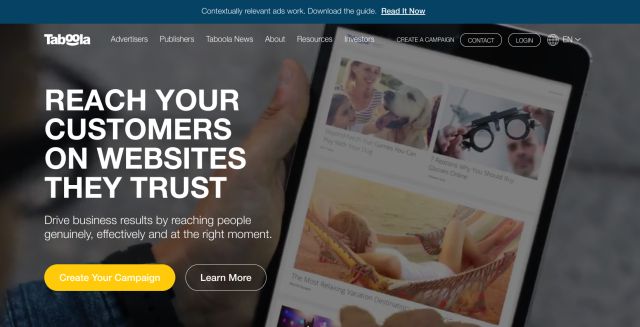 Again, just like Outbrain, it's not too transparent when it comes to Payment modes and the minimum threshold for payout. These terms would be only made available to their exclusive publishers, but you can be assured to have a good Payout rate with Taboola.
15. Make Provision for Accepting Donations
The final task you could resort to earn some spare cash online is through PayPal Donation Buttons. Now take one thing carefully about this. If you are providing unique and high-quality content, without the use of Ads on your website, then only add Donation buttons on your website. You can take a look at Brain Pickings and how that website is making use of the Donation button since it doesn't even place website ads and provides daily unique mind-boggling content.
If you have something valuable to offer and are not even pestering users with ads popping in from every corner, you can put up a Donation button on your webpage and let your loyal readers pay up for your evening's cup of Coffee!
Best AdSense Alternatives Picked For You in 2022
So, these are our picks for the best AdSense alternatives. Even if you are a new blogger with modest traffic, you can start monetizing the content. We have mentioned ad networks like Google AdSense for all kinds of publishers. Anyway, that is all from us. If you are looking for the best Hootsuite alternative, go through our linked article. And if you have any questions, let us know in the comments section below.