Handling tons of Emails everyday from people beyond our familiar group of contacts is pretty daunting. Many a times you would have to scourge the internet for the profile of the unknown person and was making Emails more unproductive, to what they already were. For power users of Gmail, aware of this situation, many of them got accustomed to a social CRM widget that went by the name 'Rapportive'.
What is (or rather was) Rapportive?
Rapportive was one great social CRM tool for Gmail that did the 'background check' of people for you and presented their profiles at different networks as a sidebar widget on Gmail.
As is the case with every useful startup, Rapportive was acquired by LinkedIn back in 2012 and after a major revamping in 2014, it isn't the way it used to be. Rapportive still does provide browser add-ons and Gmail extensions, but as TechCrunch best said it, Rapportive is 'Really Messed up right now!' 
How has it changed from what it was?
Many things changed since its revamping in 2014 by LinkedIn. As with every major Tech acquisition, LinkedIn had to make this tool more aligned to its mission as compared to providing value to the end user. It discontinued two of its features, 'Raplets' (which was the best part of Rapportive) and 'Notes'. Raplets were opt-in widgets that allowed users to add more details to the tool that pulled user information from different sources like GitHub, Klout, Quora, Tumblr and more, in addition to their Twitter and Facebook profiles. Raplets was the key feature pulling all the strings for Rapportive and LinkedIn discontinued it.
Rapportive isn't any more the data aggregation powerhouse that it used to be. Although it is still being actively deployed, it has lost a lot of functionality on the way through, that comes to the point of the best alternatives to this tool.
7 Best Rapportive Alternatives
The best thing about the Tech disruption right now is that you wouldn't have to lose your mind when some of your favorite tools get discontinued. 'There's an alternative to that', and here we will be taking a look at some of the best Rapportive alternative to make Emailing fun again.
1. FullContact for Gmail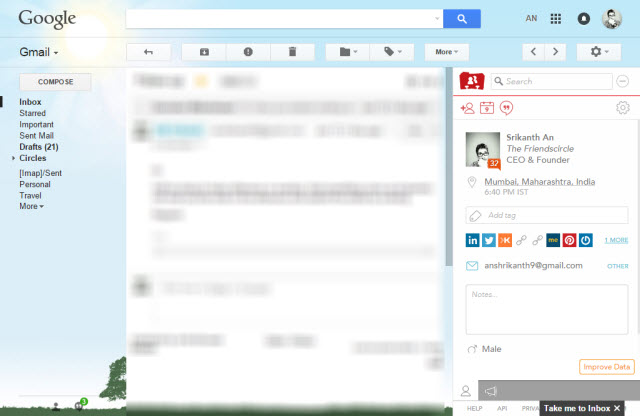 FullContact for Gmail is one of the best Chrome extensions that would make your Emails more powerful and productive. This plugin for Google Chrome allows you to discover the social profiles of a contact right from your Gmail Inbox. The plugin lets you connect deeper with your contacts, allowing you to browse their images, Facebook posts, Twitter feed; all without leaving your Inbox!
On a personal level, I've found this tool to be extremely powerful and a true replica of Rapportive's abilities. It also includes a 'Notes' section to add user-specific information and also features the ability to sync contacts across mobile devices using Google contacts. If a person representing an organization is contacting you, this plugin also aggregates information about the company and will let you know key details like company size, location and demographics.
This plugin is pretty popular in the Chrome Store and must be of great interest to you if you are looking for the best Rapportive alternative.
Factors to consider:
Supports only Google Chrome
Social login required
Supports only Gmail
2. Sidekick by HubSpot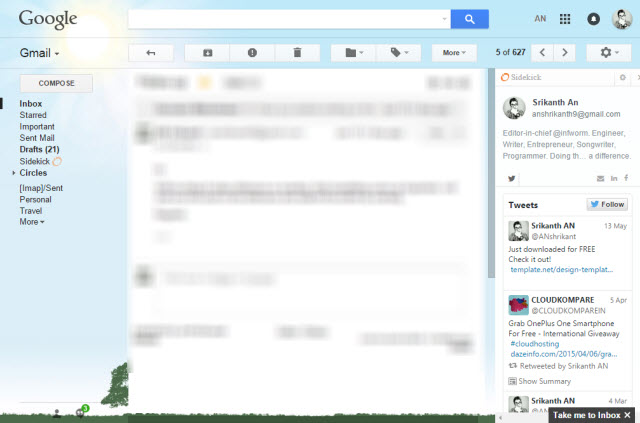 Sidekick is a popular Contact discovery tool developed by HubSpot and makes it easier for you to learn more about the contacting person through their social profiles. You can also choose to track your sent Emails once this extension is installed in your Chrome browser. Sidekick also curates information such as when your Emails were opened and how many times. Scheduling of Emails is also possible using Sidekick browser extension.
You can easily track a user's activity like with their social media profile updates, without leaving your Inbox. A sidekick account is required to be created for this purpose. Sidekick supports many add-ons for HubSpot, Salesforce, Apple Mail and Outlook; which could be added to the already wonderful tool.
Factors to consider:
Supports only Google Chrome
Sidekick account creation required
Supports Gmail, Outlook and Apple mail
3rd Party support for HubSpot and Salesforce
3. Discover.ly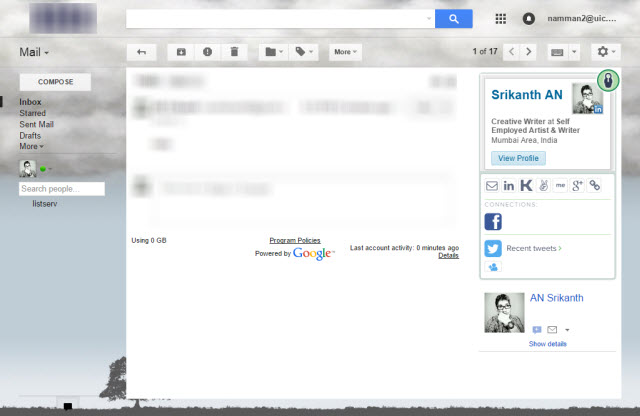 Discover.ly is another great San Francisco based startup, backed by Salesforce, that brings the best of all social media platforms. Discover.ly provides all the best features from Rapportive and allows users to view the contact's Facebook and Twitter profiles, irrespective of the information being connected to their LinkedIn profile or not. Information from different social profiles are accessible from other networks, including mutual friends and recent tweets.
Discover.ly works seamlessly, just like Rapportive used to in its initial days and they have taken efforts to take the network to further levels by addition of more information from a person's social profiles. Launched an year ago, Discover.ly's founder talks about his respect for Rapportive and what it stood for.
Factors to consider:
Supports only Google Chrome
Social Connect required
Supports Gmail only
4. Vibe App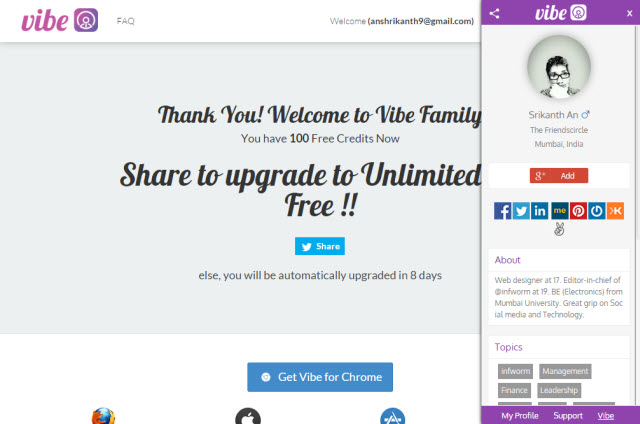 Vibe app is another people discovery alternative to Rapportive, which provides you a complete social snapshot of the person in question. You must register for a Vibe app account before getting started with this tool. Once done, the tool pulls up a powerful information chart about the person when hovered upon their Email address. Simply hover over an Email address and hit the 'Vibe app' logo hovering over it to let Vibe app do its magic. The tool pulls up all the information about a person, their social profile links to Facebook, Twitter, LinkedIn, Google Contacts and many other services like AngelList and CrunchBase if they have accounts on those networks.
Vibe App makes sure that no information is left out – The person's about description, Organizations, Favorite topics, websites and uploaded photos. In addition to Google Chrome, Vibe app also provides plugin for Mozilla Firefox and works even outside your Gmail Inbox (Outlook, Yahoo or even a custom email). All you need is an Email address to draw out a lot of information about any contact and learn more about them to establish meaningful relationships.
Factors to consider:
Supports Google Chrome, Firefox, Mac, iOS and Android
Vibe app account required
Works anywhere across the web
Download Chrome Extension; Download Firefox Extension
5. Connect 6°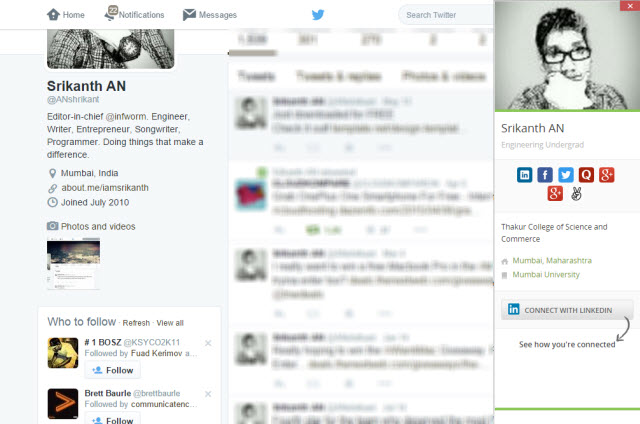 Connect6 is a browser extension that lets you discover profiles of people from across the web. Connect6 works anywhere over the web, even outside of your Gmail. It displays information about people, their social profiles, designation and the option to connect with them on LinkedIn right from your sidebar. Connect6 is one of the most popular people discovery network, with their desktop people search tool gathering a massive database of 550+ million social profiles.
Registering for a Connect6 account is required to get started on people discovery. You must know that the developers behind Connect6 were the ones who founded LiveOffice, which was acquired by Symantec in 2012.
Factors to consider:
Supports only Google Chrome
Connect6 account creation required
Works outside of Email, across different social media accounts
6. Falcon.io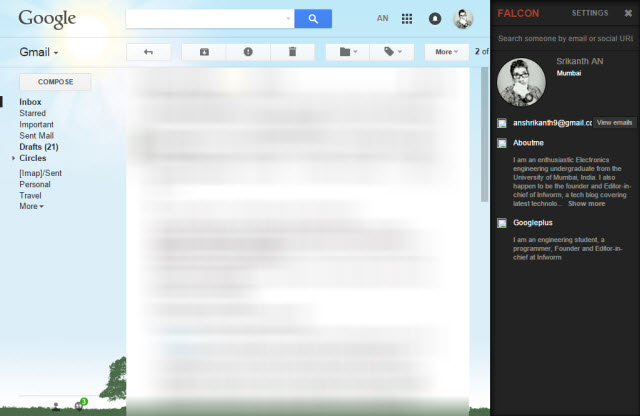 Falcon.io is a New York based startup that provides a social discovery tool, that could be a decent Rapportive alternative. Although fairly on the lower-end in terms of features, this tool extracts a complete about me profile and their Google Plus links. In addition to these Falcon.io provides information across 14 social media networks including Hackernews, Tweetdeck, Twitter, Quora, Behance and more.
Falcon.io lets you search for anyone, anywhere. Simply hover over a person's social media profile or their Email address, right through your browser and a sidebar window will popup with all the information it could extract. Support for lots of social media profiles makes this tool a definite yes as an alternative to Rapportive.
Factors to consider:
Supports only Google Chrome
No account creation required
Works even outside your web browser
7. AboutNumber for Gmail
AboutNumber Beta is a Google Chrome plugin to bring Rapportive to your Gmail Inbox. This tool works in a manner similar to that of Rapportive. Although the number of social media profiles to Facebook, Twitter, LinkedIn and Google Plus; it is a great minimalist social discovery app for your Gmail. AboutNumber also does include a Notes section at the bottom, to let you store user-specific information to it, just like in the older version of Rapportive.
You can view a person's essential details like Job, designation, company, profile picture and social profiles. To get started with this app, you would also need to verify your mobile number, in addition to logging in with your Google account. A decent minimalistic alternative to what the good old Rapportive did.
Factors to consider:
Supports only Google Chrome
Login with Google and Mobile number verification required
Works only with Gmail
Download Chrome Extension
SEE ALSO: Reverse Email Lookup – Find Email Sender's Identity And Location
So, here we come to the end of the best alternatives to Rapportive. Do share with us your thoughts and comments below about these tools and your preferred choice for social CRM in Emails.